If you're hunting that harmonious feeling, then come to Dot's. Pleasant Hampshire countryside matched with a helpful host.
Hampshire's countryside is far from lacking in the scenic stakes: from the rolling cornfields of its northerly borders to the magical woods and wild heathland of the New Forest, campers will find endless valleys and meadows unpopulated by a single human, except for the occasional farmer harvesting his crops. It's in these countryside surroundings that Breamore resides; a genteel English village which would make the ideal location for a Miss Marple novel. But it's also home to a wonderfully peaceful place to pitch your tent: Dot's Camping.
It's hard to put a finger on what makes this pop-up campsite special. Maybe it's the fresh Hampshire air abuzz with swirling butterflies, or perhaps the odd 'oink' from Squeak, Dot's resident pig – no prizes for guessing how she got the name – who cheerfully heralds your arrival. Whatever does it for you, there's something here to love. There are some campsites you arrive at and immediately know what awaits will be amongst the most tranquil and care-free camping holidays you're ever likely to experience. Dot's is one such campsite.
The camping field has flat, unmarked and generously-sized pitches, perfect for first-timers and families. It's a lovely quiet site (so no music after dark), but some road noise can occasionally be heard if the wind's blowing the wrong way. This is proper, traditional camping – so don't expect heated toilet blocks and hairdryers. Facilities are simply; spotlessly clean flushing toilets, a pair of gas-powered showers (with plenty of pressure) and a lovely shelter with a washing up sink, freezer for ice blocks and plenty of tourist information.
And come morning there's loads to do, be it walking or cycling the New Forest's endless trails, or sampling local ales in pubs with old-world charm. Pooped parents looking for activities to wear out their brood have plenty of choice, both on and off site. Paulton's Park and Peppa Pig World are fun days out, whilst most little uns' won't want to leave the campsites Pygmy goats and Kune Kune pigs, in the field next door. With this abundance of activities and fresh country air its no wonder everyone sleeps soundly at Dot's. It's even less of a surprise that campers keep coming back.

Gallery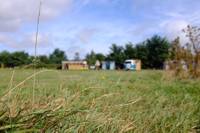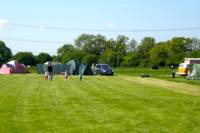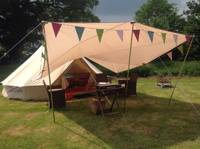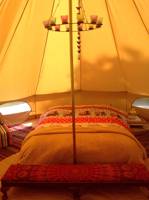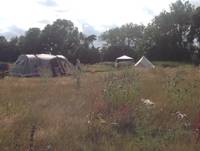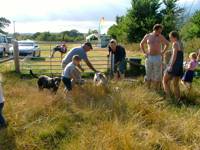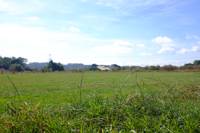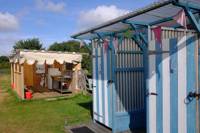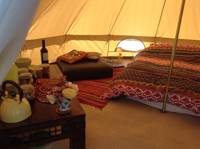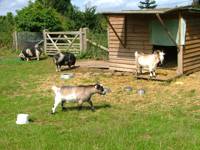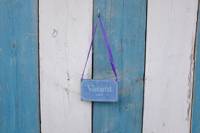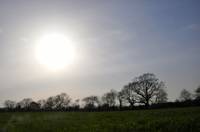 The Owner Says
If you're hunting that harmonious feeling, then come to Dot's. Pleasant Hampshire countryside matched with a helpful host.
Reader Reviews
Add Your Review
Nice weekend
We stayed at Dot's for two nights. Very helpful and friendly owner of the site. Because of the size of the site, two showers are plenty for people to use without having to queue for long. The hot water in the washing up area is a bonus. Also the fire pit is great. Easy to light and keep the fire going well.
Our sort of campsite...perfect!
We've just got home from a wonderfully relaxing weekend at Dot's - everything we could wish for! Very welcoming and helpful, small site and laid back, lots of space to pitch up, within an easy walk of two pubs, immaculate toilets and hot showers, wood for campfires, goats, pigs and ducks, croissants and pain au chocolat…. Thank you, Dot - we will definitely be back for some more cool camping!
A little gem of a campsite!
We had such a lovely time at Dot's camping. It was perfect for us and our 2 young children; a lovely large open area for children to play, cute goats to chat to, super helpful hosts, family friendly biking on the doorstep and beautiful scenery! Thanks! We'll be back next summer!
Tranquil and beautiful location, with lovely hospitality
We had an absolutely lovely time at Dots. The facilities are great, the campsite is cozy and intimate rather than a sprawling money making venture. Dot and her partner were kind, helpful and informative. The fresh pastries were delightful too! Thanks Dot, we will be back. Thanks for everything 😁
Happy Hoggy Holiday
This a lovely small, self contained camp site perfect for a group of families to holiday together. Facilities offered are basic but very clean and just what you need, with a sink, fridge and freezer, two showers and 3 toilets. Owners are friendly and so are the on site hogs, which children were allowed to help feed. Site also offer some tents for hire which for a novice camper made it much easier. It is also very close to a shop for supplies and two nice looking pubs. Thanks for a lovely stay. X
Space, great facilities, quiet
I didn't organize the camp, however I found the place to be quiet and peaceful. The facilities were exactly what we needed, and there was lots of space between sites so I felt it was private enough. And, in the middle of nowhere, which is a nice change. Thanks.
What lovely people!
Being past the age of enjoying discomfort and travelling with a partner who had never camped I opted for the fully fitted bell tent, (could easily sleep 12), supplied with bar-b-que. I made sure that we took the usual camping necessities such as bed linen, cutlery, crockery, cookware, paper napkins, firelighter, bar-b-que tools, candles, sugar, tea, coffee, etc. It all stayed in the car! Everything was provided! And the charming proprietors could not have been more obliging, being readily available without being intrusive. Communal facilities new and spotless. My partner now converted to camping, of a sort. Would go again.
Wonderful camp site
My wife and myself booked the whole of Dot's campsite for a weekend in June 2018 for a birthday celebration, with family, friends and lots of kids. We had a fantastic time. The campsite is situated in a beautiful area. The pitches were all spacious, and the large common area provided lots of space for kids to play, so we didn't feel confined to our pitch. The facilities are excellent - simple but well thought out, well presented and clean. We hired both of Dot's bell tents which were large, comfortable and incredibly well kitted out. Dot was very helpful throughout, allowing another bell tent hire company to provide several more bell tents (which were great, but not as good as Dots!) and helping to arrange a hog roast on the site one evening. On the Saturday, many of our group visited nearby Moors Valley Country Park and were raving about it afterwards. We hope to be back soon!
Simply Wonderful
This is the second year in a row that we have visited this site as part of a much larger group of friends with young kids and once again we were made very welcome by Dot. We simply adore this site, it's friendly, relaxed and safe for the kids to run around due to its layout. All the plots are around the outer edge with a central playing area complete with tractor (massive hit), swing ball and sea-saw. There are no hedges so you can pretty much see the kids the whole time as they play and run around the mowed pathways throughout the site. We love the facilities. Charming hand made and colourful. No dull portacabins here. There are beautifully clean and functional. The washing up area has even had improvements since last time! The kids love the free ice pops in the shared freezer. There is recycling and a dog poo bin near the entrance and you can hire wood burners and buy wood for fires. Five minutes walk away is beautiful clear river perfect for taking the kids as it's slow and wading depth. Our group only live 10minuted away in nearby Fordingbridge but the site is so lovely I'm sure we will come again next year and bring the glorious weather with us again. My only tip is to persevere in trying to get hold of Dot by phone/email as she is obviously a busy lady ;) Dot is super nice and she even made a point in coming to say good bye to us when we were the last to leave last weekend (no rush to leave on a Sunday as no new arrivals) and she had to pop out. Thank you Dot for a lovely relaxed weekend.
Wonderful campsite
This is a very welcoming, friendly campsite. Very well designed, perfect for families - kids loved the safe play area with ride on tractor and swing ball and adults watched on happily from the side. Spotless toilets and showers, with no queue as it's a small site. Dot is so helpful and accommodating, and it's the little touches that make this site such a pleasure to stay on. So much to do in the local area. We'll be back!
perfect
Dots camping has revived our view on camping, a lovely quiet site with pitches well spaced and area in the middle for children to play where you can keep an eye on them while relaxing by your tent. You are allowed camp fires and you can hire them if you do not have one. Lovely little touches like ice poles in the freezer for the children to have and you can use it for ice packs etc too. Dot is very welcoming and it all has a nice relaxed feel, toilets and sinks all kept nice and clean and most of all for us is that it is quiet especially later in the evening. A lovely little walk to a lovely country pub. We will be returning.
Lovely
At very short notice, Dot managed to fit us in for a one night visit. Dot was very welcoming, the facilities clean (most importantly for me), the site relaxing (husband's requirement), and a safe area for my son to run around with other children he'd only just met playing on a toy tractor and generally having fun (most important thing for him). We will definitely be returning.
Jo Casebourne
My best friend and I just hired the whole site for our 40th birthdays and had 40 friends camping for the weekend. We had a really fantastic time. The photos on the website don't do the site justice - it's really lovely with great flat pitches and areas divided off so we had an adult camping area and kid's camping. The bell tents are beautiful and a magical place to stay and all the site facilities are great, including great showers and loos. Dot and Brendan are lovely and really helpful and there's a river a minute's walk from the site, which the kids and dog, not to mention the adults, loved swimming in. Couldn't recommend this enough for private hire, or for a lovely camping trip.
A little oasis with a big heart
I have just come back from Dot's after a weekend of celebrating my 50th birthday with friends and family. I discovered Dot's campsite online - i wanted somewhere exclusive for my friends and family to celebrate my birthday - i wanted pitches for the campers and somewhere a little less basic for the non campers amongst us, I wanted somewhere safe for the children (aged from 2 - 14 years) to play and located within easy reach of walks etc if for some reason guests wanted to escape the celebrations ….Dot's provided it all. We hired Dot's fully equipped yurts for the non campers and the rest of us pitched our tents on the mown grass. The facilities were beautifully clean - flushing loos, hot gas powered showers, freezer and use of a fridge. The children had a ball - playing cricket, football and just chasing each other around the site. We had cows in the field beside us, butterflies in the long grass and the children helped Dot feed the resident pig and goat. After a hard day on site we lit our communal camp fire and gathered around to catch up with each other. Dot had no objection to us putting up our rather large marquee and was very good in accommodating our Big Pan Man - The Swine Waiter - who came in to cook us a big birthday paella. We had all kinds of weather - sun, wind, rain, but most of all we all had a super time - the non campers amongst us have said they could do this again - the campers amongst us have said that this was one of the best camping trips they have done. I think Dot's provide everything you need either for a larger gathering or camping on your own as a family - Dot I think you have got things just right so don't go changing.
5star back to basics
just arrived home from a fantastic weekend at Dots camping in one of the glamping bell tents. Arrived to a friendly and welcoming Dot and family who showed us all the facilities, including hot showers! Our 4 meter bell tent had all the equipment needed for a weekend camping! With wine and chocolates! Nice to have open fires and children very safe on the open field. Would recommend for couples, families and groups
Delightful
We stayed here a couple of weekends ago (sorry Dot it's taken me a while!) and it was delightful! It's hard to say exactly what gives Dot's the Xfactor, but its probably a combination of a flat site with loads of space, clean and well kept toilets, fabulously hot showers, Squeak the pig, Fire pits with (I'm told) decent kindling and Dot and Mr Dot who were both super friendly and welcoming. Loved every minute, Thank you!

Relaxing Stay
We had a wonderful, relaxing stay in one of Dot's fully equipped bell tents. The tent was beautiful complete with the tea-light chandelier, cosy quilts, cool box, camping stove, bbq, and fire pit, in fact all we needed to take was food, towels and toiletries. It's a great layout for families as the children play in the centre field which is easily visible from the tents. The toilets, sinks and showers are kept immaculately clean by the wonderful hosts - Dot and family, who also make you feel extremely welcome. We are looking forward to a return visit in the future.
Perfect for familes
We loved everything about Dots camping. Dot herself is the loveliest of hosts and she is meticulous about keeping the toilets, wash up areas and showers clean for her campers. She has thought about the little details which is what makes this place special. She keeps a stock of ice pops in the freezer for the children to help themselves to for free and the freezer is also available to use to re freeze ice packs. she provides washing up liquid and clean sponges and hand wash too. Dot has pigs and goats and during our stay, our children were invited in to feed and pet the resident pig 'squeak'. This was a highlight for our children. The campsite is layed out in such a way that you can see your children at all times whilst they are playing. It was a lovely family atmosphere and Dot was a really helpful host.
The campsite is set in a beautiful area with good pubs within walking distance. (We visited the Bat and Ball on foot and we're impressed with our experience) We also saw many ponies and donkeys with their babies freely roaming nearby which the kids were thrilled about!
Dot's also have two bell tents on site for those that prefer glamping. 
We will definately be returning to this lovely campsite.
Wonderful
Hi we have just returned from a family get together at Dots Campsite. We so enjoyed ourselves, including Granny! The site is small and very family friendly. Dot herself couldn't be more friendly and accommodating as we needed an extra night. They provide all the basics, food wise, which included marsh mallows, as it came as a wonderful surprise to see that open fires were permitted. Dot provides all you need for a truly family friendly stay. We loved the bunting, swing ball and wide open central area for playing rounders, and we're lucky enough to be staying with like minded other families so we all played together. A truly lovely, quiet site to explore the New Forest. 
hidden gem
Dot has done a wonderful job of setting up such a delightful site. The site has a limited number of pitches and great big playing area/field, ideal for children (although we were an adult only group). Each pitch is really spacious with more than enough room for a large tent plus parking space for your car alongside it, with room to spare! Showers, toilets and washing up area whilst basic were immaculately clean each day of our stay and served us just fine. Showers were very hot and functioning perfectly at all times. Dot and her family were extremely welcoming and were nearby at all times if we required any assistance. Location of the site is great if you want to make trips into the New Forest as we did. All in all, a very relaxing weekend, we had a great stay here and hope to visit again soon!
Little gem
We have just returned from a brilliant weekend here, and wish we were staying longer. This is an incredibly relaxing campsite, beautifully located and with a fantastic vibe to the place. There is loads of space for children to play, and the site is not too crammed so it feels quite personal. The hosts could not be more welcoming - Dot is always around to help, but not fussily over attentive. The facilities are sufficient and clean, and leave you wondering why anything else larger sites provide is actually necessary. This is a great place to leave your cares behind and enjoy quality time with your loved ones. We will definitely be returning!
Super lovely!
An absolutely lovely campsite! Friendly, open, well structured with some really nice touches. There are washing up bowls, washing up liquid, great fire pits, really child and dog friendly. Recycling facilities! 
The layout is fantastic, clearly marked pitch areas and "roads", creating a large safe area for kids to play in - with bats, balls, toy tractor and lots of other lovely kids!
We will absolutely be back!
Relaxing, friendly
Absolutely loved it at this site, field is not too big and set out brilliantly, the kids have a fantastic playing are and no matter where your tent was you could keep an eye on the kids whilst relaxing at the tent. Dots and her husband were extremely friendly and also my 2 kids made great friends with there son. Facilities were very clean and every morning and evening I would see dot cleaning it all. Already looking at dates to book again as my kids cried when we went home and they want to go back very soon, if they had it there way they would go there every weekend and so would we if we didn't have to work as it was so relaxing. Thank you dot and your husband, see you again in a couple of weeks!
Amazing reception
My family and friends were so welcomed by Dot and her family at this quiet, beautiful and ridiculously clean site. We will definitely be back just to receive the warm reception and attention to detail let alone the fire pit and peace.
Nice touch
In essence, this is just a basic field with a small washing up and shower block and not much else HOWEVER, Dot has put such caring touches all over the site, it truly is a lovely place to stay.
She provides washing up liquid, the shower blocks are decorated with a "beach theme" and it is very child friendly. Dot and her husband are so welcoming and friendly, and are not the "lurking" kind of hosts that you sometimes find when camping. 

Sweet, Retro and child friendly
Dot's camping was delightful. A small field filled but not overstuffed with happy families and the occasional couple. Amenities were basic (porterloos) but pristine, with fabulous hot showers and very few queues surprisingly. Dot and her husband were on hand to help with queries giving a genuinely caring personal touch.  2 pigs and 3 goats added to the country charm combined with pretty touches like bunting for a summery retro feel. Nice to be able to have open fires (in fire pits). A great location: 10 miles from Salisbury, even closer to Fordingbridge and the New Forest, lots of great walks on the doorstep and 2 pubs serving food within a 15 minute walk.  Really good fun, and somewhere I would recommend for families, walkers and first timers.
Best Price Guarantee, with no fees
Instant booking confirmation
Trusted for over 10 years
A chance to win £50 of Cool Camping vouchers!
Book campsites near Dot's Camping