Small-time camping with a family-friendly buzz and a warm back-to-basics atmosphere
A good campsite often comes down to good campsite owners, and Helen and Bill Waygood are no exception to this rule. Living in the 16th-century thatched cottage that overlooks their field, they can proudly claim to have one of the most unique little campsites around – and they seem just as thrilled about that as we are.
Only open 28 days of the year, it is a fleeting experience that doesn't last long enough to lose its spontaneous feel and fall into the hum-drum regularity of a day-to-day outfit. Instead Bill and Helen open up the gates as excited about the season as their visitors. First to pick up the volleyball, yes, it's Bill. Singing "chick, chick, chickens" with the kids as they collect a basket of eggs, yes, it's Bill. Rallying the troops for an evening around the campfire, yes, you guessed it… Bill again. The energy of the owners helps bring a life to the site and creates a mini-community of happy Hampshire campers. It's the same reason you'll see them all again the next year.
Aside from the brilliant family atmosphere, Croft Cottage Camping is a small and humble spot. It is a campsite in keeping with its attachment to the oldest cottage in the village – simple yet beautiful. There is room for just 15 pitches, 12 of which have electricity, and space in the centre of the field for the famous volleyball games and kid-friendly fun. A further three adult-only pitches are tucked in the Alpaca paddock. Facilities are relatively basic – a trio of toilets, two showers and a sink – but well looked after and immaculately clean. Together it creates a rustic, traditional campsite without many frills but with a captivating ambiance.
The best part is, while you may wallow in your discovery of a small-time, countryside gem you don't actually have to miss out on the guilty pleasures that a more commercial campsite can afford. Directly next door to the campsite, Sandy Balls Holiday Village (stop sniggering) has all the thrills and spills of a pre-organised holiday park but conveniently acts as a handy place to use the cash machine, dip in the swimming pool or stock up on camping gas (it should be noted that it does get particularly busy around August and facilities are not always available for campers to use during these peak periods). Back at camp its presence goes largely unnoticed, with just the odd infrequent bit of noise to worry about.
Down the road the Fighting Cocks pub (now seriously, do grow up) provides a proper local where you can enjoy a pint – now competing with the pair of restaurants at Sandy Balls, also a decent spot to grab some food. It's worth heading a little further though and delving into the wonders of the New Forest, a wooded landscape with openings of rugged heathland. Wild ponies and deer rule the roost around these parts and make it best explored by foot or bike, where you can stealthily amble through the trees keeping an eye out for the wildlife. The Fordingbridge Visitor Centre, a mile and a half from the campsite, has some maps and leaflets to help you discover local routes, as well as recommendations for pubs and eateries in the surrounding villages.
Best Price Guarantee
Easy and Secure, with instant booking confirmation
Trusted for over 10 years
A chance to win a brand new Coleman tent!
Gallery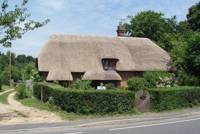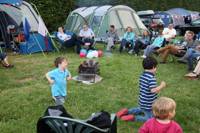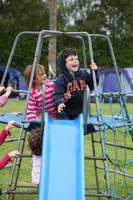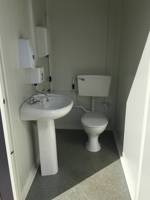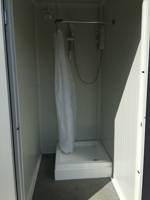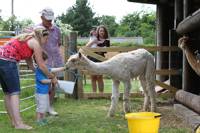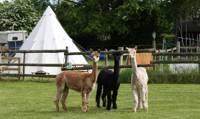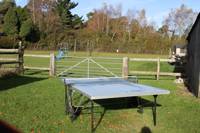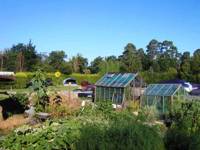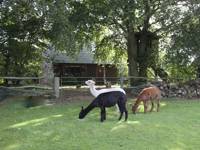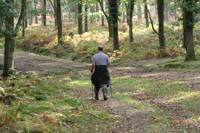 The Owner Says
Our campsite consists of nearly an acre of flat well drained short mown grass and is well sheltered.  It has 18 pitches (12 with electric hook up), approximately 10m x 7m, around the edge, the centre being left as a play area with volleyball net, badminton net, football goal etc.  Three of the pitches are in our Alpaca paddock and are for adults only, no dogs or music. We have 3 toilets and 2 showers, also a washing up sink. Our site is suitable for couples and especially families as it is so small and enclosed children are able to all play together in the centre and never be far away from their parent's watchful eye!  Every morning the children can help feed the chickens, collect the eggs and feed the alpacas.  Volleyball is often played in the evening organized by Bill, and if there are enough campers willing to participate, a "Camper's Concert" can be arranged at the weekend around a campfire.
We are only permitted to open for 28 days of the year and tend to open for the late May Bank Holiday, 3 weeks at the start of the School Summer Holiday and the August Bank Holiday (look on our website for exact dates).   We also have a self contained lodge for those who prefer their home comforts! We do not take bookings online for camping, please phone and speak to Bill.
Excellent locally for walking, cycling and horse riding with Arnis Stable nearby, in the New Forest National Park, it is also about 30 minutes drive from the sandy beaches of Bournemouth and the historic City of Southampton and Salisbury.
If you are not into open air cooking, then there is the Fighting Cocks Pub walking distance about 10 minutes, or just pop round to Sandy Balls Holiday Centre where they have a take-away and restaurants that are open to the public.
Away from the campsite, children love Paultons Park, Moors Valley Country Park, Longdown Dairy Farm and a host of other activities in the area.
For further details please visit our website www.croftcottagethelodge.co.uk
Book campsites near Croft Cottage Camping