As close to wild camping as you can get in the heart of the New Forest
If you're looking for a back-to-basics, traditional camping experience then Aldridge Hill is for you. Set in a heathland clearing, bordered by Ober Water and the snaking Blackwater Stream (two of the New Forest's prettiest waterways), Aldridge Hill provides campers with the unique opportunity to live in the midst of nature, whilst experiencing everything the New Forest has to offer; from its famous free-roaming ponies to the numerous wild heaths and otherworldly woodlands that makes this place so special.
Lets be clear from the start – if you're a glamper, don't bother reading any further. Aldridge Hill has no toilets, no showers and no power (just drinking water taps & rubbish bins are provided), so this really is back-to-basics, which is of course one of the site's main draws. Another plus point is the sheer variety of pitches on offer. Campers can opt for the cosy, under the shade woodlands, or the wonderful heathland, home to some unforgettable sunsets. And with 170 undefined pitches, you're unlikely to be kept awake by your neighbours.
Directly from Aldridge Hill you can follow the Ober Water Trail (1.5 miles), which is a great way to explore the forest. Starting at Whitefield Moor car park, the walk passes through a variety of habitats, including heathland, bogs, grassland, a natural and formerly enclosed woodland and the stream itself. The paths are a variety of smooth gravelled surfaces and compacted grassy ground, with some gentle slopes and a plenty of resting places.
Back at Aldridge Hill, keep your eyes peeled for the site's resident feathered friends: redstarts, woodpeckers, nuthatches, tree creepers and the more 'common' garden birds can all be seen circling above, or nesting amongst the ancient oak trees. You may even see the sight of a tawny owl swooping from its perch to seize its prey (which it swallows whole!) With all this nature right in front of your tent, who needs David Attenborough?
Best Price Guarantee
Easy and Secure, with instant booking confirmation
Trusted for over 10 years
A chance to win a brand new Coleman tent!
Gallery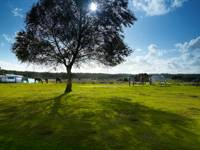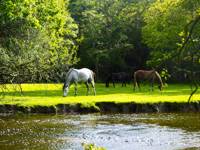 Video Tour
Reader Reviews
Add Your Review
Bad support, unclear policy
You can't come without your own toilet and they will not refund you if you missed that during booking. Also, replying takes 1 week. Hope their other services are better. Disappointed.
Donkeys at Dawn
Stayed at this site for the weekend commencing 25th July 2014. The site is open to all campers whether you have a tent, caravan or motorhome. There are drinking water taps and refuse bins but nothing else. The only proviso for staying here is a chemical toilet. I'd arrived in a MH so I was able to "check" the WC box. The requirement for a chemical loo would probably explain why there where very few tenters staying the week-end I was visiting. Most of the "pitches" where occupied by caravans and most appeared to have external generators. Whilst they can only operate between certain times it was odd to be surrounded by the beautiful forest listening to the hum and thrum of Honda's finest offerings. If they where not allowed then the site would certainly be worth 5 stars. You are allowed to pitch just about anywhere. For views and the sunset choose the heathland side whilst for more seclusion choose the opposite, woodland side.  The immediate surroundings are fairly level and perfect for walking and cycling. Compacted tracks meander through the trees and the Village of Brockenhurst is less than 2 miles away. If you didn't bring a bike don't worry - they can be hired in the village. The unofficial capital of the New Forest, Lyndhurst, isn't too far away and makes for a good destination to ride too with all but the last half mile or so on forest tracks. Whilst I remember - the ponies and donkeys can and do wander all over the site and are quite lovely to watch. I don't normally revisit places but I might make an exception for this site.  A note for those arriving by van or MH, the road to the camp is narrow but easily accessible; however, be careful if you are using your SatNav as it will try to take you through the centre of Brockenhurst which is subject to a 2 metre width restriction plus a river to ford. The sites' website has more specific directions. 
Book campsites near Aldridge Hill Campsite