BYO Camping Pitch For 1 Tent
Lepe Beach Campsite, Lepe Road, Southampton, Hampshire SO45 1AD
Sleeps 8

(max 8 adults, 7 children)
Book camping accommodation at Lepe Beach Campsite
The Owner Says
Maximum Tent dimensions = 8 meters long x 4 meters wide.
Facilities (all onsite purchases are cash only).
Toilets.
Showers.
Washing up area.
Parking next to tents.
Level camping area.
General and recycling waste bins.
Cooking Gas Cartridges for Pre-erected tents £2.00 each.
Fire pit hire (£3 per night – minimum hire 2 nights).
Fire wood packs (payable locally).
Mobile phone charging station (payable locally).
Icepack hire (payable locally).
Morning reception 08.00 to 10.30.
Evening reception 16.30 to 20.00.
Under 2 years old goes free
All names and ages needed for fire regulations
View Gallery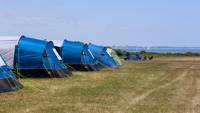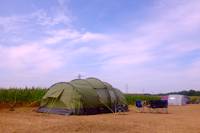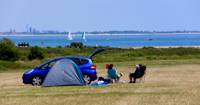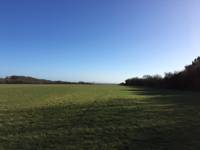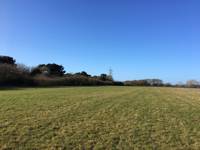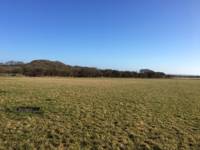 Search all availability at Lepe Beach Campsite
Traditional tent camping with views of the Solent and Isle of Wight. Oh and did we mention it's only 150 yards from the beach!?
The Owner Says
Lepe Beach Campsite is operated by EazyCamp and offer fantastic camping breaks during the Summer Holidays 150 yards from Lepe Beach and next door to Lepe Country Park. Offering a choice of Pre-Erected Tents & Equipment or pitch space for you to bring you own tent, we are the ONLY Campsite in the New Forest that offers Sea Views from virtually every pitch and being only a 2 minute walk to the beach. Not only do we have the beach on our doorstep, there are so many great attractions close by that we're sure you'll have a fabulous time with us. Apart from the stunning views, we have toilets, showers and washing up facilities to make things more civilised. We will also be offering Pit fire Hire, Camp Fire Wood and Ice Pack Hire onsite so why not pre-book this early to avoid disappointment.
Site Facilities
Toilets, showers, washing up area, general and recycling waste bins, ice-pack hire, ice-pack re-freezing (50p per pack), firewood packs and firepit hire (£3 per night; minimum hire 2 nights). Reception is open 9am–7pm. You can park next to your pitch and tent pitches are flat. Beach fishing available. Pre-erected tents also available to hire and include camp beds, camping chairs, cutlery, crockery, cooking utensils, small chopping board, cooking table, washing up bowl, a cook stove.