Traditional tent camping with views of the Solent and Isle of Wight. Oh and did we mention it's only 150 yards from the beach!?
There's no doubt the canniest campers come to the Hampshire coast. While those with a stripy windbreak under one arm and a copy of The Lonely Planet under the other flock to the South West counties, this quieter stretch of coastline – often overshadowed by the neighbouring New Forest – is an ideal spot to avoid the crowds. Not only can you stroll along wide beaches and board-walk your way through marshy nature reserves but, if the British weather does make a turn for the worst, there's the added insurance of the national park's genteel villages, museums and country homes, just a stone's throw away.
Only yards from the beach (seriously, how many campsites can say that?), Lepe Beach Campsite is a traditional camping field that offers nothing flashy but, instead, focuses on doing the basics well – in fact, very well. Facilities are immaculately kept, pitches are flat, well-maintained and campfires are permitted with pits available to hire and wood for purchase. Campervans and caravans are not permitted, giving the whole campsite a more peaceful, informal ambience – you can pitch where you like with enough space that you needn't tread on others' toes – and if you really can't bear roughing it, there are pre-furnished tents which include camp beds, camping chairs and plenty of cooking utensils.
Though the campsite doesn't have a playground of its own, it backs onto Lepe Country Park where there's a large picnic area, climbing frame and swings for little 'uns to roam. Really, the country park and the campsite seem to roll into one, making it a thoroughly family-friendly location, with the added bonus of Lepe Beach Café & Shop down on the waterfront, which serves afternoon tea and delicious hand-made cakes.
The views from Lepe Beach Campsite's enviably vantage point are ridiculously picturesque, taking in the Isle of Wight and, to the east, the marsh and sand flats of the Solent National Nature Reserve. But if you do venture inland, the charming lost-in-time village of Beaulieu or rhododendron covered Exbury Gardens, are both less than 15 minutes by car. But in truth, the New Forest is a paradise for non-motorised transportation and anyone renting a horse, bike or packing just a pair of walking boots will probably end up forgetting about the car altogether.
Best Price Guarantee
Easy and Secure, with instant booking confirmation
Trusted for over 10 years
A chance to win a brand new Coleman tent!
Gallery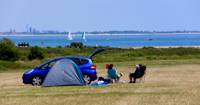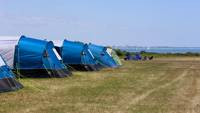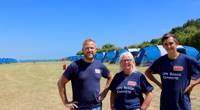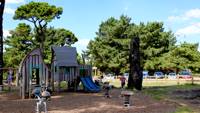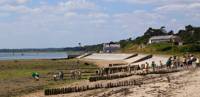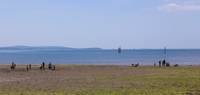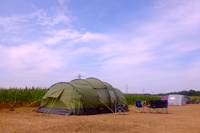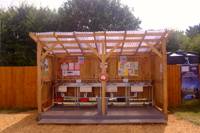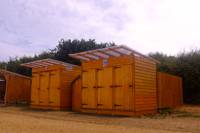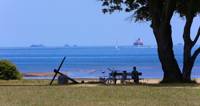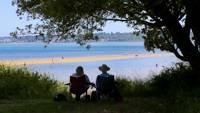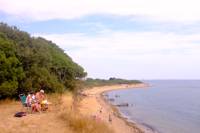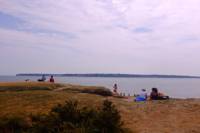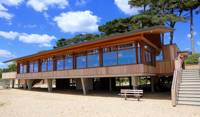 The Owner Says
Lepe Beach Campsite is operated by EazyCamp and offer fantastic camping breaks during the Summer Holidays 150 yards from Lepe Beach and next door to Lepe Country Park. Offering a choice of Pre-Erected Tents & Equipment or pitch space for you to bring you own tent, we are the ONLY Campsite in the New Forest that offers Sea Views from virtually every pitch and being only a 2 minute walk to the beach. Not only do we have the beach on our doorstep, there are so many great attractions close by that we're sure you'll have a fabulous time with us. Apart from the stunning views, we have toilets, showers and washing up facilities to make things more civilised. We will also be offering Pit fire Hire, Camp Fire Wood and Ice Pack Hire onsite so why not pre-book this early to avoid disappointment.
Reader Reviews
Add Your Review
Location
Wonderfully located campsite, right next to the beach, you can see right across to the Spinaker at Portsmouth. Very informal set up, ie you can pitch wherever you like, which is great for groups. The site did get quite muddy following a downpour, which may need to be addressed in future, considering the unusually hot summer we have had. Facilities are basic and the staff work really hard to keep them clean and tidy but unfortunately people seem to forget how to use a toilet when camping ! but you can't blame the staff for trying. The ground is really hard under the surface, normal pegs are no good, so make sure you take plenty of rock pegs. The café and playground in Lepe park are great and right on the doorstep. Good supermarkets close by (by car). A nice gentle site where you don't need to move far to have fun and a relaxing time.
Great location, nice and big with lots of space and very friendly staff and atmosphere.
First time at Lepe and we'll be back...great space and so relaxing to see the sea and watch the boats ships pass by. Great cafe on the beach and facilities more than adequate on site. Supermarkets 5 mins drive away and a great base to explore if staying more than just a weekend.
Perfect for families
This was our first time camping and this campsite could not have been better. The facilities were very well maintained, the view was beautiful, the site was nice and quiet at night and the staff and other campers were friendly and helpful. Great that we were able to hire a fire pit and the shop on site also sold a few other essentials that we forgot! Great cafe close by, lovely playground in the country park next door. We'll definitely be back!
Fantastic view of the sea
The best thing about this site was that you can sit by your tent whilst watching the sea - beautiful. It is a lovely site, flat grassy area, clean facilities, ability to hire fire pits, family friendly. The beach that you can walk to might be good for rockpooling - lots of seaweed and watery pools. It is not a great beach for sunbathing/ going in the sea. You can drive to other beaches but it did take quite a while.
Misleading description by Cool Camping and the Owner
This is the first cool camping campsite I have been to and been disappointed and I have been to many. The write up for this campsite is very misleading. Not all pitches have sea views. The beach is only 150 yards away as stated but is very dangerous and not possible for anyone to swim in. Our children were very disappointed and only paddled their feet in the water further up near the cafe as there are no signs there, but we didn't feel comfortable them swimming as there are signs everywhere else saying it is not safe. We were told by the staff just after 10.30pm to be quiet as he had complaints when the children were only playing on their iPads and we were sat around the fire talking. We didn't have music on. I understand that the campsite rules state to be quiet after 10.30pm until 7.30am but I have never been anywhere where you cannot talk outside after that time. From my two night experience at Lepe Beach Campsite I will not be returning or recommending it to my friends. Having said all that if you are aware of what I have said it is very close to the beach. It is lovely to watch the cargo and cruise ships go by if you have a sea view and the sea plane taking off and landing. The nature reserve is lovely and there is a great play area for the children nearby too. The staff were all really lovely and very helpful. The hire of the fire pit is cheap and a good size. If they change a few words in their description so families know what to expect this would deserve to be on the cool camping website and four star.
Amazing
The campsite is superb. Very close to the beach and not far off from the forest. The staff is fabulous. We have been there twice already and definatley cone back.
Nice but basic
Just spent a couple of nights here and it is a lovely little place, but on the basic side. Lovely views and handy that it is close to the beach and the country park so the kids were easily entertained. Toilets and showers were clean but not enough of them compared to the amount of tents. Drinking water is available around the edge of the field from taps which was a bonus. Large field to camp in so space wasn't an issue but there were some rather large groups of people camping together that made quite a lot of noise and although the 10.30pm curfew was stuck to, music playing and people screeching up to that time did make it harder for our younger kids to settle. Would be nice to see some recycling facilities on the site as all rubbish just put in bins at the main cabin. Would recommend the site to others and would visit again when kids are slightly older
Amazing views
I loved this campsite so much. I just spent my 48th birthday there, camping with my partner, and it was so lovely sipping champagne on the Solent and watching the liners head out to sea. Amazing walking very nearby as well.
Campsite too big and overcrowded
We enjoyed our stay at Lepe Beach. Location was good with the stunning New Forest on the doorstep. Also good pub - Royal Oak Beaulieu - 10 mins drive (30 minute cycle) serving decent food. However, there were a few downsides to the campsite and, in our view, it has been rather missold on the cool camping website. I usually turn to cool camping to find small, unique, quirky camp sites, and have never been disappointed until now. Lepe beach campsite was just too big and far too overcrowded. We struggled to find anywhere to pitch our tent upon arrival and had no choice but to squeeze in very near other campers (so absolutly no privacy). Also due to the amount of tents (and cars and vans) - there was no chance of pitching anywhere with a view of the sea. In this respect the pictures of a few tents in a lovely open field are very misleading, as is the despcription of the campsite as 'peaceful, informal ambience – you can pitch where you like with enough space that you needn't tread on others' toes'. There were no where near enough facilities for the amount of people in the campsite (and I agree with other reviewers below that given the size of the field, it would have been better to have a few more loos spread around). We had to queue (quite a considerable amount of time) for everything: loos, washing up, showers - and even gave up on the shower queue on the last day and instead decided it was easier to head home early for a shower. I also agree that the 10.30pm curfew was not enforced strictly enough - it was very noisy. Also, although this is not in the control of the campsite, I think it is misleading not to point out on the webiste that the beach is not a safe swimming beach. There are danger signs everywhere.
Beautiful view, shame about a couple of things
We were meant to stay at Lepe Beach for two nights but only managed one before we came home again. The campsite is right by the beach and has amazing views of Portsmouth. You can walk down their path and find the beach within a minute with incredible views of the isle of wight. Our son loved watching the big boats go by! There are showers which are really clean and we were impressed with the privacy they offered. The staff do their absolute best with the loos but with so many people using only a few loos between them they are never going to be pristine. It's such a big campsite, so I think the fact there's not a huge amount of loos is a downside but it is also a new business so I wonder if they have plans to add more. There are no set pitches, you can camp where you like. This is a big downside to us because it seemed like there was no order and we were quite squashed together. We had a big group pitch up directly behind us and they were very loud. We have a 2 year old who was extremely tired but after speaking to a member of staff we were reassured that at 10:30 everyone would be told to be quiet. That never happened. By 11:30pm my husband had to ask them to quieten down as our son couldn't sleep. At 1am I had to go and ask them again. We ended up getting two hours of sleep. We were so exhausted that we've had to cut our trip short and come home, losing out on money. Our son was so exhausted as were we it turned a happy family holiday into a bit of a nightmare. It's a shame that there's not more order to the site. With such a big campsite there's no reason why groups can be separated from families so they can have a laugh while the families with young kids get some sleep. If that won't happen then more needs to be done to adhere to the 10:30pm quiet time that was advertised. Beautiful views and great location, but there's some teething problems with this site meaning we won't be back.
Good but basic
Good little campsite with basic facilities. The adjacent beach and country park play area are a real bonus, as is the cafe for hideous weather mornings! Good location to explore the New Forest. Facilities are really basic and site can get very muddy when wet. Remember kindling and firefighters for when you go.
Lovely location, great views
Really enjoyed our stay at Lepe Beach, brilliant location, facilities were basic but clean and well maintained. The only thing I would suggest is that they could put another set of toilets down the other end of the field as it was a bit of a walk from where we were. Would definitely book again.
Great campsite for kids
Really enjoyed our stay at Lepe. Lovely clean no frills camping very close to the beach and country park. Enough to keep our 7 year old grand-daughter occupied. Staff very helpful. Will be returning in couple of weeks we enjoyed our stay so much.
A stones throw away from the beach
We've just come back from a week spent at lepe beach campsite and it was marvellous. Beautiful views, flat pitches, friendly staff and clean (albeit basic) facilities this campsite is now one of our favourites in the South Coast. Highly recommend.
Great Campsite
Finding a great Campsite is often such a delicate balance for me ... I want to be close to nature so my kids can experience a taste of my carefree childhood (free of screens and wifi) yet comfortable enough for me to chill out with my chilled Pinot Grigio blush endulging in a mindless magazine or paperback. Lepe beach campsite offers the best of both worlds ... My kids spent their early mornings on the solitary beaches inventing new ways of catching fish (all unsuccessful I may add!), playing cricket around the campsite or making friends with other camp kids and I spent the day relaxing on the beach under a brolly or chilled under a gazebo. Evenings were enjoyed around the fire pit endulging on our barbecue feasts with the most beautiful of sunsets. I was impressed with the consideration that went into the logistics of the campsite ... A fire pit complete with bucket for water in case of emergency, fuel lighters and kindling, flushable toilets, working showers that are cleaned often as well as kitchen, several drinking water taps and fire extinguishers. And if you aren't so sure about camping or investing in the paraphernalia that accompanies it, why not just give it a try... They even hire erected tents with all the necessary whatchamathingies! Will be back next year... (P.S. Can you arrange for the weather to be good again for us please?)
Beautiful part of the country
Lovely campsite in a beautiful area with the beach on your doorstep and views of the Solent. Back to basics facilities that are kept impressively clean and tidy. I loved that there was no WiFi, no lighting and no electrical hook ups as it felt like proper camping. There are shops and take away places a couple of miles away and you can hire a fire pit if you fancy. The staff were all lovely and helpful. Really interesting beach just round the corner from campsite where it seemed no one ventured where parts of the Mulberry Harbour were built and the 'Pluto' line left the UK for France. Will return here sometime. Please keep it as it is and don't install lights and WiFi!
The location
First time there , toilets and showers cleaned constantly , very friendly polite staff , clean campsite with a lovely family feeling , path down to a seafront sandy and some stones areas as well and a short walk along the seafront to a big play area , crab fishing and a lovely new beach cafe 10/10 defiantly be returning
Brilliant
Absolutely brilliant campsite with stunning views. Facilities were good and cleaned regularly. Perfect distance for walking to the beach (it is pebbly). Took the kids bikes, so much space for them. Sadly sunglasses were stolen so keep your valuables with you at all times or locked in the car.
Great, no frills site
Had a great short stay at Lepe, literally yards from the beach with quick access to the New Forest. The site was much larger than expected, and very busy, but quiet and very well kept with super helpful staff and a small shop for water and wood. The ground was really hard so be warned. The site could benefit from two smaller sets of facilities I think, and maybe some lighting but that's being picky.
Big Campsite. Great beach. Nice location.
Had my birthday weekend at this campsite with all my friends. The campsite was lovely and spacious but the best bit was the beach. It was great just being a 3 minute walk away from a very quiet long stretch of beach to sunbathe on in the day and then have a few beers in the evening. There was a Tesco 2 miles down the road to stock up on food etc as well as great fish n chips! The campsite was quiet at night and full of life in the day. The staff were always available/polite and offered camp fire equipment if you wanted. The toilets were always clean and had loo roll/soap, maybe a few more showers were needed but everything else was perfect.
Location facilities and advice
1st time for years under canvas driven by my son's desire to try camping. Staff on site friendly and full of good advice even down to best location to go crabbing! Facilities clean, tidy and good quality. Close proximity to the beach a bonus.
Fantastically close to the sea!
Lovely staff. Lovely site. Lovely showers. Lovely facilities. Lovely area. Had a lovely time, can you tell?!? Definitely one I ll be coming back to. Warning: ground was VERY hard!
No frills fantastic site
The whole site has a pretty-good view of the mouth of Southampton Water. We saw at least 10 cruise ships going in and out over 2 days. The facilities are just the essentials; loos, showers and washing-up but are extremely well-maintained; kept scrupulously clean - all day and night! There is loads of room and having no designated pitches seems to lead to a great organic arrangement encouraging sociability. The kids ran non-stop late into the evening and they were completely safe, even with cars moving around. We pitched-up at the end of July and the ground was like concrete. Had to purchase a lot of 'rock pegs' from Reception and even bent those hammering in. Customer service is impeccable and every member of staff we met was friendly, helpful and welcoming. Would recommend renting a fire pit too. The other bonus is the Lepe Beach Country Park, directly adjacent to the site. The amazing Lookout Cafe (new 2018) can't be faulted.
Lovely family campsite on coast
We stayed for a weekend and thoroughly enjoyed ourselves. This is a friendly campsite with good facilities, a great view and perfect for the beach. Our 5 yr old made some lovely friends and had a ball!
Great Location
Great campsite , great Location would highly recommend. The kids loved the beach and theres a place 5 minutes walk to take them crabbing. Facilities were clean and hot water in the showers Would def come back!
a fab first time camping experience
Just back from 2 nights at Lepe Beach with our 8 year old daughter and 5 year old twins - a really lovely property camping experience which the children (and us )loved - very basic facilities but all part of the charm ! No electrical hook up but fine by us as a whole weekend without screens meant the kids had good old fashioned fun. Beautiful location with sea views and lots of space for the kids to play football / run around . The kids are already asking when we are going back ! Not quiet 10 out of 10 as they do need to sort out the water problems - both evenings the water went in the loos which quickly became disgusting- it was resolved however on both occasions . Very friendly staff
Relaxed and welcoming campsite
Camping here was a great experience. The staff were friendly and helpful, especially as we were able to make a last-minute booking. We stayed in a tent we brought ourselves, but there were also pre-erected tents which looked pretty good. The camping field is big and most people camp around the edge, so there's lots of room in the middle for kids to play football and other games. It didn't feel too busy, and there was never a problem with long queues for showers or toilets. It was also great to be able to hire a firepit (£3 plus £20 deposit, firewood £6). There is no shop for food on site, and the nearest store is a 45 minute walk back into town, so either come with everything or be prepared to use a car or walk! Beautiful location, would reccomend this to anyone who likes a traditional camping experience.
The campsite was lovely,clean and run by very helpful friendly people
Lovely beach,lovely staff,very calm atmosphere !!! Loved it will be returning very soon
Our new favourite campsite
We've just spent a fantastic weekend at this special site. We received a very warm welcome welcome and the site has a lovely, friendly feel. It's just a few hundred yards walk to the beach and we whiled away the hours sitting outside our tent with a campfire, watching the shipping, kite surfers and yachts. The facilities are really good, and kept clean and tidy by regular 'spruce ups' throughout the day. The showers were some of the best I've had on a campsite (and we've camped a lot!). If you're going, take some very sturdy tent pegs - the ground was solid! We'll definitely be back. Thank you!
Lovely stay in Lepe!
This was our first camping trip for 5 years so we needed somewhere relatively close to home for a short stay. Lepe itself is a lovely setting - an interesting beach (rock pools, pebbles and boat activity) and great views across the Solent. It doesn't give you the classic New Forest experience but is an easy 20 mins from Beaulieu and Bucklers Hard. The campsite itself is fab - free pitching and nice flat grass so not too tricky for new campers. There was plenty of space even on a busy sunny half term weekend and it was peaceful at night despite the hum of the nearby refinery and ship traffic (occasional fog horn due to sea mist) - don't let that put you off! We loved the fire pit and watching the big ships leave Southampton, all in all the site had a laid-back, friendly 'vibe' with lots of young families. Facilities were fine - bit of an issue with water pressure at certain times but this was minor. Toilets were kept clean and replenished with loo roll etc. The site manager and team were lovely and clearly run a tight ship (excuse the pun). We ate breakie in the beach café one morning but be prepared, it gets v busy and they didn't cope well with the queues - take a picnic instead. There are several supermarkets 5 mins down the road plus takeaways and a v good hardware shop if you need any kit - this makes the site incredibly convenient for an 'easy' camping experience in a lovely setting. Highly recommended!!!
Peaceful and excellent location
Loved this place. So close to the sea it was perfect. Facilities were clean, well maintained and despite a really busy weekend, always available. The staff are wonderful - very flexible, accommodating and helpful. They even let us stay until 5pm for a very minimal charge rather than pack up and get out by 11. Not many campsites would do this. Campfires were a great benefit and a must for us. The sea views are only really available at the top end of the field (which is the busy bit). We camped at the bottom of the field (closer to the sea but less easy to see the sea) and it was utterly peaceful and relaxing. Quite a trek to the loos - which didn't bother us but might be relevant for some. The beach is beautiful but very very stoney - beach shoes are a must. A really lovely well run spot on the south coast and my only criticism is that we had to leave!
Close to beach, emphasis on space in the campsite
Lovely site very very close to the beach and a country park with a big new playground and cafe (both within 5min walk.) Basic facilities. Quiet. Not too many tents despite being full (owners don't want campers to feel crowded, which is a big bonus). We hired a fire pit for £6 a night which was fantastic. Really recommend this site.
Lovely setting, but could do with further improvements
We've just come back from a long weekend at Lepe Beach Campsite. Pro's: - location close to the beach and the country park - friendly staff - facilities clean - fire pits are great Con's: - Could do with more toilets and showers (more important it needs a better water supply...at times I had soap on my hands and then there was only a trickle of water to wash it off) - Would be great to have soap dispensers and small bins in the smaller toilet cubicles (you provide hand towels, but then there is nowhere to leave the used ones) - Would be lovely to have more recycling options (glass, tin's, paper/cardboard) on site, rather than having to put everything into black bins and in the landfill
Fantastic location
Lepe Beach is now my favourite camp site. On a full bank holiday weekend, there was plenty of space for children to play games. It was a minute walk from the beach and country park. Really welcoming staff.. We wil definitely be back 😊❤️
2 minutes walk from the beach!
This was our first camping trip and it couldn't have been better pros - location, location, location - 2 minutes walk from the beach - clean toilets, wash area, shower - large site - park area next door for kids to play (in addition to the beach) - lots of families with children, so they can play with each other cons - the ground where we setup tent had shrub stubs poking our tent floor.. partially our fault as we should have setup tent where near to the entrance where the ground was much better
Lovely Lepe!
We loved it at Lepe! We loved the sea view & the kids liked spotting all the different ferries & boats. We went on lovely day & night beach walks, kids loved the near by park & we had lovely fire pits. The weather was't the best but was nice to be in nature. We went to the motor museum on a wet day. There was a bit of back ground noise which we kind of got used to. It is what you make it & we made some lovely memories & are thinking to go back this year.
A little spot of paradise on the South Coast
Having just booked my families camping holidays for 2018 I felt compelled to write a review of this glorious site in Lepe on the South Coast. We visted in August and had an excellent holiday. Great location, loved having the beach on our doorstep, spent 2 full days there sunbathing and swimming, and had the perfect spot with no other people there. The beauty of the beach is it's shallow for quite a way and was perfect for the children to splash about in. We also loved being able to see the cruise liners go past everyday along with the cargo ships. The tents were lovely and spacious, such a great idea having pre-erected ones available. The site was perfect with a park for the kids a very short walk away, and surprisingly the best shower I've ever had whilst camping! The Langley Tavern pub up the road had great food and a huge garden for the kids to play in, and shops and take-ways near by helped massively. Is is cheating if you get food delivered?? Thoroughly recommend this location, and especially the company, the staff couldn't be better. One of the best trips the kids and I have been on. See you again next year.
Characterless Campsite - But Great Location
This campsite has all the charm of an overflow parking area at a music festival, complete with the stench of chemical loos and over head pylons at one end of this large shadeless field. That said the staff running it were all lovely and the location definitely has its benefits. Just a leisurely 5 minute walk to the sea and nearby coastal park. The firepits were nice - if you could get one - they were over subscribed. Unfortunately everything seems very temporary, which is because it only opens for 6 weeks at the height of summer to take advantage of the peak camping season. At night you may notice a background hum from the very busy Solent which has some of the heaviest shipping and boating traffic in the UK. During the day it's non stop shipping containers, ferries, speedboats, jetskis and sailboats. It looks lovely but there are definitely more tranquil bits of coastline. We enjoyed because of the great weather but I dread to think what our experience would have been like in the rain as the site looks like it would turn into an instant mudpit. Could do better - definitely not a "cool" campsite.
Response from Lepe Beach Campsite
Thanks to your feedback, we have made some vital improvements to our campsite for 2018, these include major improvements in our toilet system for 2018, which mean we will no longer have to use a sewerage tank directly under the toilet block which, we admit, at times, produced an unpleasant chemical aroma last year. We've also dramatically extending our gravel drive way from the bottom of the field (entrance) and creating a complete loop back down to the exit, thus controlling the flow of traffic away from the main camping area and significantly reducing muddy tracks during prolonged periods of bad weather. We are always looking to improve the campsite with in the limitations of our licence and any feed back is welcome
Good location, noisiest camp site ever visited
Great location on the beach, friendly welcome from the staff. This is THE noisiest campsite I have ever visited. From being kept awake til 1am by shouting adults to being woken at 5am by screaming children. I know this is not necessarily the sites fault, but there are meant to be noise restrictions in place in the site "rules''. The facilities are clean, showers hot but loos are chemical and smelly. All in all I don't think this site it worth the price being charged, but has a lot of potential, and fellow campers need to brush up on their camping etiquette!
Response from Lepe Beach Campsite
Thanks for your feedback, we're pleased to say, as a consequence, we have made vital improvements for 2018! This year we have made major improvements in our toilet system for 2018 and will no longer have to use a sewerage tank directly under the toilet block which, we admit, at times, produced an unpleasant chemical aroma. We're sorry to hear you were near noisy campers – if you had made our warden aware we could have addressed this situation for you at the time. We hope it does not put you off returning again.
Simple site, good location
We had a lovely stay at Lepe Beach Campsite last weekend. Sadly very rainy but not the campsite's fault. Great location. Would love to have spent more time on the beach but, because of the weather, we headed to the National Motor Museum instead, which isn't too far away. Facilities decent, nothing flashy but just what we wanted for a tent-only campsite.
Fantastic site with potential!
We camped at this site in mid-July 2017 - yes it rained! The location within the New Forest is great - the site is basically a farmer's field with portable toilets and shower blocks (6 showers). The nearest grocery store is just under 2 miles away so you will need to be organised, especially as there's no electric hook-up. However, the location is fantastic, with direct views of the Solent from your tent and the opportunity to stroll along the beach on sunny evenings (yes we had quite a few of these) whilst the children scour the 'rock pools' for hermit crabs and other creatures! All in all, we would definitely go again - the site was very relaxing and the children loved the accessibility of the beach and watching the cruise liners come and go!!
Great setting but very not very cool
Warm welcome, friendly staff & an ideal setting a stone's throw from the beach. The fire pits are great. Facilities to freeze ice packs. We knew things would be basic but the portaloo type toilets without proper plumbing are not reflected in the price of the pitches. Could do with more than 6 showers & 4 wash up sinks. No recycling facilities. This is a field with loos. Muddy underfoot. Lovely area but won't be returning to the site.
Response from Lepe Beach Campsite
Like any service industry it is extremely important that we receive feed back from our guests and we are delighted to say that we are making some vital improvements to our campsite in 2018! Due to New forest Council planning policies, we have a camping exemption licence that comes with extremely limited options when is comes to infrastructure and we are not allowed to build any permanent structures on the site. That said, we have managed to make major improvements in our toilet system for 2018 and will no longer have to use a sewerage tank directly under the toilet block which, we admit, at times, caused problems in 2017. We are also really please in inform our guests that we are also dramatically extending our gravel drive way from the bottom of the field (entrance) and creating a complete loop back down to the exit, thus controlling the flow of traffic away from the main camping area and significantly reducing muddy tracks during prolonged periods of bad weather.
A bit disappointing
Elements of this site are good, like location right next to beach, and it has potential - but needs lots of improvements for next year. After rain this weekend the whole of the top of site is a festival style bog which we only just managed to drive through to get out. You also have to wade through it to get to the loos. The loos are a portacabin and stink very strongly of chemicals. In retrospect the Cool Camping review reads as if they hadn't actually visited before writing the review and I feel a bit let down having relied on it, and feel like I could have picked a better campsite in the area.
Response from Lepe Beach Campsite
Thanks to your feedback, we have made some vital improvements to our campsite, which include major improvements to our toilet system for 2018 – this means we will no longer have to use a sewerage tank which, we admit, at times, produced an unpleasant chemical aroma in 2017. We've also dramatically extending our gravel drive way to better control the flow of traffic and significantly reducing muddy tracks during prolonged periods of bad weather. We're always looking to improve the campsite with in the limitations of our licence and any feed back is very welcome. Thanks.
Best Price Guarantee
Easy and Secure, with instant booking confirmation
Trusted for over 10 years
A chance to win a brand new Coleman tent!
Book campsites near Lepe Beach Campsite