Muddycreek Farm
Lymington Road, New Forest, Milford On Sea, Hampshire SO41 0RF









A 28 day August pop-up, offering traditional Hampshire camping on a New Forest Pony farm
Hurst Castle is not your archetypal fort-shaped building. Thanks to the Napoleonic wars it has long, rather weird looking flanks that bend around the coast. Its centre is still the rotund stone castle that Henry VIII commissioned though, sitting like a circular watch face in the middle of two ginormous granite straps. The castle's shape mirrors the curvature of the spit on which it resides, an outlying strip of shingle that runs in to Milford-on-Sea. And it's on the other side of this village that Muddycreek Farm resides. Like the castle, Muddycreek Farm has been here for years and, while much of the countryside has seen an infringing urban invasion, the fields here have been largely untouched. The countryside is a patchwork of agricultural colours and, to the north, the vast New Forest wears its national park status with pride. It's the perfect setting, then, for a campsite and a pop-up one at that – a tent-only haven that drops into existence for 28 days of the year before returning back to nature.
Muddycreek Farm is a campsite that gets it right. There's no swimming pool, no laundry blocks, no strings of static caravans. In fact, if you came here in mid September you'd never even know the site exists. Yet in the height of August the 60 pitches each harbour a colourful tent, enlivened with the quiet hum of satisfied campers and kids yawning in their sleepbags. "Hmmm... 60-odd tents?!", you say? It may sound a little full, but with an expansive 15 acres of space there's no such problem here. Peg down in the soft grass and fold out your tables and chairs, there's no danger of feeling hemmed in by other peoples guy-lines.
It's best to leave the site on foot to get into Milford-on-Sea. The village centre is only 10 minutes away and the coast a little further. If the short stroll is enough to get you thirsty then try stopping in The Beach House, a fine pub with great sea views and a child-friendly garden that backs onto the cliffs. Hurst Castle still makes for an excellent walk along the beach and acts as a wonderful lookout point for views of the Solent Coast as well as, on a clear day, the distant Isle of Wight. But from the rooftop it's inland that often catches the eye, as the New Forest sweeps away before you, fronted by the rooftops of classic Hampshire villages.
What the views from the castle seem to capture is the eclectic location of this campsite: cycle-friendly woodlands to explore, beaches on the doorstep, wetland nature reserves and charming Hampshire towns. Muddycreek Farm has a wealth of activities in the vicinity while the site itself still wears a relaxed, unobtrusive aura that's not in-your-face. When you want to retreat into the atmosphere of the outdoors, simply light a campfire, grab a skewer and enjoy toasting on the campfire beneath the stars. Afterall, that's what it's all about.
Gallery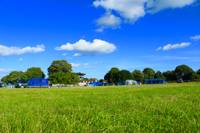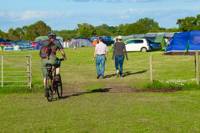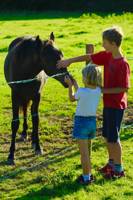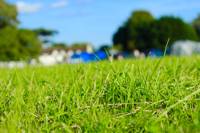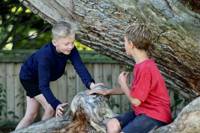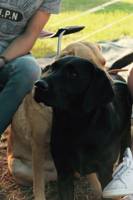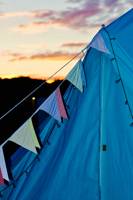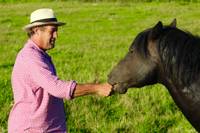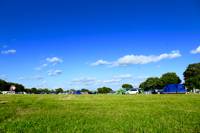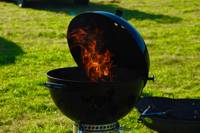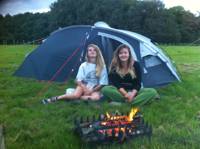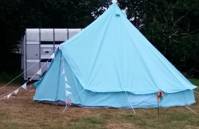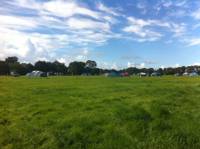 The Owner Says
Throughout August, our traditional New Forest Pony farm is open to tent campers and campervanners for just 28 days. Our loos flush, our showers are hot, we allow dogs (for free) and, Fridays are pizza night... best of all, you can make your own campfires! We don't have set pitches so you can choose your perfect spot and easily camp together with your family and friends.
Situated in the charming coastal village of Milford on Sea, Muddycreek Farm lies on the edge of the New Forest National Park. Wonderful beaches, shops, pubs and restaurants are all within easy reach.
We're ideally located to exploring the New Forest. There's a shingle beach just down the road and plenty of fishing opportunities for anglers.
Reviews
Add Your Review
The space we had was amazing, not all on top of each other.
Some of us were fairly new to camping so this was a great experience. Turn up and pitch up wherever you feel like it. Price per person rather than number of tents and small camp fires allowed. Clean toilets, hot showers and close to so many interesting places. We had a ball and hope to visit again.
Lovely campsite
Had a lovely stay at Muddycreek Farm with our two young boys, had a lovely time, perfectly situated to explore the surrounding area, the beach at Milford on Sea was great and we highly recommend the butchers in the village and the chip shop. The campsite had lovely hot showers and a freeze block exchange, very useful during the hot weather, we will definitely be visiting again, thank you.
Beautiful area and great campsite
We had a lovely weekend at MuddyCreek - the campsite itself was well equipped with nice toilets, washing up sinks and showers, plus friendly staff who provided cold ice packs and a BBQ to borrow, as well as selling us firewood and kindling. Lots of open space for the kids to run around and close to the lovely beaches of Avon and Milford on Sea! We had a lovely lunch at 'the Beach House'.
Very chilled lovely campsite
I loved this place! Really friendly but non intrusive staff, very chilled vibe, great that you can have a campfire. Will definitely return here.
Response from Muddycreek Farm
Thank you Helen. Glad you enjoyed your stay
Nice relaxed campsite
This campsite is great. This was my third visit - it's always chilled and staff are helpful. Other campers always seem friendly, plenty of kids but not a noisy site. Even at it's busiest, there's pleanty of space in the field. Showers are good and the ladies toilets loog nice, but the men's facilities could deo with an upgrade.
Response from Muddycreek Farm
Thank you for your comments. We will look into improving the men's loos 
Great campsite!
We stayed as a large group of friends and family for a week at the beginning of August. First night I heard the horse behind our tent give birth woke up to the sweetest little lanky legged horse! So cute. The space is great. No camping on top of each other or fixed pitches which is brilliant. The facilities are always clean and well stocked with toilet rolls. My kids loved the showers and had more in the week we stayed than I would have had to force them to at home! Milford on Sea is a short walk away to the pub or curry house for dinner. Also the beach is just down the road too lovely ice cream shop. Would definitely recommend this site. Totally love the idea of pop up camping and will be coming back!
Response from Muddycreek Farm
Thanks Claire. Glad you enjoyed it. We are thinking of naming that foal Muddycreek Cheeky Charlie!
simple basic camping
Field a bit rough, hoof marks I guess from when wet, but no slope so easy to find tent rotation.! Nice to have a camp fires in barbeque bucket. Toilets and showers kept clean. Public footpath across road. Plenty hot water, staff friendly. Relaxed site.
Response from Muddycreek Farm
Thanks for the review. Yes the ground is a little rough this year sadly as the lack of rain meant the ground was too hard to roll hopefully next year will be back to normal
My idea of great camping
Uncrowded field, friendly neighbours. The way camping used to be, only better: inexpensive pitches with hot showers and clean loos. Sensible approach to fire risk in the dry weather and useful freezers for cooling ice blocks. Would question what happens to rubbish as no recycling bins - does it really get sorted later? Also agree with other reviewer, somebody to enforce the quiet policy around 22:30 would be a plus - it only takes one unsociable tent to disturb everyone else.
Response from Muddycreek Farm
Thanks for the review. I am sorry if you were disturbed by a noisy neighbor,  we do patrol the campsite after 10.30 and ask everyone to keep the noise down but on this occasion we obviously didn't hear the people in question so I apologise for that. With regard to the recycling, we have been told that the skip is sorted through and I've not been given a reason to doubt this but maybe we should also have a separate recycling bin? Thank you for your feedback.
Great value
Stayed for a couple of nights. Owners really helpful and welcoming. Nice clean facilities. Would definitely recommend and will be returning next year
Response from Muddycreek Farm
Thank you for your feedback, we looking forward to welcoming you back next year!
Lovely friendly campsite with good basic facilities
Great value for August, lots of space and good basic facilities.
Brilliant campsite 👍🏻
We stayed the first weekend of August and it was brilliant, hot showers , nice loos and loads of space. The owners are so lovely and accommodating. We will be back next year x
An amazing find for the month of August
What a fantastic idea....pop up camp site for August. We loved it, although we could only spend 1 night, luckily it was a Friday night so the pizza van was there. Spacious, flat, friendly, hot showers, flushing loos and incredible croissants for breakfast too. We will be back with family members too. A BIG THANK YOU.
Response from Muddycreek Farm
Thank you for your kind words
Brilliant camping trip
We stayed for 3 nights over a very hot weekend in August. The ground was bone dry, but the field is flat and we managed to get the pegs in the ground! We were allowed a fire (off the ground - we bought our own portable bbq) and there were lots of precautionary water filled bins around the field 'just in case'. The owners were lovely, the showers hot, the toilets were very good too. We bought firewood and kindling there and swapped our ice blocks over in the owners freezer. They had a pizza van on the Friday night and a coffee/croisaant van on weekend mornings too. Milford on Sea is an easy walk and you can get everything there. Lymington is a short drive. We actually walked from the site to Hurst castle and back as a day out (6.5 mile round trip) stopping at the Smugglers for lunch on the way home. I've already told 2 friends to come here. We would definitely come again.
Response from Muddycreek Farm
Thanks Kelly. Glad you enjoyed your stay
Perfect spot and lovely owners
I stayed for 2 nights the first weekend of August solo and it was a perfect stay. The place is easy to reach, calm and spacious and super tidy: there is plenty of space to pitch up and everyone is very considerate. The showers where greatly original and spacious, the restroom facilities were clean and tidy, I did not need to use other facilities myself but everything looked easy to use. The owner were very welcoming and also took the time to pop over on Saturday night to check if everything was ok, asked if I had everything I needed and have a friendly chat. Note also Friday night they had options for Pizza and the Saturday evening was hotdog, cash only, which is not only of great convenience and great idea but they also have some sets of table and chairs nearby where you can have a chat with other campers over "diner". As a solo hiking traveller, this is a great added bonus, was able to get some additional input on where to go the following day which I was really appreciative off.
Lovely location and friendly people
A very quiet, family campsite. A lovely field with solid, if basic, facilities. Extremely friendly, helpful people running the site and making coffee and croissants in the morning. My only gripe is that we all got bitten to death by mosquitoes, despite the smoke from BBQs and a fire. If that's the norm it would have been good to have a bit of warning to slap on the repellent!
A basic camping field, with great showers/toilets
We stayed here for one night on a hiking trip, during terrible storms! The camping field is huge, so we had lots of space, the shower block was great, hot water and clean, same goes for the toilets. There's a good washing up area and access to fresh water. For the price I'd say it was great.
Lovely simple site with very friendly welcoming owners.
The Friday night pizzas were great and the coffee and croissants in the morning a welcome touch. Toilets are also v upmarket ;)
Just what I was looking for
Camping in the New Forest in peak season is outrageously over priced. This place had good facilities, nice hot showers, clean. There is plenty of space. The owners were really helpful and friendly and it's just a short walk to Millford. Fires are allowed, all at a reasonable price.
Easy Going
I stayed for a week with my 2 grown up sons. We enjoyed it. Easy going owners, good showers and clean toilets. Lots of room so campers were far away from each other so very private. A chance to relax in peaceful surroundings but lots to do locally if you wanted. I`ll go there again, no doubt!
Ruined by party.
Good campsite . Sufficient facilities. Ruined by a large party of adults and kids singing and slamming car doors way past the 10.30 quiet policy. Nobody around to enforce the laws so they easily get broken. Ruined for many occupants around us too. Fortunately it was our last night of 4 otherwise we would have complained. Overall the other 3 nights and days were fine.
First time lucky
I loved Muddycreek. It was my first experience of camping and it was friendly, relaxed, near to great beaches on a fantastic coastline, and the Friday night pizzas were delicious. If you want a quiet campsite with lots of space, nice showers, and a high standard of care (and cleanliness), this is a perfect place.
PERFECT CAMPING LOCATION - HEAVEN
Muddy creek has got to be one of the best campsites I've been to. I'm a Seasoned camper and have visited muddycreek for the past five years because it's such a relaxed set up. The field is large enough that you don't feel cramped at all and they allow camp fires which is a bonus! It's family friendly and thankfully so quiet in the evenings ready for a peaceful sleep. Lovely loos and fantastic showers! It's a short walk into the main village of Milford on sea where there's great little village shops and very nice selection of eateries. Perfectly close to the beach! And a short ten minute drive to either Lymington town or the forest. Booking was no stress and the owners were really accommodating. Definitely recommend as a go to location! See you again next year!
Win a £100 Blacks Voucher!
If you've stayed at Muddycreek Farm campsite, please take a minute to tell us about your experience. Every month, one lucky reviewer will be picked at random to win a £100 voucher, courtesy of our recommended retailer Blacks. Each review counts as one entry, so get writing!

Best Price Guarantee, with no fees
Instant booking confirmation
Trusted for 10 years
A chance to win camping goodies in our regular competitions!
Book campsites near Muddycreek Farm