Tom's Field
Godshill Pottery, The Ridge, Fordingbridge, Hampshire New Forest SP6 2LN










Sometimes you just can't fight your destiny; this is the campsite formerly known as farmland where the owners caved in to campers constant requests and now, for 28 days a year, this field gets to fulfil its wonderful campsite potential
Just minutes from the M27, the motorway gives way to moorland, drivers reduce speed in homage to the grazing gardeners of the New Forest – the wild ponies – and time slows down in step with the traffic. Cue deep exhalation of city congestion and, ventilated by heather-perfumed air, one remarkably swift passage into the wilderness.
Such accessibility from the conurbations of southern England earns the location big accolades. Still, don't expect to hurry through William the Conqueror's former hunting ground; wild horses may have dragged you here, but they're unlikely to budge from the road till they've had their fill.
Tom Charman's grandmother bequeathed her family the pottery and farmhouse adjoining the field. For years, campers would turn up requesting a pitch, encouraging Tom and his cousins to run an honesty site: a sign at the gate would welcome arrivals and contributions were collected each morning.
Tom's Field now has 50-odd plots, managed by Tom and his wife Tina. Numbered pitches run parallel to the road, opposite another line of tents that overlook the moors. Here, parents sit outside their ever-expanding canvas constructions looking almost stunned by the sudden onset of relaxation. At the far end, beside a clutch of woody pitches, is The Copse, a favourite with couples.
You can walk for miles on the moors and explore villages by bike or on horseback. At night, campers laze around, barbecuing food. 'Or the more adventurous,' laughs Tina, 'make the half-a-mile pilgrimage to the pub'.
Gallery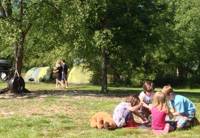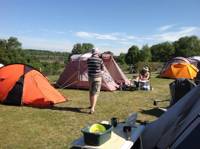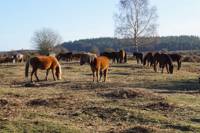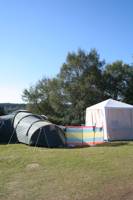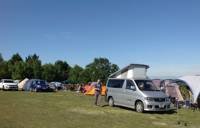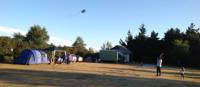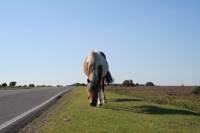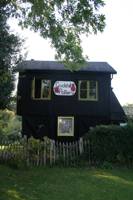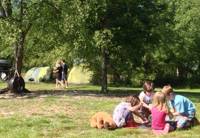 The Owner Says
Tom's Field commands a stunning location close to the village of Godshill, 3 miles from the town of Fordingbridge and is open for weekends throughout the summer months. Godshill is a quiet village on the fringes of the New Forest  where ponies, donkey's and cattle all wander freely. We boast direct access and fantastic views. Footpaths and cycle routes are literally on our door step. With just over 50 pitches the main field offers large perimeter pitches for families and small groups. Our copse area is exclusively for couples which offer smaller pitches and a quieter retreat. We are a small quiet campsite and therefore have a no music policy at all times and request that there is no noise after 11.30pm. We can only take individual bookings on line. Please call for advice if you are a small group.
Win a £100 Blacks Voucher!
If you've stayed at Tom's Field campsite, please take a minute to tell us about your experience. Every month, one lucky reviewer will be picked at random to win a £100 voucher, courtesy of our recommended retailer Blacks. Each review counts as one entry, so get writing!

Reviews
Sign up or sign in to leave your review of Tom's Field
Great little campsite
Booked a weekend for 2 mums and our 4 kids. The site is small but perfect for letting our kids(3.5, 4, 2x6.5) have a little more independence. The owners were very friendly and helpful. The facilities were clean, although we were furthest from them (but someone has to be). The campsite was fully booked but didn't seem overcrowded. The owners were let down by their pizza van (apparently not the one they normally use) but were very apologetic and provided menus for nearby takeaways so we got our pizza anyway. Would definitely go back and recommend to people looking for a simple weekend camping experience in the New forest
Just amazing
We booked to stay at Toms Field because it was close to where we wanted to be for an event but as it turned out the campsite was the event! The owners are an absolute delight and make you feel so welcome. Nothing is too much trouble. Our two young children made an army of friends within minutes of arriving and the child friendly atmosphere in the family section made it all so relaxing. Never have i known the facilities to be kept so clean and the morning shop was reasonably priced and very well stocked. In short its just an amazing site run by people who quite clearly care about what they do. we didn't want to leave and will definitely be back.
Chilling
We have been to the field now for holidays every year for the last few years and I have to say that it is just fantastic to chill it's no noise policy appeals just to be able to listen to nature at it best . The campsite is well run by Tom and Tina and nothing is too much trouble .we get the croissants and locally produce from the farm shop just delicious and good value . The shower block is always cleaned and the water is lovely and warm and always has soap and toilet roll as it is chechecked regularly . We love the fact we can hire a fire pit and there is coals and wood in the store to re stock . Having a freezer to re ice blocks is great too . I can't say enough good things about this field and we wouldn't go anywhere else . 
Authentic, friendly and well-run
Second year staying here on the 2nd Bank Holiday weekend in May. We were Dads & Sons camping and this provides a great spot to do it. I like the scale, friendliness and simple rules of this place and Tom & Tina are welcoming hosts. I was impressed they remembered us from last year - a personal touch. This is good jumping off point for many outdoor activities and Moors Valley Park is a particularly well-run adventure park (they have a Go Ape facility). Definitely would recommend and will be going again!
Good for Beginners
+ Kids love it, good non-profit making shop each morning, great views, good walks. Woodgreen especially, The Horse & Groom pub, very nice. http://www.horseandgroompub.co.uk/
- Very regimental, you get told where to pitch and the border lines are burnt into the grass for your plot. Too expensive, for a narrow field - bit of a free for all, kids everywhere! The toilet block is too small (lots of queuing at peak times) for this site and dated, dishwashing facilities were always occupied, day and night. I don't want to shower 6" away from a stranger who's on the toilet! Pizza's, well you'll place your order and wait, over 2 hours (2h35m) to be precise, so a lot of frustrated parents feeding their children gone 9pm. Not particularly welcoming, we won't be returning.
Best Price Guarantee, with no fees
Instant booking confirmation
Trusted for 10 years
A chance to win camping goodies in our regular competitions!
Free Eat Natural hamper with every Cool Camping booking in April.
A room with a view
We loved this campsite and have returned for the second time. Kids had a great time playing in the fresh air and toasting marshmallows over the fire. Fire pits can be hired and there is wood for sale too. If you want to sit round a fire, listening to horses munching on the grass and the birds singing in the valley below, then this is the perfect place. Friendly owners and simple but clean facilities make this a great weekend retreat. Don't go if you want to get really drunk, fall in the fire, have a drunken argument with your husband/ wife make lots of noise, play loud music or irritate everyone else on the campsite- this sort of person doesn't camp here thankfully.
Wanted to stay longer!
Tina and Tom are so very helpful and really make you feel at home. The facilities are clean, showers were always hot.
Fire pits are available on request and Tina went out of her way to make sure we had the best stay. We could have stayed a lot longer, Thank you!

Peaceful and fun!
Tina and Tom run a super small campsite with just 50 pitches.  There are super views and ponies are just over the hedge.  It's a great safe place for children to run around.  You can walk straight onto the heath. The mobile shop that arrives has a great selection of pastries, local produce, papers etc.  An ice cream van comes in the evening too! The showers and loos are in really good condition, with lots of hot water.  Washing up sinks even come with cloths/brushes and washing up liquid.  We've just booked our 3rd visit and can highly recommend it.
Perfect!
Fantastic campsite! We visited Tom's Field with our 3 children, our dog and some friends. Beautifully maintained, spotless toilets & showers, even washing-up liquid and brushes provided for washing up. Full but never felt crowded, lovely family feel. Gator truck rides in exchange for picking up litter were a massive hit with the kids. Thank you Tom & Tina we'll be back next year. The Howells of Usk

Loved it!
Great atmosphere and owners fantastic. Had a great time, was quite a way from nearest train station but overall loved it!
A Great Weekend Retreat
My boyfriend and I booked a last minute weekend here and had an amazing time. We were in the copse which was for couples and adults only. It was a secluded spot, nestled in the forest with spectacular views. The morning shop with fresh pastries, milk, papers etc was a welcome treat. The facilities were also very good and we were able to hire a fire pit. Would definitely recommend. The top field was suitable for families and larger tents. The owners were very welcoming and helpful seeing as I emailed at 9pm on a Thursday eve. Thanks for a lovely, impromptu stay!

One of the UK's best small sites
We love this site and have returned time and time again - Tom and Tina are lovely, the site itself is small but perfectly formed and our kids love it - you really couldn't ask for more!!

Tom's Field (Hampshire)
Love love love!
Book campsites near Tom's Field