Tree Tent
Brickyard Farm, Town Littleworth, Cooksbridge, Lewes, East Sussex, BN8 4TD
Sleeps 7

(max 4 adults, 5 children)

Beds Provided


Bed Linen Not Included
Book camping accommodation at The Secret Campsite Lewes
The Owner Says
Our Tree Tent is similar to a Harvest Mouse nest. It was designed by local inventor Jason Thawley, and was the first to go up in England. It featured in George Clarkes Amazing Spaces. It will comfortably sleep 2 adults and 1 child. It has its own fire pit and a grass area for you to relax on and enjoy the sunshine and Sussex wildlife here at The Secret Campsite. Access to the Tree Tent is via wooden stairs, From the two windows in the Tree Tent there are fantastic views across the campsite and on to the South Downs National Park.
We provide 3 single beds with mattresses (but no sheets or pillows). There are free hot showers and toilets at the campsite. If you are more than 3 people, there is space beneath the tree tent on the grass pitch to put up your own tent.
You will need to bring your own bedding, pillows, blankets and towels, plus any food you will need. We provide a camping stove, a kettle, mugs, plates and cutlery for your trip. Please note that you can't cook inside the The Tree Tent, so you should bring along any cooking shelter that you require such as a small tent or a gazebo
View Gallery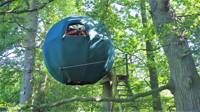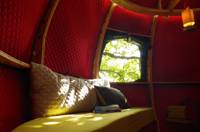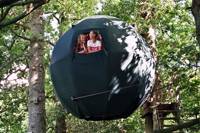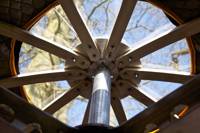 Search all availability at The Secret Campsite Lewes
A not so secret campsite in East Sussex with camping and glamping – and campfires encouraged
The Owner Says
The Secret Campsite Lewes is one of The Secret Campsites, a collection of Real Camping and Wild Glamping sites focused on nature, peace and space.
The campsite is a peaceful, tents only campsite for nature lovers, real campers and their families, who are looking to explore Sussex, Brighton or Lewes. Our woodland meadow camping pitches are large and secluded and come with their own camp fire pit and free hot showers. We also have a number of unusual shelters where you can spend the night.
By keeping the meadow car and dog free we enable wildlife to flourish, and this increases the number of encounters that you and your family will enjoy. It also ensures that it is a safe place for children to roam freely and explore, and we have an area of woodland where dens can be built and trees climbed.
We are located in a beautiful and sparsely populated part of East Sussex, and our camping meadow is enclosed by both private and public nature sites. These include great stands of ancient and coppiced woodland, and a site of nature conservation interest, SNCI. This mosaic of habitats is incredibly rich in wildlife and The Secret Campsite Lewes is lightly managed to create an environment where wildlife can thrive. The surrounding ancient woodland has been encouraged to advance at the edges of the camping meadow, which ensures an ever changing diversity of animals and plants for you to watch, hear, eat, smell and touch. Catch glimpses of deer, hunt for slow worms, wake to the dawn chorus, build dens or simply enjoy the unique flavours of fresh and foraged produce at the end of a busy day.
We also have two secret shelters, The Tree Tent and Gridshell. These are both fantastic quirky accommodation options for your stay in our beautiful site. Both of these beautiful shelters have been designed by local inventor and designer Jason Thawley and the Tree Tent was even featured on George Clarke's Amazing Spaces.
Camp with us as you relax and explore Sussex, and you'll leave wanting more.
Please note we are a peaceful family site and do not allow groups. Please see our Beech Estate Campsite for group bookings or visit the Wild Boar Wood site for bell tent glamping stays.
Site Facilities
Campfires allowed. 12 pitches in the main camping meadow and a further 5 on the western side of the site near the showers. 2 of these are amongst the fruit and nut trees making up our disorganised orchard, and the other three are on a south facing bank nearer to the buildings with views to the South Downs or into the neighbouring woods. 3 showers occupy an old stable block along with toilets; compost-loo shacks are nearer the pitches. Trolleys are available to transport your gear to the main meadow. No shop as such, but you can buy firewood at reception.