Grass Pitch
Housedean Farm, Brighton Road, Lewes, East Sussex BN7 3JW
Sleeps 8

(max 8 adults, 7 children)
Book camping accommodation at Housedean Farm Campsite
The Owner Says
Pitches: Each pitch is large enough for up to 8 people and it is possible to book 2 or more pitches so that groups of friends or families can all pitch next to each other. We are happy to accept small campervans (VW type size – no motorhomes or caravans), but we don't have any electric hook up available. Pitches are allocated on a first-come-first-served basis. If you would like a specific pitch, let us know when you book and we will do our best. Please note that some pitches are further from the facilities than others (maximum 200m).
Facilities: We have modern camping facilities on-site that include: 5 flushing loos, 2 outdoor basins and 4 hot showers in wooden enclosures (one of which is open-air). Taking a hot shower outdoors is surely one of life's most simple pleasures! We aim to keep our facilities scrupulously clean at all times. We also have a  washing up shelter with hot water, a communal fridge and freezer,power points for charging phones and a brand new area with wash basins.
Campfires: Each of our pitches has a designated fire pit. We encourage their use as we believe camping is all about having a roaring campfire and we can supply logs throughout your stay. Occasionally, during droughts or particularly hot periods, there is the risk of crops catching fire, so we may ask you to refrain from having campfires on some pitches.
View Gallery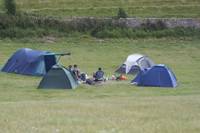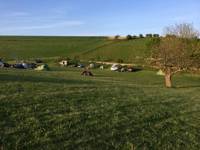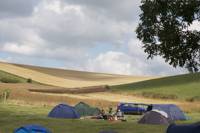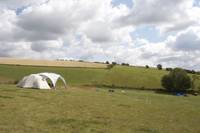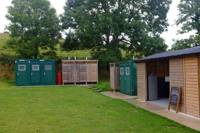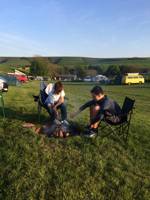 Search all availability at Housedean Farm Campsite
Epic views of the South Downs, and a walker's paradise, hidden sweetly on the South Downs Way
The Owner Says
Housedean Farm Campsite is located on a working farm, within the South Downs National Park between Lewes and Brighton in East Sussex. The campsite is a great base from which to explore the National Park and is easily accessible by bus from Brighton and Lewes. The farm and campsite are also situated directly on the South Downs Way so we are perfectly located for walkers and cyclists. While we offer a traditional, basic camping experience, we want you to be comfortable throughout your stay and therefore provide modern facilities with rustic open air hot showers. PLEASE BOOK DIRECT VIA OUR WEBSITE www.housedean.co.uk
Site Facilities
Each pitch comes with its own fire-pit. The authentic Shepherd's Hut comes fully furnished with a double bed, single bed and wood burning stove. The Hut is provided with bedding, cooking equipment, a gas stove and a firepit. Camping Pods are provided with beds (but not bedding), firepit, lights and electricity. Across the site, campfires (in designated pits) and BBQ's (off ground) are permitted. Kindling, firelighters, disposable barbecues and bags of logs can be purchased onsite.