Orchard Camping Pitch
(131 at The Secret Campsite)
Our secluded, wildlife rich, orchard camping pitches sleep a maximum of 7, with no more then 4 adults. Under 3's are free.
The Owner Says
The Orchard pitches are set amongst the fruit and nut trees and small pond that make up our disorganised orchard. They are a little nearer to the buildings and showers. There are 5 pitches here including The Gridshell and The Okra and it is car and dog free. We allow camp fires and firewood and charcoal are available for sale from reception. We have great shower, toilet and washing up facilities and there is a fridge and freezer available for campers. The Orchard is perfect for people looking for privacy.
About The Secret Campsite
Suitable For
Tents – yes. Caravans, campervans, big groups, young groups, dogs – no.
Nearby
There's plenty to do in Brighton, 13 miles away, but don't overlook the delights of Lewes, a pretty market town nestled in the South Downs just 5 miles from the site. There's a farmer's market on the first Saturday of the month and an outdoor lido for hotter days. You can walk there from the site – ask at reception for the route. Glyndebourne Opera House is just a few miles away and the South Downs National Park is a 3 mile stroll to Offham. Finally, Middle Farm and Drusillas Park are a great morning out for children which can be combined with walks around the Friston or Ashdown Forests to wear everyone out ready to collapse back at the campsite around a fire to tell stories and play cards.
Food & Drink
Tim, the owner, knows all the best places to get fresh, local produce, including the Holmansbridge Farm Shop (01273 401964) in Town Littleworth which is a 5 minute walk away. The Royal Oak (01273 400418) is a 30 minute walk away along the dismantled railway line that links the campsite to the village of Barcombe. The Five Bells (01825 722259) is a 40 minute walk through Balneath Woods and Markstakes Common and serves great beers and traditional pub food. If all country pubs could be as good as The Griffin at Fletchling (01825 722890) with its delightful garden and exceptional food, the world would be a happier place. Lewes is home to the wonderful Cafe du Jardin, which is located in a courtyard that it shares with an antiques business, and for the more adventurous Chaula's Indian Restaurant (01273 476707) is heaven for gourmets of Indian cuisine.
Extras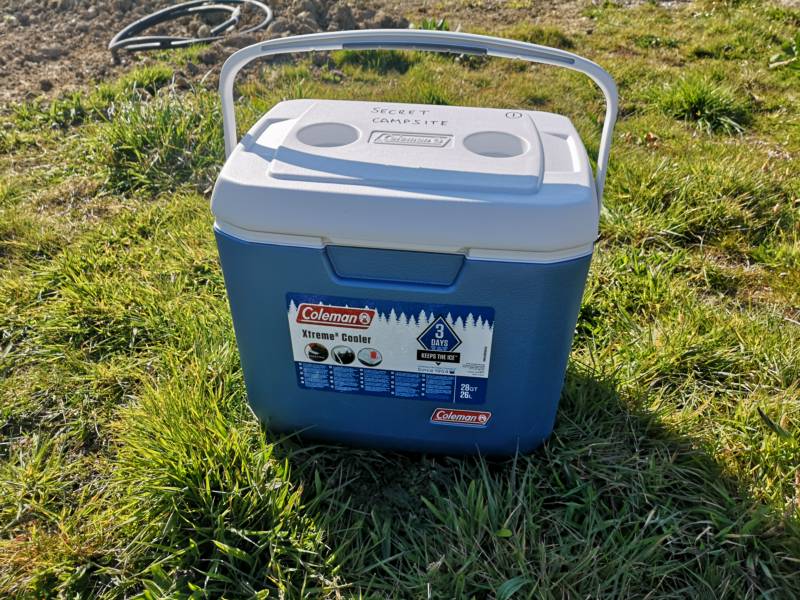 Cool Box
This large cool box can be hired for the duration of your stay to keep food and drink cold on your pitch.
It's large 30 x 39 x 25cm and you can borrow our ice cold freezer blocks from the on site freezer. No more warm drinks.
Site Reviews
Add Your Review
Rated ★★★★★ over 215 reviews
Perfect getaway
Firstly, I can't talk and praise how nice and accommodating Tim is! Super helpful and nice, called to say he wasn't in reception and if I needed anything. I loved that no cars can go to the pitch and each pitch is kept very well and spaced nicely for privacy. Sinks and freezers were a great touch and super handy! If you do pick a pitch with no electricity, bring a good power bank for your devices. We would 100% stay again! If you're thinking about it, do it!
Response from The Secret Campsite
Morning Daniel, Thanks for leaving a review. We really appreciate you taking time out to post it and look forward to seeing you both again sometime soon all the best Tim
Girlfriend loved first camping experience
I'm a seasoned camper at The Secret Campsite and my girlfriend finally decided to brave it and give it a go. Where did I take her? To the BEST campsite I've ever stayed at of course. Friendly welcome from the owner Tim, great pitches with space between different pitches. Becky particularly enjoyed the cosy camp fires, plus the clean facilities as well. We took the walk down the old train line to Barcombe in the day, which was lovely Can't wait for more camping trips to come at The Secret Campsite.
Response from The Secret Campsite
Hi Ben,
Thanks for leavong a review, we really appreciate it and look forward to seeing you both again soon
Tim
Intimate, authentic and expertly hosted
Tim the owner is full of energy, passion for the natural environement and making sure all questions are answered and any problems rectified and I think what makes the stay that extra special. It really is an immersive nature expereince unlike any other campsite I've been too. Toil and shower blocks moving to a bigger building soon and looking forward to seeing the new ones when they're up and running.
Response from The Secret Campsite
Thanks for leaving a reviw Greg, we really appreciate you doing this. See you again Tim
Perfect for a little getaway
We finally got the chance to return after a year or so and were very happy to see it was just as good as before. Nice addition with the woodland corridor and our favourite pitch was as big and quiet as ever. Got the opportunity to see the Milky Way this year due to clear skies and were lucky with very warm sunshine in the day. Was a fantastic opportunity to reset the dial, and totally relax. Always friendly and welcoming, the ethos of the campsite as a place to escape and enjoy wildlife is clearly a real passion for Tim. Fabulous to see how much the young trees have now grown up, and you can easily lose an afternoon just watching birds of prey wheeling around above the woodland.
Response from The Secret Campsite
Hi Sarah, Thanks for taking the time to leave us a review. We really apprecite your thoughts and look forward to seeingyou again whe you need to recharge. Tim
A place of tranquility and stunning beauty
An amazing little part of the world where you are surrounded by nature. It was lovely having our own pitch amongst the wild hedges. It felt like our own special place as we sat around the camp fire enjoying our night. Tim and his family were very friendly and made us all feel very welcome. We will definitely be visiting this wonderful site again.
Response from The Secret Campsite
Hi Sonya, thanks for taking the time to leave us a review. It is really apprecited. See you again Tim
See all reviews at The Secret Campsite
Location
The Secret Campsite is located at Brickyard Farm, Town Littleworth, Cooksbridge, Lewes, East Sussex, BN8 4TD
Getting There
Head north from Lewes on the A275 and half a mile after leaving Cooksbridge turn right at The Rainbow Inn onto Deadmantree Hill. Follow the road for 2 miles to Holmansbridge Farm Shop. The campsite is the fourth turning on the right after the Farm Shop and shares the driveway with a house called 'Woodside'.
There are limited means of public transport direct to the site, although you can catch the bus to Barcombe from Lewes or from Cooksbridge, and then walk down the old railway track to Town Littleworth. Alternatively, you can get off the bus at the bottom of Deadmantree Hill at the start of Town Littleworth road. This is a 25 minute walk along a quiet country road to the campsite.

Cooksbridge Train station is open during peak times on weekdays only. This is a 45 minute walk from the campsite or you can catch a bus from the site although they are very infrequent so worth planning in advance.