Orchard Camping Pitch
(131 at The Secret Campsite)
Our secluded, wildlife rich, orchard camping pitches sleep a maximum of 7, with no more then 4 adults. Under 3's are free.
The Owner Says
The Orchard pitches are set amongst the fruit and nut trees and small pond that make up our disorganised orchard. They are a little nearer to the buildings and showers. There are 5 pitches here including The Gridshell and The Okra and it is car and dog free. We allow camp fires and firewood and charcoal are available for sale from reception. We have great shower, toilet and washing up facilities and there is a fridge and freezer available for campers. The Orchard is perfect for people looking for privacy.
About The Secret Campsite
Suitable For
Tents – yes. Caravans, campervans, big groups, young groups, dogs – no.
Nearby
There's plenty to do in Brighton, 13 miles away, but don't overlook the delights of Lewes, a pretty market town nestled in the South Downs just 5 miles from the site. There's a farmer's market on the first Saturday of the month and an outdoor lido for hotter days. You can walk there from the site – ask at reception for the route. Glyndebourne Opera House is just a few miles away and the South Downs National Park is a 3 mile stroll to Offham. Finally, Middle Farm and Drusillas Park are a great morning out for children which can be combined with walks around the Friston or Ashdown Forests to wear everyone out ready to collapse back at the campsite around a fire to tell stories and play cards.
Food & Drink
Tim, the owner, knows all the best places to get fresh, local produce, including the Holmansbridge Farm Shop (01273 401964) in Town Littleworth which is a 5 minute walk away. The Royal Oak (01273 400418) is a 30 minute walk away along the dismantled railway line that links the campsite to the village of Barcombe. The Five Bells (01825 722259) is a 40 minute walk through Balneath Woods and Markstakes Common and serves great beers and traditional pub food. If all country pubs could be as good as The Griffin at Fletchling (01825 722890) with its delightful garden and exceptional food, the world would be a happier place. Lewes is home to the wonderful Cafe du Jardin, which is located in a courtyard that it shares with an antiques business, and for the more adventurous Chaula's Indian Restaurant (01273 476707) is heaven for gourmets of Indian cuisine.
Extras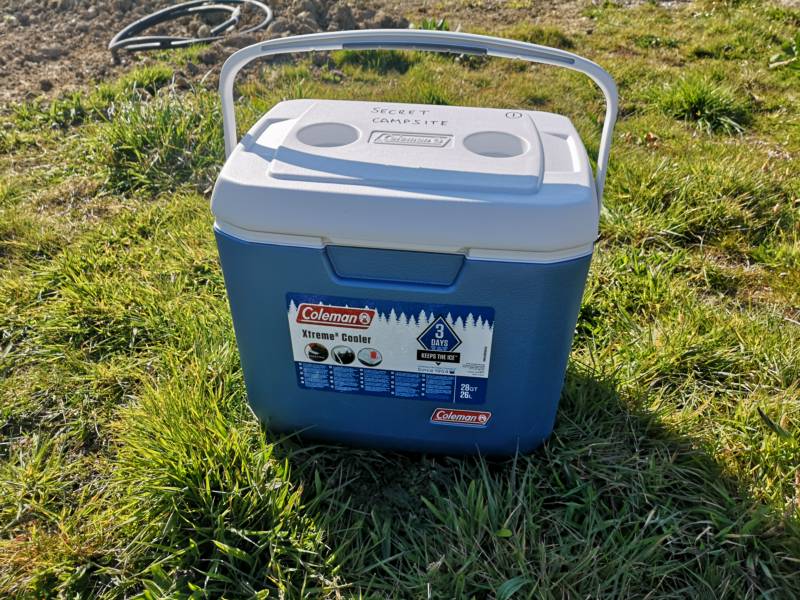 Cool Box
This large cool box can be hired for the duration of your stay to keep food and drink cold on your pitch.
It's large 30 x 39 x 25cm and you can borrow our ice cold freezer blocks from the on site freezer. No more warm drinks.
Site Reviews
Add Your Review
Rated ★★★★★ over 199 reviews
Best UK campsite we've stayed in
Excellent location with loads of space between the pitches, which all have firepits. You can buy wood from reception. Fantastic host, Tim, who couldn't be more personable and helpful. Easy access to local walks and woods, including a short wander to the Royal Oak pub in Barcombe. Cannot fault it in any way. Would highly recommend and we'll definitely be back.
Response from The Secret Campsite
Thanks for posting your review we really appreciate you spending time to do it. see you again Tim
Peaceful, uplifting, restorative.
The campsite is the best I have stayed in so far. I love the space and seclusion available for each camper.All forms of wildlife are evident and the bird song was amazing. Tim is the best "host", cheerful, knowledgeable and so willing and helpful. If you like camping with minimal but good facilities then I cannot recommend this site highly enough.
Response from The Secret Campsite
Thanks for spending time leaving us a review, we really apprecite it and look forward to our next encounter. Tim
Amazing
This is truly a great campsite because it is a real campsite - not an attempt to squeeze as many people into a field as inhumanly possible. Tim is amazing: generous and prepared for all eventualities to help out. We love his vision for the campsite and its surroundings. We'll be back as soon as we can!
Response from The Secret Campsite
Thanks for taking the time to leave us a review. I really enjoyed meeting you all, despite the chilly weather. See you again Tim
Our top camping location
We've been going to the Secret Campsite for years, both as a family & with friends, it's an amazing site for anyone who loves nature & a peaceful holiday. We took the opportunity on a cold week last week to upgrade to the Okra - an amazing construction from Tree Tents, it kept us warm and was a great experience. Definitely worth it! (Also considering it for getting the grandparents 'camping' in future)
Response from The Secret Campsite
Thanks Andrew, we really appreciate you taking the time to post us a review. We look forward to seeing you again with your grandparents. Tim
This is by far my favorite camping pitch in the UK so far!
I can't say enough good things about The Secret Campsite. Tim was super helpful leading up to the weekend we visiting; he always responded promptly to my emails. The meadow we camped in is truly as pretty as it looks in the photos, and when you do need the facilities, everything there is neat and tidy and super clean. I am scheduled to go back soon and stay in one of amazing tree tents.
Response from The Secret Campsite
Hi Mark, Thanks for leaving a review, we really apprecite it. See you again soon. Tim
See all reviews at The Secret Campsite
Location
The Secret Campsite is located at Brickyard Farm, Town Littleworth, Cooksbridge, Lewes, East Sussex, BN8 4TD
Getting There
Head north from Lewes on the A275 and half a mile after leaving Cooksbridge turn right at The Rainbow Inn onto Deadmantree Hill. Follow the road for 2 miles to Holmansbridge Farm Shop. The campsite is the fourth turning on the right after the Farm Shop and shares the driveway with a house called 'Woodside'.
There are limited means of public transport direct to the site, although you can catch the bus to Barcombe from Lewes or from Cooksbridge, and then walk down the old railway track to Town Littleworth. Alternatively, you can get off the bus at the bottom of Deadmantree Hill at the start of Town Littleworth road. This is a 25 minute walk along a quiet country road to the campsite.

Cooksbridge Train station is open during peak times on weekdays only. This is a 45 minute walk from the campsite or you can catch a bus from the site although they are very infrequent so worth planning in advance.