The Okra
(145 at The Secret Campsite)
The Okra is located in the Orchard part of the campsite near to our facilities. It sleeps a maximum of 2 adults and one child. The price is for the first 2 people with extra guests paying our normal camping fees.
The Owner Says
The Okra is a beautifully designed, light and spacious shelter created by local and on site designer Jason Thawley from Tree Tents. It is conveniently located in the orchard part of the campsite, near to the showers, toilets and washing up area. It is the first Okra that Jason has built. It was thoroughly tested during the summer of 2020 and now that we have planning permission, it is available to book. It will, very comfortably, sleep 2 adults and 1 child in a double bunk bed format, as shown in the pictures. It has its own fire pit and a grass area for you to relax and enjoy the sunshine. In April and May you may even be treated to the sound of the Nightingales that nest in the neighbouring scrub areas.
We provide 2 double beds with mattresses (but no sheets or pillows). There are free hot showers and toilets at the campsite.
You will need to bring your own bedding, pillows, blankets and towels, plus any food you will need. We provide a camping stove, a kettle, mugs, plates and cutlery for your trip. Please note that you can't cook inside The Okra, so you should bring along any cooking shelter that you require such as a small tent or a gazebo, but you may just prefer to eat at one of the local pubs or cafes.
About The Secret Campsite
Suitable For
Tents – yes. Caravans, campervans, big groups, young groups, dogs – no.
Nearby
There's plenty to do in Brighton, 13 miles away, but don't overlook the delights of Lewes, a pretty market town nestled in the South Downs just 5 miles from the site. There's a farmer's market on the first Saturday of the month and an outdoor lido for hotter days. You can walk there from the site – ask at reception for the route. Glyndebourne Opera House is just a few miles away and the South Downs National Park is a 3 mile stroll to Offham. Finally, Middle Farm and Drusillas Park are a great morning out for children which can be combined with walks around the Friston or Ashdown Forests to wear everyone out ready to collapse back at the campsite around a fire to tell stories and play cards.
Food & Drink
Tim, the owner, knows all the best places to get fresh, local produce, including the Holmansbridge Farm Shop (01273 401964) in Town Littleworth which is a 5 minute walk away. The Royal Oak (01273 400418) is a 30 minute walk away along the dismantled railway line that links the campsite to the village of Barcombe. The Five Bells (01825 722259) is a 40 minute walk through Balneath Woods and Markstakes Common and serves great beers and traditional pub food. If all country pubs could be as good as The Griffin at Fletchling (01825 722890) with its delightful garden and exceptional food, the world would be a happier place. Lewes is home to the wonderful Cafe du Jardin, which is located in a courtyard that it shares with an antiques business, and for the more adventurous Chaula's Indian Restaurant (01273 476707) is heaven for gourmets of Indian cuisine.
Extras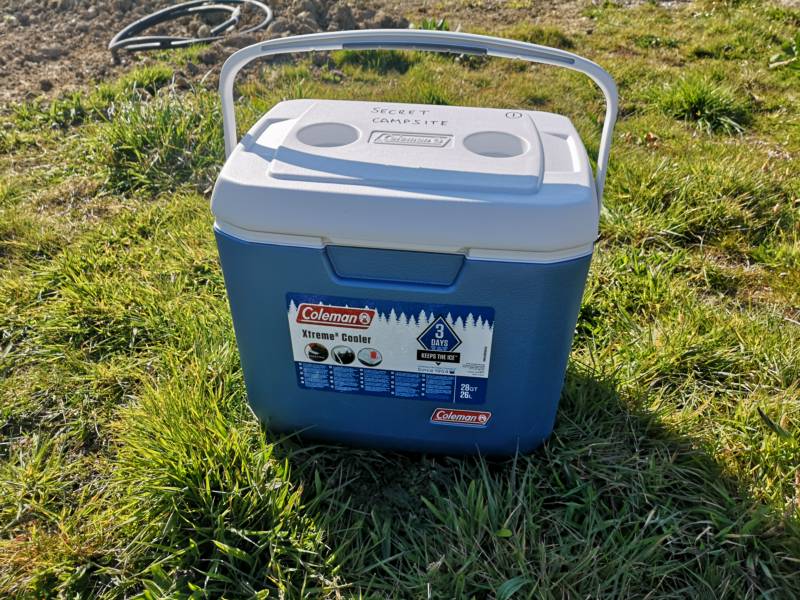 Cool Box
This large cool box can be hired for the duration of your stay to keep food and drink cold on your pitch.
It's large 30 x 39 x 25cm and you can borrow our ice cold freezer blocks from the on site freezer. No more warm drinks.
Site Reviews
Add Your Review
Rated ★★★★★ over 209 reviews
Idyllic. What camping is all about
Tim and his team have created the perfect spot to relax and merge with nature. I stayed with my granddaughter for 2 nights and she decided she might not ever go home she loved it so much. Pitches spaced carefully with room to hide away but close enough for her to safely explore and find friends. If you are thinking of going be prepared to let go and relax. Leave the internet and your radios behind and see and listen to what is offered in this gorgeous place
Response from The Secret Campsite
Hi Marianna, Thanks for taking the time to post a review on the site. we really appreciatr it and look forward to seeing you another time. Thanks Tim
A fantastic campsite in idyllic surroundings!
We stayed here about 8 years ago and were impressed then, but coming back we've been overawed at how Tim & Co have developed this wonderful campsite. The orchards & wildflower meadows have added to the peace & tranquility, and created a haven for wildlife, including glow worms next to our tent! A starry moonlit summer's night in front of a fire was the perfect antidote in these stressful times. Thank You!
Response from The Secret Campsite
Hi Jonathan, thanks so much for leavig a review. We really appreciate it and look forward to 8 years time... Tim
Most wonderful stay
What an idyllic place this is! Best campsite I've seen in the UK (and seen quite a few!). We stayed in the orchard as well as the meadow and both were fabulous. The pitches are super spacious, surrounded by beautiful meadows, fruit and nut trees and the surroundings are just a wildlife heaven. Peace, tranquility, the smell of nature to greet you in the morning! We've seen many birds, butterflies, glowworms(!), foxes and deer. The bunnies are hopping around your tent! Campfires are encouraged (each pitch has a lovely firepit) which results in an atmospheric view and feel when the sun starts setting and the camp settles in for the night. Lots of beautiful walks straight from the campsite and lots to see and do within driving distance (forests, beaches, towns). The owners and staff are passionate about the place and the friendliest bunch of people, very helpful, always there if you need anything. They really go the extra mile for you. Facilities also really good, not too many showers/toilets but decent, clean and spacious and we actually never had to wait once while the campsite was fully booked. Everything carefully thought out and eco friendly too! We had the privilage of staying for almost two weeks and would have loved to stay even longer. Truly special campsite, our absolute favourite. If you think you need a psychologist or pill to get you back on track, think again. All you need is a stay at the Secret Campsite and you'll return fully refreshed, recharged and inspired. :-) Thank you so much and keep up the good work!
Fantastic to be immersed in so much nature!
We had the best few days staying at the secret campsite. Tim and the rest of the team were really helpful and always happy to share tips to make our stay as interesting as possible. We had a large pitch in the meadow and had so much space to ourselves, it was great to be able to spread out a bit without worrying about intruding on others space , especially good during these times! The facilities cover all of your basic camping needs which is exactly what we wanted from a site to feel as close to nature as possible. We've already recommended it to friends and are hoping to come back later in the year ourselves! Thanks again Tim and team!
Response from The Secret Campsite
Hi Sophia,
Thanks for takimg the time to post a review. We really appreiate it. see you again soon Tim
Peaceful secluded campsite. Lovely atmosphere
The pitches were huge, yet very private. Short walk to facilities. Staff were very very helpful and friendly. I liked that they charged our phones/ cameras etc on site every day. The atmosphere on the site was peaceful and calming. Hot running water in showers was a highlight for us regular campers. Being a bite over our usual price range, it was worth every penny :)
See all reviews at The Secret Campsite
Location
The Secret Campsite is located at Brickyard Farm, Town Littleworth, Cooksbridge, Lewes, East Sussex, BN8 4TD
Getting There
Head north from Lewes on the A275 and half a mile after leaving Cooksbridge turn right at The Rainbow Inn onto Deadmantree Hill. Follow the road for 2 miles to Holmansbridge Farm Shop. The campsite is the fourth turning on the right after the Farm Shop and shares the driveway with a house called 'Woodside'.
There are limited means of public transport direct to the site, although you can catch the bus to Barcombe from Lewes or from Cooksbridge, and then walk down the old railway track to Town Littleworth. Alternatively, you can get off the bus at the bottom of Deadmantree Hill at the start of Town Littleworth road. This is a 25 minute walk along a quiet country road to the campsite.

Cooksbridge Train station is open during peak times on weekdays only. This is a 45 minute walk from the campsite or you can catch a bus from the site although they are very infrequent so worth planning in advance.