A not so secret campsite in East Sussex with camping and glamping – and campfires encouraged
The Secret Campsite Lewes is, of course, not really very secret at all. Nor does owner Tim want it to be. He wants people to know about it, to come and support his fledgling business and the rural economy nearby. The real secret is just how unique and special this campsite is.
After arriving and parking at the reception and amenities area, occupying the various nondescript buildings of the now defunct garden centre previously located here, visitors grab a wheelbarrow, load up their gear and follow the grassy path up and over an old brick railway bridge. (The railway underneath has long gone, leaving a beautifully overgrown pathway to explore). Accessing the site from the bridge makes it feel isolated, secluded – and just that little bit secret. From this vantage point, it's easy to take in the features of this place: just 15 hugely spacious pitches cut in to the long grass of this secluded meadow, interspersed with a scattering of recently planted saplings and all encircled with a backdrop of ancient oak and hornbeam trees. Wild flowers are bursting to show off their colours, while the woods beyond are ripe for exploration. In fact, the plan is for plants to be a big part of this site. Tim is a botanist and wants to turn this place into the UK's first 'edible campsite' – a planting programme is underway, with an increasing array of berries, edible shrubs and flowers growing freely, ready for campers to pick fresh and add to the saucepan.
In the meantime, there's something else growing quickly – and that's the reputation of the Secret Campsite. Secret? It won't be a secret for very long!
Details
Facilities
Campfires allowed. 12 pitches in the main camping meadow and a further 4 on the western side of the site near the showers. 2 of these are amongst the fruit and nut trees making up our disorganised orchard, and the other two are on a south facing bank nearer to the buildings with views to the South Downs or into the neighbouring woods. 3 showers occupy an old stable block along with toilets; compost-loo shacks are nearer the pitches. Trolleys are available to transport your gear to the main meadow. No shop as such, but you can buy firewood and campfire items at reception. We also sell ice lollies, hot and cold drinks, meat boxes, and local produced alcoholic beverages including cider, gin and beer to campers.
Suitable For
Tents – yes. Caravans, campervans, big groups, young groups, dogs – no.
Nearby
There's plenty to do in Brighton, 13 miles away, but don't overlook the delights of Lewes, a pretty market town nestled in the South Downs just 5 miles from the site. There's a farmer's market on the first Saturday of the month and an outdoor lido for hotter days. You can walk there from the site – ask at reception for the route. Glyndebourne Opera House is just a few miles away and the South Downs National Park is a 3 mile stroll to Offham. Finally, Middle Farm and Drusillas Park are a great morning out for children which can be combined with walks around the Friston or Ashdown Forests to wear everyone out ready to collapse back at the campsite around a fire to tell stories and play cards.
Food & Drink
Tim, the owner, knows all the best places to get fresh, local produce, including the Holmansbridge Farm Shop (01273 401964) in Town Littleworth which is a 5 minute walk away. The Royal Oak (01273 400418) is a 30 minute walk away along the dismantled railway line that links the campsite to the village of Barcombe. The Five Bells (01825 722259) is a 40 minute walk through Balneath Woods and Markstakes Common and serves great beers and traditional pub food. If all country pubs could be as good as The Griffin at Fletchling (01825 722890) with its delightful garden and exceptional food, the world would be a happier place. Lewes is home to the wonderful Cafe du Jardin, which is located in a courtyard that it shares with an antiques business, and for the more adventurous Chaula's Indian Restaurant (01273 476707) is heaven for gourmets of Indian cuisine.
Open
Late March – mid October.
Why book with Cool Camping?
Best Price Guarantee, with no fees
Instant booking confirmation
Trusted for over 10 years
A chance to win prizes in our regular competitions
The Owner Says
The Secret Campsite Lewes is focused on nature, peace and space.
Whilst the Covid Pandemic persists, please be 100% reassured that we will happily reschedule ALL trips that have been booked with us. We will do this at any point prior to your stay. This guarantee is on top of our normal Terms and Conditions.
The campsite is a peaceful, tents only campsite for nature lovers, real campers and their families, who are looking to explore Sussex, Brighton or Lewes. Our woodland meadow camping pitches are large and secluded and come with their own camp fire pit and free hot showers. We also have a number of unusual shelters where you can spend the night.
By keeping the meadow car and dog free we enable wildlife to flourish, and this increases the number of encounters that you and your family will enjoy. It also ensures that it is a safe place for children to roam freely and explore, and we have an area of woodland where dens can be built and trees climbed.
We are located in a beautiful and sparsely populated part of East Sussex, and our camping meadow is enclosed by both private and public nature sites. These include great stands of ancient and coppiced woodland, and a site of nature conservation interest, SNCI. This mosaic of habitats is incredibly rich in wildlife and The Secret Campsite Lewes is lightly managed to create an environment where wildlife can thrive. The surrounding ancient woodland has been encouraged to advance at the edges of the camping meadow, which ensures an ever changing diversity of animals and plants for you to watch, hear, eat, smell and touch. Catch glimpses of deer, hunt for slow worms, wake to the dawn chorus, build dens or simply enjoy the unique flavours of fresh and foraged produce at the end of a busy day.
We also have two secret shelters, The Tree Tent and Gridshell. These are both fantastic quirky accommodation options for your stay in our beautiful site. Both of these beautiful shelters have been designed by local inventor and designer Jason Thawley and the Tree Tent was even featured on George Clarke's Amazing Spaces.
Camp with us as you relax and explore Sussex, and you'll leave wanting more.
Please note we are a peaceful family site and do not allow groups.
Social Distancing Measures
We would like to reassure all our customers that during the course of the pandemic, we will without quibbling, reschedule any booking you make, to a mutually agreeable date for both parties. If you can't make it, we'll reschedule it.
Extras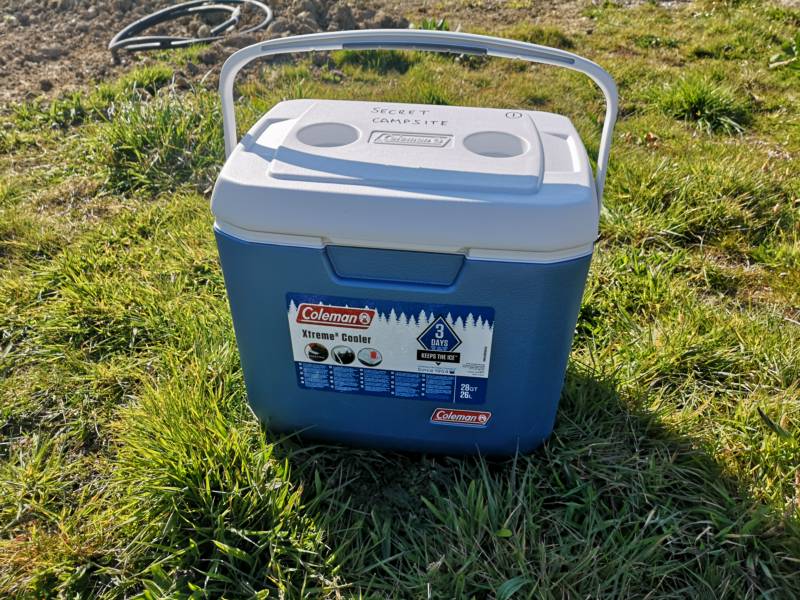 Cool Box
This large cool box can be hired for the duration of your stay to keep food and drink cold on your pitch.
It's large 30 x 39 x 25cm and you can borrow our ice cold freezer blocks from the on site freezer. No more warm drinks.
Location
Contact The Secret Campsite, Brickyard Farm, Town Littleworth, Cooksbridge, Lewes, East Sussex, BN8 4TD
Getting There
Head north from Lewes on the A275 and half a mile after leaving Cooksbridge turn right at The Rainbow Inn onto Deadmantree Hill. Follow the road for 2 miles to Holmansbridge Farm Shop. The campsite is the fourth turning on the right after the Farm Shop and shares the driveway with a house called 'Woodside'.
There are limited means of public transport direct to the site, although you can catch the bus to Barcombe from Lewes or from Cooksbridge, and then walk down the old railway track to Town Littleworth. Alternatively, you can get off the bus at the bottom of Deadmantree Hill at the start of Town Littleworth road. This is a 25 minute walk along a quiet country road to the campsite.

Cooksbridge Train station is open during peak times on weekdays only. This is a 45 minute walk from the campsite or you can catch a bus from the site although they are very infrequent so worth planning in advance.

Reviews
Add Your Review
Rated ★★★★★ over 215 reviews
Perfect getaway
Firstly, I can't talk and praise how nice and accommodating Tim is! Super helpful and nice, called to say he wasn't in reception and if I needed anything. I loved that no cars can go to the pitch and each pitch is kept very well and spaced nicely for privacy. Sinks and freezers were a great touch and super handy! If you do pick a pitch with no electricity, bring a good power bank for your devices. We would 100% stay again! If you're thinking about it, do it!
Response from The Secret Campsite
Morning Daniel, Thanks for leaving a review. We really appreciate you taking time out to post it and look forward to seeing you both again sometime soon all the best Tim
Girlfriend loved first camping experience
I'm a seasoned camper at The Secret Campsite and my girlfriend finally decided to brave it and give it a go. Where did I take her? To the BEST campsite I've ever stayed at of course. Friendly welcome from the owner Tim, great pitches with space between different pitches. Becky particularly enjoyed the cosy camp fires, plus the clean facilities as well. We took the walk down the old train line to Barcombe in the day, which was lovely Can't wait for more camping trips to come at The Secret Campsite.
Response from The Secret Campsite
Hi Ben,
Thanks for leavong a review, we really appreciate it and look forward to seeing you both again soon
Tim
Intimate, authentic and expertly hosted
Tim the owner is full of energy, passion for the natural environement and making sure all questions are answered and any problems rectified and I think what makes the stay that extra special. It really is an immersive nature expereince unlike any other campsite I've been too. Toil and shower blocks moving to a bigger building soon and looking forward to seeing the new ones when they're up and running.
Response from The Secret Campsite
Thanks for leaving a reviw Greg, we really appreciate you doing this. See you again Tim
Perfect for a little getaway
We finally got the chance to return after a year or so and were very happy to see it was just as good as before. Nice addition with the woodland corridor and our favourite pitch was as big and quiet as ever. Got the opportunity to see the Milky Way this year due to clear skies and were lucky with very warm sunshine in the day. Was a fantastic opportunity to reset the dial, and totally relax. Always friendly and welcoming, the ethos of the campsite as a place to escape and enjoy wildlife is clearly a real passion for Tim. Fabulous to see how much the young trees have now grown up, and you can easily lose an afternoon just watching birds of prey wheeling around above the woodland.
Response from The Secret Campsite
Hi Sarah, Thanks for taking the time to leave us a review. We really apprecite your thoughts and look forward to seeingyou again whe you need to recharge. Tim
A place of tranquility and stunning beauty
An amazing little part of the world where you are surrounded by nature. It was lovely having our own pitch amongst the wild hedges. It felt like our own special place as we sat around the camp fire enjoying our night. Tim and his family were very friendly and made us all feel very welcome. We will definitely be visiting this wonderful site again.
Response from The Secret Campsite
Hi Sonya, thanks for taking the time to leave us a review. It is really apprecited. See you again Tim
Shhhh its a Secret
Another fantastic stay at The Secret Campsite, this was our third time and each time we discover something new. Its an amazing place to unwind and just listen to how the world sounded before man came along and ruined it. Whether its the cry of the Red Kite above or the Owl somewhere across the field the sounds that we seem to have lost from our everyday lives can be found at The secret Campsite. When was the last time you were able to bid a frog "good evening" as you came face to face with him/her just sitting in the middle of the path as you make the usual 'nocturnal' toilet run. Or see smoke drifting up from a campfire and hang in the trees before disappearing on the breeze.... OK enough of the poetic stuff, just go there you will not regret it, oh and the kids will love it.
Response from The Secret Campsite
Afternoon Mike, thanks for posting your review, we really appreciater it and im glad you got the full nature connection. Nice poetry, Tim
Idyllic. What camping is all about
Tim and his team have created the perfect spot to relax and merge with nature. I stayed with my granddaughter for 2 nights and she decided she might not ever go home she loved it so much. Pitches spaced carefully with room to hide away but close enough for her to safely explore and find friends. If you are thinking of going be prepared to let go and relax. Leave the internet and your radios behind and see and listen to what is offered in this gorgeous place
Response from The Secret Campsite
Hi Marianna, Thanks for taking the time to post a review on the site. we really appreciatr it and look forward to seeing you another time. Thanks Tim
A fantastic campsite in idyllic surroundings!
We stayed here about 8 years ago and were impressed then, but coming back we've been overawed at how Tim & Co have developed this wonderful campsite. The orchards & wildflower meadows have added to the peace & tranquility, and created a haven for wildlife, including glow worms next to our tent! A starry moonlit summer's night in front of a fire was the perfect antidote in these stressful times. Thank You!
Response from The Secret Campsite
Hi Jonathan, thanks so much for leavig a review. We really appreciate it and look forward to 8 years time... Tim
Most wonderful stay
What an idyllic place this is! Best campsite I've seen in the UK (and seen quite a few!). We stayed in the orchard as well as the meadow and both were fabulous. The pitches are super spacious, surrounded by beautiful meadows, fruit and nut trees and the surroundings are just a wildlife heaven. Peace, tranquility, the smell of nature to greet you in the morning! We've seen many birds, butterflies, glowworms(!), foxes and deer. The bunnies are hopping around your tent! Campfires are encouraged (each pitch has a lovely firepit) which results in an atmospheric view and feel when the sun starts setting and the camp settles in for the night. Lots of beautiful walks straight from the campsite and lots to see and do within driving distance (forests, beaches, towns). The owners and staff are passionate about the place and the friendliest bunch of people, very helpful, always there if you need anything. They really go the extra mile for you. Facilities also really good, not too many showers/toilets but decent, clean and spacious and we actually never had to wait once while the campsite was fully booked. Everything carefully thought out and eco friendly too! We had the privilage of staying for almost two weeks and would have loved to stay even longer. Truly special campsite, our absolute favourite. If you think you need a psychologist or pill to get you back on track, think again. All you need is a stay at the Secret Campsite and you'll return fully refreshed, recharged and inspired. :-) Thank you so much and keep up the good work!
Fantastic to be immersed in so much nature!
We had the best few days staying at the secret campsite. Tim and the rest of the team were really helpful and always happy to share tips to make our stay as interesting as possible. We had a large pitch in the meadow and had so much space to ourselves, it was great to be able to spread out a bit without worrying about intruding on others space , especially good during these times! The facilities cover all of your basic camping needs which is exactly what we wanted from a site to feel as close to nature as possible. We've already recommended it to friends and are hoping to come back later in the year ourselves! Thanks again Tim and team!
Response from The Secret Campsite
Hi Sophia,
Thanks for takimg the time to post a review. We really appreiate it. see you again soon Tim
Peaceful secluded campsite. Lovely atmosphere
The pitches were huge, yet very private. Short walk to facilities. Staff were very very helpful and friendly. I liked that they charged our phones/ cameras etc on site every day. The atmosphere on the site was peaceful and calming. Hot running water in showers was a highlight for us regular campers. Being a bite over our usual price range, it was worth every penny :)
Lovely getaway space to chill and relax
We loved our 3 nights staying in the Okra a quirky wooden den with space to stretch out and relax and sleep, noise free and secluded. Our 16 year old loved it too and wants to pass on the 'secret' to all our friends - he even managed to have no wifi signal and enjoyed making fires and cooking sausages instead! Came home after visiting beautiful countryside and beaches we had never been to before and totally chilled. Would not hesitate to recommend!
Response from The Secret Campsite
Hi Adele, thanks so much for taking the time to leave a review. We really appreciate it and it was great to meet you all. Tim
Best Campsite I've Been to To Date
Honestly the best campsite I've been to in the UK to date. Setting gorgeous, beautiful pitches, clean roomy ablution block, friendly staff - thanks Tim! We'll be back soon!
Response from The Secret Campsite
Hi Amanda, thanks so much for taking the time to post us a review. We really appreciate it. see you again Tim
Fantastic campsite, wonderfully warm and welcoming owner, unforgettable holiday.
My daughter, a friend of hers and I just had the most wonderful two days camping at Tim's (excellent name) exceptional campsite. The campsite is magical, with the pitches having sufficient privacy to add to the mystery. The facilities are great, clean showers and toilets, freezer, lots of equipment available if needed, and some local products which just hit the mark (lollies for the girls, cider for me). The location allowed us to visit the sea, nearby river swims, wonderful farm shops and the delights of Lewes of which the castle was the main attraction. However, most of all it was Tim's hospitality that stood out. Always available and always happy to take time to talk to the girls. All the little things have been thought out, even down to the charging for our EV, which has proven a problem in other places. My daughter has already been clamouring to go back to try out the tree tent and I hope we will be able to make it back down very soon.
Response from The Secret Campsite
Morning Tim, it is a grat name. Thanks fo taking the time to leave us a review. See you all again sometime soon, Tim
Our favourite campsite
We've been coming to the Secret Campsite for years and love it! It's so peaceful, picturesque and in the best way little has changed since we started coming. Tim is a great host only too eager to help and provide advice....and has stayed true to his principles of keeping it unspoiled and not trying to squeeze too much in as that would take away the best bits of the site. Great walks nearby including to a great hidden Swedish cafe and Brighton / Seaford are within 30 mins for beaches / more action. Loads of good pubs nearby and Tim offers a local farm shop meat box, wood / coal, fire stands etc which makes life easy. The meat box is fantastic and there is another farm shop less than 10 mins walk from the site to stock up on meat, drinks, ice etc. He's also started selling cold beer and cider which is great having just returned from a scorching weekend there! Our kids also love the resident cat! We stay in the gridshell - easily fits in our family of 4 and gives us one tent-free camping trip a year! All pitches are secluded with plenty of space for gazebo, games etc as well as tents.
Response from The Secret Campsite
Hi Duncan, thanks so much for leaving a review, we really appreciate you spending time writing it. See you again, all the best, Tim
Peaceful escape
This campsite is beautiful with secluded plots and lots of nature. The hosts are also super friendly and helpful. I whole heartedly recommend this place - definitely one of the best campsites out there.
Response from The Secret Campsite
Hi Iona,
Thanks for taking time to leave a review. It is really appreciated. see you again. Tim
Best UK campsite we've stayed in
Excellent location with loads of space between the pitches, which all have firepits. You can buy wood from reception. Fantastic host, Tim, who couldn't be more personable and helpful. Easy access to local walks and woods, including a short wander to the Royal Oak pub in Barcombe. Cannot fault it in any way. Would highly recommend and we'll definitely be back.
Response from The Secret Campsite
Thanks for posting your review we really appreciate you spending time to do it. see you again Tim
Peaceful, uplifting, restorative.
The campsite is the best I have stayed in so far. I love the space and seclusion available for each camper.All forms of wildlife are evident and the bird song was amazing. Tim is the best "host", cheerful, knowledgeable and so willing and helpful. If you like camping with minimal but good facilities then I cannot recommend this site highly enough.
Response from The Secret Campsite
Thanks for spending time leaving us a review, we really apprecite it and look forward to our next encounter. Tim
Amazing
This is truly a great campsite because it is a real campsite - not an attempt to squeeze as many people into a field as inhumanly possible. Tim is amazing: generous and prepared for all eventualities to help out. We love his vision for the campsite and its surroundings. We'll be back as soon as we can!
Response from The Secret Campsite
Thanks for taking the time to leave us a review. I really enjoyed meeting you all, despite the chilly weather. See you again Tim
Our top camping location
We've been going to the Secret Campsite for years, both as a family & with friends, it's an amazing site for anyone who loves nature & a peaceful holiday. We took the opportunity on a cold week last week to upgrade to the Okra - an amazing construction from Tree Tents, it kept us warm and was a great experience. Definitely worth it! (Also considering it for getting the grandparents 'camping' in future)
Response from The Secret Campsite
Thanks Andrew, we really appreciate you taking the time to post us a review. We look forward to seeing you again with your grandparents. Tim
This is by far my favorite camping pitch in the UK so far!
I can't say enough good things about The Secret Campsite. Tim was super helpful leading up to the weekend we visiting; he always responded promptly to my emails. The meadow we camped in is truly as pretty as it looks in the photos, and when you do need the facilities, everything there is neat and tidy and super clean. I am scheduled to go back soon and stay in one of amazing tree tents.
Response from The Secret Campsite
Hi Mark, Thanks for leaving a review, we really apprecite it. See you again soon. Tim
I wish I could keep this a secret campsite but its too good not to share
I can't recommend this place enough. We stayed in the tree tent for my husband's birthday which was a lot of fun; but we will be back soon with our own tent. Plenty of space between sites, facilities are spotless and the hospitality was fantastic. There are great walks down the old train line, through woods and across fields to a pub on the river that you can hire boats. Lewes is a close drive and definitely worth a look. But you could also easily spend some time at the campsite enjoying the tranquility. Thanks Tim for a fab stay!
Response from The Secret Campsite
Morning Gemma, We really appreciate you spending your time to leave us a review.  See you again Tim
Relaxing place
Lovely campsite with plenty of space between pitches. Quite magical sitting round a campfire on a beautiful evening. Thank you
Response from The Secret Campsite
Afternoon Linda, Thans for thaking the time to leave us a review, it is really appreciated. all the best Tim
Fabulous, chilled out, relaxed and fun
I recently planned a camping trip meeting with my children and grandchild at Secret Campsite. I couldn't have chosen a better place. We sat around the campfire in the evening talking, eating and looking at the stars. The campsite is beautiful and their is sufficient room between each site. The campsite and facilities are clean and Tim and team were welcoming and helpful. Thank you so much!
Response from The Secret Campsite
Afternoon Eileen, Thanks for taking the time to post us a review, we really appreciate it. all the best Tim
Magical wild stay
This is a beautiful place and perfect for getting away from the hustle and bustle. Well located for walks long, short or to a riverside pub lunch. Tim and family are attentive and lovely. I wish I could give it more than 5 stars.
Response from The Secret Campsite
Hi Rose, thanks for posting a review it is really appreciated. all the best Tim
One of the best campsites we've been to
The Secret Campsite at Lewes is one of the best campsites we have been to, and we've been to a few! The pitches are well spread out, it has great (and very clean) facilities and Tim and the team are super helpful. We really couldn't ask for more from a campsite. A big thanks to Tim and the team for another enjoyable stay. We will be back!
Response from The Secret Campsite
Hi Jeni, thanks for taking the time to post us a review, its really appreciated and im glad you enjoyed your trip....again Tim
The Secret Campsite
First visit and it won't be our last. Beautiful setting and very spaced out. Although the site was full, it didn't feel it because of all the space. Tim and the team were excellent and always happy to help.
Response from The Secret Campsite
Morning Amber, Thanks for taking the time to leave us a review, it is really appreciated. Tim
Wonderful campsite which is car-free and where you are immersed in nature.
I have been camping here on my own for several years and love it more each time. The pitches are spacious, well mown and secluded and surrounded by long grass, hedges and young trees. The facilities are basic but clean and there are wheelbarrows to take your gear from the car to the field. Tim and his team are very friendly and helpful. I sat by my rather smoky campfire with a glass of wine and enjoyed watching the sunset, listening to the owls hooting and seeing the bats flying around.
Response from The Secret Campsite
Hi Sue, Thanks for  taking the time to leave us a review. It is really apprciated, see you again. Tim
Perfect place, lovely people
We have now stayed at the Secret Campsite 3 years in a row and couldn't recommend it more highly. Beautiful, secluded pitches surrounded by trees and wild grasses, excellent shower and toilet facilities, a car charging point for those of us with Electric Vehicles, and lovely coffee and service from Tim and his family whenever you need it. And if you find yourself in a pickle, like we did when our main tent pole broke in 40 mph winds, the fabulous staff bent over backwards to lend a hand and and ensure our holiday carried on regardless. Quite simply the best campsite we've ever stayed at!
Response from The Secret Campsite
Hi Dimitri, Thanks for taking the time to leave us a review. It is really apprciated Tim
First time here
Lovely small campsite with friendly staff. Really like the way the site is naturally set up with everyone having their own defined area separated by trees and wild flowers. No cars also good for the kids and it's not far with the wheel barrows which the kids think is part of the fun anyway ! Lots of local walks and woods to explore. Shower block and other amenities always available when we needed them even though site looked pretty full. Lewes nearby worth a visit especially the Cinema when it rains. Anchor pub really nice for food and taking a boat out on the river Ouse.
Response from The Secret Campsite
Adternoon Martin, thanks for taking the time to leave us a review. it is really appreciated by us Tim
An idyllic camping experience
A wonderful campsite. Car-free (wheelbarrows are provided to transport your gear to your pitch), dog-free, camper-van/motorhome-free and amplified music-free. Just idyllic. We had a lovely pitch in the wild meadow, with a campfire space and sawn off logs as seats. It was quiet (closest neighbours were at least 50-100 yards away) and the only sounds we heard were the distant baa-ing and moo-ing in adjacent fields. We pre-ordered a meat pack, which came from a nearby farm - well worth ordering - the kofte and burgers made an excellent dinner on the campfire barbecue and the sausages and bacon provided us with the breakfast of champions the following morning! Friendly staff and resident campsite cat. The only slight negative was the state of the toilets - operated by a septic tank and the toilet block was swarming with flies. We discovered the toilet and shower room around the corner (which no one else seemed to have spotted) and used that instead which was a better experience. We highly recommend taking the half and hour walk alongside the old railway line and the veer off into the woods and across fields to The Hubbery, a Swedish cafe. It is signposted well through the woods. We had an excellent fika and coffee before walking back via a working farm and back to the woods again. This is one of the best campsites we have ever stayed at because it truly is quiet and peaceful and where you can feel at one with nature and your surroundings for the duration of your stay. We left feeling relaxed and well rested. High recommended. We shall return next year!
Response from The Secret Campsite
Hi Larissa, thanks for taking the time to post a review, it is really appreciated, see you again Tim
Another amazing stay at our favourite camping site
Just back from our 5th visit to The Secret Campsite - amazing as ever. Each time we go, we love it more. Huge pitches, secluded and quiet, it could almost be designed for a post-lockdown decompress. Wildlife, as ever, spectacular - voles, frogs, rabbits and glow-worms (and that was just on our first night). Tim and his amazing team were as attentive and welcoming as we've come to expect and they are obviously putting in some really hard work to keep everything Covid safe. We love it and are already planning our next visit!
Response from The Secret Campsite
Hi Paul,
Thanks for taking the time to post a review it is really appreciated. Tim
Beautiful campsite 🏕
Beautiful well organised campsite that even when full didn't seem busy. Each pitch has it's own little meadow with water close by. Staff couldn't have been more helpful with answering questions or charging phones. Hubbery cafe near by (Walk through the woods) was amazing. Thank you for a great weekend. 😁
Response from The Secret Campsite
Thanks for taking the time to leave us a review, we really appreciate it. Tim
A fabulous site with a great balance between amenities and a natural environment to relax in
Clean and environmentally friendly facilities, car free and very family friendly, great spacing between pitches making you feel as though few others are camping there, great food supplies available at the site and locally from the farm shop, open fires to cook over and great walks nearby through woodland to cafe's, pubs and great scenery. What's not to like?
Response from The Secret Campsite
Thanks for making the effort to leave us a review, we really appreciate it. Tim
Wild camping with a perfect level of comfort
The pitches were huge and each have their own fire pit. The surrounding brambles give you an element of privacy and wild-vibes and the bats and glow worms added that extra delight. The site is peaceful and has everything you need. It seems strange complaining about hot showers when camping but the solar showers really are hot. As we stayed in 25 degree heat and after a long walk, we could have done with a cold shower to refresh but I know this is our own choice and not at all a bad reflection on a campsite which does all the right things. Everything is well spaced out given the current social distancing guidelines. Would definitely stay again when we are next in the area
Response from The Secret Campsite
Thanks for taking the time to leave us a review it is really appreciated. see you again Tim
Post Lockdown Treat
We arrived, weary Londoners after home school working from home intense lockdown to find much needed peace and quiet. We had a large space to ourselves surrounded by trees, bird song and actual silence; no sirens, neighbours or traffic! We cooked on a rocket stove which we hired and sat around a fire in the evening, it was just what we needed. Even my 14 year old relaxed and forgot about the Xbox. We swam at Barcombe Mills and Cuckmere Haven which was joyous. It's not the cheapest campsite but, you can find space and peace and I am not sure you can put a price on that. Top tips: lovely well stocked village shop in Barcombe and a farm shop 10 minutes walk away and if you don't fancy cooking eat at the pub in Barcombe, they have put a big marquee outside with tables and sofas and do a good plate of fish and chips.
Response from The Secret Campsite
Hi Janet, thanks for taking time to leave us a review. We really appreciate it. Tim
Brilliant campsite
This is a brilliant campsite. A huge amount of thought and consideration has gone into making a friendly atmosphere and peaceful environment for anyone staying. There are good walks and wild swimming nearby - it was really nice not to have to get back in the car for the whole weekend of our stay. The owners of the site are helpful and friendly, and everyone we met in the surrounding area was really hospitable as well. I'd really recommend this place!
Response from The Secret Campsite
Thanks Paul, i really appreciate you taking the time to leave us a review Tim
Beautiful site, brilliantly run.
This is such a great place that I don't really want to advertise it. But Tim and everyone else are so friendly and helpful that I feel I owe it to them to say so. Just spent two lovely nights there as Covid lockdown eases, and it's clear that a lot of thought and hard work has gone into making sure the site is safe. The birdsong is incredible at this time of year, and we had a pair of bats flying within 10 feet of us at dusk. Loved every minute, apart from the packing up!
Response from The Secret Campsite
Hi Richard thanks for taking the time to post a review. it is really appreciated. Tim
5 stars from this happy camper
Couldn't recommend this campsite more! Lovely big pitches in very calm surroundings. Also felt very safe in terms of the current health crisis.
Response from The Secret Campsite
Hi Rory, thanks for taking time to leae a review and im glad you had fun here with us and the wildlife Tim
Camping at its best!
We've been coming to the Secret Campsite for the last few years and absolutely love it. Its one of those rare places that seems to get better and better on each visit. It could be that there is so much to discover or that Tim and his team just keep raising the bar! This year we ordered two of their new Meat Boxes (ready for collection on arrival) and are happy to report another great addition - delicious burgers & sausages, perhaps the tastiest lamb koftas we've had, and not forgetting bacon for an early campfire breakfast. See you next summer! Steve & Amy
Nature-Rific
Brilliant three days with kids. Lots fun looking for slow worms / lizards and other critters under strategically placed roof felt. Interesting nature at all turns: orchids, marbles white butterflies and mistle thrush (think!) from tops of oaks along abandoned railway walk to the pub in Barcombe. If you have kids, there's an awesome rope swing and walkway build around beautiful oak at the back of the Rec in Barcombe. With walk across meadows to adandoned railway. The woods adjacent to the campsite off the railway perfect for an evening bear hunt. Meat box Cooked up on the fire- incredible. And quick! Firewood here was super dry, so only took half hour from start to dinner! Facilities excellent. Staff super friendly. Hubbery cafe nearby well worth short excursion.
Excellent camp site
This is a really great camp site. Very large pitches, well away from other campers. Each pitch has its own fire pit and logs for sitting on. Beautiful woodland surrounding the site, very quiet. Very clean facilities. The family who run the site are friendly and helpful. They have also addressed the COVID issue in a practical and sensible way that really doesn't detract from the enjoyment of camping. Highly recommended if you want a peaceful camping experience.
Lovely
This is fantastic campsite with beautiful and huge pitches. There are very nice walks direct from the campsite through mature woodland via a dismantled railway and stunning scenery on the South Downs. We received a very warm welcome from Tim and it was interesting to see the gridshell and tree tent too. We can't wait to return.
Brilliant.
An amazing campsite which makes you feel part of nature. Made to feel very welcome by Tim, who was also very helpful when we had tent dramas. Great for getting kids back into the wild.
Truly lovely camping
We have visited and revisited this campsite on many occasions since it first opened, and in that time I can say it has actually changed very little and always retains its magical feel. Lots of space. No cars on site. Beautiful surroundings (cannot say that enough) Low key family camping. Yes I will have to add the facilities have a rustic edge to them but if you can deal with that for a couple of nights it's well worth it. We try to finish our summer camping schedule with a weekend here, knowing it will be relaxing and unique experience. Also love boating at the Anchor pub and trip round Lewes! Tim always so friendly and enthusiastic too x
My new favourite site!
The site is exactly as described in many other reviews - very lovely! The site is truly peaceful - the distances between the spacious pitches and the 'no groups' policy and 'quiet' policy mean that you can really enjoy the silence or the sound of birds, breeze in the trees and a crackling fire. The free solar powered showers were properly hot, and in large cubicles with a bench and hooks and dressing space away from the shower spray. So many campsite showers are ridiculously cramped. There is an additional coin operated electric shower located in it's own bathroom with W.C and washbasin. Great covered washing up sinks, and a fridge and a freezer for your cool blocks. For a wild-style campsite, the facilities are excellent. Order your wood, charcoal etc in advance and it will be delivered to your pitch. But you can buy it as you need it and there is an honesty system for times when Reception is closed. The wood is high quality and properly seasoned so creates very little smoke. Lovely to camp without hearing car doors opening and shutting all evening and early morning, but the weedier amongst us (me!) might find it quite hard work transporting all your gear by barrow, some of the pitches involve a bit of up and down slopes. But it is well worth it for the car-free view and silence. The pitches on the bank are much closer to the car park and facilities...but lose a little in atmosphere. I'll definitely return - a lovely place to be and so much to do in the area, down to the coast, walk the downs , visit historic places etc.
A real gem!
This camp site is like no other, the moment you arrive peace and tranquility hits you as well as the warmest welcome from the owner Tim! Each pitch is large, flat and private with your own fire pit surrounded by wood logs to sit on. Paths all around the camp site are beautiful full of life and nature. Bathroom has 2 hot showers and 3 toilets, clean and plenty of space all tastefully decorated with lots of hooks to hang your bits! large sink area to wash up with crates for little ones to stand on and free flowing fairy for those like me that manage to forget every single time! The camp site backs on to amazing woods if you fancy a walk with an abundance of fun bits of sticks and bridges for kids to play/build. Having misread the booking system this campsite was more expensive than I thought it would be but on the back of it we discovered a gorgeous place that would otherwise have probably ignored based on price alone! I would definitely highly recommend this place and will be returning for sure next year! waking up to the many different types of birds chattering was a delight:) We stayed for 2 nights and didn't feel the need to leave but Lewes is a beautiful historic town with lots to do. Wouldn't change a thing in this place, we had the best time - Thank you! Meera and family x
One of our favourite sites
Our second year running here and we'll be back again. Two groups stayed in Orchard for a couple of nights mid week in August. Secluded pitch was very peaceful. Toilet/shower facilities good. We love the lack of cars on site meaning the kids can run off and explore. The walk along the disused railway line is not suitable for buggies (as another reviewer commented) but there are some great secluded woods a short walk away if you have mobile kids. As suggested in the campsite Things To Do sheet we walked to the Royal Oak pub which is a nice walk but...it was shut for lunch! Didn't even imagine it would be shut, but lesson learned. Only downside with the site this year was the wasps: They were very aggressive from morning to evening and made eating and preparing food a nightmare. It appeared to be worst on our pitch so will choose a different pitch next year. Can't blame the site for this - they seemed to be in huge numbers everywhere this year and were probably attracted by all the fruit near us. For us the point of this site is its location and private pitches so we tend to stay on site and walk to local places rather than drive elsewhere. It's a little more expensive than other sites and if you're looking for a base to explore the local area then you may be better off choosing somewhere else.
Beautiful, wild glamping experience <3
My besties and I wanted a weekend away from London, so headed down here and fell in love with this beautiful place! Super easy to get to from the city by car. We stayed in the Gridshell, which was perfect for the three of us (could have been a few more people easily) and super comfy. Loved sitting by the campfire at night, under the milky way. And we had so much privacy here, as well as everything we needed for cooking, which made packing really light. The owner was so lovely and accommodating - couldn't ask for more! We will be back for sure! Thank you! -- Cecilia, Ilona and Nadia
A peaceful, stress free break.
This place is great and so calming and peaceful. The camping areas are secluded and the facilities are clean with hot showers! It was not far to drive in to Brighton and after walking round Brighton it was a welcome place to retreat to.
Disappointing camping spot but overall ok
We book to two nights, but due to extreme high winds we left after one. The campsite itself had some nice pitches but although lots of pitches were available we got one away from the main camping area by the toilets, which was disappointing since we choose the campsite especially to have access to nice nature. The website suggested activities with children like den building but once on site it said stick to paths and there was no forest next to campsite that we were allowed to access. Instead the nearest was a nature reserve 5min walk, which was non buggy friendly so actually too far with smaller children and not what we had in mind. So we were disappointed with the campsite and pitch as it didn't live up to their website description.
Great, peaceful campsite.
We had a great weekend camping. Our pitch was called Elder, a double pitch with family. We felt we were the only people around, so peaceful and secluded. Our welcome was lovely, and we soon felt at home. The washing facilities were great, as were the showers and loos ( maybe another shower would be useful?) Great location, with a short drive to Lewes. We'd recommend the outdoor pool there. Also a quick drive to Brighton and Hove too. We walked to the Five Bells pub... a recommendation... it was a little far, 55 mins even stepping out. Maybe the other recommendation would have been best! A great campsite, we'll be back!
Great campsite - we'll be back!
Spent two nights in the meadow at the end of July and should have stayed longer - already looking forward to coming back and will definitely be recommending to friends. Great setting, spacious pitches, friendly staff, clean facilities - what more do you need?!
Great relaxing spot
Nice quiet campsite. Spacious pitches and the children loved roaming and exploring the campsite. No cars on site which is great when you have kids. Solar charging point for your car and helpful staff.
Perfectly chilled
What a beautiful weekend we had at the secret campsite! It was our first trip away with a 1 year old and she loved every minute of it. The pitches were spacious and tidy (little one was walking around bare foot most of the time). The showers, toilets and washing up area were always clean and tidy and the big fridge and freezer packs came in very useful. Plus ALL the staff were super friendly and more than helpful. Turn your phone off, pitch up the tent, light the fire and get a bottle of wine on the go-and just listen to nature all around you.
Perfect Camping Experience
The Secret Campsite was exactly what we were looking for. It was quiet, the pitches are spacious with space for campfire and are in beautiful surroundings, it felt like we were the only people there. The facilities are clean and well maintained. The site is well located for trips to Lewes and the surrounding South Downs. You can stay local and explore the walks to to pubs and farm shop. Tim was very helpful with local directions and information. Can't find fault. We'll definitely be coming back to un-wind.
Lovely stay at a beautiful campsite.
This campsite was great. Nice and quiet, clean facilities and lovely pitch areas. We can't wait to come back! See you soon!
Friendly, welcoming and everything we wanted from a campsite
From our warm welcome to our goodbye, we felt very looked after by Tim. It was our first time camping and we were thrilled to arrive at the Secret Campsite. We nabbed a great spot, our toddler was so safe running around and loved the wildlife, making a fire and dashing around too. Tim was super helpful and friendly and we will be back again soon we hope!!
The best place to de-compress from London life
Had a lovely stay at the Secret Campsite, Lewes in an idyllic location. Tim was most welcoming and helpful and made our stay memorable . The dawn chorus is something out of this world and not to be missed.
Lovely campsite
A fantastic place to say. A beautifully kept and laid out campsite with a very friendly and welcoming host. Great access to walks in the area from the disused railway, nice local pubs and boating from 'The Anchor'. We will be back. Thank you!
The friendliness of everyone, and the peace and quiet that the Secret Campsite offers.
Tim saved our weekend! This was our first camp of the summer, due to so many personal family tribulations. We were really looking forward to the peace of being in the Sussex countryside for the weekend, but as I unloaded our tent and wheeled it down to our pitch in the wheelbarrow, it dawned on me that I had forgotten to pack out tent poles! Tim was wonderful and went and found a small festival tent he had. We were able to sleep for two nights in this - very cosy! - rather than having to drive back to London to get our tent poles! Lovely site, lovely staff and great area. Thanks to all.
Response from The Secret Campsite
Thank you for your lovely review! We're so glad we were able to help out with the tent and that you had a lovely weekend with us, please do come back again.
Wonderful!
This is how my kids described their first camping experience, although we did cheat a little by staying in the Gridshell, which was very special. It's a great place to camp with spacious and beautiful pitches. The kids had the freedom to roam in a very safe and friendly environment and loved cooking over the campfire. The most wonderful part for me was the breathtaking, unpolluted night sky. We'd love to return.
Response from The Secret Campsite
Thank you Viv, so lovely to hear both you and the kids enjoyed your stay and you managed to experience our beautiful night sky. Please do return (bookings already open for 2019!), we'll look forward to seeing you again.
A peaceful, family site.
This was our first trip to the secret campsite. I was struck by how peaceful the site was, how family friendly it was, and because it was away from any nearby towns, the amazing moon and starlight once the sun want down. The staff were helpful and had plenty of materials so we could explore the local footpaths and even though their reception doesn't have any essentials, a local farm shop was only a couple of hundred metres away.
Response from The Secret Campsite
Thank you for your lovely review, we don't allow any dogs, groups or music on site to enhance this peacefulness so we're really happy you appreciated this and got the chance to enjoy our beautiful night skies. We hope to see you again soon. 
Beautiful
A gorgeous site for our first proper family camping experience. Lovely small site, family vibe, decent size pitches so you have plenty of space and privacy, friendly staff and campers alike, everyone seems so happy there. We can't wait to go back and are about to book another stay next month!
Response from The Secret Campsite
Thank you Sarah, fantastic to hear you had such a good stay that you're coming straight back again! I can genuinely say that we are all pretty happy here - staff and campers, how could we not be in such lovely surroundings with nature on our doorstep. Looking forward to seeing your return!
Friendly peaceful interesting
We stayed here for 2 nights. The staff are all so friendly and helpful and this rubs off on the campers too! Everyone says hello, I don't think that I have spoken to so many other campers at any other campsite! The interesting and different thing about the secret campsite is that there are no cars etc allowed near the tents, which means no car engines , no cars going past your tent and children! You do however have to take everything to your allocated pitch by wheelbarrow which is fun for kids and some adults! We had quite a lot of stuff so I got a workout too! Once settled it's peaceful and relaxing. Would go again and recommend to others.
Response from The Secret Campsite
Thank you for your lovely review Vera. We price ourselves on the nature, peace and space of the site and having no cars really helps - it also means the kiddies can be free to run around. Be sure to pop back again and there will be plenty of friendly hellos waiting for you!
Great site for relaxing
A well run friendly site, peaceful, great countryside on and around the site, if you like camping with open fire under the stars then this site is for you
Response from The Secret Campsite
Thank you Martin, relaxing with a campfire under the stars is what it's all about. Please come back again.
Beautiful peaceful and great for kids
Beautiful peaceful and great for kids
Response from The Secret Campsite
Thank you so much for your review
My favourite campsite
This is my favourite campsite run by lovely friendly people. The pitches are really private in beautiful Sussex countryside and surrounded by trees with owls hooting at night. Looking forward to going back again next year. Sue 8/8/18
Response from The Secret Campsite
Thank you Sue! Great to hear you enjoy our resident owls and we look forward to welcoming you back.
The secluded feel of being in the wilderness
Beautiful spacious pitches, clean facilities, friendly wardens and all round a beautiful experience. I highly recommend this one.
Response from The Secret Campsite
Thank you Laura, please come back again.
Just lovely!
Friendly welcome, very private pitch for our tent and easy access to all the site facilities, which are accurately described on line. We managed to get lost walking to the nearest pub (no matter) and struggled to walk to the farm shop off the road. Succeeded in the end. The meat there is fantastic. Granddaughter loved watching a lamb being attended to! It had had a happy life! Can recommend sweet potato cooked in foil on the fire. The showers are great with lots of room for your stuff. The weather was fantastic which helps and surprisingly it was not too hot at night. This is a lovely site......a camp fire, moonlight and bird song can't be beaten!
It was all great!
Lovely spot to go with the kids. We stayed 2 nights and did some great mountain biking in the surrounding area. Really friendly helpful staff, great facilities. Can't wait to come back! Everything and more we'd hoped for from a camp site...
Secret Paradise
The Secret Camp Site was my first ever camping trip since I was a very young lad. I choose it because I had read good reviews from other visitors. I don't drive, so I got a train to Lewes and a very quick cab ride later, I arrived at my destination. I was greeted warmly by Katie, who explained where everything was in the site and how to get to my pitch. Once I had set my tent up (took 5 mins) I then had a walk around the campsite itself. It was extremely picturesque, lots of greenery, birds singing and yes, rabbits playing in the fields. It is a beautiful place to come and chill out. Each pitch has its own meadow, so you're not right next to another tent and you have your own privacy. Within your meadow, there is a campfire surrounded by log seating. Logs for the campfire can be purchased from the reception and I thought it was very cheap. They also have other items if you need anything like grill bars for the fire to cook food on. There is even a glamping tree pod that you can hire, if you don't have a tent. Everyone made me feel welcome and they were so friendly and helpful. Now as I don't drive, I would recommend that anyone in the same boat, take or hire a bicycle to go out for a ride. I loved the place and I am really glad I went. Would I go again? Yes! Thank you to Tim , Katie and everyone there. Shhh, this place is a secret.
Camping at its best
We have just spent a truly wonderful 4 nights at The Secret Campsite. The site is a beautiful haven of wildlife and plants, with a few pitches carefully planned for privacy, space and environmental impact. We camp every year and this is by far the loveliest of all sites. A good deal of thought had gone into the facilities which were basic but good, in keeping with the outdoor experience of camping and the site's environmental ethos. Much appreciated extras were the fridge in which we could store food and the use of the office for charging phones. I slept for an undisturbed 8 hours each night, in bed too early to spot the glow worms. My companions told me that there were a number of talkative rooks that kept them awake, but no sounds at all from other tents.
Peace and Quiet!
The Secret Campsite is wonderful! My partner and I only live 11 miles away from the site but we live in the middle of a noisy city. I miss the sounds of the countryside so we decided to escape for a few days. The trip was so much more than I could have hoped for. Tim and team are so welcoming and friendly and they have a wonderful site. Privacy is important to us and they managed to deliver on that 100%. The site is clean and offers all the amenities you need. Apart from having a little walk to the farm shop (who have the best sausage rolls ever!), we didn't actually leave the site as it was quiet and comfortable and we were quiet happy reading under the shade of a beautiful Chestnut tree. I have tried to think about what I would improve, but I am at a loss as to what to say. I'd really recommend this site to anyone wanting a comfortable, stress-free camping experience in the beautiful Sussex countryside.
Quiet, peaceful, private, natural
We were both in great need of peace and quiet to enjoy nature. No music, no shouting or screaming, no cars, nothing. So we booked with Tim for in the week outside of school holidays, It was bliss. Tim was a first class host. The tent sites are well apart and there are many trees so there is privacy. The other folks staying there were also very quiet. i really enjoyed it and will definitely come back. Its wonderful that Tim has special events for families to enjoy and learn about nature - all for it. It would also be great if there were a few days a year which were adult only 'quiet days' for those of us in need of this type of environment. We were lucky this time though.
Calm, simple, beautiful
We spent an idyllic week at The Secret Campsite with our three-year-old twins, and had a wonderful time! It has the perfect balance of comfort (showers, phone charging, nearby farm shop selling amazing sausages and beer) and simplicity (no cars on site, no loud groups, a real emphasis on nature). There's plenty of space between pitches so our little camp felt private. The meadow grass and nearby woodland offered lots of opportunities to spot butterflies, birds, insects, and rabbits, and Tim was on hand, friendly, helpful and relaxed, to help the boys identify them. We'll definitely be returning.
We are both over 70 and have been campers all our life in the Netherlands, the UK and the USA.
Secret Campsite is one of the nicest campsites we have visited in our campinglife. Tim and his staff are very friendly and helpfull. Of we stay healthy, we will certainly come back!
One of our absolute favourite places
A kind and calm space for proper camping. We've been a number of times and absolutely love it - everything from the kitchen garden for a bit of light foraging; beautiful surrounding countryside; the information about (and love for) local wildlife; the trees; the peace; the lovely staff. All good
Perfect site
We love this campsite and have booked year after year. The site is really well kept, the pitches are enormous and the children absolutely love the back to nature aspect - campfires, bat spotting, running round in the neighbouring woods etc. It is very well located for days out and the owner Tim, and his staff, are really friendly and helpful.
Brilliant camping
Fantastic campsite. Spacious, clean and beautiful surroundings.
Perfect first camping trip with our three year old!
We had a great experience on this site at the Elder pitch. Everyone was so friendly and welcoming, and the site is just beautiful. I was eight months pregnant and we were camping for the first time with our three year old. Tim, Kate and the team did everything to make us feel totally comfortable and we were surrounded by wildlife and nature, but with the added bonus of hot showers and a farm shop supplying beer and steak a 5min walk away. Our daughter could run free without the worry of cars and dogs and she loved it so much she cried her eyes out when we left on Sat to take her back to the wilds of Hackney. We will be back!
lovely secluded pitches
We had a lovely two nights at the secret campsite in mid September. What a lovely setting - each pitch is set apart and separated by long grass / meadow feel and you can see in the future the trees will grow and create nestled pitches in the woods. Each has a fire pit, access to taps and great little washing area and proper toilets. Tim was really welcoming and the place feels like it's been build with love! We did a 'hunter, gather, cook' forraging day course 15 mintues walk through the fields, which brought us to Secret Campsite. Would definitely return and recommend.😁
Fantastic family campsite
We had a great few days at The Secret Campsite at the end of the summer holidays. The pitches are very spacious, giving every family their own space, though the kids all made friends and had great fun playing the whole time. The combination of exploring the woods, foraging, campfire cooking and just being out in the countryside was a wonderful getaway ! Tim was a very friendly and helpful host, who helped us quickly get back to nature through his energy and love for what he does . Perfect !
Amazing
Lovely place, I haven't camped since I was 13 and now nearly 50! It was our first family camping trip and we would all stay longer and go back tomorrow if we could. I booked it because it offered peace and quiet and privacy, very important with my Asperger son. The secret campsite delivered everything it said and we had an amazing time and good family time. Very relaxing, peaceful site with good facilities if your looking for quiet and calm. We will definately be going back.
A lovely quiet & peaceful campsite
We stayed for 3 nights with our 5 year old daughter and had a fantastic time. We were in the meadow and had a ginormous pitch which was really lovely & peaceful & I felt completely at ease to let my daughter run around. The tall grass separating the pitches makes it feel more secluded and offers privacy. There's really nothing more I could add to the meadow to make it any better. With regards to facilities, I was completely happy. It was basic but it was clean and adequate. My partner mentioned that she wish there was an extra shower available, in particular one of those open air ones she enjoyed at a previous site. Tim was a wonderful & friendly host as was Tara and they charged up our phones. I can definitely recommend if you are looking a for quiet and peaceful family campsite.
First time campers but we'll be back!
This campsite was a great choice for our first ever camping trip. After a long hot journey during one of the hottest days in the hottest June since 1970-something we were happy to have Tim warmly welcome us to a gorgeous mostly-empty site. The wheelbarrows to take your stuff are a nice touch as it is a bit of a walk to the pitches.The pitch itself was much bigger than I expected, we had plenty of space to spread out and it felt quiet and peaceful even when other people arrived. The facilities were really good, especially the luxury of having a power shower in the family shower room, cheap at the price of £1 for 20 mins (plenty of time for two showers) and in the heat having a fridge to store food in was really useful. Tim was a great host, happy to chat to us about the campsite and his plans for it as well as the local area and suggest places to visit and was equally interested in hearing about our day and what we had done. He was also happy to charge up mobile phones and re-freeze ice blocks which was most useful. Being able to a campfire was also one of the nicest things about this site and the evening haze and smell of wood smoke was just bliss. There is plenty to do nearby (including several excellent vineyards if that's your drink of choice!) but equally its a great place just to sit, relax and watch the world go by for a few days. Would highly recommend it and I'm sure we'll be back!
My favourite campsite...
We stayed for the annual Wildlife weekend and had such a brilliant time. Tim and his family went out of their way to welcome us and make our stay special. The secret campsite is such a lovely place. Huge pitches, a beautiful setting and plenty to do in the local area. Tim has made a real commitment to caring for the environment, encouraging wildlife and engaging children in finding out more about their natural surroundings. A special place.
Lovely campsite!!
My boyfriend and I stayed at the secret campsite and absolutely loved it ! Really beautiful site, great location, and we loved that each pitch had its own space and felt quite private and in amongst the nature. We met Tim briefly and he was really friendly welcoming and enthusiastic. We will definitely be coming back and recommending to our friends! :)
May half term
Our first stay at this lovely campsite. Will definitely be returning...very soon. Lots of space and exceptionally peaceful.
Just love this campsite!
We spent three nights at the Secret Campsite, at the start of our camping season, and wished we could have stayed longer! So many things to do and a very chilled out campsite to stay in. Tim, who runs the site, is very welcoming, helpful and a source of knowledge about the local area. This is no-frills camping but what they have focused on makes it a very special place to camp and safe for our kids to run around and explore. Top marks go to the car-free pitches, campfires (with a supply of high-quality wood), low density (only 15 pitches on the whole site I think?), peaceful and in a great location with walks down the old railway line straight from the campsite. Also there is a very good farm shop 5 mins away. The new facilities onsite, toilets, showers etc are good, along with the washing up station. Will certainly be coming back again!
Outstanding
This was a third visit to The Secret Campsite. Perfect site, lots of space, campfires, a fridge, excellent shower. Tim is a legend, so helpful and friendly. The site has lots of footpaths and an abundance of great pubs to visit for beer and food. We'll be back again and again.
Our new favourite place
My husband and I stayed for 2 nights this October. The first night we were alone on the site and the next night we were joined by a few more tents, but none in the same area as us. It was peaceful, quiet, beautiful! We can only imagine how gorgeous it is when the plants are flowering in summer. This is our new favourite site. Tim greeted us and couldn't have been more welcoming and helpful. The facilities are great and just as you would expect. Very eco friendly as we had hoped. Infact the showers were better than we have experienced at campsites with electrical and gas heating! We are already planning two more trips here early next year. I was pretty disappointed that there was no frog in the shower though. It's ok, Tim said maybe next time. Who knows. The elusive creature may surface once more... Maybe it'll bring it's family and have a lovely stay too.
Wonderful
We have just returned from a 2 night stay at the Secret Campsite & must say we had a truly wonderful time. It is so peaceful & spacious. The pitches are big to say the least & we were able to pitch two large family size tents on one pitch. We went with our friends & just relaxed by the campfire, cooked great food we got from the local farm shop & chatted until late. Just perfect... Tim was very helpful, friendly & entertaining. We would highly recommend The Secret Campsite & we are already looking forward to going back again next season. Thank you Tim, for creating such a peaceful haven.
Perfect
We have just returned from a 2 night stay at this idyllic spot and are so sad that we couldn't stay longer! A perfect getaway from it all. All the staff were friendly and helpful and the facilities were spotless. I can't recommend The Secret Campsite highly enough and we are already looking at the dates of our holidays next year so we can book in for a much longer stay. Thank you.
Wonderful introduction to camping
I took my slightly hesitant wife and two young, four and five, highly expectant boys to this very lovely campsite. I did a lot of research before settling on the secret campsite. It needed spacious pitches which had some privacy, lovely surrounds and effective and clean facilities. The whole family were very happy. Friendly welcome, open fires for marshmallows and clean toilets and hot showers made everyone comfortable. It's an easy drive to many activities and totally lived up to it's website blurb. Highly recommend. I am slightly worried whether I will find more of the same. The limited number of pitches was a great selling point. We will return with friends next year.
A lovely Campsite
We stayed for a long week end at the Secret Campsite Mid June 2016 and had a wonderful time. We were 4 families. Loved the separate plots, the fire pits. Impeccable showers, toilet and washing areas. There's even a fridge, which is an absolutely fantastic idea! Kids spent their time exploring and hiding in the long grass. Tim is ever so lovely, always available for any query. We liked the spirit of the place, a lot of thought has gone into things. This is now officially our "not too far from London campsite", No wonder it gets booked so quickly.
wonderful camping weekend
Enjoyed a brilliant Wildlife Weekend at the Secret Campsite. Nothing is too much trouble for Tim who goes out of his way to make sure you enjoy your stay. Camping is great with lovely, quiet pitches, in unspoilt countryside. The Wildlife Weekend is such a great weekend with lots of activities which kept us all happily busy - glow worms, butterflies and bacon sandwiches, what more could you ask for? Can't recommend highly enough.....
A great weekend
Yet another amazing Wildlife Weekend at the The Secret Campsite.  Beautiful surroundings and the amount of wildlife around is astounding. My favourite is glow worm hunting.  Tim and the team work so hard and are such lovely people.  I am sure we will be back for a fourth year :)
Idyllic spot
The very lovely Tim has created what is definitely my favourite cool camping spot. I stayed with my 10 year old daughter, Matty.  We got there by bike from Uckfield station (totally manageable with an OS map and a fair amount of patience!)
The pitches are well distanced from one another and there's loads of wildflowers and grasses between the pitches which creates a delightful meadow-y ambience.  Toilets and showers all good.  Showers are solar powered and comprehensive recycling.  Tick.  Fire pits at each pitch and wood supplied.  
Matty says, 'I really enjoyed being near the woods and having a look at all the snakes [Tim has a few grass snakes under a old door] and cycling around the nearby roads and seeing all the rabbits and their babies.'
It's a place you can totally wind down and relax, while nearby we visited Lewes castle (excellent guided tour with more facts about wee (yes, wee) than I'd expected!  Also the 'Branching Out' centre nearby run by the very affable Dave is a great 'Go Ape' style place with the most terrifyingly brilliant giant swing.  
I kind of don't want to recommend it too highly because I don't want it to get too booked out and popular. But I thought what Tim has created is so inspired I thought I'd do it anyway. 
Happy days
We had a fantastic stay at this lovely campsite with our 2 children aged 10 and 7 years at the end of May.
The pitches have lots of space, are on level, mown grass plots and our kids were delighted to race to find our pitch called "mulberry" secreted along a winding path, amongst long meadow grass and close to trees. 
A great start we thought.  Then it got better.. 
A private camp fire for our pitch made for lovely evenings and easy bbqs. Wood and kindling is all available from the small stop on site.
Showers were functional, clean, warm with the odd icy blast forgiven for being solar powered. Those who wanted to could also brave the Thunderbox, the self composting loo nearby the pitches. A rite of passage for some.  No pun intended. 
The site was quiet, leafy, green, and full of birdsong. No electricity meant just firelight and torches. It was all very fuss free and easy, even for us relatively novice campers. Hot chocolate from the shop was the unexpected hit with the kids who went back for more - and more.. 
A car free site meant peace of mind for us and freedom for the kids who could roam freely, and whilst it's not a large site the layout and thoughtful planting lends itself to new discoveries for little people at each wend and wind of every path. Lots of young trees have been planted and are dotted around the pitches, so give it a few more years and it's going to be simply gorgeous here.
Camp rules are few and fair and campers are expected to uphold the traquil ethos of the site, so take note. We'd come with another family on an adjacent pitch and Tim rightly and very politely had to pop down and ask us to keep the noise down on the first night (at 10pm when the kids made too much racket -  too many marshmallows and the novelty of starlight liberty with friends). We duly did. Sorry Tim. 
We stayed for 2 nights and didn't leave the site. There is a woodland adjacent for denbuilding and exploring and this was a welcome diversion when we needed to stretch our legs. 
The only downside was the sound of planes which can be heard from time to time-   a shame as this was really the only reminder that the modern world isn't far away. 
I would definitely recommend this site. As we drove down green and abundant lanes towards the secret campsite we had a sense of heading somewhere special. And it didn't disappoint.
But dont take my word for it. After a technology free weekend our children gave it a 10 out of 10. What better endorsement can there be. Enjoy. 
Review period 29 April to 2 May
If you want tent camping with real fires and spacious pitches, this is the place for you!
We spent the early May Bank Holiday at the Secret Campsite for the first time and came away mightily impressed. Our pitch was enormous (as were the others), meaning lots of privacy. There was virtually no road noise as the nearest main road is a fair distance away. With no cars on site, there was even less noise (and plenty of barrows to move gear from car to pitch). This left us to the glorious sounds of nature, peace and tranquility.
The general vibe of the place was really friendly and relaxed, and the owner Tim with his staff were always on hand and helpful.
The price of wood was a bit steep, however this price is shown on the website.
Can't wait to camp here again.
Cheers!
Richard & Mandy
Great Campsite
I would highly recommend The Secret Campsite. The pitches are large and well spaced in with beautiful woodland all around the site. Tim was incredibly friendly and helpful. I will definitely be going back. 
Camping as it should be
If your looking for a place to really camp then this is it, from the first step towards the car free campsite we could feel the relaxed, laid back nirvana. The pitches are well spread out with huge amounts of space and a fire pit area in each pitch. At night it's all very tribal when the camp lights up with the numerous camp fires flickering and cracking in the night. There is little or no noise pollution due to the spacious layout, woodlands surround the site creating a beautiful back drop. Campers are well provided for from large trolleys to move kit, to fire wood and in our case an emergency sleeping bag (it was the hail storm when we got there, honestly!)and great toilets and showers which were kept remarkably clean. There is even a communal fridge by the wash up station.
Tim was an amazing host, even knowing most of the campers names, always on hand for a chat or to answer any questions. It was a joy to find a site that does not take caravans, large groups and dogs it makes this a utopia of peace.
We will be back, 6 stars if that were possible
Super!
Our first camp of the season and we were not disappointed. Owner and hands-on manager Tim gave us a friendly welcome the moment we arrived. We were directed to the "Gridshell" - our spacious and comfortable accommodation for 2 nights. The kids roamed freely, the facilities were all spot on and the Gridshell kept us snug and dry despite a night of heavy rain and high winds. All in all a fab campsite in a beautiful part of the country. And campfires too. What's not to love?
Amazing week end
Our week end at The Secret Campsite was our first time camping with our 3 boys (4,6,8), and we loved every bit of it. Our pitch was extremely spacious and quiet. The best bit was the campfire. We had bought everything we needed from Tim before hand and we cooked burgers, had popcorns, marshmallows, hot chocolate! The boys had room to run around in our pitch and also enjoyed venturing in the car free campsite. Everything was made for the children to feel welcomed, the trolley for them to help bring everything to the car and back, the steps to do the washing up. Tim was also very friendly and gave us some great advice for pubs and walks near the campsite. A perfect first experience, and we will definitely go camping with the boys again next spring, and will probably be going back to The Secret Campsite very soon. Thanks Tim for such a memorable week end.

The Secret is out!
Our first trip camping exceeded all expectation at The Secret Campsite. We were very lucky with the sunny weather, however, it was the very special site which the kids could explore freely that made it a holiday to remember. From being greeted on arrival by a very cheery and enthusiastic girl (Tim's daughter I believe) to sitting around the campfire telling stories whilst eating mashmallows and stargazing. The site was very peaceful yet full of wildlife and nature to amuse the children. My 3 year old didn't want to leave, I didn't want to leave. We will be back! 
Labour of love
Such a lovely stay at The Secret Campsite. The site itself is feels wonderfully secluded and the facilities are clean with hot water for showers and washing up. Would love to come back in summer when the herb garden flourishes. Tim is lovely, this place feels like a labour of love and it shows.
Peace & Quiet
It is with reluctance that I write this review since I would prefer that this campsite remained a secret so we can go back next year!  It is a fantastic peaceful campsite with loads of space. The plots are massive with plenty of space between them. Each one has a firepit which kept the kids occupied for hours - they survived all weekend on toasted marshmallows. No cars near the tents which is great. Nice warm showers and clean toilets. A nice walk along a disused railway to a nearby pub. What more could you ask for?
Angela
Fabulous campsite. 
Peaceful, beautiful location with lots of space. Good facilities, and the added bonus of a fire pit with each pitch. Nothing too much trouble for the very nice owner Tim. Will 

definitely be going back.

 
Great Site!
Thoroughly enjoyed our stay in the tree tent.  Fantastic rural location, well spaced out pitches which made it feel relaxed even though it was basically full.  Really good facilities, can't fault it. Especially of note is how helpful the manager was (filling in for Tim while he was away), she was extremely welcoming and couldn't do enough to help us, she even brought a bag of wood down to our site for the fire pit when needed.

Perfect place
I took my boys here during the 2nd week of August. We experienced some apocalyptic weather during one of the days but we absolutely loved it. My boys are 5 & 6 and they were constantly entertained. The site is fantastic, lovely and peaceful with loads of wildlife to seek out. It's just over an hour's drive from London so perfectly placed and days out to places like Brighton are really easy. Loads of nice pubs dotted around for lunch. We will definitely be going back next year, great place to go.
the secret campsite
Thank you to Tim and his lovely girls for a fantastic holiday,great location and pitch,The Searle family.
Lovely site
We have just returned from a four night stay at the Secret Campsite - we were 5 adults and 5 young children on 2 pitches near to each other. I can only confirm the experience of other reviewers - large pitches with plenty of space between, open fires, free showers , clean toilet block, use of fridge and a really pleasant and helpful owner Tim. Overall a great site!
Beautiful Setting, Great Facilities & Lovely Staff
I booked a weekend in The Tree Tent for my boyfriends birthday and we had a lovely stay. The site and surrounding area is stunningly beautiful, the staff are really friendly and helpful and the facilities are great. Hot water in the washing up area, hot showers, compost toilets, edible plants and herbs to pick for tea - what more could you want! Highly recommend. 
the perfect spot
the five of us (2 adults, 3 children aged 9,8 and 6) stayed here for the second May bank holiday weekend. we loved it. we have only just got into camping with the kids and now my husband is refusing to camp anywhere that isn't just like the secret campsite. the plots are big enough that you genuinely can hardly see anyone else from where you are, real fires are encouraged,  the showers are warm, the washing up area is great, the fridge is very handy, the farm shop (about 10 minutes' walk away) really does provide you with everything you need for a barbecue. it was just about perfect in every way.
we will be back!

A beautiful project
This campsite is an absolute gem! 
Tim gave us a very friendly welcome as he returned from collecting some nettles to feed a "grumpy looking" catapillar.

The site is very well laid out, wide open meadows seperated into large well spaced plots. Young trees have been planted between the plots to compliment the natural scrub growing there. Im looking forward to coming back year after year to see the project grow and evolve. 

The facilities are great, compost toilets in keeping with the very natural surroundings (there are real ones for those who are just dipping their toes into wild camping). wheel barrows at the car park to move your kit easily to your pitch, logs and fire pits ready for cooking or relaxing around an open fire, freezer packs for your cool box. even a little cafe for a little luxury. 
I cannot recommend Tim and his wonderful campsite enough, it is quiet, beautiful and still taking its natural shape which I love to see. 
Well done Tim and family and thankyou! 
we'll be back soon!griff
Rob & Keren. 
Lots of fun!
Review by Georgie, aged 5: 'I loved it when we slept in the tent. I slept very well. I liked playing in the wildflower meadow and pushing the wheelbarrows. We saw rabbits. I want to go back and stay for 100 nights'
The Secret Campsite
Tim really made us feel welcome during our stay at the secret campsite. He was so helpful and enthusiastic about wildlife. It was by far the best camping experience I've every had. The pitches are huge and separated from each other by long grass and lots of trees. The natural environment in and around the campsite is amazing-we woke up one morning with a toad trying to climb up our tent! The nearby woods were a great place to explore and the campsite has so many maps and leaflets with things to do. The toilets and showers were always clean and the sinks were stocked with sponges and washing up liquid. I cannot recommend this campsite enough! I am looking forward to going back already.  
Wonderful campsite
This was definitely the best campsite I have ever been to, the atmosphere was so peaceful, and Tim, the owner of the site was so helpful and welcoming. The area is beautiful and to get to the nearest town it is only a 20 minute walk along the old railway track. I would highly recommend this campsite!
Peace and space
I just spent a few days in East Sussex trying out the camping gear I bought last year. The aim is to use it in Europe next year, but I wanted to check I had all that I needed and could handle it.
I looked for a campsite that was near where I live. I eventually chose The Secret Campsite - http://www.thesecretcampsite.co.uk/
It turned out to be a perfect choice. The location is surrounded by woodland and farm land. No cars are allowed near the pitches, you leave your car in the parking lot and take your stuff to the camping pitch - trolleys are available to help with this.
The pitches are well spaced out so you won't be in a cramped camp. Each has a fire pit for cooking if you don't want to use your gas stove. No dogs are allowed on the site so you will not have to worry about what you tread in. There is a well equipped shower block, washing up area and fridge.
Tim, the owner is always there to answer questions, give advice and lend a hand. My sleeping mat turned out to be too hard for my old bones and Tim lent me a couple of foam mats to add some extra softness. So I was able to get a good nights sleep before waking up to the most amazing dawn chorus at 4:30.
There is plenty of good walking in the area. Strange that most of my walks ended at a pub for lunch ! I did about 15 miles walking in the three days I was there.
I recommend you have a look at this site. Plenty of space, peace and quiet and an owner who makes sure you have a great time. Time has lots of useful information about the local area. Plenty of wildlife to see woodpeckers, birds of prey and a rabbit that came out to munch on the grass near the tent, several times a day.
A wonderful place
This is the second time we have stayed at the Secret Campsite and again we have thoroughly enjoyed oursleves.  Apart from the great location the welcome from Tim is fantastic and his willingness to accomodate everyone - nothing is too much effort.  He is great at remembering names and shows adults and children the same attention.  The boys spent the weekend running around in army gear, climbing trees and making fires - what more can they want.  We also went to the River Ouse swimming which was great fun for all the family.  We will hopefully come back again soon.
Tell your friends, thus shouldn't be a secret!
We had two nights at The Secret Campsite and what a fantastic experience. After pulling in and being greeted by the lovely Tim, you offload you equipment into one (or more in our case) of the provided wheelbarrows and find your allocated pitch. There is lots of space between pitches and although it was quite full, it didn't ever feel that way. We had a lovely spot over the disused railway bridge towards the back of the field and we had a water point nearby. The other great facilities for washing up, fridge and toilets and shower are back over the bridge and its a nice walk when you need it.
Lots of great nature for the kids to spot, slow worms, birds of prey, phesants, rabbits and various other insects were all spotted during our stay.

The fire pits are spot on and the wood is well seasoned, with axes to make your own kindling.

Altogether a top site and a must do for anyone who likes camping around a fire.

See you soon Tim!
We will be back
I drive my partner crazy by refusing to return to the same holiday destination twice as I think there is so much to see and do in this world. This however was our second stay at the secret campsite and I can confidently say that we will be back. The campsite is so stunning, peaceful and relaxing I think it would be impossible to leave not feeling better for your stay. 
Tim very kindly offered to help me set up camp when my partner was late arriving from work and he sorted us out with a beautiful route for a day out in the local area. Lovely guy, lovely campsite. 
Somewhere Special
It's hard to imagine a campsite better than this. Beautiful, chilled and run by a total dude it ticked all my boxes - fires, no cars on site, beautiful walks, limited number of pitches, fabulous local farm shop. You can even go boating at the local Anchor Inn and wild swimming at nearby Barton Mills. Stay in the pitch with the tree tent for a totally luxe experience - especially if you've got kids as they can sleep up there while you have the tent to yourself. Bliss.
Lovely - very secret, quiet with some great walks
Loved this campsite - for a start, the owner was very helpful (going to so far as to lend me a blow torch when my firelighting skills failed!). Amenities are good and the campsite itself is peaceful and beautiful. There's a lovely walk along the disused train line too.
Awesome
Just spent a lovely couple of days at the Secret Campsite, really enjoyed the time with my children there and brother in law. Camp fire songs, waking up to amazing birdsong and the surreal peaceful environment was very special. The owners are extremely accommodating and great with kids, we felt immediately welcome and is now our top spot for camping suggestions if anyone asks and number 1 for where we intend to go next time we are choosing a site.

Delightfully lovely
We spent a lovely wet weekend here. Tim (mistakenly called Steve and Nick on a number of occasions - took it very well) was a lovely host, very helpful and considerate. We didn't meet Lisa but heard only good things about her from the locals. A couple of pubs were investigated as was the local farm shop - delicious range of meats, veg and other essentials. Each plot had lots of space, in beautiful grounds with it's own fire pit. Our kids (both under 5 loved it - especially their trundle through the woods and along the old railway line and seeing rabbits in their natural habitat. This is definitely one of my favourite campsites.

Sheltered and peaceful
We stayed for 3 nights over early May Bank holiday and had a great time at The Secret Campsite. Tim and his family were so accommodating and made us feel very welcome. Although we booked 2 pitches on the bank (still sheltered and a backdrop of beautiful woodland) we pitched 2 tents to share the fire and used the other pitch as a football and games area! Great local area and exploration of the former railway was lovely, facilities ticked all the boxes and the family bathroom was very handy. We will definitely be back!

Great getaway
Absolutely loved our stay at the secret campsite. We enjoyed a proper log fire both nights, savoured the walks around the surrounding countryside and easily popped into Lewes for a nice dinner. The site was really beautiful and the pitches huge; the whole site had a lovely calm and relaxing atmosphere. Tim couldn't have been more helpful and accommodating. We'll definitely be back.
Great Place
We had a lovely weekend at The Secret Campsite. The plots were spacious so you were not on top of each other. It was very peaceful and full of wildlife. The place had a very laid back feel. We only had a 2 night stay but felt we had been away for longer. We left very relaxed. Tim gave us a lovely welcome and was really helpful. We will definitely go back for another visit.

Brilliant
I needed a campsite that was spacious, quiet and relaxing as I had planned a family camping trip for 9 nights (never camped that long before!) and with a husband who would rather be in a 5* hotel I knew I needed somewhere special.  The Secret Campsite did not disappoint.  Brilliant spacious plots meant the campers aren't all on top of each other but also those that were there were friendly and nice.
My girls (4 and 7) loved exploring and looking for wildlife and going on daily walks accompanied by the chants of 'we're going on a bear hunt'.
Lewes became our second home and the surrounding area is lovely.  
Tim the owner is very helpful, as were other members of staff.  
Facilities were perfectly fine (shared fridge, fire pits, clean toilets and shower). Highly recommended site.
Fantastic
We have stayed at The Secret Campsite a couple of times and it is by far our favourite!
The site is fairly small in comparison to others, but you get a preallocated spacious plot with fire pit. Facilities are good and have been continually improved over the times we've been. The site is also car free which allows kids to roam free.
Best of all though is the owner, Tim, who is very friendly and always takes the time to talk... He even took a crowd of kids on a hunt for slow worms and other creatures.
We will return and I encourage you to!
the superb secret campsite
What is unique about this place is the huge pitches with loads of space. The campsite is in a lovely setting. Tim is a fantastic host. We will definitely be back!
Beautiful and peaceful
My boyfriend and I stayed here for 2 nights just before the August bank holiday weekend. We couldn't have felt more relaxed, Tim the owner is a really helpful and genuine guy who is extremely passionate about what he's doing. All of the pitches were private due to the long grass dividing them and the facilities were great. All in all a perfect couple of days away, we will definitely be returning!
Secret Campsite August 2014
I stayed here with my eight year old daughter, amazing campsite, how camping should be, excellent facilities, very helpful staff, I will definitely be going back!
Sophie
wonderful campsite; secluded and peaceful in beautiful surroundings and very helpful and friendly owners. Highly recommended.

Just perfect!
Believe all of the great reviews, below - this campsite is great. Me, my wife and two teenagers camped in a quiet area at the top of the field for three nights and had a great time.
Tim was extremely welcoming and helpful and nothing was too much trouble for him and his gang. The fruit in the orchard was divine and we enjoyed some mint and nettles from the campsite garden for a morning cuppa.
 The layout and ethos of the site was a joy and it's great to be secluded, especially with a firepit and a bag of marshmallows!! It was smashing to see and hear children enjoying themselves and then to have scilence and the sounds of nature at night. I have been camping before and never have I slept so well while camping until staying here. Perfect after satisfying walks in the local area.
We will definitely be pitching up here again.

Perfect!
Well I messed up a tad and booked for two of us for  the following week! So there we were car full of camping equipment and a small melt down by me! In comes our hero (& site owner )Tim and finds us a pitch for a couple of nights. It's idilic, peaceful and simple. Huge pitches with tents and plumes of smoke from fire pits, the sound of children laughing and playing without being intrusive. Absolute silence at night (well apart from owls and the gentle snuffling of night time creatures. 
The facility's are clean and functional, there is the use of a fridge and ice blocks available. You can borrow maps of the area to walk or cycle. 
A wonderful farm shop a few mins walk or cycle away supplied us with a very posh camping dinner! 
Tim is great and the campsite is a real credit to him and his family, what a great place ....I can't wait to go back with my children :-) ( I'll try and book the right dates next time) 
unexpected
We came unexpected and although the Secret Campsite was fully booked, the very kind and enthusiastic owner Tim offered us to stay on the emergency spot for four days. Which was a very generous gesture. This was a according to Tim a small spot, but still  spacious and private for us. The toilets and hot solar showers were very clean. We loved the natural environment,  all the different trees, wild flowers and the little wildlife  surrounding us. And even as it is a camping in progress, what will it be in five or ten years from now! When we visit England again we definitely come back to see it. Tim and family thanks again for your tremendous generosity
Superb!
If you don't thoroughly enjoy your stay at this campsite, you need to start asking some very serious questions about yourself. Reasons to love this tranquil oasis:
1. Excellent owner, Tim.
2. A handful of pitches with bags of space around your tent.
3. No light pollution.
4. Peace and quiet.
5. Clean toilet facilities.
6. Campfires allowed.
7. No cars on site.
8. No dogs allowed. 
Sitting around a campfire each evening with my family was absolutely priceless. We will most certainly be back next summer. 
wonderful tree tent stay
Recently stayed at the Secret Campsite in the Tree tent, a fantastic structure, not scary at all, really good fun.  Tim the owner is super friendly and runs the site perfectly, also a herbalist talk on Tuesday mornings with Theree, which was fascinating and led us to making our own tea throughout the stay.  Great for walks, and not far from a super pub with gorgeous food. Can't fault it. Highly recommend.

Camping with a difference
Myself and a friend, along with her 9 year old daughter camped here back in May in the Tree House tent and I must say we had a fabulous time.
The Tree Tent was large enough for us all and very comfortable to sleep in with the temperature working well for that time of year.
We loved the way the areas were separated off just enough with the long grass to make you feel like you had your own space, without making you feel isolated, the outdoor furniture being a lovely additional touch.
We loved being so close to the woods and made the most of the great nature walks you can take, seeing the deer at night really made the trip, alongside all the other birds and nature you never to get to see as Londoners.
We especially liked the Secret Teapot and took advantage of the great hot chocolates provided!
Tim and his family have set up something special here and we are looking forward to coming again in 2015 with the rest of the family to stay in the amazing Gridshell.
The Midgets
xxx
A great campsite
I went with my four year old son on his first camping trip and we both enjoyed our stay at The Secret Campsite. Tim, the owner, was very welcoming and remembered our names. The field we stayed on was lovely with large, well separated sites. They will become even nicer once the trees Tim has planted grow up between the sites - making them even more private and secluded. The trolleys to wheel you equipment to the site are great and the information sheet you are given is very useful (or at least it would have been had I read it all before I got home! With a four year old in tow I somehow didn't manage to read it fully while I was there.) Tim pointed out some of the things we needed to know whilst we were walking over to the field (the woods and the disused train line next to the site and the water/toilets in field) and we easily found everything else we needed. The toilet/shower facilities are clean and functional and the fridge and washing up facilities are great - hot water, sponges and washing up liquid all provided. We went for a short walk in the woods and along the railway line before toasting marshmallows on our campfire.
Overall it was a lovely place to stay and we will hopefully be back soon, probably with two other older children and a larger tent. If I do really well I might even persuade their mother to come too!

Magical place
I have just returned from the most wonderful stay in the Gridshell at the Secret Campsite with my grandchildren.  I have stayed in numerous camp sites throughout the UK and this is by far the best.  The pitches are really large and very private due to the long grass etc around the edges of each pitch.  Every pitch has it's own fire pit and ours has two hand constructed wooden seats to relax in around the fire.  The facilities are basic but very clean and adequate for the number of pitches on the site.  There is wildlife everywhere and my grandchildren loved netting the butterflies to identify and then setting them free again.  There is an amazing wood bordering the camp site which is a delight to wander through.  Our pitch got very hot during the day and there is not much shade yet, but this will be better when the carefully planted trees around the pitch have grown, so take an umbrella with you.  The owner Tim could not have been more helpful and nothing was too much trouble.  We spent a great day on the river at Barcombe which is just down the road.  A brilliant time was had by all.

A wonderful experience
We had a wonderful and relaxing week at The Secret Campsite.  The pitches where we stayed were secluded and allowed us to spend time as a family to enjoy the outdoors.  The kids were able to spend time enjoying themselves either by playing together or taking a bike ride around the campsite.  Tim was a great host who made us all feel at home.  He showed a keen interest in all of us camping and was always willing to have a chat. I would definitely recommend this campsite to anyone and would love to come here again.
It was a great experience and everyone enjoyed their time here......
Excellent Work Tim.

The secret camper
The Secret Campsite was FANTASTIC.....beautiful private pitches and really good facilities.......camping was made complete with a lovely fire .......thank you Tim for being the nicest most helpful host.....we'll be back :)
perfect camping…..
Lovely secluded campsite, lots of space, quiet, friendly, really couldn't find fault with anything - this camping experience has really been thought through…..showers functional and clean, everything that can be recycled is, leaving the car and walking to the pitch is a great idea, the site feels completely safe for children to explore - at the next site i went to it felt odd to have the car next to the tent. Never seen so many butterflies in such a short space of time.  Can't wait to stay again when it's a bit colder so i can have a fire in the fire pit. Also can't wait to see what the site looks like in 5 years when some of the trees and plants are a little more established. Really do recommend this site, will be returning.
Tree-tastic!
We waited for over a year to get the Tree Tent at the Secret Campsite.....it was more than worth the wait! I celebrated my birthday there and can't recommend it highly enough. The tree tent is brilliant and has the added bonus of a really private site with a campfire, chairs and a little kitchen area. The idea of borrowing kitchen supplies is really helpful and the farm shop a short walk away was 1 of the best we have  ever been to. Showers and toilets are good, wheel barrowing your stuff to the site just adds to the experience and Tim was super helpful. Thank you :) 
Lovely Little Hideaway
I love this place. I took my daughter here for her very first ever camping holiday at four and it was exactly as I wanted it to be - wild flowers, bugs, secret spots and friendly, helpful owners. We had a fire at night and although we didn't see them we were told there are glow worms scattered about the campsite. The facilities are hidden away by the reception - warm showers, toilets, sinks - but the nature of the site is very much of blending into the environment, so compost toilets and solar showers if you choose to use them. Lots of fresh herbs for picking and using and friendly, sociable service. Love. 
Wonderful spot!
What a lovely peaceful campsite! Plenty of space, even though fully booked, and we only had to queue for the showers once. Tim was a wonderful host.
Perfect...and will get even better
This was only our second camping trip as a family of 3 and it was a great experience. The individual tent pitches are generous in size, separated enough to provide you great privacy, and set in the most wonderful environment. This is about as far away as you can get from camping around the edge of a field, and add a host like Tim who does a fantastic job in making you feel welcome and you have quite possibly the perfect campsite.
Mown into the existing meadow the pitches are open and airy, and when the newly planted trees mature, this will only improve the character of what is already an excellent site.
A no car policy also makes this an ideal place for taking children.
Can't recommend enough!
Superb Campsite
This is one of the best sites I have stayed on and that is a bold statement for me to make!
We stayed last weekend for their 1st wildlife festival, which bought the family camping experience to a whole new level. Tim was a fantastic host and with a packed itinerary of walks and talks from the Sussex wildlife trust, Astrologers and Herbalists. It really will be a treasured memory for our family for years to come.
The site itself is rather special too. The pitches are lovely, nicely spaced and a good size. having them mowed into the wild meadow made us feel like we were really communing with nature. The toilets and showers are kept nice and clean, in fact the whole site is very well maintained. Cars are discretely tucked away in the car park which adds to the naturalistic atmosphere of the site, with this in mind though, if you are going to camp here be economical with what you take with you as (quite rightly so!) you cannot drive your car up to your pitch to unload because you need to cross an old humpback bridge to get to the field. Tim provides trolleys to transport your stuff.
We can't wait to go back. Happy camping
Excellent
A superb site that puts the experience of campers way above everything else. Tim is a superstar and we'll definitely be back next year. 5 stars and then some.
Kids Paradise
Got kids, like camping? It's just about perfect for you then. Woods, fields, Forest Walks and the list goes on. A stunning bit of England with few pitches in a meadow, ideal, relaxing and quite. Tim and the gang are a delight to deal with.

Go there! Simples :-)
First Camping trip
Now when you tell your kids you are going on their first camping trip they will get very excited. What you don't want is issues from the site you choose. The Secret Campsite does exactly what it says on it's website, camping. The site owner Tim couldn't be friendlier or more welcoming to his guests, a fantastic trait for any person. The site is basic camping but has the bonus of HUGE pitches, so you don't feel crowed. Our pitch (Lime) was right up from the shower block with a lovely view across the hills. A fire pit area allowed for a camp fire and the whole experience was wonderful, even with rain! If you want space and real camping then this site is for you. My kids, (6 & 3) loved it and the overall feeling is that it is family safe. No cars in near the pitches and the glorious outdoors to experience. I fully recommend a visit.  
Perfect camping weekend
Just back from the most wonderful weekend at the Secret Campsite.   We stayed in the newly erected Gridshell which was a very spacious and comfortable place to stay.   Beautiful site, incredibly friendly and helpful owner, Tim, who made us feel very welcome.  Perfect for small children - my 3 and 6 year old loved everything about it and they are already pestering me to go back!
an adder named max
Relentless energy, kindness,generosity of spirit and enthusiasm marked our stay with tim and Lisa at the scc. We were privileged to be in the vanguard for the newly built uber tent the gridshell which was quickly christened the armadillo by the boys. A fantastic construction clever in that it is compact yet incredibly spacious inside. Tim also displayed his knowledge of wildlife and he showed us a rare sight - an adder whose nest was in the vicinity. We called him max although the boys were overruled when they wanted to call him rolf. I pointed out snakes only had one leg, not three. Great stay loved it. Will return soon. Ps tim brilliant with kids. All the best. Matt 
Fabulous
This was our second trip to The Secret Campsite and it was amazing again.  Tim clearly loves what he does and his enthusiasm sets you off in a good mood from the start.  I also love the fact his kids have got involved with all the signage and running the little tea shop.  Large pitches, warm clean showers, great walks, great farm shop 2 minutes down the road.  Fantastic having the ability to let the kids run around without worrying about cars.   
The Acid Test - the kids didn't ask for the IPad all weekend - Perfect!!

Fantastic
Fabulous. Incredibly welcoming Tim, lovely campsite, wide spaced peaceful pitches, fire pit at each pitch, beautiful surrounding countryside and places to walk, hot showers. Highly recommended. Oh and peeking into the tree tent it looks awesome! Would stay again without question.
Real camping for real campers
The best campsite I've ever stayed out. A warm welcome from friendly, helpful owners. Well spaced, discrete pitches. No caravans, cars, dogs or groups. Excellent walking. Nice local pub. Decent, clean shower block with solar heating.
Lovely campsite
We stayed for two nights and like others wish we'd booked for a few more!  Big pitches which are set apart from each other for privacy.  Nice to stay somewhere away from cars, lovely walk down the disused railway to Barcombe, the friendly pub there does tasty food.  We also did a nice walk to Lewes from there.  A great location to explore beautiful countryside.  Tim is very friendly, helped us load our stuff into wheel barrows and took us to our pitch.  Ice blocks in freezer if you want to keep things chilled by your tent.  Basic but clean toilet/ showers.  We'd definitely recommend this place for families/ couples.
Friendly and fantastic
As first time campers it's difficult to write a review when you have nothing with which to compare, however I know the Secret Campsite has set the bar incredibly high for any future comparisons I might make.
Even before we arrived Tim was incredibly helpful, and that helpfulness continued throughout our stay. The site itself was wonderful (and you could see how it will get better as the new trees mature) and our children loved running around the various areas, over and under the railway bridge.
The pitch was idyllic. We stayed in the Orchard, which was close to the facilities—useful with the children in the middle of colds nights—but was still secluded enough to feel like 'proper' camping. The firepit made it perfect, despite my amateurish firestarting efforts (although Tim provided extra kindling to help me on my way).
I don't think we could have chosen a better site for our camping trial, and I've no doubt that we'll try again because of Tim and the Secret Campsite.
Secret to be kept!
A fantastic four days over Easter! The pitch was secluded and peaceful with no disturbance from other campers due to more than ample sized pitches, this added to our relaxing break. The Facilities were clean and more than adequate. The site was set in a beautiful, natural setting, cared for by a really friendly and welcoming owner. the fire-pits meant some delicious evening meals followed by toasted marshmallows. the Jacket potatoes were a huge hit!! We shall be coming again in the summer. Thank you Tim!
As Nature Intended
I recently visited with my son - I too wish it was a secret - a lovely site great welcome, large pitches each with a fire pit. Beautiful countryside - peaceful and unspoilt. Check out the local farm shop most fantastic sausages and the best scotch eggs ever! Definitely going back highly recommended.

A very welcome break
The campsite lived upto my expectations. Tim is a great host and very welcoming. The setting is beautiful and the camp fires were a new and exiting experience for my 7 year old twins. Lots to do nearby and I found the fellow campers to be very welcoming. Highly recommended.

Great place for a break
I'm not one to hand out 5 stars easily but I am very happy to give the Secret Campsite the full 5 stars. From when we arrived Tim, the owner, was very warm and welcoming and made us feel very comfortable. 
The location is superb, not far from Lewes and Brighton, but seemingly a million miles away once you're on site. We got a campfire going and cooked our dinner on it and had a very peaceful night's sleep. In the morning we awoke to birdsong and butterflies all around. 
The campsite has a very relaxed atmosphere, thanks largely to Tim. We'll definitely be going back and can't wait until we do!
Wish it really were a secret!
Fantastic campsite in a great location. Pitches are enormous and far away from each other. The woodlands around the campsite are beautiful this time of year with bluebells everywhere.
Tim made us feel very welcome and was extremely friendly. The site is only a few years old and is maturing nicely and will only get better as more trees grow up.
A nice addition in the future would be a basic honesty shop to compliment the excellent farm shop just down the road.
The Secret Campsite
We stayed at the secret campsite for just one night, but we wished we stayed longer! The facilities were excellent! Clean and modern (toilet, showers, fridge, washing up area etc.) Tim, the owner was very welcoming and helped us carry our bags down to our pitch. The pitch size was great as you have a massive space to yourself. The surroundings were lovely and the small village had a nice pub too. We would definitely recommend this campsite to both families and couples as we really enjoyed our stay and will be returning!
The Secret Campsite
I really wanted to find somewhere as wild as possible to camp, within a short distance of London, and managed to find this special place! The guy who owns it, Tim, was so lovely and welcoming and saved us from the cold by lending us some extra sleeping bags. The surroundings are wonderful and it made a great base to explore the South Downs. It's very peaceful, eco-friendly and has a great atmosphere. The facilities are clean (shower/toilets/fridge/washing up sinks) and the area is great for walking and biking. We will definitely be going back (when it's a bit warmer!) and would love to try out the tree house! My only tip is to choose a pitch away from the main buildings if possible as they have a much more secluded feel. Thank you to The Secret Campsite for a lovely escape from London!
Drysdales
We booked the tree tent for 2 nights at the start of the Easter break. Not regular campers, we were able to borrow the basics from Tim. It was a fabulous couple of days - our 6 year old loved every minute. The tree tent is great - on the flight path for local owls ! We walked to the local pub down the disused railway track on the first night at dusk which was great fun. On our second day we walked to Lewes which took us through great countryside. The hamper was great so we had to make another visit to the farm shop. Loved the whole set up and the lovely family who run the campsite. Will definitely go back.
Serene! 5/5.
My boyfriend and I chose this campsite just for a night, Tim was so welcoming and really made you feel safe and looked after. It was at the end of March and the weather was still pretty chilly, especially at night. So Tim provided us with two spare sleeping bags, which were absolute life savers! We were the only people there, with only the sound of Woodpeckers and Owls, magical!
 We had a fire (wood is £6.50 a bag from Tim, you can't pick wood up from the surrounding Woods because they are private and the owner leaves the fallen wood to preserve the natural cycle of the Woods, although you can bring your own or buy it from elsewhere if you wish). You get a large space to yourself (could fit 4 or 5 tents, maybe more) and a fire pit, with wooden logs to sit on. There are lots of baby trees that have been planted on the campsite that have tree protectors on and they separate each plot, it would be prettier without protectors, but in a few years it will be the most beautiful campsite.  
Would highly recommend staying here, we can't wait to go back sometime. 
Amazing Site
My then-fiance and I stayed at The Secret Campsite during Pride last summer. As soon as we got there, it felt like home. Tim, the owner, is super friendly and helped us load up the wheelbarrows to take our things across the grassy bridge to our pitch, which by the way was huuuuge. Surrounded by long grass, fledging trees and the faraway sound of other campers, we set up camp on one of the hottest days of the year, and started a fire on the designated fire pit. 
We spent an idyllic few days on the campsite, where the facilities are basic but clean. The compost toilets stink mind, but hold your nose and remember it's environmentally friendly! (There are "normal" toilets closer to the office, don't panic) I only used the hot (not-free) family shower, because I am completely fussy, but hubby used the normal ones and said they were fine. There's a fridge so you don't get food poisoning from trying to keep your sausages cool.
I would always recommend staying in the meadow, rather than closer to the office. You really feel away from it all, in some kind of fairytale land. I could see how it would be amazing for kids, and we definitely plan to come back if/when we are blessed with our own. 
The bell tent, shepherds hut and the weird ball thing in the trees looked brilliant, and if we get rich will we be trying one!
Apart from the obvious pull of Brighton, try smaller Lewes as well. Very cute and friendly, with a lovely flower shop cum tearoom that makes its own gorgeous loose tea blend (I think it's called Lewesiana, or something to that effect). I was very thankful for the open air pool in that ridiculous heat as well - freezing but lovely.
We will return :-)
Friendly and charming
I took my daughter camping for a little us time and was greeted by one of the friendliest campsite owners you could meet. Tim is a delight, and couldn't try hard enough to settle you in or to make the place special. He really believes in people's experiences and working towards the perfect site. He has some great ideas. My only comment would be that there is little shade on the pitches. We hit the hottest weekend for a few years and it was sweltering. However, the pitches are very generous in size, there is good scope for meeting others but also getting away from it all. There are some great walks with lovely wildlife and some good woods to play in too. Its local for us, and a great place for me to spend time with my girl. Perfect!
Perfect Spot
Stayed here in late September with a friend so we could do some hiking along the South Downs. Perfect location to set off for some great walks and easy to pick up the South Downs Way. Tim and Lisa (and the girls) were very helpful, providing maps of the area and some excellent pub recommendations. Thoroughly recommend the local real ale pub, great ales and the best homemade burger I've eaten.
After a perfect first evening with some beers by the campfire the weather turned thoroughly nasty on our second day and Tim was very accommodating in allowing us to take shelter in one of the outbuildings for the evening. Just what was needed following a hot shower having been drenched on the Downs.

The pitches are very generous and secluded, though we had the place to ourselves anyway with the kids back to school. The wildlife is very much in evidence and there were a number of owls hooting through the night in the adjacent woodland. Will definitely return.
Camping as it should be
Great site and everything you expect camping to be.  Plenty of space to put your tent and still have space for playing in - helped by there being no cars on the site.  Campfire pit for sitting round and enjoying the really peaceful site.  Enough facilities to wash, shower etc.
Totally recommended esp for first time camping with kids - maximise your chances of them getting the camping bug!
Secret Campsite
I wanted a two day fix of Swallows & Amazons experience for my three children and I definitely got it at the Secret Campsite. From the off, the owner and his young daughters were friendly and helpful, and the site was as idyllic as you could imagine - a large pitch surrounded by long grass with a small forest as a backdrop packed full of wildlife, and quiet as well, which is important. Lots of stuff to do in nearby Lewes including outdoor swimming and boating down rivers. Only a couple of hours from London, it's definitely worth a weekend.
The best campsite
The best campsite we've ever stayed at - lots of room, very few pitches, brilliant hosts and  in a great location. Open fires allowed, great walks and things to do locally. Unimprovable

Fantastic
I took my niece to the secret campsite in July for 3 nights, we stayed in the Arken for 2 nights, it was beautifully made, and as with all the pitches, had a carved wooden table and a couple of chairs, most importantly there was a fire pit so we could have a proper campfire. The last night we spent in the tree house which was also beautiful, and a real treat, it's very spacious, with some pretty lighting and little zip open windows so you lay back and gaze at the stars. The pitches are cut into the meadow which is teaming with butterflies and fruit trees and a very spread out so that you retain a great deal of privacy but you also feel part of a community. Tim was an amazing host and greeted us as soon as we got out of the car, he made us feel at home instantly which was important. We were given everything we needed  in a welcome box as well as a delicious cake! The showers are good and there is washing up facilities a fridge and freezer. Easy access to lots of local attractions and Brighton, I highly recommend The Secret Campsite. 
Wonderful!
We have just returned from 2 nights at the Secret Campsite.  We contacted the owner Tim at the last minute when after finding a nearby campsite unsuitable.  From the outset Tim couldn't do more to help.  Although the campsite was fully booked, he offered the option of a pitch next to one of the fantastic bell tents followed by a different pitch the following night, or he said we could stay on his 'emergency pitch' for 2 nights.  We opted for the emergency pitch as we didn't want the hassle of moving again.  
Even the 'emergency pitch' was lovely.  We were close to the reception block but had a view over the meadow.  We were able to have a real fire at night time.  
The site is just beautiful surrounded by woodland and with beautiful flowers and plants everywhere.  There is a lovely garden area teaming with sunflowers and butterflies as well as little herb garden that we used.  The main camping field is idyllic (the no cars policy makes a difference) and each pitch is spacious and nicely spread out.  We took a walk from the campsite down the disused railway track next to the site and again found ourselves surrounded by butterflies and flowers (as well as blackberries that our little one loved eating).
The shower block was nice and it was lovely to have access to a washing up room with a fridge.  
We will return and look forward to camping on the main camping field.  Tim and the whole campsite made a great impression! 
perfect
We have camped all over the world, and we agreed that this is one of the best sites we have ever stayed at. Lots of space between tents, no cars in the camping area, quiet at night, friendly, helpful staff, lots of wildlife and camp fires. The facilities are simple, but are everything you need. We just wished we'd arranged to stay for longer because this is a brilliant camp site.
Warm welcome from a generous host.
Fantastic campsite, the enormously helpful & generous owner Tim made our stay an absolute pleasure. To be able to chop wood and burn it freely was a joy. Massive secluded pitches and great facilities (fridge, loan of a hatchet, power to charge phone if needed etc) make this a benchmark by which all campsites should be judged.  
First camping experience
We have been holidaying in caravans for several years and decided to try camping this year. The Secret Campsite was our very first camping experience, and we stayed for just one day/night as a trial. It was lovely, plenty of space between pitches, toilets were a very short walk away and clean. We had a good night's sleep, it was so quiet and we woke up to see rabbits and wildfowl outside our tent in the morning. The best part was the log fire, we cooked our dinner and breakfast on the fire, and even the weather didn't disappoint. We plan to book a tent pitch and the tree tent next time, Tim really made us feel welcome
Loved it!
Stayed at the Secret campsite for 2 nights in August, I can't fault anything about it, great hosts, facilities and the pitches are huge and really spaced out. We booked with friends with a total of 4 children aged 18 months to 7 years and all of them had a fab time in a very safe environment, us adults enjoyed ourselves as well particularly the glasses of wine round the open fire. Would highly recommend!

Fantastic
We stayed in May and this is a fantastic campsite. Tim is so helpful and makes you feel very welcome. Our three year old had a great time. The pitches are spacious and you get the privacy you don't expect camping. Really great camping trip and we will be back.

Life Outside
This was our first family camping trip - Mum, Dad and 6 and 2 yr old children. We have spoken to people who have told us about their camping trips where they took everything apart from the actual house with them, relying on electric hook up when they get there.  The idea of a camping trip in a packed camp site with dogs running about, lots of cars and sitting in your tent with a TV on would not be our idea of a good time. This is why the Secret Campsite was so perfect for us.
We thought the location of the site was really quiet and peaceful, where each pitch has loads of space and 'nature' dividing them.  Tim, the owner was so friendly and enthusiastic.  he found out our names quickly and used them from then on - a good host.
Our first day there we walked along what was the old rail track and have never seen so many variety of butterfly.  It was a site to behold and I'm not exactly a nature freak. 
The whole thing encouraged a great mood amongst the campers and with the sun shining it reminded me of childhood memories - a world where the sun always shone.....discover the secret...   

Very spacious site with high quality facilities- and fridges!
Lovely, spacious site, so much room between pitches! Fantastic facilities in gorgeous countryside. Tim and his family felt like friends as soon as we arrived, which is handy when you realise you've forgot to bring something to sit on! Great to have access to a fridge. Sitting around the camp fire was the perfect end to each day. Compost loos, solar heated shower and recycling bins  It was so relaxing we did nothing but eat and sunbathe! Can't fault a single thing - will be back soon.
Campfire camping at its best
The woodland setting, with only just enough facilities, lets you feel like you aren't really staying on a commercial site. The large, spread out pitches with a fire pit, combined with the hospitality of Tim and family, ensured that will be back next year. Can't fault a thing!!!
A great experience with little ones.
As our first tenting experience with small ones (4 and 14 months) we couldn't have chosen a better site. We didn't feel that our early risers ever disturbed anyone too much as the pitches are far away from each other to feel private and secluded. Ours were able to run around naked and didn't offend anyone as no-one could see us! The site was very family friendly and down-to-earth, the entertainment was nature, trolley rides and Tim, the owner (who was great and welcoming and even let my son take his photo first thing in the morning!).  
We are booking again for next year and are so pleased that the site is popular without this threatening the nature of the place – you know even at full capacity you can still enjoy seclusion and peace which is a rarity today in our "pack-em-in" society. I'm glad we came across this gem.
Tarryn and Orit
We had a fantastic time and we will defiantly recommand the site to our friends and hopefully  come again soon!
The atmosphere is great, and it is lovely to be in a campsite with space from one pitch to the other and no cars so the children can safely ran around.
The showers, toilets and kitchen are very clean.
It was lovely to be able to go for a walk from the campsite to the village without needing the car
Tim and his wife were very kind and helpful and our children enjoyed using the wheel barrows.
Thank you for a very nice vacation
Fantastic!
We had a fantastic two night stay at The Secret Campsite in July. Online booking was very straightforward and we got confirmation straight away. The campsite was fantastic! The pitches are very generous, we had loads of space and the surounding meadow grass is lovely. The campfire area is a brilliant addition and we loved having campfires which we haven't been able to do at other campsites. The whole area is very pretty and the owners are really friendly! Overall we loved our stay and would highly recommend it!

The Arkette is heaven!
I stayed one night in the Tree Tent, one night in the Arkette, with my nine-year-old son.  He  adored the Tree Tent, I fell in love with the Arkette.  Both are absolute works of art.  The site itself, as you can tell from the other reviews, is something special.  Amazingly generous plots, made private by wonderfully clever planting and landscaping.  So many highlights. Walking though the butterflies' playground of unmowed meadows, spotting pheasants and rabbits, enjoying bacon sarnies cooked on the fire pit with the delicious produce from the farm shop next door.  This place is a winner.  
Bell Tent in July
We stayed in the Bell Tent at the end of July (just at the end of the heatwave) and had a fantastic time. We were originally staying for 3 nights but added an extra as we didn't want to leave!

The Bell Tent was roomy enough for us (2 adults, 3 children) and had the advantage of the cooking area next door. It was also a short walk to the toilets and shower block - a definite advantage with younger children.  Mine wanted to keep going in the middle of the night with their torches to look for wildlife, as we would cut through the flower/herb garden. The meadow around the tent was alive with butterflies and the children also had a great time spotting them both there and down the abandoned railway that can be accessed from the site.

Tim the owner is very friendly and his enthusiasm for the site is infectious; you can see his vision for the place and there are lots of clever touches. The "Secret Teapot" where his daughters can provide coffee or hot chocolate in the mornings, the fact that campfires are positively encouraged and the size of the pitches are all real positives.
There is local food to be had at a farm shop a short walk away (great for your bacon and eggs in the mornings) and Lewes is a 10 minute drive with its vintage and antique shops, castle and funky independent cafes. 10 minutes further and you can be on the beach at Seaford, a quiet beach with a couple of cafes, a museum and long stretches of free(!) parking.
We will definitely be back!
ray Mr Punch
With out a doubt the best campsite ever where the quality of the experience is carefully and considerately managed by Tim the warm and friendly host.  Pitches are virtually private and exclusive unusual in my experience.All those things that can make camping really enjoyable are to had for the asking,woodland to explore,decent pub 25 minute walk from campsite and my personal favourite campfires.Above all it is the thoughtful layout of the site the impressed me.
1st Time Campers!!
We stayed at 'The Secret Campsite' in June and WOW....what an amazing place! The site is fantastic, pitches are really spacious and the facilities are kept clean and tidy. Facilities are easily accessible from all pitches. We were warmly greeted by Tim (and the girls) and were shown to our pitch and the told about the facilities onsite. Tim was fantastic especially after our first night had been blighted by almost gale force winds - Tim even kept an eye on our tent (which I thought at times might collapse under the pressure of the gusts) while we went off to Brighton for the day (Brighton is around 30mins away in the car). I cannot recommend this site enough, the customer service is outstanding and the facilities are fantastic.
We cannot wait to return!!
'If Carlsberg did campsites'
Its just perfect.  Open fires, so well spaced.  Tim is a very generous host. We walked down the old railway and swam in the River Ouse. Only problem is I fear it wont stay a secret for long.

Secret Weekend
I booked a surprise weekend away to The Secret Campsite for my wife & daughter. It was the first time we've stayed there and we'll definitely be going back. Tim immediately makes you feel welcome. It's a stunning site, well thought out, with every effort being made to create a 'back to nature' environment. Secluded, spacious, grass pitches are set amongst the tall, wild purple thistles, giving you the perfect screening from neighbouring pitches. Surrounded by woodland and teaming with wildlife my daughter loved the various types of butterflies, and my wife spotted a deer in the woods nearby. Holmansbridge farm shop is just 5 minutes down the road selling local produce and everything you'll need for your trip, and there's some great pubs nearby as well! All in all a great little find.
Utterly gorgeous
My boyfriend and I recently stayed Thursday and Friday night at The Secret Campsite.  We arrived by taxi (it's about £25 from Hayward's Heath) and sat and ate our lunch while we waited for Tim to arrive as promised at 3pm.  
Our first impressions were just amazing- there were bees everywhere and rabbits hopping around while we just sat and watched.  Tim showed us the showers, toilets and washing up area (so useful!) and then we set up camp over the disused railway bridge into our own piece of heaven.
I've not been camping properly apart from at a festival, however luckily my boyfriend is a whizz with putting up a tent so we quickly got set up and went for a walk into the nearest village.
I'd definitely say that the farm shop is a great place to get scotch eggs (amazing!) and meat.  They also sell pasta, sauce and all the other helpful types of camping stove food you can buy.
We absolutely loved our stay and will definitely come back.  One thing I'd say is that if you are a couple/older group and want to be relaxed then try to go in the week.  On Friday night the families all started to arrive and while you definitely have enough space to relax and are far enough away from each other not to hear much, you do have to contend with the showers in the morning :)
Heaven is a Field Near Lewes
We've just returned from a weekend at the Secret Campsite and had an amazing time. It's a beautiful spot with large pitches, well spaced apart, in a gorgeous field surrounded by trees. The owners are very friendly and helpful. 
There's an amazing farmshop just down the road and beautiful countryside all around. Great facilities including composting loos and solar showers. I can't recommend it enough and am looking forward to going back already! 
the secret campsite
Our stay at the Secret Campsite was an incredible experience. The campsite itself is absolutely beautiful with views of the South Downs poking out through the trees. There is a vast array of wildlife in and around the campsite and you can hear the sound of nearby farm animals amongst a golden silence. 
The facilities are fantastic - always clean toilets and hot showers. There are many woods/grasslands you can go walking in direct from the campsite and along the old railway path. 
Campfires are encouraged within the campsite which is fantastic. We did have some difficulties lighting the fire, but Tim was on hand to ask if we needed an axe or kindling material. Tim is a fantastic campsite owner and introduced us to the whole family who were all lovely. We asked Tim about his edible plants and he showed us round the plants he had growing in the campsite and also in his own back garden; he is very enthusiastic and we learnt an awful lot from him! Tim is also always on hand to offer advice of places to go, how to get there and will go over and above to make sure you have everything you need.
For 2 nights we stayed in the famous tree tent which was absolutely fantastic. It is hidden behind the trees with a beautifully hand-made wooden staircase leading up to it. The tree tent is absolutely huge - when I first booked I couldn't quite gauge the size of it, but you will have more than enough room! There are 2 oval shaped, very comfy beds inside and the tree tent even has LED lights all the way round which you can light or dim. The view from your zip up windows in the morning is incredible and an experience not to be missed. You even get a marquee at the bottom of the tree tent with hand-crafted wooden furniture (which I didn't realise until arrival) and a whole box full of utensils, appliances and even a welcome cake. Who could ask for more!?
We stayed our final night on a normal pitch in the meadow to get the full camping experience. Our pitch was absolutely huge and had everything we needed including small tree stumps to sit on around our campfire. Tim allowed us to choose whatever pitch we wanted. I couldn't rate the Secret Campsite highly enough! 
Not only does the campsite make your trip but the surrounding area is fantastic and you will not be short of things to do; Lewes is a beautiful town and I would recommend taking a car in order to visit the beautiful South Downs and surrounding areas. 
The campsite itself is car free but you will have absolutely no problems parking your car at the entrance and making a short walk to the pitches. Thank you to the Bullen's and we will certainly be back one day!

The Secret Campsite
Took my daughter and her friend for their first camping experience, and everything worked out just great, so much so that we cannot wait to go back. 
Tim the owner was incredibly helpful – the pitches are very well spaced out and he likes to keep it that way so campers have an easy experience . We stayed on the Bank which overlooks the main camp building, but didn't notice it as the South Downs in the distance were the main attraction. Only one other tent in this huge field. We looked at the main meadow on the other side of the disused railway which is now a great nature walk and it too had very well spaced pitched. 
Lots of trolleys available to get the gear from the car to the pitch, solar powered showers gave great hot showers for free. Toilets and all facilities very clean along with good washing up area with lots of useful info and maps for walks. Good supply of great quality wood for just over a fiver – enough for us for a couple of fires. Lots of wildlife and beautiful flora - kids were transfixed by the toads on the way to the loos! 
Return visit is already being planned, but best to book in advance.
The Secret Campsite
I booked to stay at The Secret Campsite as I was attending a 'Hunter, Gatherer, Cook' course in the wood nearby with a couple of friends. We had never heard of a tree tent before, but it looked very interesting, so it was great that it was available the weekend we were staying! The tree tent was perfect, it was lovely being able to relax up in the tree canopy in relative luxury (proper beds!!!). The whole feel of the campsite was really friendly and relaxed, I thought it was great how spacious the pitches  were, with space for our own fire and lovely wooden chairs to relax in. 
The facilities were brilliant, having access to a fridge and washing up facilities was great, and Tim provide a box of equipment on arrival, which meant we didn't have to bring much with us at all! I will definitely be recommending this to friends and family, Tim has created a really lovely place here!
The Secret Campsite
My husband and I camped at The Secret Campsite this past weekend (14 – 16th June 2013), and it was a lovely experience.
From the moment you arrive you are made to feel welcome. The owner, Tim, is an incredibly nice man who remembers everyone's names. He is always willing to lend a helping hand, be that by helping wheel your stuff to your pitch or by helping unfortunate campers when their tent breaks in the wind! He was very helpful in giving directions for a walk into Lewes and recommending local pubs (obviously very important!). You can tell that Tim is passionate about making the site a success and genuinely wants people to enjoy their experience there.
The campsite facilities are very good. There is a fridge and freezer for you to use in the washing up building along with sponge, hot water, washing up liquid etc (plus mint grown on Tim's land which you could help yourself to for tea). The showers and toilets were very clean and pleasant to use and fires are absolutely encouraged. We toasted marshmallows to our hearts content; it was brilliant (and they were very tasty).
I loved the fact that the actual campsite was free from rowdy groups, dogs and cars, and that the pitches were large and set well apart from one
another. It really made the experience a lot more relaxing and enjoyable. You felt at one with nature.  
We will be going back for sure, and I would highly recommend The Secret Campsite it to anyone.
Thanks for a great weekend Tim :)
The Secret Campsite
We stayed at The Secret Camp site last weekend, after seeing the tree tent in a newspaper article. We thought it would be a great experience to stay in something so different. We were not disappointed! I went with my 2 children, one 13 and the other, 9 years old. There was plenty of room for the three of us in the tent, with one of us sleeping on the floor on the extra mattress that Tim provided. The tent itself is ingenious and a fantastic piece of engineering that not only looks great but is very cosy to stay in. It's a soothing feeling to hear the breeze rustling the leaves all around you and little else, as you settle down to sleep.
We were given a box on arrival full of kit, ranging from a stove through to utensils, bowls, plates and a tea towel, not forgetting the kettle! We lit a fire as soon as possible after arrival and set the seen for a great weekend. The facilities are perfect, clean toilets and hot showers along with a room with a sink, to clean your dishes kitted out with a fridge for people to share. The farm shop down the road is really worth a visit, for the tasty fresh food on offer. The disused railway track that runs through the site, is perfect for short walks or bike rides. 
Anita was filling in for Tim on the weekend that we were there, she was extremely helpful and made sure that we had all the information that we needed to settle in and enjoy the weekend. Needless to say, we would highly recommend Secret Camp Site. We found ourselves planning a return trip, as we pulled away for the journey home. 
The Secret Campsite
Stayed at The Secret Campsite last weekend with my 12 year old son. Chose the campsite because of its location, the positive reviews and the ability to have an open fire. Taught my son how to split wood with a sharp knife and how to start the fire, he loved it. Lovely location, lovely site and lovely people, highly recommended. Would definitely stay again.
The Secret Campsite
This place is camping perfection. Camp fires, meadows, huge pitches spaced well apart and nice facilities. We (three families) had the two pitches that aren't in the main meadow - while the view isn't as pretty as the meadow, I'd really recommend them if you have small babies that cry at night or get up v early, as we did, as you don't have to fret about disturbing anyone. Tim is super-friendly and helpful, and there's plenty to do nearby plus nice pubs to eat in. We're definitely booking again for next year.

The Secret Campsite
We discovered the Secret Campsite last year just as it opened, we had never camped before and were somewhat apprehensive.... five stays later, not bad going in less than a year, i cannot sing Tim's praises highly enough, nothing is too much trouble, the site is so peaceful and well kept, the only down side is he is now so popular it has put an end to impromptu stays, never mind will just have to get more organised! 
All the right ingredients
I have camped at The Secret Campsite twice now and both times its been fantastic. In my opinion, the campsite has all the key aspects of camping that make it an enjoyable experience. Some of the people in my group had never been camping before and they have all come away wanting to go again. 
The pitches themselves, as other reviewers have said, are spaced enough distance apart that even when the campsite is busy, like on the bank holiday weekend that we stayed, it doesn't feel crowded. My children loved the freedom and the safety of the campsite and enjoyed being able to explore the wood on their own, knowing that we were only a short distance away. Being able to have campfires for me is the icing on the cake for camping and creates a great communal area. The logs can be bought at the campsite for a reasonable price so it really is effortless.

The facilities are fine and are definitely much better than other campsites that I have been to. Showers are hot, toilets work, both are clean...what more do you want!
The campsite has evolved since the first time I went what with the new trees that have been recently planted and the brilliant tree house. I was lucky enough to be shown around the tree house before its first occupants arrived and it really is completely unique and amazing.

Tim has an incredibly welcoming approach and really can't seem to do enough to make your stay enjoyable. He has a wealth of experience of the local habitat, wildlife, history and will help with directions to pretty much anywhere! It is a credit to Tim that in less than a year, his campsite has managed to get in to The Guardian top 10 best UK campsites. Great job!
I will definitely go again but I suspect that booking well in advance will become a necessity!

The Secret Campsite - The Arkette
I stayed in The Arkette this weekend and thought it was WONDERFUL!! It is beautifully-designed; really warm and the bed is so comfortable. I am not generally a huge fan of camping but this was just a brilliant experience from start to finish. HIGHLY recommended!
Brilliant campsite!
This is a brilliant campsite. I chose it because it was advertised as being peaceful, with pitches well separated, no large groups, it had great reviews, good location. It didn't disappoint.
We were welcomed by Tim, the owner, who's very proud of his latest business venture. We loaded our kit on to trolleys and followed Tim down a path over an old railway bridge (over the site of the old Bluebell railway) into the camping meadow. Pitches couldn't have been much further apart. There were about 12 pitch locations in this part of the site, each separated by newly planted trees, grasses and other planting - so not the usual open field. Trees/woodland surround the meadow - and you can access the walk where old railway once ran.
We had a great weekend. The site was very chilled. The no large group policy certainly paid off. A local farm shop was a quick walk down the disused railway line and over a field. There are some great pubs within a short drive. The site is set in the south downs - so some great walks are easily accessed. Lewes is 5 miles away.
The facilities, although basic, are exactly what I was looking for - hot solar showers, in a very clean toilet block. I think the toilet block must have been cleaned pretty regularly during our stay. There is a fridge in the wash room. 
I went with a couple of school friends who were in no way seasoned campers (nor I am), but all thought it was a great site. I shall be returning later in season with my family. I know my kids with love the site. 
And, oh yes they allow camp fires!!!
Simeon 
The Secret Campsite
tree-tent, a wonderful new secret!
We had a really lucky chance to be the first visitor of the newly installed 'tree tent' on the site. My wife and I planned this camping for our 21st anniversay and the two nights in this unique tent were a fantastic gift to us. I felt a bit dizzy at first because the tent is suspended between the trees by wires and trembles a little.  But we were soon accustomed to it and even began to enjoy the moving.  The inside was spacious and cosy for a couple, and the two single beds were comfortable enough to have good sleep.  In the day time the tent was cool with nice views from the above through the two windows, and at night the inside was quite  warm. Basically you don't have to bring the cooking stuff because the site provides all the equipment necessary for cooking although the cooking is allowed only outside - below - the tent.  Additional pitch around the tree tent is provided and I brought my own for cooking and eating.  My wife still misses the romantic campfires we enjoyed between the two tents - one in the air and the other on the ground.   
Thanks Tim! He is really super nice and kind. We already started to spread the secrets of the secret campsite to everyone we meet.  And we will definitely visit again, hopefully when the tree is covered with fresh green leaves.       

The Secret Campsite - best campsite I've stayed at!
Getting your own space, separated off by longer grass is so amazing. It feels like you're totally on your own. You can have fires, with wood provided which is great on those cooler evenings or just for staring at the stars. Really useful advice from Tim and family on what do in the area. Can't really think of anything I'd change there!
The Secret Campsite
A lovely site, peaceful and full of wildlife. I had a great weekend here despite the April showers. Super friendly owner, welcoming and helpful. We'll be back.
The Secret Campsite - a dreamy spot
If camping means having a fire, with seclusion and space, surrounded by nature, and limited numbers, this will definitely appeal. It's as close to wild camping as you can get when staying in a campsite (but with loos and hot showers).
I stayed a few times in 2012 when it opened, and, despite living very close by, still felt like I'd been away on holiday to a new area. The tranquility of the site makes for a very relaxing time. Surrounded by lovely countryside and walks, local pubs, the chance to go rowing nearby or to just hang around the campfire, there's plenty to do without having to get in the car.
The owners, Tim and Lisa are really, really lovely, very friendly, helpful and enthusiastic. They're full of information on things to do and places to go. You can buy firewood direct from them, there's recycling facilities if you happen to have a tipple, and a local farm shop a few minutes walk away. 
Think those spontaneous camping jaunts may have to be a bit less last minute and more per booked now.....
Won't be secret for long
Stayed here just after it opened last summer. With 4 children we have a massive tent, but fortunately the pitches are really big and nicely spaced out, so we had lots of room and I don't think that we disturbed the neighbours. The owner Tim is very helpful, suggesting good local pubs and excursions - can recommend a walk up on the Downs from the Half Moon Pub in Plumpton. He also sells firewood to burn in the firepit on each pitch, kids really enjoyed caramelising/burning marshmallows. 
Good local farm shop at Holmansbridge and lots of places to explore. Hope to visit again soon, but I will book early this time, as I can't imagine that such a great campsite will stay secret for long.
The Secret Campsite...I want it to stay a secret!
We stayed at The Secret Campsite for one night in February. It was a surprise for my husband's 40th birthday and Tim could not have been any more helpful in helping me plan the trip. 
Given the time of year, we were unsurprisingly the only campers and it was paradise...a very chilly paradise. We had our pick of pitches, which are sited either side of the now disused Bluebell railway line. The campsite is beautiful, the pitches are very generous and even when full you would have plenty of space and privacy from other campers. Our pitch was called 'Mulberry' and backed onto woodland, overlooking the meadow. We had our own fire pit which was just lovely.
The facilities were limited, due to the season, but we were able to wash up and have a hot shower which is all we needed. Tim is currently putting lots of hard work into preparing for the upcoming season, including a new shower block, planting 500 trees and lots of exciting new secret places to stay in on the site!
A really lovely campsite, run by a really lovely guy. We will definitely be coming back...probably at a slightly warmer time of year though!
Why book with Cool Camping?
Best Price Guarantee, with no fees
Instant booking confirmation
Trusted for over 10 years
A chance to win prizes in our regular competitions
Book campsites near The Secret Campsite