Family-run camping and glamping in the grounds of an 18th century Sussex farmhouse.
With a shimmering lake, green lawns and the lazy River Medway wandering through its grounds, the 18th century farmhouse at Chafford Park lays claim to a quintessentially English setting. But between the golden fields and hedge-lined meadows, there's plenty of space for more than just the local farmer. Over nine acres of picturesque Kent countryside have been set aside for tent-pitchers and peg-pushers so that us travelling campers can still enjoy a generous slice of the scenery.
Chafford Park is a family-run farm that's been under the helm of the Thompson's for over a century. And while 300 acres of arable fields are still blessed with the rumble of tractors every year, there is more to be found than just bushels of wheat and the sweet smell of hay bales. The house and grounds are a popular venue for both indoor and outdoor weddings, while clay pigeon shooting and fishing are organised throughout the year. But it's the campsite, occupying a large apron of grass near the house, that merits the attention of us cool campers – a worthy place to spend an evening beneath the starry skies.
With up to 50 tents but no designated pitches, Chafford Park offers camping of the wilder sort, without electric hook-ups, cumbersome caravans or plastic playgrounds. There are still good sanitary facilities onsite; with toilets, showers and a washing-up area, but without the commercial campsite feel. Fridges allow guests to stash away a bottle of milk or a hunk of meat (from the local farm shop) for the BBQ, something that's well worth doing. The generous amount of space available also means that large groups or wedding parties can be roped-off in their own separate space, avoiding too much disturbance within the campsite and giving the group a laid-back festival atmosphere.
Despite such quiet seclusion in the countryside, Chafford Park offers surprisingly easy access to the surrounding area. A short drive into Royal Tunbridge Wells rewards you with an elegant spa town with a colonnaded parade of shops, while exploring the rural areas will take you to Hever Castle, Penshurst Place and Ashdown Forest – the home of Winnie-the-Pooh. Whether you cruise between castles, throw yourself into local watersports, or arrange some onsite clay shooting, you'll always be entertained and can finish off the day back in the arms of this rural hideaway. Return to the quiet of your tent, grab that cold beer you remembered to put in the fridge, and enjoy this blissful place to kick back and relax in the south of England.
Best Price Guarantee
Easy and Secure, with instant booking confirmation
Trusted for over 10 years
A chance to win a brand new Coleman tent!
Gallery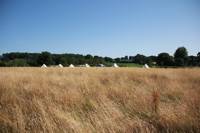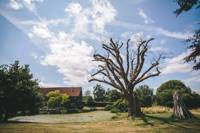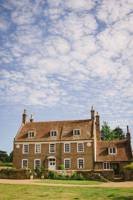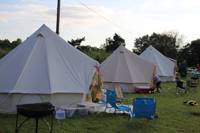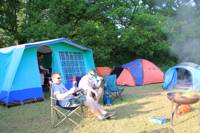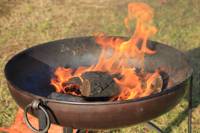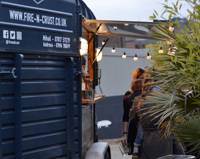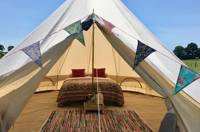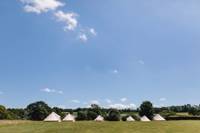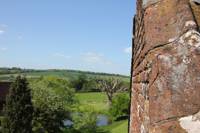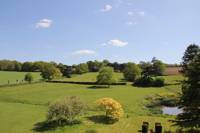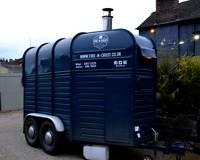 The Owner Says
The campsite is situated in a quiet setting, near Royal Tunbridge Wells. Surrounded with golden corn fields and stunning natural beauty and wildlife, Chafford Park is ideal for traditional campers. Guests can book any activities, such as archery, fishing, clay pigeon shooting, basketry bookshops, Yoga bookshops and bushcraft and air rifle sessions (please speak to a member of our team to book).
Reader Reviews
Add Your Review
Nice area, good facilities
Great campsite with nice facilities. The extra charge for the campfire is a little bit expensive, but totally worth it. The fridge is a great extra facility to have. Their signage could be improved, as we had to call them to work out where to go when we arrived, and the toilet block was not clear on arrival. This campsite is certainly walkable from the nearest train station.
Beautiful setting but not the best experience
The setting is absolutely beautiful, although the 9 acre camping field is slight misleading. As only a small portion was mown and therefore the rest couldn't be pitched on. Because of this we were pitched rather close to each other right next to a large a slightly rowdy group! It's clear that the camping is more just an add on to the wedding venue business and so signage is great for the weddings but not great for campers. Eg signs to the loos were incorrect and not easy to find the facilities. Despite this, the setting was stunning and facilities were great (indoor washing up area and well equipped loos) and we had a lovely break away.
Lovely weekend away
Stayed here just at the end of august as a getaway just the two of us had such a lovely time . The guys who run the site were really friendly and helpful. We rented a fire pit for a £10 for the whole weekend was well worth it as had a rack for cook on so we didn't really need to bring a stove , there a kettle in the utilities . Though it was a basic site they kept it clean and when it did get messy they sorted it out in a few hours. When we went the site was quite busy but didn't feel like we were on top of people. We had some lovely walks around the area and would recommend  going on walk through the corn fields to  the chafford arm pub . 
Noisy and dirty campsite
I have stayed at the campsite and it will be the last time I will be staying. Firstly, we arrived and we werent seen too for ages, no one greeted us. Finally the owner turned up Sarah who I found very rude and short. The campsite had too many people and not enough toilet facilities. Noisy children and the tents were all squashed up together which makes it impossible to relax. We were unable to have a fire pit as there were none available so we had to make do with the small cooker we had. The whole experience was a nightmare and it certainly wasnt a glamping site but extremely basic camping site. I would've had more fun in my back garden. I find the information on this site misleading and I suggest that Chafford Park gets taken off this site altogether to avoid more unhappy customers.
Beautiful and peaceful campsite
Chafford Park is a relaxed, back-to-basics campsite set in a beautiful field. I don't think the photos on here do it justice, to be honest!
I went with my girlfriend, who has never been camping before, and we couldn't have picked a better first-time spot! The shower, toilet and washing facilities were very clean and provided just the right amount of comfort, although, as the above review mentions, I think if we went at a busier time there would be queues - there were two other groups there during our stay.
The surrounding countryside has many footpaths and is dotted with small, quaint villages with plenty of pubs around to stop for a mid-walk pint or two! We had a meal at the Chafford Arms which we can highly recommend for good prices, great portions and a large selection of home-made food. It is just a 15 minute walk down the road as well!
Not really god anything bad to say about the place other than that I personally wouldn't want to go at peak times, purely because I think it would get a pain with the basic shower facilities. I would recommend Chafford Park for couples or small groups of adults.
laid back luxury
We had a lovely stay at Chafford Park. We were blessed with lovely weather which always helps but nevertheless it was a lovely campsite. It is what I would class a "basic" campsite (which are the type I prefer) but don't let that put you off.  The facilities are probably the best I have experienced for a basic site.  The toilets are clean, proper toilets - no portaloo's to be seen. There are two for men and two for women along with two showers for men and two for women. When I was there there was never a queue, I can imagine on a busy weekend this could be a bit different but personally I would rather wait than use a portaloo!
There is a fridge/freezer available - I think the fridge has broken though or perhaps it was just the hot weather when we were there, but the fact that this has been provided at all is quite impressive for a "basic" site. washing up facilities consist of a very clean indoor area with two sinks and draining boards - again no queues when I was there but I can imagine this getting busy at other times.
There were three large wheely bins for rubbish disposal but no recycling (tunbridge wells has a recycling unit at the sainsbury's a few miles away.)
The camping field was a lovely long grass meadow with mown areas for driving around and pitches - really beautiful. there are areas with tree cover for shade and shelter. there are woods to explore for the kids and a lovely big swing.
the fire pits they provide while quite pricey at £10 (that covers the whole stay so if staying for over a couple of nights it's actually excellent value) are really top notch. they are well designed and have a griddle that can be put on half of it to cook on - no need to get your bbq out and have to clean it up!
overall highly recomended - we will be going again this summer and will probably make this our last minute getaway in the future.
Book campsites near Chafford Park