Traditional tent camping in a stunningly-located South Downs farm, just down the road from buzzing Brighton
Not many campsites can boast a peerless location within a National Park, beautiful beaches within reach and the delights of arguably Britain's most fun-filled seaside city just a walk away. But then again, not many campsites are Chalky Downs.
Set on Sharen and Stuart's Bevendean Farm, Chalky Downs, as the name suggests, sits atop the rolling hills of the South Downs National Park. There's a refreshingly laid-back vibe to proceedings here – pitches are unregimented so it's a case of finding a suitable spot amidst the undulating slopes. The site itself is a car-free zone, with complimentary parking at the farmyard on approach. Campfires are welcome in the firepits for hire and there's acres of space for kids to roam free or groups to plot out their own pocket of the site.
Tents and small campervans are welcome (there's also a cluster of bell tent bases if you have your own) but the caravan contingent are not, meaning there's no unsightly wagons blotting the landscape of this Area of Outstanding Natural Beauty. In fact, the only white shapes on the horizon are likely to be the grazing sheep in the surrounding fields who, along with the resident cattle, comprise the residents of this working arable farm.
Facilities are simple but more than ample with hot showers and plenty of toilets provided. Sharen and Stuart also serve up cracking breakfast baps daily (including locally-reared sausage, bacon and egg), while for larger groups evening dinner menus can be pre-arranged.   
Besides the splendour of the South Downs and the nearest beach a handy two miles away, one of the site's many draws is undoubtedly its close proximity to Brighton. And, as the uninitiated will soon discover, Brighton doesn't do boring. There's always something unexpected to discover; be it a bargain from a bohemian flea market in the North Laines', stumbling across a truly oddball museum (the Booth Museum of Natural History springs to mind), or watching a skateboarding Yorkshire Terrier on Brighton Pier whilst devouring your 99 ice-cream (sauce and sprinkles optional – unlike the town itself). The secret of Brighton is to stroll leisurely, keep your eyes peeled and take in the cool, carefree seaside atmosphere.
Best Price Guarantee
Easy and Secure, with instant booking confirmation
Trusted for over 10 years
A chance to win a brand new Coleman tent!
Gallery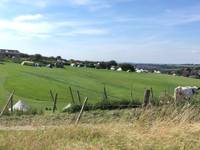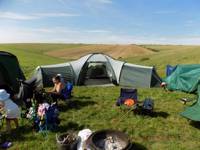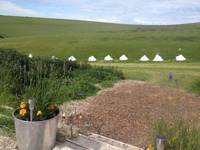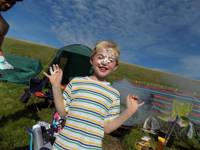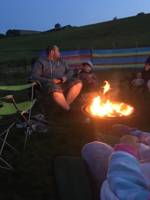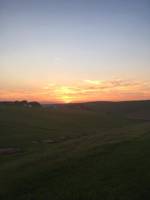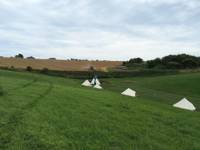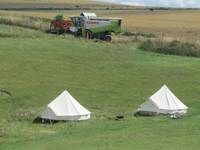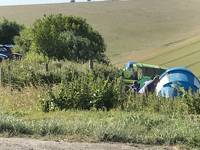 Video Tour
The Owner Says
Chalky Downs campsite is located at Bevendean Farm on top of the beautiful South Downs .We offer self-pitches for tents with free parking... The site is within an Area of Outstanding Natural Beauty with views of rolling hills across the Downs and only 2miles away from the sea, and the center of Brighton & Hove.
This family run working farm consists of arable land, growing wheat, and barley and oil seed rape. There are also cattle and sheep grazing in fields close to the campsite.
This relaxed campsite offers an escape to the countryside but within a short trip to the city if you feel the need.
Reader Reviews
Add Your Review
Lovely campsite, stunning views
Lovely campsite, reminded me of camping as a kid. On a farm, lots of space, very helpful host, good showers and easy for getting in to Brighton. I'd say the only slight negative could be that it's on a hill, but that gives you the stunning view.
Easy, Pleasant, Great
Host was super helpful with everything. Very good location, a 10 minute bus ride into the centre with buses every 15 mins. Couldn't ask for more. Lovely, picturesque surroundings
tranquil spot above Brighton
This is a lovely spot for a weekend, very quickly away from Brighton, but easy to access if you want to go in. Lovely sweeping fields and very friendly hosts! The showers were fabulously rustic being outside, and everything was freshly mowed so easily to plop the tent out.
Lovely family site
We stayed two nights with our 3 and 6 year old. It was a lovely family site- hot water, fire pits, great views, a sloping hill of long grass our children loved playing in. On the second night we got ice for our cool box and extra logs on site, and were able to borrow a grill for the fire so we could have BBQ. A lovely spot.
Lovely getaway
We had a relaxing two days at Chalky Downs. The campsite has lovely views and is easily accessible by public transport (bus 22/2 from Brighton station). There are lots of takeaway food options nearby including delicious fish and chips. We also loved Sharen's breakfast (£7 for bacon and egg bap, tea/coffee and juice). This is a peaceful, relaxing getaway with stunning views and lovely hospitality from Sharen.
A fabulous spot
We loved our stay at Chalky Downs. The views were spectacular with great walks for the dog. There is a Co Op about a ten minute walk away and easy access if you want to go to Brighton. The showers look a little rustic but we loved being able to step out of them and look at the glorious view, lots of hot water and no timer. We took a VE camper and this is a hilly location so if you are in a camper bring wedges for your wheels. We had a very warm greeting from Sharen and always a wave from the occasional tractor that drove by. We are definitely visiting again. If I had one criticism it was that the loos were a little tired looking but a small niggle for such a lovely spot.
Peaceful camping with peerless views
Finding good value, family and dog-friendly accommodation in Brighton is always a challenge, but this campsite is just that. Up on the hill away from the hubbub of the city, Chalky Downs is amazingly quiet. Because you pitch on a flat area at the top of the hill, tents can't be overcrowded and that leaves that amazing view! We stayed here for two nights mid-summer and absolutely loved it. The only downside that I can think of is that if it was windy, you'd know about it!
Views and peaceful setting.
Beautiful spot for relaxing camping. Not over crowded and plenty of safe space for the little ones to run free. Basic but well maintained facilities. Lovely friendly lady on arrival with all the info we needed, and at hand if anymore needed. Only a 5 minute drive from Brighton but there is a bus stop 5 mins walk away. Felt right at home even down to the friendly black and white cat that made its home for the day lol . If we ever return to Brighton I would definitely stay here again .
Product testing weekend at Chalky Downs
Just bought a new tent so wanted a site not too far from London to test it out. Site is easy to find but not too many level pitches. Facilities basic but clean and tidy. Fantastic views across the South Downs and Brighton very easy to get to. Sharen the host lovely and helpful Went to the Downs Hotel for lunch on our way home and had super fish and chips
The views
A gorgeous campsite, surrounded by beauty. Sharen is a lovely lady who couldn't be more helpful. If you have children crawling around scan area for stinging nettles first. Basic showers etc but showers lovely and hot. Would defo go back.
Amazing location, owners so helpful
This is an amazing place, totally rural yet only a few minutes away from Brighton centre, the race course and local shops. The facilities are a little basic but more than adequate for camping purposes. Certainly clean and well looked after. Sharen bent over backwards to ensure all campers had everything they needed. For a completely relaxing break, go to Chalky Downs. I can't wait to return
Stunning location
Great welcome on arrival, amazing views showers basic but clean and plenty of hot water. Brighton centre just a short bus ride away. Would recommend and will definitely return.
Brilliant Campsite
Absolutely loved this campsite. It is a great location in the downs, with pitches at the top and bottom of the valley. It feels like you're miles from civilization, but in reality, you're a few hundred yards from the town, with local shops, a pub and bus stops. The views are wonderful and there is brilliant access to walking trails. A strong walker can get into Brighton in 45 minutes to an hour. All the facilities are great, the toilets clean, the showers and washing up water warm. Firelogs, firepits, charcoal, and ice are readily available, and the breakfast delivery service is superb. The atmosphere on the campsite is really relaxed and friendly. The campsite manager, Sharen is brilliant - kind, friendly and really helpful. Sharen is ably assisted around the site by a very friendly cat, who introduced herself to me as Gary, but seems to be going by a variety of aliases. Would thoroughly recommend this site to any campers who like to pretend to be hardcore, but secretly like a few simple comforts.
Just lovely!!!
What a lovely campsite!!! Firstly - Sharen is just the nicest campsite manager ever. So genuine, friendly and helpful. She even helped us out by lending her computer for me to update my kindle!! The views are absolutely gorgeous - it really is mesmerising spending an afternoon watching the combine harvester do it's rounds. The facilities are perfect - so clean and the hot shower is fantastic. Campfires allowed and you're even provided with a little "lighting pack" with instructions and matches, kindling etc. Ice on onsite for a small fee - including the option to hire a ice coolbox for your drinks AND they do breakfast on the weekend!! The location is great just down the road from all you could need in Brighton Town Centre, 6 minutes away from a large Sainsburys and Asda without needing to go into town and nestled right in the countryside for breathtaking views. Just go - right now!! You wont regret it - no need to look any further. Thanks so much for having us - we'll be back before you know it!
Great laid back atmosphere...
If you're looking to escape and let the kids be a little bit wild then this place is perfect. We had a great couple of nights here. The best bit was watching all the kids on the campsite roll down the huge and steep hill all together in their sleeping bags. Hilarious! Great to see them all mucking about together. The campsite has a fantastic and cosy family feel where the kids can be free range. Another great experience was the breakfast baps, (sausage, egg and bacon), also tea/coffee and orange juice all for just £7. A bargain and well worth it to start your day. It was lovely and quiet and not too busy or at all commercialised like some places. The showers were basic but hot and facilities were generally quite clean although the loos were short of loo roll so would bring our own next time. Only a short drive to the beaches with good food and local pubs. The Juggs is worth a visit although v busy and Smugglers fish and chips was lovely with good curry sauce. We had a truly fantastic time and Sharen looked after us well. We will be back...
1st Wedding Anniversary under the stars
We booked 3 nights at chalky downs to celebrate our 1st wedding anniversary. We rocked up on a Thursday afternoon and met the lovely Sharen!! She was friendly, helpful and just downright lovely!! She pointed out our bell tent which she nestled in the sheltered corner of the valley so we would have some space... in fact when we arrived only one other family were camping in the valley! I'd been to the campsite a few years ago for a hen do and it was just as I remembered... laid back perfection!! The tent Sharen provided for us was one of their 5m bell tents and we had such fun setting it all up and creating a boho chillnout area out the front (lots of lanterns, rugs and fairy lights - oh and champagne too!) We loved that you can have open fires there and we had the most lovely few days!! Both the owners went over and above to help us out (we encountered a storm on the last days so they helped us up the hill with all our stuff to save our little van getting stuck!) I would 100% go back and can totally recommend hiring their tents... not having the hassle of packing it up when we left (especially in the rain) was brilliant!! Would reccomend to couples wanting a romantic get away and families too!! As long as you don't mind a bit of a hill to get to the toilets then you're sorted!! Also you can get the no.22 bus from woodingdean community centre (bottom of warren avenue) into brighton in about 20mins... £5 all day rider ticket... brilliant! Thanks for having us and making our first anniversary so special!! Xx
My kind of campsite!
Loved this campsite so much. Its location is perfect as its just on the edge of Brighton, nestled in the rolling hills with great views but only a short bus ride or drive from the madness of the city and the seafront. It's on a working farm and the facilities are basic but for me that's what camping is about. What's important is the showers are hot, the toilets clean and there's a place to do the washing up. Fire pits are also available for hire along with bags of logs which you can buy. You are allocated a pitch on arrival and these are a decent size so you there is plenty of space. The pitches are arranged along the top and bottom of a sloping field. The fact that the middle of the field is empty due to its slope adds to the illusion of space. Sharen is a super friendly and helpful host. A real bonus is that she can deliver breakfast to your tent if you pre-order which includes coffee or tea, orange juice and an egg, bacon and sausage bap. If I was pushed to say anything negative it would be that we were only here for two nights and that really wasn't long enough. We would love to come back!
Friendly well run campsite
Friendly well run campsite. Good for families. Well maintained pitches and facilities, particularly the shower/toilets. Great views over the Downs. We are here on a bank holiday and being close to Brighton your never short of things to do.We have a camper van and unlike the previous reviewer we had no problem with slopes. Well done Mr & Mrs West
Perfect location and amazing vies
We stayed at Chalky Downs over a weekend in July and if the weather was better our stay would have been perfect. The location is amazing with a really short drive into Brighton and in walking distance to shops and takeaways. The facilities are all you need from a campsite and the showers are nice and warm. I love how you get your own pitch as sometimes it's hard to find space although the only issue would be that the pitches are set out in a line so if you want to be far away from the other campers then it may not be very suitable. We loved our stay, thank you to the owners who made checking in very easy even though we were very late due to a breakdown
Stunning and close to Brighton
I've lived in Brighton for years and never knew about this hidden gem. I booked in for a couple of nights to get some countryside. Facilities are clean, there was shade for the hot evenings and the morning sunrises were astounding. Sharen was kind and helpful. Would definitely recommend!
Great location, friendly, well worth a visit
For some reason I thought one could see the sea from the campsite - you can't, and on review the site doesn't suggest you can. But quite aside from that, it's a great view - all rolling Sussex countryside - and with big skies. Very quiet - there aren't many pitches given the size of the field (although a lot of the field is on a steep slope so would probably explain why); even at the top it's a bit of an angle, but perfectly workable. Facilities are basic but spotlessly clean (the showers are in wooden huts so quite rural but very nice for all that). They also supply a great fire pit with wood, and there's a freezer for your ice packs etc. It's a one hour walk down to Brighton beack, and you can then catch a bus or taxi back up again easily, so it's possible to get out of the campsite without getting back into the car.
Beautiful peaceful setting just a few minutes from Brighton
We decided to go away for a couple of nights with the tent, pretty short notice. We booked 2 nights here as our daughter was keen to visit Brighton. The campsite is a lovely little spot on a farm, you pitch up overlooking the rolling fields. The site is slightly sloping but our pitch was fine didn't cause any issues. Sharen was lovely and very helpful, allowing us to change our pitch to one further away. It is quite a basic site but has everything you need, toilets and showers and the offer of breakfast baps (we didn't have these as we cooked our own breakfast). It is walking distance to Woodingdean (about 15 minutes) where there is a Tesco express, a Cp-op, an Indian takeaway, a cafe, fish & chip shop, burger place, kebab and pizza place, a Chinese takeaway and a pub. We used the Chinese on our first night and it was lovely. We had some delicious chicken shish from Piazza too on another night. Only about a 15 minute drive into Brighton, where we had a lovely day. We also did a lovely long walk along the South Downs Way on our last morning. A great little campsite, peaceful and quiet, we will be back!
Rolling hill heaven
We spent 2 nights at chalky downs with our 3 children (8,10 and 11)This quiet campsite is surrounded by rolling hills giving it a peaceful relaxed atmosphere. The hosts were very friendly and welcoming. They were very helpful giving us a pitch on our own and lending us a couple of sleeping bags as I forgot the children's!! There are local buses that go into Brighton which is about 3 miles away, and there is a Tesco express just around the corner. We took our own fire pit and bought logs on site,However there are fire pits to rent. We will definitely be back.
Beautiful, peaceful, friendly campsite
We loved everything about Chalky Downs. Sharen went out of her way to make sure we had everything we needed. The views are glorious, it's not too crowded and the facilities are just what you need. Top notch breakfast served directly to the tent door and a cracking fish n chips shop 15 minute walk away mean that you are well catered for. We'll definitely be back!
Peaceful and clean campground
Sharen was lovely and even let us check-in early and was very helpful! It's out in the countryside and you'd never think that Brighton is just down the road. Definitely get the breakfast as well. It was delicious! We will definitely stay there again if we're camping in the Brighton area!
Lovely little campsite
We stayed for 2 night in June in our little camper. The site was easy to find and the staff helpful. The views are lovely over the Downs. It's a bit windy up there but the wind was welcome as it is so hot at the moment. Showers and toilets within easy reach (rustic) and you can even order breakfast if you are feeling lazy. You can catch the No.2 or 22 bus just down the hill into Brighton. 15 mins max. We caught a taxi back one night for £11. Near where you catch the bus there are a few shops and Uncle Sams burger joint. A very enjoyable weekend mixing the tranquility of the countryside with the buzz of Brighton. Will definitely stay again 😁
Beautiful peaceful view
We loved this site. Lots of space and a beautiful view of the downs. Sheep baaing, sub shining and wind blowing (this is the one thing I'd pre-warn about...very, very windy). If you're looking to do a whole lot of nothing, this place is perfect. Mind you, if you fancy a little action: Brighton is a 20 minute drive away.
10/10
What a brilliant campsite. Spacious, secluded, great shower facilities, friendly and helpful hosts, close enough to Brighton but not too close! We'll definitely be back :)
Just what we needed...
This was our first time here. Super location halfway between Saltdean and Brighton. The owners were lovely and really helpful. The site is basic but very clean. Great views over the hills, had a great time. For those of you who can't totally escape (this includes me), good 4g signal on EE :-) Cheers Jo and H
What a great location for a relaxed campsite
This is a really great campsite in a really great location. You can get to the site on a 20 minute bus ride from Brighton and theres an impressive bike route from the campsite to Lewes (took us a relaxed 40 minutes). Despite the easy connections the campsite feels very detatched and you get a great view across the downs.
Fantastic camp site
We came to Chalky downs for the second time this year with a threat of a thunder storm, 10 kids and 5 days! For the second time we had a brilliant camp in the stunning surroundings on the well equipped campsite. Nothing is to much for the Chalky down team and Sharen is an attentive host no matter what the request. The location is great for days out and we had no problem entertaining the kids. See you next year Chalky down .....after a bit of rest!
Best Price Guarantee
Easy and Secure, with instant booking confirmation
Trusted for over 10 years
A chance to win a brand new Coleman tent!
Book campsites near Chalky Downs