Family camping and luxury glamping in the grounds of a former castle and hop farm
Sat atop a hill overlooking the High Weald beyond, Glottenham Farm is a place that's shaped by history. The medieval castle that once stood here was removed in the 16th century, but its moat, ditches and banks still remain, while it was the Romans who planted the hornbeam woodland below. In later years, Glottenham became a thriving hop farm and popular country retreat of the Pre-Raphaelies. Christina Rossetti wrote poetically of her stay, "the greenness and flowers to refresh our London eyes, and a small population of beasts and birds around us."
While history has sculpted the hills, it's today's owners – Rob and Emma – who have breathed new life into the land with diversification projects and the introduction of Glottenham Castle's renowned campsite. The Roman wood is now the idyllic setting for luxurious yurts and giant geodesic domes, while a pair of 10-acre meadows welcome family campers every summer. Managing the land is still very much the focus – huge dams are restoring the farm's wetland area that dates back over 600 years and charcoal creation has begun in the woods again – but, for most, the joy of Glottenham is the open space, the sense of wilderness and a magnificent setting in the heart of the High Weald.
On a practical level, the campsite, though off-grid, has everything you need. There are composting toilets, a standpipe for fresh water and wonderful gas-heated showers without roofs, so you feel like you are standing in hot monsoon rain. Campfires (in firepits) are very much encouraged – you can even buy the farm's own wood and charcoal – and an on-site 'forest school' provides an introduction to foraging, wild cooking, bushcraft skills and more. For those who want to leave the tent at home, meanwhile, there's a full spectrum of glamping options, ranging from basic, pre-pitched tents to the full-blown comfort of the furnished woodland domes.
Off site, campers are blessed with a location in the heart of 1066 country. If the loss of the original castle has left you wanting, there are plenty still standing nearby. There's National Trust-owned Scotney Castle to the north, along with Sutton Valence and Leeds Castle beyond, while south lies Hastings itself, home to a ruined 11th century fortress and preceded on the road by the town of Battle (the beautiful abbey town where King Harold met his match). The closest of the lot is Bodiam Castle, 10 minute's drive away. The quintessential moated keep puts on activities for kids in summer and the grounds are free to enter, though it's worth paying fully for the tower-top views alone.
Best Price Guarantee
Easy and Secure, with instant booking confirmation
Trusted for over 10 years
A chance to win a brand new Coleman tent!
Gallery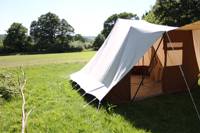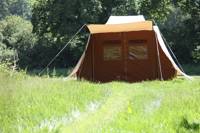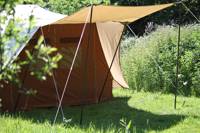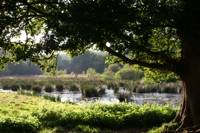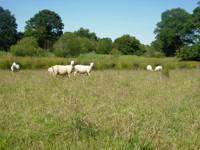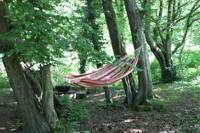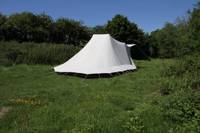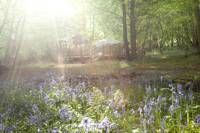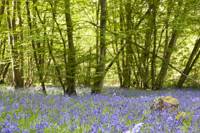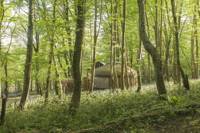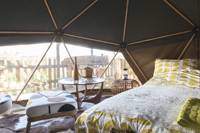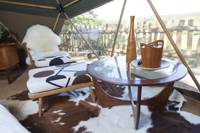 The Owner Says
Glottenham is a fabulous 160 acre family working farm set in the High Weald area of Outstanding Natural Beauty. It is a mixed farm, with around 20 acres of woodland, plus arable and grazing for sheep and Sussex beef cattle. Glottenham now offers eco-glamping in 4 units at the main site from Easter til October, plus a diverse selection of units in the Family Fields and choice secluded glades during August. The farm, on the outskirts of Robertsbridge, lies on a hill between two valleys, with streams on either side which feed into the River Rother. At the highest point is the site of Glottenham Castle, a scheduled monument. The castle itself was removed in the sixteenth century, but the moat and raised mound is still in evidence.
Reader Reviews
Add Your Review
Very nearly wild camping
We have just returned from 2 nights at Glottenham, camping in our own tent on the family field. We were the only campers on site and had the whole field, 2 paddle-friendly streams and surrounding countryside all to ourselves. The facilities here are basic, just 2 composting loos and an outdoor gas shower, plus water tap. This was all we wanted, and exceeded our 'off grid' expectations! We came away feeling refreshed and recharged. A great spot for spotting and enjoying wildlife... though I'm not sure we 'enjoyed' the disgruntled owl at 3am! I can't say that Glottenham offers anything of WOW factor, but I can't necessary fault it either. Its a field, with some basic facilities. If that's what you're after it'll tick every box. There are several National Trust properties within a short drive. We popped out to Scotney Castle which is beautiful.
Sun and solitude
Spent a wonderful if all too brief weekend at Glottenham Castle, camping with my teenage daughter and her friend. The camping site is large and surrounded on all sides by trees which makes for a very tranquil setting even when the wind is blowing. We were free to choose our pitch and help ourselves to the fire pit and wood from the tent at reception, with an honesty box for payment.This is a great touch as I tend to angst about not being able to source wood or running out of it at the most inopportune moment. If like me you look for the basics in a site such as a shower that is open to the elements and compost toilets then this place is ideal. There are no frills at but there are all the wonders of this type of camping and the blanket of stars that covered the site at night was very much a highlight. Both girls reflected on how much they love camping and this was very much down to the site and its qualities. Also lovely to have Suzie on site to offer assistance on occasions. Very highly recommend this site for those looking to get a little bit closer to nature without the trappings of modernity to get in the way.
Response from Glottenham Castle
Thank you so much for your lovely review, and glad that you enjoyed your stay with us xxx Emma and Suzie
We loved it!
Two adults and four children. Plenty of sleeping space in the yurt. Huge outdoor area for the kids to explore. Long grass areas, short grass, woodland, stream. We all particularly liked the outdoor shower which was powerful and hot. Enjoyed sitting round the fire and cooking on the fire. (logs, kindling and charcoal available at a small cost). We found it a great base for beach and local historical sites. Battle really nice. We hope to return. Definitely recommended.
Very peaceful
Stayed for 3 nights in a yurt in the Family Field, where they also allow campers with their own tents. The yurt was great, plenty of room for 4 of us, and even with 6 there would have been ample space. The yurt comes with an covered eating/ cooking area, and a fire pit for campfires/ bbqs. The area you camp in comprises of 2 very large fields, with so much space for children to play and explore in a varied environment with a stream, pond and long grassy areas. The toilets are compost and there is an outdoor shower, but they are a lovely design, odourless and the showers hot, so very pleasant! There is so much space you can almost feel like you are the only people there, we felt very chilled out relaxing on an evening watching the sunset over our campfire with an uninterrupted view in front of us! If you do leave the tranquility of the site there is plenty to do in the area, with Bodiam and Battle close by, and the coast a little further.
Book campsites near Glottenham Castle