Luxury shepherd's hut living just a stone's throw from Bodiam Castle
Just an hour's drive or train journey from London, in the East Sussex village (in all but size) of Bodiam, The Original Hut Company is the perfect romantic retreat from the hustle and bustle of city living. Tucked away beside a sprawling apple orchard (this is cider country after all), amidst an enchanting woodland that bursts with bluebells in spring are the four glamp-tastic shepherds huts. Taking their cue from the shepherds huts in days of yore, these cute, glamping abodes are built from recycled and reclaimed materials (old caravan chassis and local wood to be precise).
Just downhill from its sister site at Hop Pickers Wood, the farm-built huts are designed to be sustainable and of minimal environmental impact. Despite their eco credentials, the OHC don't compromise on comfort (this is luxury camping after all). The lovingly decorated huts (think 'shabby-chic') are a comforting cocoon of cosiness thanks to the wood burning stoves, while solar energy provides the lighting for camping couples. There's even gas hobs and separate huts with pristine showers and eco loos. Fires (on the designated firepits) are positively encouraged here. In the autumn, there's no sweeter aroma than the smell of windfallen chesnuts roasting on the many campfire which fills the soothing country air.
As befitting its green philosophy, the 200 acre Quarry Farm site is bursting with wildlife. Nestled lovingly within an ancient coppice clearing, the site is teeming with an array of woodland creature including badgers, squirrels, pheasants, mice, green woodpeckers, fallow and roe and deers. Keep your eyes peeled for an extremely rare albino squirrel as well as a few black rabbits. The River Rother which meanders through the farm attracts egrets, herons and kingfishers. Guests are also welcome to fish and splash about. Barn owls use the bottom of the farm as a hunting ground and there's a pair of buzzards that work the top. There's even bee hives in the orchards and the OHC are working with Sussex Nature to increase the pollinating insect population.

Friendly campsite owner, Anna Eastwood, is the very personification of hospitality. Anna's eager to make your stay as hassle-free as possible—food hampers and catered meals can even be delivered to the site by arrangement. If you're looking for a true 'back-to-nature' camping experience, the OHC run a foraging course during autumn in conjunction with the nearby Michelin-starred Curlew restaurant's chief sourcer, Fergus Drennan. The area is a real foodie hub, with several decent country pubs in the vicinity plus countless food festivals including nearby Rye's famous Wild Boar Week and Rye Bay Scallop Week every Easter plus the autumn and spring harvests of the Brighton and Hove Food and Drink Festival just down the road. There's even a summer forest school for the your little pioneers – the kids can spot woodpeckers, deer and maybe even the odd badger if they're lucky. All this, plus the fairytale Bodiam Castle just a short stroll from the site with its magnificent panoramic views over the famous Weald. What more could you ask for?
Gallery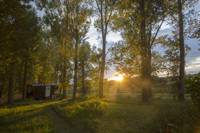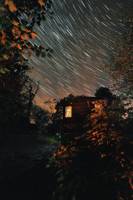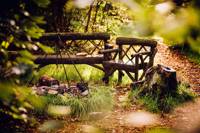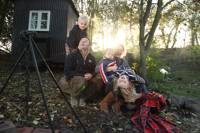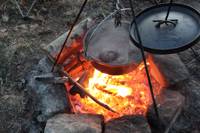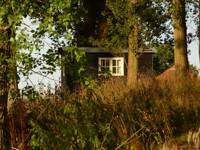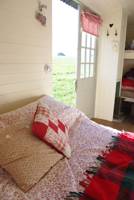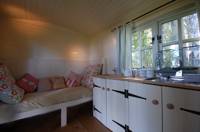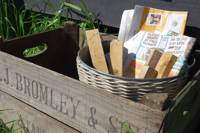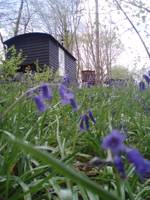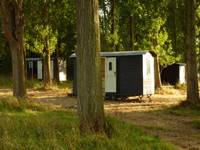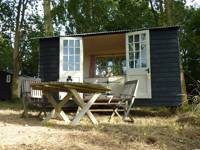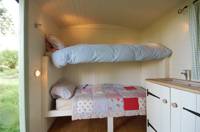 Video Tour
The Owner Says
The Original Hut Company consists of two sites of 5 Shepherds huts, these have been designed and built by us on site, from largely reclaimed and recycled materials, 4 of the huts provide living accommodation and the 5th houses 2 loos and 2 showers. We believe we have created a unique and comfortable Glamping experience which is very user friendly and convenient as well as being of minimal environmental impact. It is equally usable for couples, families and groups of friends. The huts are set in a small area of woodland on our family run farm in Bodiam. The woods being big enough to explore and build camps in, yet small enough that children can explore independantly . The farm land flanks the National Trust site of Bodiam castle, the River Rother Flows through the bottom of the farm providing fun and fishing! The Kent and East Sussex Steam Railway has its Bodiam Station within the farm itself. This coupled with our proximity to the historic towns of Rye, Battle , Hastings and Tenterden, the amazing sandy Beach @ Camber, unique woodland habitats at Brede High woods and Bedgebury Pinetum which also offers mountain biking and Go Ape. There are amazing foodie experiences and vineyards all within a stones throw, with a range of activities and services available form the site. Means there is something for everyone.
The Huts themselves can accommodate 4 or 5 people, they are fully insulated and fitted with wood burning stoves. The wooden construction and double glazed windows ensure the huts are really warm and cosy. The kitchens are fitted with a 4 burner gas hob for convieniece, all the cooking and dining equipment is provided. We also provide cast iron cookware to enable our guests to cook over the open fires outside. Down in the woods we have a little hide with a tin roof (perviously a wood store), this provides a covered eating area, it houses a 13 foot long table which has proved to be invaluable dining space for our group bookings. Providing shelter should the Great British weather let you down, there is also a larger campfire down there surrounded by logs for shared time, stories and marshmallows!!
All bed linen and fire wood is provided.
***************NEWS*****************
The Hub - On site Cafe and Shop now open daily
Reader Reviews
Add Your Review
Beetje teleurstellend
Wij hebben 4 nachten gekampeerd bij The Original Hut company. De eigenaars zijn vriendelijk en behulpzaam. Toch waren er een paar dingen die wij als wat minder prettig hebben ervaren. De wc's zijn met een soort vloeistof, net als in een Dixie. Het stinkt behoorlijk. Onze zoon van 4 jaar kreeg na een paar dagen echt tegenzin om naar de wc te gaan. Ik heb de eigenaar verteld hoe we hierover dachten. Ze vertelde dat het niet mogelijk is een wc aan te leggen in de grond (riool of septic) omdat het archeologisch waardevolle bodem is en er dus niet in gegraven mag worden. Onze campingplek was niet met gras bedekt maar met hout sprokkels. Dit zorgde voor veel stof, alles werd stoffig hierdoor. De Engelsen doen het liefst de vuurkorf 2x per dag aan, heel gezellig, maar de eigenaar verkoopt hout wat niet droog genoeg is, waardoor je zo af en toe in de rook van iemand anders zijn vuurtje zit. Wat wel fijn was is dat we een plek onder de bomen hadden, in de schaduw. Het was er namelijk net erg warm. Ook was het fijn dat de kinderen in de zandbak konden spelen bij het receptiegebouw (Hub). Ook de locatie is geweldig! Zo dicht bij het kasteel, echt prachtig.
fantastic
We stayed as a large family group and hired all of the riverside huts. It was lovely to have that section of the site to ourselves. The site is beautifully located, with views of Bodiam Castle and our group loved jumping in the river on a couple of very hot days! The site was loved by grandparents and kids alike - we were really sad to leave after a wonderful long weekend.
The huts are really well-designed and it is easy to change them over between the night and day functions. They are also  thoughtfully equipped - we particularly liked the equipment for cooking over the fire and managed to produce quite an ambitious menu. 
The bathroom hut is well set-up with great showers and plentiful hot water. Yes, there aren't flushing loos, but they are fine - clean and not too smelly even on a very hot weekend. 
I would highly recommend this site to anyone - we definitely hope to return again.
so relaxing
Just returned today from the most romantic and relaxing weekend break myself and my wife have had ! To start there is no phone signal or Internet So if you can't prise your kids phone or I pad from there little hands bring them here and they can discover the  joys of climbing trees , making camps , fishing and cooking on a camp fire . The huts are well built cosy and the little log burner is really warm , so you can come here all year round . The owners are really nice and helpful and although it is a working farm they are happy for you to roam around and explore .You have a cool box outside with a frozen hot water bottle in which we thought was really cute .There are an abundance of logs and kindling supplied which are replenished daily but if you run out you get your own and put some money in an honesty box . You are encouraged to use the fire pit to cook on , we visited the butcher in Hawkhurst and got the most amazing rib eye steak , we cooked it on the griddle put it in a buttered roll , well ! It was the nicest steak we have ever had . We will definitely return and recommend to anyone . FABULOUS !!
Wonderful escape from London
I've just returned from a second trip, chosen both times because of the easy access from London - set off after work on Friday and by 8pm you're sipping a glass of wine while the campfire gets going. The huts contain everything you need, including some fantastic cast iron cookware for campfire cooking. We stayed both times in the Orchard huts which are enclosed in a beautiful piece of woodland, and next time (there will be a next time) I'd love to try the huts in the poplar grove down by the river. Anna, who runs the huts, is incredibly efficient and welcoming.
During our stay we walked up to the Curlew for an anniversary lunch (had to get a cab back!), and also caught the steam train up to Tenterden to visit the Chapel Down vineyard. 
The only negative, for a non-driver, is that there are no shops within walking distance, so you have to come armed with plenty of provisions to see you through. However, the pub at Bodiam does good food and even sold us a pint of milk, so you're far from stranded.
Wonderful
Just back from a fabulous weekend camping near Bodiam East Sussex with the Original Hut Company.  This was our annual trip with friends, there were 8 families and 37 of us.  We booked the group camping field, it was brilliant, no need for anyone to arrive early and stake out the site, just us and the field.  We had our own toilet/showers and a covered area with a picnic table.  Anna and Nick the owners were charming and Anna's friend Emma catered for all 37 of us on the Saturday night which was a massive treat.

Beautiful, rural campsite
Spent a lovely weekend camping at Original Huts. Stayed in the overflow camping section which was quiet and peaceful, with excellent facilities. Only a short (and very scenic) walk to Bodiam Castle and the excellent Castle Inn which is incredibly convenient. Will recommend to everyone I know with a tent.
First hut holiday, will not be our last!
My family and I stayed in one of the huts down by the river. It was a lovely rural setting for walks and playing and the hut was great. It was bigger than we imagined and delightfully furnished inside. The toilet/shower hut was close and perfectly glamped up. Having a pub within walking distance serving nice food and a castle to visit added to the appeal of the location. The children enjoyed eating food cooked over a wood fire pit. It was a memorable experience.
Exceeded my expectations
Just got back from a wonderful stay. Lovely clean huts with complimentary olive oil, salt flakes, pepper grinder, fresh coffee, tea, sugar. Ice box complete with ice (inside a water bottle this threw me at first). Very well stocked with kitchen equipment and and a 3 gas hobs. Amazing spot surrounding by bluebells. There were 4 huts in total where we were with a 20minute walk to the nearest pub and the castle both were fab. We had our own fire pit and family sized picnic table and there were several picnic tables under cover a bit further down with another fire pit next to it. Surprisingly good and hot shower. They are connects to the mains here too so no need to bring water with you and they have many battery powered lights in the huts and in the toilets and shower hut. Very comfy beds and feather pillows! We travelled with 2 kids (3 and 5) and they had a wonderful time. Beautiful spot, connecting with nature with home comforts. Fab!  Will be back. 
Wonderful Stay
We stayed at the Original Hut company over this past bank holiday weekend and had a great time! Anna and Nick were attentive and very helpful. The huts are comfortable and cute. Our daughter had a great time playing with some of the other kids staying in huts nearby. We took the train from London and didn't drive at all over the weekend but were able to get out and have lots of fun. The orchard is beautiful and we took some nice walks along the river and visited Bodiam castle. The shower is fantastic as well. We would definitely go back.
Woodlands, orchards, and the cosiest little cabin!
Had to write a review for The Original Hut Company after a wonderful weekend spent there! The owners have thought of everything for your comfort, and I adored exploring the woodlands surrounding the huts - plenty to keep the kids occupied before lighting a big warm bonfire and enjoying a glass of wine in the evening! For me the highlight was discovering the beautiful apple orchard that supplies Magners with a fine crop! I'm sure a spring or summer visit would offer its own glories and beautiful blossoms - but if you're afraid of the winter weather spoiling your fun, never fear - the wood-burning stove in our hut kept us warm and toasty all night, and the howling wind outside only added to the fun of being tucked up in such a cosy cabin! With friendly and thoughtful owners, lots of local attractions (loved the Castle Inn pub, and kids will love the castle itself)... this is a pretty perfect destination for anyone who enjoys the great outdoors and a cosy spot by the fire.
Can't believe this place is just an hour away from London!
Just got back from a wonderful weekend at The Original Hut Company in Bodiam. For a couple of world-weary Londoners looking for an escape from the big, bad city, this place is heaven on earth. Setting off from the capital by train, the journey to Etchingham was only around an hour. Hard to believe somewhere so scenic is just an hour from London Bridge station (a major advantage for campers who don't have their own wheels)! Arriving at Bodiam (a little ahead of schedule), we embarked to the bustling Castle Inn for a fireside pint before a gentle amble/stumble across the road to the magnificent Bodiam Castle. After a must-see tour of the castle and grounds, our none-more-affable host Anna was happy to pick us up in 'the taxi' for the short trip to the Quarry Farm site. Passing apple orchards, hop trees and veg patches brimming with some monstrous pumpkins (just in time for Halloween), we were led down a little ravine to the wooded area which hosts the huts. Kitted out in stylish Cath Kidston-style cushions, curtains and kitchenware, the spacious huts are the perfect romantic retreat. While the weather wasn't playing ball, that didn't matter a jot because of the charming cast-iron wood burning stove keeping us nice and toasty day and night. Speaking of the weather, we'd love to see the woodland under a blanket of snow or with in May time with the bluebells turning the forest floor purple. Lovely Anna took care of all the little details and, after returning from our woodland walk, over the stream and into the orchard, we were delighted to find a bottle of local Bissenden cider and other goodies when we arrived back at the hut. Our evening was spent at the local Michellin Starred restaurant, The Curlew (about 5 mins drive from the site)—the food was outstanding. Some of the ingredients are foraged from Quarry Farm—they run foraging workshops from the site so ask Anna for details. Thanks so much to Anna and Nick for such a wonderful time—we'll definitely be back!
Best Price Guarantee, with no fees
Instant booking confirmation
Trusted for over 10 years
A chance to win £50 of Cool Camping vouchers!
Book campsites near The Original Hut Company