Ditchling Camp
Corner Of Lodge Lane, Underhill Lane, Hassocks, East Sussex, BN6 8XE







Off-grid camping in the South Downs National Park, with a laid back atmosphere and a network of great footpaths on the doorstep.
The rolling hills of the South Downs have been attracting walkers, artists and anyone who can appreciate this quintessentially English countryside, for centuries, and the village of Ditchling has always played host to those bound for the great outdoors. Where the houses peter out into open, sheep-dotted grassland, the chalky earth veers skyward as the northern face of Ditchling Beacon climbs to its summit. The beacon is the highest point in East Sussex, affording spectacular views in all directions. Those who cast their eyes back toward the pastoral fields through which they came may just about spot one quaint new addition to the landscape.
Unobtrusively settled in a meadow, an off-grid, back-to-basics campsite is merged so subtly amongst the greenery it's easy to miss, but those who search it out will certainly reap the rewards. Camping as it should be, this scenic spot, ensconced within the national park, is a pretty little pick for those who enjoy life's most simple pleasures.
Any campsite that has recently opened comes with a caveat or two, and for most it is the promise that electricity will eventually be installed, a shower block built and perhaps an onsite café, perched in the corner, selling summer time ice-creams and freshly baked bread. Not so here, where the charm of the site is its distinct lack of human development, something that is set to stay. Despite being brand new there are no plans to set down power lines and bring in the caravans. Instead, the natural feel that off-grid camping provides fits perfectly amongst this age-old, walker's countryside. Ablutions still exist, of course, with proper flushing loos and a rustic outdoor shower but they are a sidepiece to the more important facility of a firepit, with one provided at every pitch.
Designated pitches are spaciously set out amongst the flat field, sloping slightly on the western edge where the campsite dips towards a private woodland. In all other directions, hedges provide shelter but still allow for stunning views out across the South Downs, punctuated by the Beacon that provides a steep but excellent morning walk from the site. 
Ditchling itself also makes for a pleasant wander. Just a mile and a half away, it has a small museum, a tea room and three pubs to choose from. If you've hung up your boots for the day, then the 15 minute drive to Lewes brings you to one of the most charming towns in the South East, with crooked Georgian buildings leaning around the banks of the river Ouse. Journey to the coast for a vibrant daytrip to the renowned seaside town of Brighton.
Whichever you choose you'll find the rural feel of the site does not come at the cost of absolute remoteness and there is still speedy access to many of the best sites in the area. Just make sure you book in advance, Ditchling Camp is reservation only, and from what we've seen spaces may quickly be in short supply!
Gallery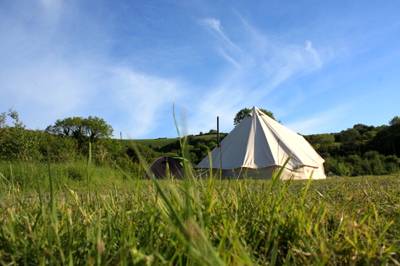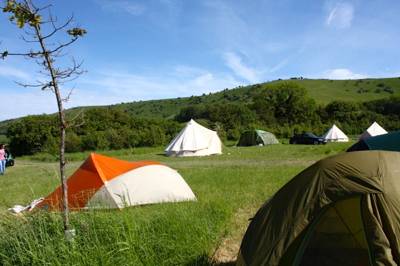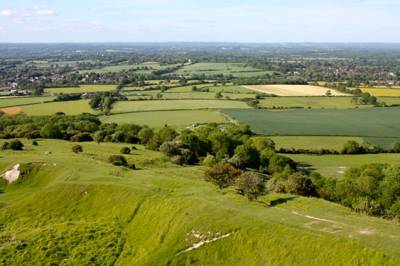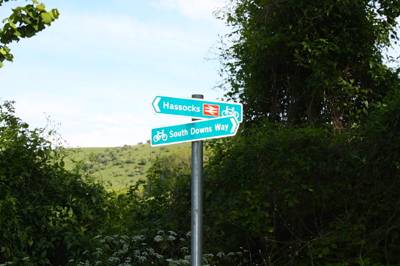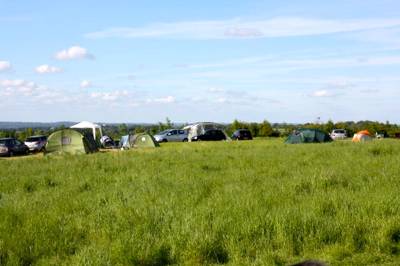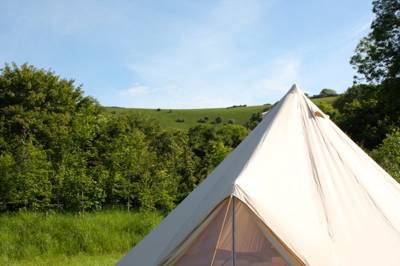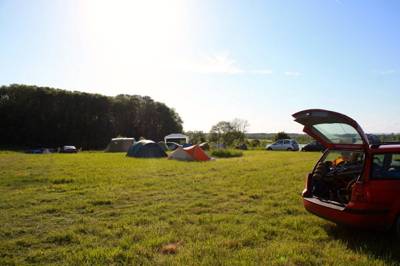 Reviews
Sign up or sign in to leave your review of Ditchling Camp
Ditchling Camp Aug 2016
Having recently camped at Firle Camp - which we adored and is run by the same team - we thought we'd give Ditchling a try. James (the owner) was incredibly helpful and managed to book us in at very short notice! Ditchling camp didn't disappoint - in fact it is fantastic. Perfectly placed at the foot of the downs and a beautiful 10 minute stroll from the historic village of Ditchling. We found the camp really easily by using a map and TED met us on arrival to guide us to the best possible pitch. Unlike too many sites, Ditchling (and Firle) provide the most spacious pitches that are a sensible distance from the nearest neighbours. The site is impeccably clean with mown / flat grass for the tents and long grass that provides privacy. The toilets are portaloos which are more than adequate and the shower is amazing with clear blue sky above and constant hot water that makes it very hard to leave. We had 2 amazing nights/days with friends and children and all left vowing to return asap. In summary, an idyllic site, in an amazing location with great service and plenty of great things to do. However, if you want a site with charmless showers and brick-built toilets, you may wish to stay at one of the more cramped, bargain-basement sites nearby.
Splendid location, disappointing facilities
The campsite is like a pop up campsite and outside of the very strict arrival times there is no signage at all. Our first hour was spent driving round the same loop looking for evidence of a campsite. It is in a beautiful location, the sites are generous (although where you go is decided by the owner) and the walk over to Ditchling is lovely. However, the facilities are rubbish and I don't think anyone can describe a portaloo as 'rustic charm'. The shower door doesn't actually shut properly or lock and just a trickle of warm water will reach you if you're lucky. There isn't even anywhere to leave your rubbish at the end of your stay, let alone recycle.  We had paid less at our previous campsite for excellent showers and clean loos. 
Best Price Guarantee, with no fees
Instant booking confirmation
Trusted for 10 years
Chance to win camping goodies in our regular competitions!