Dogwood Cottage Camping
The Dogwood Cottage Caravan and Campsite, Cackle Street, Brede, Rye TN31 6DY










Secluded camping and caravanning situated in the High Weald Area of Outstanding Natural Beauty, deep in the heart of the East Sussex countryside
Flick through the Dogwood Cottage visitors book and you'll struggle to find words that haven't been penned before: "so secluded", "so quiet", "so friendly", "so close to the pub!" The bulging book reflects the charm of this small site that has grown its custom largely through word of mouth, every visitor leaving with high praise and a vow to return the next year. Pitch up for a night or two and, nestling into one of the 15 prized pitches available, you'll quickly realise what makes this place so special.
On the edge of Brede, a rural East Sussex village, this campsite is set in one of the countless grassy meadows that sweep across the High Weald Area of Outstanding Natural Beauty. The surrounding trees and hedgerows provide shelter, as well as somewhere for kids to build a den, while a woodland pond also attracts plentiful wildlife. Sanitary facilities are fairly basic, with two toilets, a hot shower and a washing up sink, but they are faultlessly well-kept and, with just a handful of campers, these rustic necessities are all you'll need.
While the spacious pitches and secluded surroundings make for a winning campsite, the Dogwood Cottage experience really comes down to the friendly welcome you receive from Phil and Katy. These laid-back owners are helpful, yet unobtrusive, and passionate about their local area. Stacks of handy information can be found in the onsite shop where you can pick up camping essentials, groceries and logs. Their friendliness also seems to exude into the village beyond, where two walkable pubs boast excellent food and the warmest of atmospheres.
Despite its quiet countryside location, Dogwood Cottage Campsite is a short distance from a wealth of attractions, with the historic towns of Hastings and Battle just a short drive away. The nearest beach is just 15 minutes by car, while expansive Camber Sands with its famously dynamic dune system is five minutes further. The ancient town of Rye is just as close. Its half-timbered, skewed-roofed buildings clustered along cobbled streets are as quintessentially English as they come and refreshingly uncommercial.
In the evenings, return to the campsite for some late night stargazing. With the village free of streetlights, the unpolluted sky is crystal clear. So, when the clouds are at bay, toast marshmallows round the campfire and keep an eye trained for shooting stars.
Gallery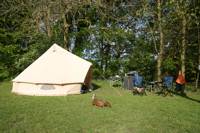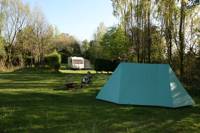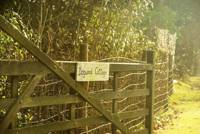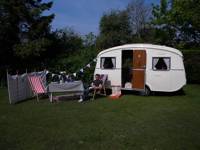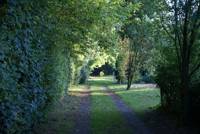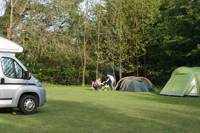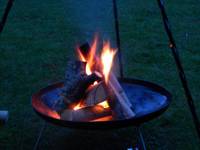 Reviews
Add Your Review
A bit crammed in for us
We booked to stay for a weekend, largely on the basis of very positive reviews on this website and others. But when we arrived we looked at the site and decided to go to another one we had stayed at before about 15 mins drive away. The site is clean, tidy, it seemed well-run and popular, but it's basically a smallish field with trees all around it, so you're likely to be quite close to other campers and there is not really any view, or sense of open space, big skies or "wilderness" (I know, I know it's only Sussex!). It wasn't really what we were looking for. The owner was, however, very understanding and reasonable about us changing our minds.
Dogwood Campsite Yurt
We were lucky enough to stay two nights in the yurt. It was beautiful, comfy, warm and cosy. Set in beautiful location and separate to the camping area, has it's own private garden. Phil the owner is a lovely man, very helpful. Facilities were all well kept and clean. The first night we laid in bed listening to Owls who must have been purched very close to us. The second night we listened to high winds, (no movement from the yurt :-) ) Lovely to see the full moon through the clear roof. Loved the goats, chickens, ducks and dogs all of which were an unexpected bonus. Highly recommend this place, would love to go back again.
Thumbs up for the yurt!
We stayed in the yurt and it was a truly unforgettable few days for our family. You are part of the camping experience as far as the children are concerned - and the sociability they enjoy - but have a secluded patch of your own to enjoy the peace of the birdsong (no radios as a rule). The yurt is large and full of character, reflecting the ethos of the owners. The roof can open to the sky when the weather is fine, or there is a heater and even a wood-burning stove inside. Two proper beds and indulgent bed linen mean the lines between camping and glamping are blurred, but this is still a very real outdoor experience, minus the arguments putting the tent up. The chickens and ducks are rather beautiful. Lots to do in the local area too.
Loved this site!
Loved this site! Beautiful location and the place definitely qualifies as a 'cool' campsite - lots of laidback character with really friendly and helpful owners. The facilities are basic but seemed clean enough to us and the shower was absolutely fine - hot and free, which is all you really want. Great to have a kettle and microwave provided in the information/ map room. Loved the walk through fields to the Red Lion village pub and the starscape on the way back to camp was just amazing - rare to have such dark skies in the UK. Best thing was the sense of nature on site with wild rabbits hopping about and I've never heard such a beautiful chorus of birdsong at dusk. All in all we felt we'd found a really special getaway and will definitely be back soon. Oh yes, and don't miss Phil's delicious organic bread if he's baking.
Basic camping
Very basic sanitary facilities, 2 toilets, clean. No hot water to wash or wash dishes, you have to boil the kettle. Electric shower, clean, but if you are over 5ft 6 you will not get your head under the shower head. The toilet block smelt damp. Charged £24 for electric hook up for motor home... Think that's too expensive for the facilities. Quiet field with only 2 others on, but still had to wait for a shower, so wouldn't  like to see it if more people there. Plots not marked out, most in heavy shade. Fire pits allowed but no sand/nearby water to put out if unmanaged.  The best thing about this site is the short walk to the Red Lion pub. Won't return, facilities far too basic for money asked.
Response from campsite owner:

Thank you for your feedback - we are glad that you found our small, back-to-basics campsite quiet, well situated and with clean facilities. The walk to the pub is wonderful as you say! Since we are a small site our pricing reflects space taken up and so large motorhomes/tents are classed as jumbo's at £20 per night. A small tent with no car is only £10 per night. A standard sized tent and car is £15. Electric hook up costs £4 per night. We feel this is fair on all our guests, especially since we charge the same price all year round and do not penalize families with school-age kids. With us, there are no hidden extra costs, just a fair and honest pricing structure. There is plenty of light onsite, as you can see from the photos, and as you say, we hire out fire pits, perfect for toasting marshmallows at night! Thank you again and best wishes, Katy & Phil 

Dogwood Cottage Camping
Lovely little site with very friendly, helpful owners. We stayed here during the summer holidays and despite being booked up it never felt too busy or full. The kids loved it and I'm sure we'll be back soon!
Dog wood cottage camping
Stayed here over the Easter break and had a fantastic time. Really lovely site. Very relaxed with hens roaming round the site. Great to be able to have fire pits. Owners are very helpful and friendly. Looking forward to next visit.!
Win a £100 Blacks Voucher!
If you've stayed at Dogwood Cottage Camping campsite, please take a minute to tell us about your experience. Every month, one lucky reviewer will be picked at random to win a £100 voucher, courtesy of our recommended retailer Blacks. Each review counts as one entry, so get writing!

Best Price Guarantee, with no fees
Instant booking confirmation
Trusted for 10 years
A chance to win camping goodies in our regular competitions!
Book campsites near Dogwood Cottage Camping