Hale Farm
Hale Farm, Hale Green, Chiddingly, East Sussex BN8 6HQ








A family-run, working farm in East Sussex offering spacious, traditional camping with no set pitches
It's a storybook image: the farmer walking the yard, bucket in hand, tailed by a pair of chattering geese. At Hale Farm in East Sussex this scene has been given a curious twist. Ruth rises early, and heads out to feed the animals one by one – the gorgeous Sandy and Black pigs, Tilly the friendly pony and a couple of playful donkeys – but instead of geese, she's tailed by chattering children, a herd that's usually five or six strong. The picture seems to sum up this family-run site; Famous Five-esque in its attitude to camping. If you thought the days of back-to-basics, pitch where you like sites were over, then think again.
Perfectly pinned between the South Downs National Park and Kent's High Weald, this 56-acre working farm offers camping as it used to be in a large, open meadow, where thin threads of campfire smoke drift lazily into the sky. There's a standing tap for water, showers, toilets and a couple of washing up sinks but otherwise don't expect to find a playground or onsite WiFi. That's not really what they're all about.
The meadow itself is surrounded by mature hedges and trees, with grass levels managed throughout the year by a flock of Ryeland sheep who shift to a neighbouring field during the summer. Space is certainly not an issue. The farm's self-imposed limit of around 20 pitches keeps numbers down, while the tents-only rule gives the place a thoroughly traditional feel. Kids roam, safe from roads and vehicles, and adults convene around their evening BBQ (you can buy the farm's own sausages on site).
Luxury lovers can find one exception to the basic-camping rule, a refurbished shepherd's hut of the kind often found on the Sussex hills during the 19th century. Inside, it features a full-size double bed and a fitted kitchenette, plus a toasty log burner that warms its wooden interior into a couples' cocoon of loveliness. It has a real air of romance about it and offers homely comforts to those leaving the tent at home, yet still has enough history and tradition to feel apt on such a rustic campsite.
Aside from losing the kids to the farmyard – prepare yourself for days of hearing their favourite animal stories – there is plenty nearby to keep you busy. A footpath alongside the site connects you quickly to The Weald Way, a scenic long distance route that leads you further through the Cuckmere valley, or you can walk the 10 minutes into the local village of Chiddingly. Simply head for the pointy church spire and the village eventually comes into view, blessed with a convenient local shop and an even more convenient pair of pubs. Re-hydrate in the beer garden and ponder the wonders of Persil. If the kids don't end their weekend here covered in grass stains then they're doing something wrong!
Gallery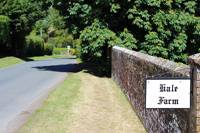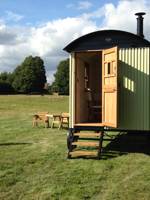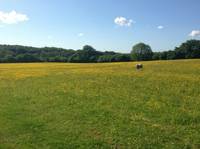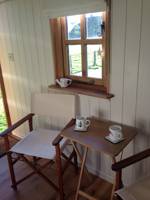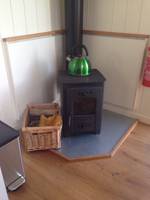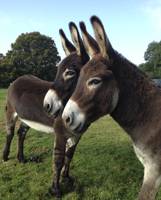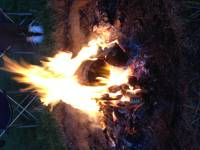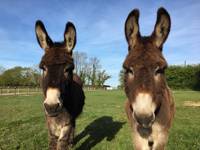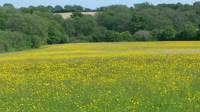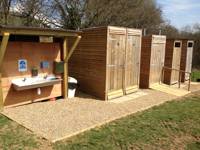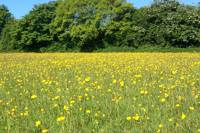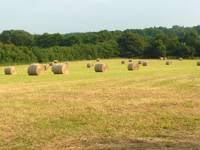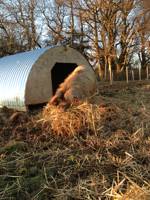 The Owner Says
Hale Farm is a working, family run farm situated in 56 acres of peaceful, rural Sussex countryside. We offer spacious camping in a beautiful location and the opportunity to meet our farm residents. If you would like to camp in an open field, under the stars, with a small campfire outside your tent, where you can sit and watch the night sky on a clear night, then this is the camping site for you.
Win a £100 Blacks Voucher!
If you've stayed at Hale Farm campsite, please take a minute to tell us about your experience. Every month, one lucky reviewer will be picked at random to win a £100 voucher, courtesy of our recommended retailer Blacks. Each review counts as one entry, so get writing!

Reviews
Add Your Review
Wonderful Family Campsite
Brilliant campsite based around a single large field. big enough to have great facilities and other kids to meet but small and private enough so you didnt feel overwhelmed by hordes of people. Long may this last. I counted about 30 pitches in our field which was just right Designated firepits and great showers and toilet facilities. Some of the best we've experienced for a campsite of this size. MY daughter loved the animals and great to be able to buy bacon and eggs on site. Really helpful owner and 2 pubs within walking distance. We will be back , loved it.
Perfect, unspoilt campsite
A single beautiful large meadow with nicely built composting loos and showers. Unpretentious and unspoilt with kids running about doing kid stuff. There was loads of room and it's great that the owners recognise that just cramming as many people as possible into a field is not the way to make your site special. The countryside around the site is stunning and it's an easy walk along a footpath in either direction to a choice of 2 pubs! Scott the owner was great when I realised that I'd buggered up the booking and let us stay on for another night. Cheers!
Fab all round
Stayed here with our toddler and some friends - great location - an easy but scenic walk two lovely pubs, lovely clean facilities and plenty of space for the toddlers to play, and everything very relaxed and easy. We especially loved the farm and meeting all the animals. Great campfire breakfast of the farm's own eggs, sausages and bacon 😊
Family bliss
We stayed here over the scorching hot early May Bank Holiday weekend, together with another family. What a really lovely place Scott and Ruth have created! The field is huge, they keep the tent numbers very limited, so it's wonderfully spaced out. All the kids had a fab time, making friends with all the other children around the site, and the adults made some new friends too. All thanks to the very relaxed vibes. The facilities are also first rate, cleaned often. We agreed this is our favourite campsite we've stayed at and the first we are likely to return to. Very highly recommended for families.
What more could you want!
What more could you want! We just had a fabulous weekend. A group of us pitched around a fire pit for the night and had a fantastic evening in this wonderful spot. It was a bit chilly in the evening so having a camp fire was most welcome! It's great to have the freedom to spread out and be far enough away from other campers to be able to relax and not worry too much about disturbing others with the loud laughs of some members of our group. That's what I hope any way! When you're there listening to the sheep and birds (yes we did hear an owl) without a building in site, it's very hard to believe you're only half an hour from the city and it was a great escape from hectic life. It's another World. You can't fault the facilities and we thoroughly enjoyed a big fry up in the morning consisting of the eggs, bacon and sausages from the farm. Oh, and did I mention the local pub? The Six Bells is a 10 minute walk away across the fields and it's a proper pub, full of locals, great beer and has bands on every weekend. And lastly the walking. Not that we did much walking this weekend, but there's great walking in the area too. At the moment the bluebell woods are amazing. Will definitely be back! Thanks!
Perfect birthday getaway
Last summer I asked my son, then 8, if he wanted a party or to go camping for his birthday, he chose camping! Together we trawled the net for the ideal site for an almost 9 year old, his younger sister and a his friend. We found Hale Farm and we were all very glad we did. So much space for children to run wild and be safe, more than adequate facilities ( we all got the hang of the composting toilets), the visits to the animals each morning including Tilly ( my daughters namesake) and beautiful countryside and coast within a short drive. Couldn't have asked for more but we got it in the lovely welcome and log delivery every evening. " The best birthday ever"
Weather and more
You can't pick the weather but we were truly spoilt for three nights in April. On two of the mornings my children went to see the animals to find newly born piglets and lambs. The owners are very welcoming and kind. The facilities are immaculate with warm water in the sinks and showers. Hale Farm is in an idyllic location, has a laid back atmosphere, with really easy access to the Downs and beaches. There's a community shop nearby in the village in the home of Lee Miller. It was really lovely. Highly recommended.
Perfect Idyllic Camping
We stayed for three nights at this lovely little campsite, a party of 2 adults and 3 children. You can pitch anywhere in the field and each plot has it's own fire pit. This is rural and natural camping at it's best. Composting toilets that were cleaned regularly (good job as it was busy when we went!) and gas fired showers. I only have one minor criticism which is I think they could do with at least one more washing up sink, there's only 1 available which means there were queues to use it at peak times. You can feed the chickens and pigs on the farm each morning 8.30 - 9.30 and bags of feed are 20p. You can also buy eggs, bacon and sausages on site. The local village of Chiddingly has some lovely walks around it and a great country pub, The Six Bells. We also went to Pevensey and Eastbourne for a day out which is easily accessible by car. Absolutely lovely site, very pleasant owners - book it!
Amazing site
We left Hale Farm yesterday and we miss it already. A great clean site and the added bonus of visiting the farm and feeding the animals. You can choose your pitch and you have a fire pit. You can borrow bricks to use for cooking on the fire. They visit you early evening for you to buy logs and fire starater packs. Local village shop is well stocked and the sausages were delicious! Great local produce. Very friendly people too! Two pubs nearby too and local pathways to cut the walking time down by half! Great location with activities and attractions nearby. We are planning on returning at our earliest time. Highly recommend this site to beginners or professional campers.
Lovely peaceful site
Spent a lovely night in this huge grassy meadow with 2 young boys this weekend. There is plenty of space for the children to play (and pitches are miles apart) and spotlessly clean composting toilets and washing up facilities. All the pitches have fire pits and fire packs are available to buy on the 5pm rounds along with sausages and free range eggs.  The farm is on the Weald Way and a river and bluebell-filled woods are within easy amble.  In the morning the farm is open to go and see the animals and bags of feed are for sale (20p) to feed the chickens and pigs.  They also have sheep, donkeys and goats.  It's a peaceful and friendly place to spend some time, I'm sure we will be back for another weekend soon.
Best Price Guarantee, with no fees
Instant booking confirmation
Trusted for 10 years
A chance to win camping goodies in our regular competitions!
Book campsites near Hale Farm