Pop-Up at Brighton (Wombell Campsite)
Bevendean Farm, Warren Avenue, Brighton, East Sussex BN2 6AF






Talk about location... tucked away in the heart of the glorious South Downs, yet only 5 minutes from bustling, cosmopolitan Brighton – perfect!
There's accommodation to suit all tastes at The Bell Tent Company. Love a good view? The surrounding slopes of the South Downs tick that box. Fancy a spot of luxury? Fully furnished, pre-constructed tents offer hassle-free glamping. Or, are you a more traditional camper? Then pack that trusty canvas and find yourself a secluded little corner. Comprising generously-sized bell tents, impressive facilities and spectacular Sussex views, this sprawling site in the heart of the South Downs casts a calming spell upon all who visit. 
However you decide to stay here, you'll be well looked after. The British-made 'B&B' tents are popular with large groups (weddings are especially well-catered for here) and offer cosy accommodation and freshly-cooked breakfast brought to your canvas abode every morning. 'The Hotel Package' provides that extra level of comfort with luxury bedding, low-level lighting, sheep skin rugs, mirrors, and private canvas porches (with bamboo lighting) that allows guests to enjoy that delectable breakfast in the great outdoors; somehow all that fresh, local produce tastes even better in the crisp Sussex air. 
One of the site's main draws has to be its close proximity to Brighton, making it an ideal party base for hen/stag/Gay Pride revellers. And, as the uninitiated will soon discover, Brighton doesn't do boring. There's always something unexpected to discover; be it a bargain from a bohemian flea market in the North Laine's, stumbling across a truly oddball museum (the Booth Museum of Natural History springs to mind), or watching a skateboarding Yorkshire Terrier on Brighton Pier whilst devouring your 99 ice-cream (sauce and sprinkles optional – unlike the town itself). The secret of Brighton is to stroll leisurely, keep your eyes peeled and take in the cool, carefree seaside atmosphere.
Everything about The Bell Tent Company is professional, well-maintained and organised. From the spotlessly clean ablutionary facilities to the mirrors, sheepskin rugs and ambient lighting that makes your luxury tent feel like a home away from home. The prices do reflect the love and attention that goes into making such a special site, but when you consider the idyllic location, the party vibe, and awake to the picture-perfect view of the South Downs, the cost seems totally justified.
Gallery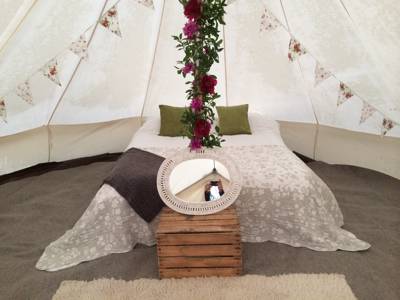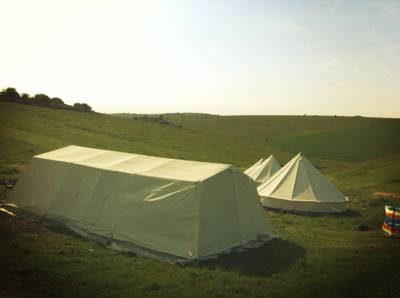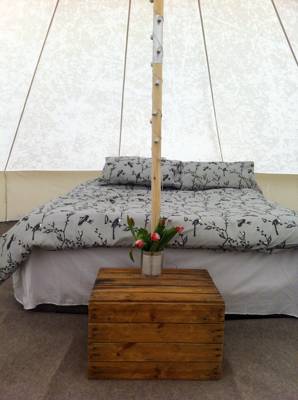 Reviews
Sign up or sign in to leave your review of Pop-Up at Brighton (Wombell Campsite)
Mixed and overpriced
Recently spent a 20 years since uni  reunion  weekend there - 4 families , with 3 having travelled in from overseas. Idea was for a luxury camping experience in lovely spot, made easy by having catering on-site and Brighton nearby.
Positives: lovely location near Brighton, good tents, comfortable beds, quad bike to take luggage to your tent, views
Negatives: campsite facilities definitely more camping than glamping (loo block dirty on arrival), friends found that there tents were dirty although ours was ok, and the 'feel ' of it is not as luxurious by any means as the website gives the impression that it will be
Challenges: a lot of slugs everywhere ,  the outside catering mentioned on the website was not available when we were there (part of the reason we chose the site and phoned up 3 weeks before to book food) so had to do last minute catering, planning , had been promised some help in circumstances (provision of kettle, gas stove, water ) but that was forgotten on arrival. Staff friendly in planning and arrival but when we explained our disappointments with facilities and service they were very unaccommodating.   

Response from campsite owner:

Suzanne we just want to address your points.

1/ We don't advertise or sell our campsite as "luxurious or Glamping"

2/ You arrived at 10.30 pm on Friday evening 2.5 hrs over the checkin time and then complained because the WC block floor was dirty with mud from the farm.

3/ If you find slugs a challenge then camping may not be your cup of tea.

4/ You were informed at the time of booking (march) that the catering was out sourced and you needed to contact them direct, sadly you then waited 3 months and contacted the cater 3 weeks before your arrival and were to late to be added. The office found many different catering options to help, the warden even ran your food down on the quad bike both days we went to the effort of giving person camping equipment for your group to use for the weekend free of charge. The equipment promised was provided but due to your late checkin time you over looked asking for it on arrival and then blamed the warden? Suzanne you then refused to pay your outstanding balance after being on the campsite for over 24hrs unless we knocked 10% of for all the inconvenience you had received. Your husband made it really clear that if we didn't offer some financial renumeration he would voice his dissatisfaction through social media. And here we are. Campsites and businesses in general are encouraged to give money back to avoid negative reviews even if the products/services meet the advertised standard but do not match up to the customers expectations, we all agree that standards should be upheld and companies need to be held accountable for mistakes or falling standards but that is not what happened here.

Bloody marvellous
Was organising a stag do and decided this was the perfect place for us. I wasn't wrong. We got spacious tents, comfy beds and a communal teepee all for a pretty reasonable price. The campsite was perfect for us as we were separated from the rest of the guests so were able to make a fair bit of noise into the night without anyone complaining. Not only this but Tiz was incredibly patient with me and even gave me some help planning activities in Brighton. Couldn't recommend this place enough! Beautiful setting and close enough to walk (about an hour) or get a taxi into brighton. 
great location, bad business
My boyfriend and I visited Pop-up Campsite over the august bank holiday weekend. Its a fantastic location for a weekend in Brighton. Cabs and buses are easy to come by, scenery is lovely, the site staff (Ellie) are very friendly and helpful. There were hot showers and enough peace and quiet. 
On the flip side, the 'pamper table' advertised on the website is non-existent, the tents are at the bottom of a very big hill (so could be tricky for elderly, disabled etc). I paid to hire an empty bell tent, which unlike the others on the site, was the only one that was not on a wooden plinth. These things aren't massive though - it's camping after all!
We had a great time, but on returning found we were overcharged. Charged extra for a fire pit we didn't use, charged 50% extra for the hire of a bell tent for the weekend (the additional cost of hiring the tent for the bank holiday was not advised to us in person OR on their website at ANY point) and then charged an extra £16.50 for no reason whatsoever, just an error apparently. Making the cost of a 3 day weekend almost £200. Pretty pricey. 
The staff at the site themselves are nice, but the general management of the company is pretty bad. You can't take money from peoples account without quantifying the services they are using OR asking them/advising them of the amount first. Its borderline illegal. 
I know it's a campsite, not a 5* hotel but I think a lot more care needs to be taken to ensure costs on the website are accurate, customers are given correct information and money isn't taken from customers for nothing. Pretty basic business (manners), really.

Comment from campsite owner:
Lauren was advised on arrival of an outstanding balance of £75 to pay, they gave there bank details in good faith saying they would square up at the end of the stay, and that they were happy to pay by card. If they had checked out, they would have been reminded again of there outstanding balance and that of the wood and fire pit was now also outstanding. Several days later Lauren contacted the office, she described the stay as lovely and amazing value for money as had other campers who were also been in the empty bell tents But that she didn't understand the extra £25 fee for the bell tent we explained that the £50 fee is for two nights only and the warden did explain this on arrival they had an extra £25 to pay for the extra day. Lauren said that she would have been happy to have paid but felt ill-informed of the charges, and that it was the principal of the matter? As the conversation continued and it was clearly pointed out that if they don't get financial recompence they would be writing scathing reviews about the campsite, frankly their is nothing businesses can do. Its a legal form of blackmail, so we hope that people draw their own conclusions over the story and take this for what it is......... Thank you
2.5 Stars
Great location for a city/country break. Excellent links to Brighton centre - only 20 mins on a very regular bus (£2.40 each way)that runs fairly late into the evenings. However the actual camp site is sprawling fields where beautiful sunsets can be watched. Unfortunately we spent most of Saturday afternoon listening to the warden zip up and down the site on her quad bike so I can't claim this site was 'peaceful'. 
One thing letting this camp site down is the toilet/shower facilities. The owners state there are 'spotlessly clean ablutionary facilities' which is a long way from the truth. The facilities could do with much more attention to keep the smell of wee away and as for the showers - a couple more would be handy. There was a long wait in the morning and into the early afternoon.  We really appreciated the power outlet though, and being able to use a hair dryer! (we took our own).
Another space for improvement would be the washing up facilities - hot water would be much appreciated in addition to proper plumbing to the sink - the current pipe and mop bucket that has been improvised to take waste water away from the sink is a bit of a shambles. Don't wear flip flops in this area as you may find bits of someone's old lunch on you feet! 
We were camping in a bell tent that we own so can't comment on those provided at the site but they looked nice and well taken care of. 
All in all we enjoyed our stay. Great if you are wanting to visit Brighton but not end up in a busy hotel. Probably wouldn't stay again though. 
First camping trip
A fantastic place with stunning views and very helpful staff. Was a great base close to Brighton and surrounding areas. We chose to pitch our own tent but next time we go we will be testing a bell tent as they looked amazing. Can't wait to come again. Many thanks 
Best Price Guarantee, with no fees
Instant booking confirmation
Trusted for 10 years
Chance to win camping goodies in our regular competitions!
Dean
We reccomend highly.Recently stayed here on this sight really close to Brighton beach, over the weekend, It rained 60% of the time, but still had a really comfortable stay! Really friendly and helpful owners, your own BBQ with wood and coal and kindle delivered to your site!Cool outdoor shower , big ablution block with Indoor shower and two clean compost loos with solar lights. Decided to move from our own tents to a Bell tent,bush craft was also pretty cool! it was well worth it! Doing it again but this time keen to try their other site DEFINITELY! thanks you guys!! 
Dean and Elyse..:)
Great hen do location!
Stayed at this unique campsite for a hen do this weekend. Beautiful bell tents, all decked out with comfy air beds and bedding. The 'party teepee' was definitely worth booking, giving us somewhere to eat and drink in the evening whilst keeping warm by the fire. The location is perfect for getting in to Brighton for a night out, with the benefit of feeling like you're in the middle of nowhere. Tiz and Steve extremely helpful and friendly. Would definitely recommend for a weekend away with mates or for a hen do with a twist! Thank you!
Great place to stay for a weekend in Brighton
The location was the draw for this beautiful campsite. It's a brilliant spot if you're visiting Brighton for the weekend because it's so close to the centre of town but once you're on the campsite, it feels like you're in the middle of blissful nowhere.
We found Jules & Tiz really helpful, bringing us kindling and fire lighter fluid for our fire pit when we arrived.

We hired one of the empty bell tents for the weekend. I would recommend if anyone does this they bring a few big rugs to make the floor more comfortable, the furnished bell tents come with a carpet but the unfurnished the floor is tarpaulin, so pack a few soft rugs if you're hiring an empty one. The bell tents are brilliantly roomy, light and face out onto the beautiful south downs.

We were staying in Brighton for a wedding so I can't say how much I appreciated having the plug sockets, hot showers and pamper station on the campsite. We scrubbed up as well as the wedding guests staying in hotels!

When I got back home I realised I had left a very precious piece of jewellery somewhere in the tent, Jules found it and sent it back to me in the post so I'm so thankful for her help.
Thanks for a great stay, we'll be back again! 


L & P

Fantastic location, beautiful setting, excellent host
Just returned from a wonderful stay at this site. We formed a large mixed group of self pitchers with young children/infants. Our stay could not have been better: we were hosted by the incredibly warm and helpful Tiz who even assisted my husband and I set up an errant awning. 
The views from the site are incredible considering Brighton is literally minutes away by car - the location is perfect. It's possible to take a bus (or even walk) into Brighton but we opted either to drive or take taxis.
The facilities are as described: there are two quirky composting toilets and a gas powered shower in the field - on top of that there is an extra porta loo block with flush toilets and shower. There were no complaints regarding the facilities - we all managed lovely hot showers!
There are no negatives to this site - I shall certainly make an effort to return and wouldn't consider staying in a Brighton hotel over this!
What a great find
I can't praise this campsite and the owners enough.  It is a small place, and really friendly. I needed somewhere in Brighton for 6 teenaged girls and myself to stay for the McBusted concert on the May bank holiday. Firstly we were allowed to book just one night!!! Which was fab, secondly it was just 15 mins drive to the centre. I have never stayed in a better located campsite, with amazing views yet close to a great city
When we arrived, it had been raining heavily, the owner was insisted on taking our trailer to a pitch as she didn't want me to have issues with the car in the grassy wet field.  During the whole time we were there she was really friendly, making sure we had everything, checking up on us and made sure we had extra kindling/paper for the fire pit. 

The facilities for those with their own tents are 2 compost loos and a gas powered shower (can't comment on the shower as didn't use it) plus a large trough/sink for water/washing up.  I like compost loos and these had added extra with solar powered lights and little led lanterns for night visits.  Fabulous! The other loo block and shower was a little further away, but had a nice vanity table and power points and sweets!!!!
We will definitely be back this summer as its a great excuse to visit Brighton again. 
Great base for Brighton
You can't pitch up any closer to Brighton unless you kip under the pier! The location is excellent as it feels like its in the middle of nowhere but with all the convenience of a city  can catch a cab ,order a takeout or have a lush breakfast..plus a super comfy bed. Lovely owners who were very  accommodating in meeting our needs and having your own fire pit (with wood delivered) really makes it a great outdoor experience.we will be down again soon.
Mature Campers
Fantastic stay, peaceful site in gorgeous surroundings, the perfect site for us. Not sure which w/end the other review was for but certainly not this one, we were welcomed as if we had been before and we're old friends. Have stopped at many campsites and can honestly say this was one of the best for us. A night in Brighton, waking to bird song, breakfast cooked for us, then off to Portsmouth to catch the ferry to Spain. Definitely worth 10/10.

Wombell campsite
Just spent a weekend at this campsite and converted my reluctant partner to the joys of camping. We pitched up on the ridge with a stunning view of the south downs and then had a hot shower in the funky wooden shower cabin, did hair and make-up at the pamper table in the portacabin and headed off into town. We took the bus in which was really easy and took about 20minutes and got a taxi back. In the morning we had our breakfast delivered to our tent which was just lovely and then head off  by foot from the farm onto the south downs and had a fantastic walk to Rottingdean on the coast for a bit of sunbathing and ice-cream. We decided to 'stay in' the second night and just chill by the fire.
 This is a great site in a great area - so near Brighton with good shops and restaurants/bars etc and the pier and beachfront but also lots of lovely countryside to stroll about in. Tiz was really welcoming and helpful - provided us with a pump to blow up our bed, had torches and matches which we had forgotten to bring. We liked the fact it was a working farm and not some heritage theme park. My partner now wants to check out the Adur site -result! Thanks guys.
Michelle and Kit
Very Basic Campsite
We pitched our own tent for a long weekend. We found the facilities very basic. We did not have a pitch of our own we were told to just find a space in the field. The toilet facilities were very basic, a couple of portaloos in the field and a small portable toilet block with one shower. The  site advises a taxi service price of around £5.50, we used taxis a lot over the weekend and the fares ranged from £15-£22 throughout the day. Unfortunately we did not think the advert gave a realistic view of the site. Despite this the weather was good and we had a lovely time in Brighton town. There is also a considerable off-road 4x4 presence at the site, which are very loud.
Response from campsite owner:
Thanks for your comments. It's always sad when reality doesn't match the dream/hope of what someone expects. However your review is a little inaccurate. The eco-friendly facilities are really very good. We have brand new, Quirky hut compost toilets and matching hot shower huts that give views of the South Downs National Park. As you can see from the images in our gallery, they really blend in with the surrounding environment, unlike unsightly portaloos or big wash blocks. 
True – we don't offer pitch numbers or allocation as we were going to see how the pitches are naturally formed. Feedback overwhelmingly tells us campers prefer this relaxed, informal approach.    
As for the cabs, we do stress that these must be met at the entrance (some campers seem to expect the taxi to drive right into the field!). Unfortunately, sometimes cars are being left waiting with the meter running. We have caught taxis into town on many occasions and the guide price we quote is always spot on. 
During the weekend in question (only our second of opening camping pitches to the public), there was just one off-road vehicle onsite (hardly 'considerable') that had to pull two campers out of an adjacent field after they were clearly instructed that it was too muddy to drive on. 
Amazing campsite
This is an amazing campsite, we spent equal amounts of time on the site chilling as in Brighton town. We were really tempted to not write a review, so we could keep it to ourselves.  The whole experience was hassle free, arrive at reception, the bell hop carried our bags to the tent. The fire pit was blazing, the cater had delivered our BBQ hamper down to the chill out teepee and we then opened the bottles!! Thank god for the breakfast being delivered to the tent, it left us all free to get into Brighton and start the shopping. Brighton is gorgeous, i really can't recommend this site enough.
The toilets are clean and warm, the pamper table and power points a touch of genius.
We have already booked ourselves and 4 other families in for summer 2014