Wimbles Farm
Wimbles, Foords Lane, Vines Cross, Heathfield, East Sussex TN21 9HA














Love wild camping? This self-sustained campsite in the heart of rural Sussex is as close to wild camping as you get, but with (very) basic ablution facilities to ease you through the experience.
If you fancy the freedom of wild camping but the thought of no shower or toilet for a few days makes your blood run cold, then you may find yourself in a camping quandary. However, here at Cool Camping we think we've found the solution in the form of the wonderfully secluded Wimbles Farm. With room for only five or six pitches, this self-sustained campsite in the heart of rural Sussex is as close to wild camping as you get, but with basic ablution facilities to ease you through the experience.
The family-run Wimbles Farm feels incredibly rural. Nestled by a meandering stream in a secluded flower meadow are two well maintained pitching areas, each with their own fire-pit, compost toilet and access to a shower tent. As mentioned, there's only room for half a dozen or so tents, so there's no danger of feeling crammed in here. As well as farming and camping, a recently renovated shepherds hut can be found in a quite corner of the field, and comes kitted-out with a double bed, pillows, furniture and rugs.
As for things to see and do, you can start right on the farm. Coarse fishing is available from the site's private, spring-fed lake where campers can enjoy peaceful days amongst the ancient natural woodland. Bike hire and guided cycling tours are also available – perhaps the the perfect way to explore the many secrets of East Sussex. Qualified tour leader Mark tailors outings to your particular interests, with the South Downs National Park and Pevensey Levels (exploring its ancient dykes and castles) proving to be fabulous days out.
Wimbles Farm isn't so much a campsite, but more a place to camp. If you're squeamish about compost toilets (we did say basic!), or loathe the idea of unzipping your tent at first light to find yourself face-to-face with a nosey donkey, then best you look elsewhere. Wimbles Farm is all about reacquainting yourself with the great outdoors and blending in with the local surroundings, which just so happens to be a playground of stunning natural beauty.
Gallery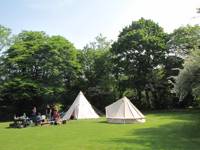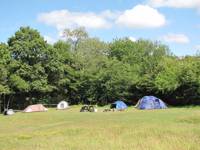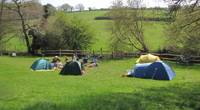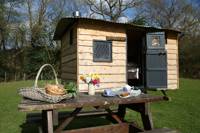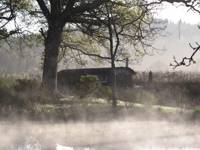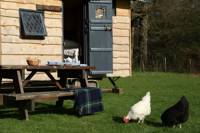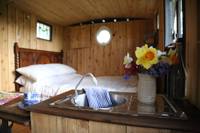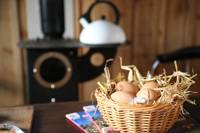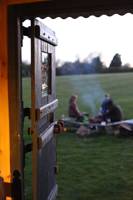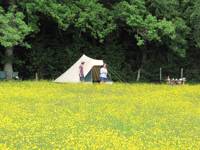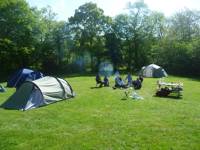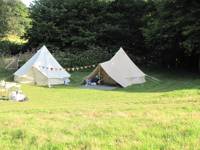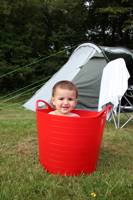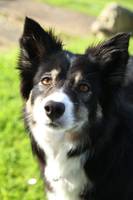 The Owner Says
Our small, secluded, quiet campsite offers groups of families or friends the opportunity for secluded camping on huge pitches without neighbours! Set in the beautiful Sussex High Weald AONB each mown pitch has its own eco toilets and showers, Pic-nic table, firepit, cooking grid and water heating pan, so we're not quite wild camping, and a lot different from most sites. If you want to be camping with lots of other campers about, then we are not the place for your group.
Reviews
Sign up or sign in to leave your review of Wimbles Farm
Great time !!!!
We went camping for the first time and it was amazing. We were three families with kids, the weather was lovely and the kids had so much fun, we all loved spending time there. We will definitely go back again. XXX
Wimbles Farm Campsite
This campsite was placed in a beautiful setting, the pitches are well spaced out so it feels very private and there is no noise from others. Mark was kind enough to lend us his map and we went on a lovely walk in the stunning surrounding countryside. There is a lovely pub nearby called the Star Inn which serves excellent food. The campsite charges £15 per night for fire wood which we thought was quite expensive. We struggled to get the fire going and went looking around the campsite for small branches that we could use as kindling, however we were told by a lady (who we assumed was the owner) quite rudely that we had taken some wood and we were not allowed to do that without permission and were told to put it back. We thought this could have been handled in a better way. We would have liked to have had the opportunity to have a shower on site, however our pitch did have its own toilet which was a bonus.
A wonderful spot
We stayed in the old Shepherd's Hut at Wimbles in early April 2017 and can report it lived up to all expectations: peace and quiet, comfortable and well equipped, wildlife abounding, family friendly and a genial host! My two young daughters had a whale of a time and the owner, Mark, was an engaging and personable presence whenever required. The comments in the guestbook in the Hut suggested we were not alone in our appreciation of the site and it's host. The children absolutely loved helping out with the daily routine of the animals at the farm. The Hut was comfortable, lovingly decorated and well equipped for a short stay. Mark provided all the basics we needed for our visit. The whole experience was wonderful and the site itself is located in a lovely part of the world in beautiful rolling countryside. I couldn't fault the site. Thank you
Beautiful,relaxing camping trip.
My husband and I stayed at Wimbles Farm for 3 nights in July 2016. We are not experienced campers, so wanted a few conveniences like our own toilet, access to a shower, and firepit/wood provided! The campsite itself was really beautiful, all of the pitches in the buttercup field were very secluded and there was no noise even though all 3 pitches were occupied. The private compost toilet was fantastic, there was no odour even in the 30 degree heat, and the outside solar shower was a real treat! We rented bikes from Mark and cycled on the Cuckoo trail to Eastbourne one afternoon, which was a really nice experience. He was very helpful and friendly, and we felt Wimbles provided the best of both worlds - a secluded, relaxing camping experience with help on hand if it was needed. We will definitely be returning to Wimbles, we enjoyed it so much. Thank you!
Birthday weekend
I have just returned home from a fantastic weekend at Wimbles Farm celebrating my 30th with friends. We arrived at the farm and were greeted by Mark the owner, who was extremely friendly and welcoming. He showed us around and made us feel very at home. 
The large plot that we stayed in was perfect for our larger party and was situated in its own area of the field away from others, which made it all the more perfect for our stay. 
The surrounding area was beautiful and peaceful and at the same time allowed us to have fun and games being a larger party. Mark recommended a great pub and was very informative and helpful, bringing us new wood for our fire pit and creating pleasant facilities for our stay. 
I would highly recommend this campsite to others and I will most certainly be returning in the future. 
Best Price Guarantee, with no fees
Instant booking confirmation
Trusted for 10 years
Chance to win camping goodies in our regular competitions!
A beautiful first trip of the season
We arrived pretty late in the day at Wimbles farm and were greeted by Mark the owner who could not have been nicer. He showed us to our pitch which could not have been more idyllic, almost completely private, big fire pit., a pretty stream for us to paddle in and cool off too!
I really cannot fault anything about the site, the facilities are basic - but thats never bothers us, there didnt seem to be a shower anywhere but we were only staying one night s it didnt matter.
The only down side to this lovely site it the price. We love to have a campfire, and only camp in site that allow one, so when we were told it was £15 for the fire wood we were a bit shocked. Luckily we had bought our own. However we were told that if we wanted the fire that was the price, bumping our stay upto £45 for the night!!! We did pay it as it was our first camp of the season and could not face not having a fire, but if we had to pay £15 a night for fire wood for two or three days it would be an expensixe stay!!
Beautiful, fantastic setting, lovely people who run it, Donkeys and pigs on site, and real find - as long as your happy to pay a bit more than usual!
My perfect campsite
I think when you have a campsite on here with very few (or no) reviews it means one of two things; either it's complete rubbish and people who've been there want to erase it from their memories, or it's completely amazing and they want to keep the secret to themselves lest it become too popular. Well it's with a heavy heart that I have to report that Wimbles Farm is most definitely the latter. There's no way I'd be sharing how good this place is if I'd not given Mark my solemn word that I'd write a review. Beautiful setting, wonderful welcome and really well thought out pitches. There's a huge amount of space but because they don't try to cram loads of people in, we felt like we had the place to ourselves (i.e. we couldn't see any other tents from our site). In the morning Mark came around with donkeys to say hello which the kids loved and then he took them off for a spot of fishing by the lake where they caught loads of fish (and let them all go of course) which is more than can be said of any time I've taken them fishing. A couple of good pubs within walking distance and literally nothing to dislike, what a lovely place - we'll be back for sure.