Glottenham Castle
Glottenham Farm, Bishops Lane, Robertsbridge, Sussex, TN33 0HP












Super stylish glamping & pop-up camping nestled in bluebell filled East Sussex woodland.
There's glamping, and then there's Glottenham. Sat atop a hill overlooking the High Weald Area of Outstanding Natural Beauty, this ancient 160 acre, family-run farm, was the one time home of English nobility. The original Glottenham Castle was built in the 13th century as the fortified manor house of one Robert de Etchingham. Throughout the ages, this enchanting place has served as a mecca for romantics, including the pre-Raphaelite poet Christina Rossetti who rhapsodised its "greenness and flowers to refresh our London eyes". While the aristocrats and artists may have long since gone, the elegantly wild beauty remains.
Nestled within the 20 acres of ancient hornbeam woodland, Glottenham's enterprising owners Emma and Rob have created four luxurious lodgings of staggering loveliness and ingenuity. In homage to its namesake, the secluded Rossetti yurt is pure Victorian eccentricity, bedecked with sunflowers, hand-embroidered quilts and oriental rugs, and housing a gorgeous double antique bed, hand-embroidered quilts. The de Glottyngham geodesic dome is a cosy-cocoon of shabby-chic, with merino-wool bedclothes and quirky scatter cushions. On a lush verdant hillside just outside the forest, the new Bodichon Yurt is decked out with vintage French linen and other cutesy features, in a pure shabby chic vintage style. The views over the wildflower meadow and the farm below are picture-postcard perfect. The lord of the manor here though is De Etchyngham. Occupying the woodland's most enviously secluded spot, this hi-spec, über luxurious dome boasts expansive views from the decking over 20 acres of barley and wildflowers – the perfect romantic retreat.
And what a truly breathtaking setting it is. In spring, the forest floor is painted with the dazzling purple of thousands of bluebells. The eagle-eyed (or should that be pig-nosed) among you might even spot some elusive, treasured truffles. It's hard to believe Glottenham has only been in existence for such a short time. So seamlessly do these woodland wonders blend into the Castle Shaw forest, it seems like they've been there forever.

While offering the utmost in eco-luxury for the glamping contingent, Emma and Rob are also pleased to open their stunning spot for traditional camping throughout August. Set across two 10 acre meadows, the Family Fields pop-up site boasts secluded pitches hidden between reeds, a wildlife-filled wetland area and a mysterious ancient 'mound' surrounded by nine mature oak trees overlooking the pond. Keeping things low-key, there are just six spots reserved for families wanting to pitch their own tents, with the wildflower meadows, paddling stream and woodland to explore.
New for the 2017 season, a handful of pre-erected Dutch De Waard Zilvermeeuw tents have been plotted up in the 'The Dairy', a secluded corner of the Glottenham grounds abuzz with birds and butterflies. Enclosed by a huge wild hedge beside a patch of woodland and a pretty natural pond, the pre erected units are pitched on grass ready for you to move your camping kit in. This secluded sanctum-within-a-sanctum is reserved for people who want a quiet, back to nature experience – meditation, reading, art or quiet natural pursuits are the pastimes du jour here.
In addition to the camping options, there are also a quartet of more simply furnished yurts featuring proper beds and futons for up to six guests, covered kitchenette, and, of course, that all important firepit. Though a more affordable alternative to Glottenham's premium, flagship furnished domes and yurts, these cosy abodes still posit guests within an equally enchanting location.
Right in the heart of 1066 country, you can feel the hand of history on your shoulder at Glottenham. The grounds are scarred with the signs of a this heritage – from ancient sunken Roman roads, to medieval ditches and banks, to the coppice clearings harking back to the hop-picking heyday of the 19th century (the cracking nearby pubs, one of the more intoxicating legacies).
Luxury aside, there's real substance to what Emma and Rob are doing at Glottenham. Woodland and conservation courses are taught through their forest school. All firewood and charcoal is home produced and sustainable. They're even in the process of creating a wetland area in revival of the farm's medieval fishing lakes, which also serves as the perfect view for their Summer-only 'Family Fields' Yurts and wild glamping site – another feather in the Glottenham cap. Their eco credentials are exemplary – so much so they've won funding through DEFRA for it's inspirational low impact design.
With big plans afoot and weekends booked up well in advance, if you haven't already booked your stay at Glottenham, you'd best get your skates on.
Gallery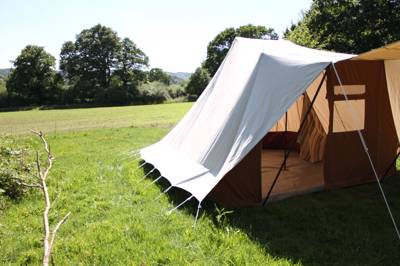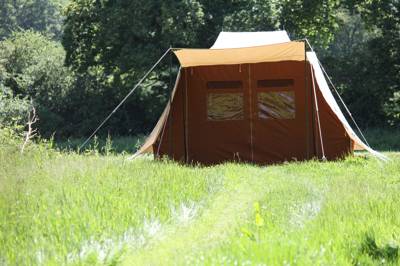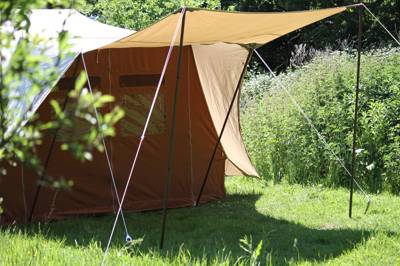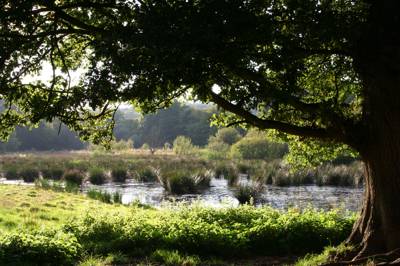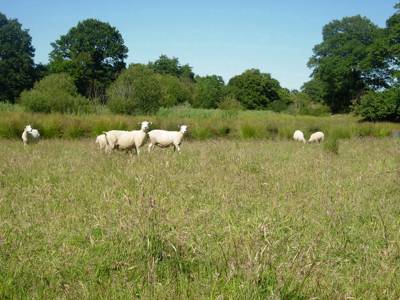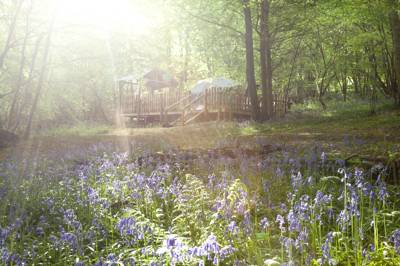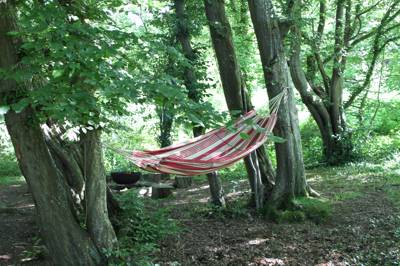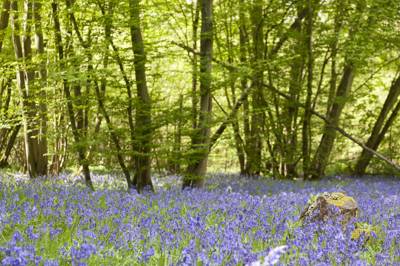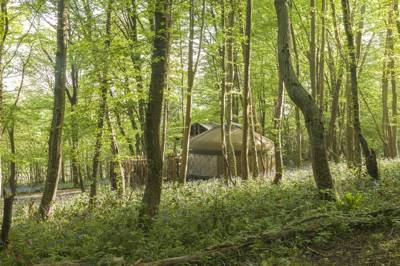 The Owner Says
Glottenham is a fabulous 160 acre family working farm set in the High Weald area of Outstanding Natural Beauty. It is a mixed farm, with around 20 acres of woodland, plus arable and grazing for sheep and Sussex beef cattle. Glottenham now offers eco-glamping in 4 units at the main site from Easter til October, plus a diverse selection of units in the Family Fields and choice secluded glades during August. The farm, on the outskirts of Robertsbridge, lies on a hill between two valleys, with streams on either side which feed into the River Rother. At the highest point is the site of Glottenham Castle, a scheduled monument. The castle itself was removed in the sixteenth century, but the moat and raised mound is still in evidence.
Reviews
Sign up or sign in to leave your review of Glottenham Castle
We loved it!
Two adults and four children. Plenty of sleeping space in the yurt. Huge outdoor area for the kids to explore. Long grass areas, short grass, woodland, stream. We all particularly liked the outdoor shower which was powerful and hot. Enjoyed sitting round the fire and cooking on the fire. (logs, kindling and charcoal available at a small cost). We found it a great base for beach and local historical sites. Battle really nice. We hope to return. Definitely recommended.
Very peaceful
Stayed for 3 nights in a yurt in the Family Field, where they also allow campers with their own tents. The yurt was great, plenty of room for 4 of us, and even with 6 there would have been ample space. The yurt comes with an covered eating/ cooking area, and a fire pit for campfires/ bbqs. The area you camp in comprises of 2 very large fields, with so much space for children to play and explore in a varied environment with a stream, pond and long grassy areas. The toilets are compost and there is an outdoor shower, but they are a lovely design, odourless and the showers hot, so very pleasant! There is so much space you can almost feel like you are the only people there, we felt very chilled out relaxing on an evening watching the sunset over our campfire with an uninterrupted view in front of us! If you do leave the tranquility of the site there is plenty to do in the area, with Bodiam and Battle close by, and the coast a little further.
Best Price Guarantee, with no fees
Instant booking confirmation
Trusted for 10 years
Chance to win camping goodies in our regular competitions!