Firle Camp
Firle Estate, Heighton St, East Sussex BN8 6NZ












Beautiful green countryside, all around.
The South Downs National Park is the UK's newest National Park, so it seems entirely fitting that a brand new campsite with a fresh approach has opened in one of its most beautiful areas. The owner, however is far from new to this game – it's James from much-loved Sussex site Kitts Cottage Campsite. Firle is his latest venture, blazing a trial with a pop-up campsite concept in 2012, open just for popular summer weekends. Proper service commenced here in 2013 with a modest shower block replacing the portable loos, but don't expect huge changes as the beauty of this site is in its back-to-basics simplicity. Two flat hedge-edged fields are hidden behind an 18th Century stone barn; other than the pillar box shower huts, that's it, there's not much else to say. Except, look around – immediately beyond the hedges are the rolling South Downs, tempting you to leave your tent and walk straight off into this Area of Outstanding Natural Beauty (and there's a cracking country pub nearby to reward those that do). There are no marked pitches, but expect James to cluster families and non-families in separate groupings, each around the essential firepit, of course.
Gallery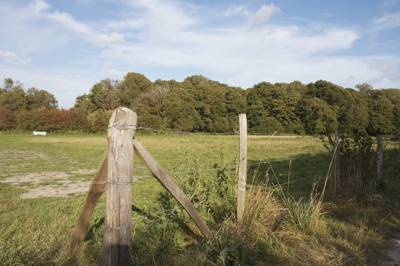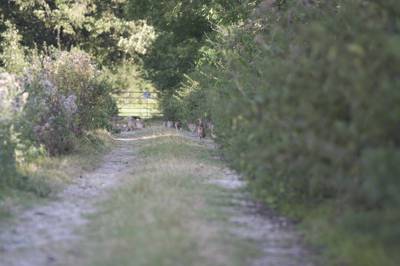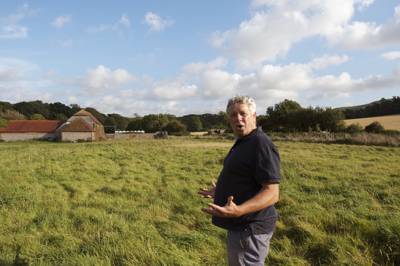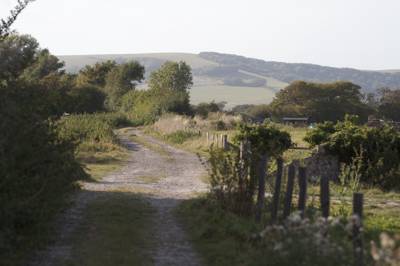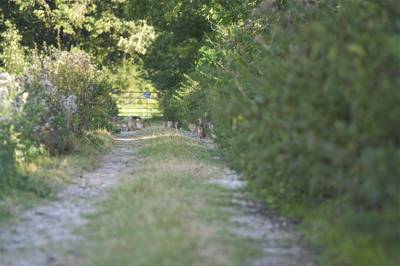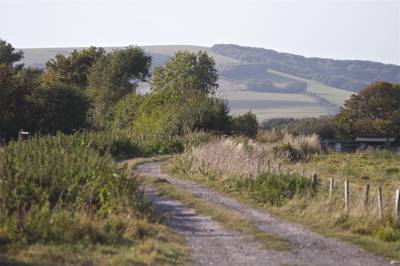 Reviews
Sign up or sign in to leave your review of Firle Camp
Overpriced and neglected
The site is spacious and beautiful, our group would've really enjoyed the place had we been prepared for the neglect and all round lack. Before you book, please be aware... - There are 8 portaloos for in excess of 100 people (at night, torches not needed: just follow your nose!) - The portaloos ran out of toilet roll and hand soap - There are no separate hand-wash facilities - There are 4 sinks for all types of washing and no hot water (at £40 a night for a family of 4 this is a shocker) - The 'back to nature with a modern twist' showers comprises 2 sheds, each with a floor that grew its own ecosystem, each with defective gas heating systems (1 ran luke warm, the other scalding hot) - There were only 2 showers for over 100 people. People in the queue bonded over hearing the shrieks from those in the showers being either scalded or frozen - There is a unique clause in the small print that means you have to cancel 30 days prior to camping, or your group has to pay for your full cost (as well as you losing your deposit) - If you attempt to ask the owner James any questions or raise any issues then you are likely to be ranted at and threatened. EG- 1 of our group called to ask if he could turn up for a night early, was told it was a stupid question, and ended up being hung up on - There is what appears to be an ancient uncovered well hidden in the roots of a tree in the wooden edge of the field. Sounds fascinating and romantic but perhaps needs flagging up before it entraps any unsuspecting campers - Despite charging high end prices, you have to take your own rubbish and recycling away Had the website been honest about the lack of facilities and safety of the site, and the owner charging accordingly, our group of experienced campers would've been very happy with the site. Felt very sorry for the extremely helpful site staff, apologetically and proactively fielding complaints.
A Real Gem
A great base for discovering the South Downs by bike.  Surrounded by idyllic countryside and quaint villages with fantastic pubs, there was lots to do.  Owain was always available for help and advice and really made us feel welcome.  Good size plots which allowed you to feel you had plenty of space and privacy. Finally, being able to have a fire really made us feel we were camping.

Great Site!
Found this camp site after a last minute search and need to escape the city and what a fantastic find! James the owner and Owain the manager were very helpful and accommodating. The site is  'back to basics' camping at its best with those brilliant touches - spacious pitches set out amongst the long grass and a fire pit in each one - bliss. Loved the outdoor showers! Great location too.
Firle Campsite
Thank you so much for having us, Owain was great, really friendly and shared lots of local knowledge. The open air showers were lovely and hot, pitch spacious and private. The site was easy to find and well sign posted. Will definitely be visiting again! 
Idyllic
What a fantastic time we had at Firle Camp.  Owain the site manager was so accommodating and made us very welcome.  Beautifully spaced pitches, lovely open fires and the open air showers were so much fun!  A real idyllic location but yet only a short walk from a fantastic pub and farm shop.  So glad we found this little gem!

Best Price Guarantee, with no fees
Instant booking confirmation
Trusted for 10 years
Chance to win camping goodies in our regular competitions!
Ollie
Love this campsite. Large spaced out pitches, fire pits, woods for the kids to play in, nice pub in walking distance across a field, excellent farm shop up the road, friendly staff. Perfect!!
What camping should be all about
Just returned from a fabulous weekend at Firle, Owain was welcoming and really helpful. Our pitch was spacious, no noisy neighbours, just a big field, wide open sky and wonderful birdsong! The children loved it, exploring in the woods, walking onto the Downs and generally messing around in the countryside. Brilliant to have a campfire too, so relaxing. Showers are fun, loos are clean, wash up all very well set out. Not luxury camping, but that's not the gig, it's proper camping. Great to Walk to the pub too, the Ram,  good food , local ales including Burning Sky, brewed in Firle itself! What a gem, enjoy.
Soft, green grass, a thousand stars, and hot showers!
Loved our weekend at Firle Campsite. Owain made us feel very welcome, despite arriving quite late. Whilst it is just a green field, it was just right. Plenty of room to be well-spaced from neighbours, campfire at every spot, port-a-loos clean and the 'open-to-the-sky' showers were amazing. Charleston Farmhouse and Monk's House close by were absolute highlights. Highly recommend.

Cracking weekend at Firle Campsite
We had a brilliant time at Firle Campsite. Basic, no-frills, wild camping, but that is the sheer joy of living under canvas for three days. James Butcher oversees three basic but beautifully located sites, along the South Downs Way; Kitts at Scaynes Hill, Ditchling Campsite and Firle. At Firle, we were greeted by the phenomenally helpful site manager, Owain, who was always on hand, for advice, logs, chat, and directions. In our case, we forgot towels (fools), and Owain actually DROVE INTO LEWES to buy us some. Pitches are generously spaced around the outside edge of a large field. Each pitch has it's own fire pit. At first, the site feels very open, but then, come dusk, when everyone has their fires lit, you feel part of one giant circle of friends, and really, there was nothing like it. Portoloos were very clean, the wash-up area was spacious and the two showers were hot. A fifteen minute stroll across the open grounds of Firle Place to the fabulous Ram Inn for a quick snifter before getting that stew on the fire and we couldn't have been happier. Quick world of advice. Save bringing fresh meat and veg with you. A ten minute hop over to Middle Farm for the best of Sussex produce. Also, we were cheeky and asked in the cider barn for ice. A cold glass of local wine by a roaring fire was just heaven. Thank you, Firle.
Good campsite
Good campsite, lovely location, very close to the south downs way. Lovely place for walking and cycling. The campsite is basic, which we liked. It has portoloos which are kept clean, but you may need to take some spare toilet roll as it did run out! There was lots of people camping, but as it is a very big space, everyone was spread out enough. Its fairly close to a main road, which you can hear. You can have your own fire, which is very good! Lots of good pubs nearby, you can walk to the ram inn, which isn't too far through a field full of sheep. There is also a very good farm shop nearby, with cider tasting!! We found a lovely tea shop on a cycle ride called the beanstalk tea garden which I would definatly recommend as it was so nice!! The owners were friendly and came to check how we were doing. Overall, good campsite, we had an enjoyable time and I would recommend it.