Wattle Hill Oast
Beacon Lane, Staplecross, East Sussex TN32 5QP








The only way is posh for this East Sussex family retreat.
Deep in the quantum fields of East Sussex, a stunning hedonistic retreat awaits you. Think Animal Farm camping with a glass of LA Fitness to wash it down with. We're not talking about membership fees and old, wrinkly, naked people in the showers, but instead the sense of holistic self appreciation - a total pampering for the body, mind and soul with the help of nature, plus the alluring and evidently well-designed pre-erected bell tents (and day care).
Yes it's all done for you here, so those who like a good, solitary three hours of foraging, followed by another two hours of tinned cooking and a post meal hike will probably feel a little overindulged at a place like Wattle Hill. Ingeniously, its concept was created using the ancient old dilemma: kids want to go camping, play in the mud and beat you with sticks but you just want to relax without being the quintessential killjoy. And thus Wattle Hill Oast was born. 
A cluster of six, spacious seven metre bell tents sit a few feet apart from each other in one of the tranquil fields. While the cosy set-up might not be to everyone's taste, the close proximity of each tent is a boon for groups. Inside, you'll find a comfy double bed, plus a configuration of foldable camping beds.   
 There's no red carpet as such, but the welcome hamper placed in your 'country suite' is a fine touch touch indeed – especially after a long drive. Deducting the time spent fussing over tent pegs, leaves you more time to put towards exploring what's on offer, including the PYO veggie patch, piggery and hen house. Even the onsite pond looks like one of Monet's masterpieces. Deciding on trivial things such as supper is a breeze, as there's plenty of locally grown meat to purchase. In fact, lobbing meat on the barbie is all the physical exertion you will need to subject yourself to, should you decide. 
 But if all that relaxing and 'we'll take care of that for you' attitude spurs you to embrace the outdoorsy beast within, then there's plenty of hiking and biking opportunities at nearby Bedgebury. Or you could grab the kids and do an onsite nature trail through the onsite woodlands. Whatever you end up doing here, at least you know there's a pool and sauna waiting for you back at camp – a perfect reason to push yourself even further, no? 
Gallery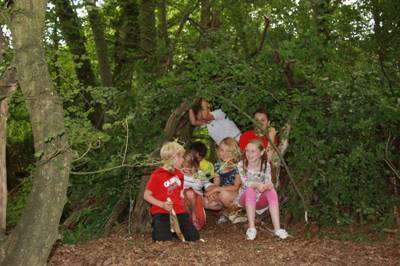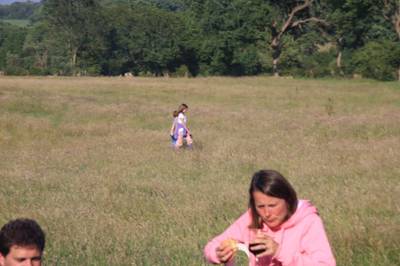 Reviews
Sign up or sign in to leave your review of Wattle Hill Oast
Lovely huge tents
Kids (age 11 & 13) and I had a lovely stay at Wattle Hill.  Kids first experience of camping.  Weather was fairly kind.  The WH facilities were great; proper showers and loos, cute animals to feed with Sarah, who is a very welcoming host along with her children.  The pool was very nice and clean.  Table tennis in the pool room was a bonus, as was the wifi and power sockets.  Cooking on the fire pit was interesting as it was quite gusty, but the Wattle Hill sausages are worth the effort.  The tent was huge and comfortable.
Spacious tents made life so much easier
As a family of four (with 6yr old and 2yr old boys) we found Wattle Hill Oast a fun and welcoming venue that we'd certainly head back to if we were in that part of the country again. Sarah welcomed us on arrival and got us down to the tent area and settled in quickly. She took us through all we needed to know and gave us some tips about getting the fire going and said that she was just at the end of the phone if we needed her. We never actually did because everything we needed was somewhere on site and it was nice to be able to just get on with our holiday. The huge bell tents were an absolute treat - never ducking down and so much room you could probably get about 6 double beds in there. Sleeping out in a 5-man tent is going to be hard after this! We loved toasting marshmallows over the fire and having the gas stove too made making fried eggs (eggs from the owners' hens) and a cuppa in the morning nice and easy. There's also a pretty big wood as part of the site and we had fun exploring it and making a den. The toilets/showers/changing room were always immaculate and so warm - a real luxury for a campsite. Thanks guys, we had a great little break. 
WONDERFUL FAMILY RETREAT
We stayed at Wattle Hill at the end of July 2014, and had an absolutely wonderful two nights stay there. The owner was away that week and we were greeted by the Manager in her place. She showed us around the complex, explained the facilities and then gave us (and our luggage) a ride in the Jeep to our tents. (The children were thrilled with this). During our stay, the Manager (accompanied by her very well mannered and helpful son) allowed the children to visit the animals in their pens and answered all of the children's questions. The children were allowed to feed all of the animals and Elvis, the resident turkey, treated us to a dance! The children collected eggs and were given one each to cook for their breakfasts. (My 4 year old still tells everyone about this). There were a couple of problems with lights not working and missing inventory, but the Manager was extremely helpful when we pointed these out and we felt would bend over backwards to make our stay a pleasant one. The Manager's children and friends were asked to stay out of the pool while we were in there by the Manager (she was overheard) although we had no problem with them being with us anyway as they were all very well behaved. The swimming area is very good and we all spent many hours splashing about. My husband and I also enjoyed a sauna, which was turned on for us by the Manager upon request. The gym area was also very good and my teenage cousin spent 7 hours in there one day and therefore I do not agree with the issues raised below. The welcome pack was a nice addition. The apple juice was delicious and I asked the Manager where to purchase some more, we were told it was from a local vineyard and was given directions. We bought some more for us and for presents to take home! The tents do slightly smell like wildlife etc, but you would expect that as you are actually camping at the end of the day!! I actually like the country smell as coming from London, it makes a lovely change from smog!! We only had one problem which was the ice boxes did not keep our food cold as it was a particularly hot two days, but the Manager did tell us there was a fridge available to us in the caravan by the complex, should we need to store anything. I have saved a picture of Wattle Hill on my phone as my screen saver as we had such a wonderful time here and I certainly disagree with a lot of the negative comments below. My family and I, cannot wait to go again (I will be looking out for vouchers on 'Wowcher' from now on in readiness to book!). I will be bringing more family members with me next time as I think this would be an excellent place to bring a big group of people. We could not recommend Wattle Hill enough.
Perfect venue!
Recently orgainised a weekend away for a group of 18 people and the exclusive hire of the 8 bell tents at Wattle Hill Oast provided the perfect venue. The owners couldn't have been more accommodating, helping to set the tents up before we arrived to suit our sleeping arrangements and even converting one of the spacious tents into a social/lounge area for the group to use in case the weather wasn't kind, and it worked brilliantly. Ice was provided on a daily basis to keep the coolboxes nice and chilled (and more importantly our wine & beer). Despite what other people have written in previous reviews, we cooked comfortably for 18 people every night, including a chilli and a BBQ and the fire pits provided were absolutely fine for this purpose. And we easily managed to fit around the picnic benches provided! Mismatched crockery & cutlery doesn't really bother me, what mattered was that we seemed to have everything we needed. We had use of a fridge freezer and a dishwasher up in the caravan which was extremely helpful, and the swimming pool and changing facilities were of an exceptionally high quality. Every single person in the group had a thoroughly enjoyable weekend and i would recommend Wattle Hill Oast to anyone, and particularly to large groups as the set-up is ideal for that. Thanks also to Sarah for collecting our luggage on the day we left, in torrential wind & rain!
Would agree is definitely not Glamping...
I have to say that Wattle Hill Oast really need to update their website, whilst they are a very friendly bunch, I would say that the website is extremely misleading in both description and pictures, compared to what you actually get when you arrive and would fully concur with the reviews of 'Glamourpuss', 'BaconBoy' and 'Country Girl', it's camping where you don't need to take the tent, really not much more - so I feel the need to tell it like it is.
The tents are a different style to what is shown on the pictures, they are big bell tents with no windows and a round style, rather than the nice lozenge shape with windows that are shown.  The tents are placed within a few feet of each other, even though they have a massive field, so night time noise is an issue.  The interiors of the tents are absolutely nothing like what is shown; no rugs (just peeling green baise on the floor), no throws (just standard bed linen), the single beds are just camp beds - which is not really made clear and are as hard as anything, no chandeliers (just a battery camping lantern), a couple of mis-matched camping chairs, a couple of cheap plastic garden chairs and a picnic bench outside that's so small you would struggle to sit four people around it to eat and the smallest 'fire pit' available, so that you struggle to cook much on it at any one time. The inventory of what you get in your tent bears no resemblance to the mismatched and incomplete set of cutlery, crockery and cooking implements - two mismatched mugs and three forks for four people? But there were a set of six shot glasses...
As already stated, the 'welcome hamper' consists of a tiny bottle of 'on the turn' milk, a few tea bags and sticks of sugar and coffee, a bottle of grape juice and a small bottle of cider. Whilst it's ok, it's not a 'hamper' and it's certainly less than you'd expect for £100 per night.
The washing up facility is an old caravan with one sink and no hot water, part filled with hay and when we were there, loose baby turkeys - who do what loose baby turkeys do all over the floor and spend their time trying to get out whenever the door is opened.
The shower block up in the main building, whilst very nice, houses one flush toilet and two showers in each of the mens and ladies - two flush toilets between approximately 35 people, is woefully inadequate.  Add to that no hot water anywhere for the first 24 hours of our stay.
The 'fitness suite' is somewhat tired, several of the machines - particularly the bikes are broken and have obviously been so for some time.  It's certainly not adults only, the children of the owners/managers and all of their visiting mates were in there most of the time, along with the pool - which always seemed to be peopled by the owners kids and all their friends, mothers, etc - most of whom seemed to see it as an inconvenience that you were there.
Add to that then, that the place has been advertised on 'Wowcher', leading to an 'interesting' mix of people getting it on the cheap.  The owners friends who turned up with a dirt bike and spent about two hours one day blatting around next field, revving the parts off the thing and that the 'Woodland Play Area' is basically a couple of swings next to a stagnant pond.
But I think the thing that makes it most irritating, is that the lovely nail clipped gardens, with a trampoline and playhouse - are private, but the owners/managers (and all their kids/friends/parents) still get to use all the facilities that are there for guests, but you don't get to use theirs.
Response from campsite owner: 
Thank you again for your comments - I totally agree we need to update our website, time is tight at this time of year but I will be putting some of our new images up later this week. 
Just to be clear we have changed our tents this year. We have moved to a 7 metre bell tent rather than a 6 metre tent  which allows more floor space and in our opinion a more pleasurable stay. You can see the images below of our old tents compared to our newer tents both of which have the same style window.

You can also see from the image above that the new tents are clustered together, although a description of a few feet apart is a little unfair. I took the decision to house the tents close together rather than spread out as we have a lot of groups staying with us. Although, I do take on board that noise could be a problem if guests are not being considerate of one another. Perhaps I should re think the lay out for next season. 
The carpet on the floor is different again as we have had to purchase it specifically for the new style tents. 
There were no throws on the beds at this time of year as the weather has been kind to us, although as stated in our welcome information you can always ask for extra layers if you are uncomfortable. 
The tents are described as having a double bed that you would find in a bedroom and a configuration of single camp beds - we will think about moving to a different style of bed for next season if we get any more feedback about the beds being uncomfortable.
The tents come equipped with a 6 seater picnic bench and a couple of camping chairs. The plastic chairs are there for a back up if guests require additional seating. With reference to the cutlery and crockery being mismatched  - i'm afraid thats just the style we have chosen to go for.
The chandeliers are no longer in the tents due to the different pole system now in place, we have replaced the chandeliers with solar fairy lights which are a more effective lighting source and more reliable, but as already mentioned I need to update this information on our website. 
The washing up facilities are in fact an improvement from previous seasons, you are given the option of washing up by your tent the old fashioned way or using the dishwashers in the caravan. Most of our guests are pleased to have the luxury of using dishwashers whilst camping.  I am sorry the baby turkeys were causing you problems during your stay. The naughty additions to our family are now safely in their turkey pen as they are a little older. 
I am glad that you considered the changing rooms and toilets nicely done and we feel that with the additional toilet on poolside we just about cope with the volume of guests at peak times. It is unfortunate that the hot water was playing up during your stay - as soon as we were alerted of the problem the issue was resolved within a couple of minutes. 
I would have to disagree with your point of view regarding our fitness suite. As a trained exercise professional the facilities, although may not be new are functional and it is a great space to train in. The spin bikes are down at the moment and are are waiting repair - perhaps you could have used the recumbent bike instead, or one of the other 4 pieces of cardio equipment. 
I am sorry to hear that you found my managers children a burden to your stay. All I can say to this is we are family run business and it is the school holidays. To quote an email from Jane Sheppey, another recent glamper "The lady that looked after us and her children are an absolute credit to you. She is fantastic" (31st July 2014). The dirt bike incident was nothing to do with us and we do have adjoining fields where other land owners may have used a dirt bike. Sorry for the inconvenience this may have caused, it is highly irregular to have any activity in our neighbouring fields.
I hope your next glamping stay is more enjoyable and take on board all of your comments to help the future development of Wattle Hill Oast. 
Best Price Guarantee, with no fees
Instant booking confirmation
Trusted for 10 years
Chance to win camping goodies in our regular competitions!
Very glam
Poured down with rain but the facilities inside really set this place apart from the rest.  The indoor pool and sauna made for a great few days away even when the weather wasn't kind.  The changing rooms and showers are a fantastic standard,  real boutique style, and the pool was very warm and welcoming.
Inside the tents are very spacious and the double bed very comfortable,  we did need some extra cooking utensils but Sarah the owner was quick to provide these so not a problem.  
Lots to do in the surrounding area,  20minutes from Rye and Camber sands which was lovely to explore.
We'll be back next year fro sure,  this time with some sunshine we hope! 
Thanks Wattle Hill Oast for really looking after us.
Summer camping
Not being seasoned campers we didn't know what to expect from our four days in the Sussex countryside.  From the moment Sarah ,  the owner, met us in reception we felt relaxed and welcome.  We did a quick tour of the indoor pool and were immediately impressed with the detail and effort the owners had gone to to make this a truly unique place.  The changing areas are beautifully appointed with sand stone floors and lots of oak finishes.  The pool is very big and warm! And the sauna was fun for the family.
The children loved the ride down to the camping area in the back of the old landrover pickup truck.  This was a very nice touch to be pottered with our luggage and the help was greatly appreciated.  Now where did we put that kitchen sink!?
The tent was huge and nicely appointed for our young family.  We were pleasantly surprised that logs for the campfire were all included ,  lots of other sites seem to charge for this.  Cooking open fire was great fun but the additional gas burners at the end of the picnic table were handy as a backup.
We loved feeding the animals,  it was the first time the kids have been up close to pigs and the little goats were so cute!  That was a learning experience we all enjoyed.
This is a truly beautiful part of East Sussex and the owners have clearly worked hard to make sure that families in particular have a great time. Lots to do,  hopefully we will be back soon..
kids had a great time
We have just returned from Wattle Hill Oast and had a fantastic time. The kids loved the freedom they found there. The weather was beautiful and the team were friendly and helpful. Elvis the Turkey was a particular favourite and they had plenty of fun in the pool. The tents were spacious but very hot in the heat of the day. We enjoyed an evening meal at the Castle Inn in Bodiam as recommended by Sarah and we had a great day out at Camber Sands beach. As novice campers we would highly recommend Wattle Hill Oast and will be back next year. 
Camping NOT Glamping!
Very disappointing! As seasoned campers the idea of having all the hard work done for you was a big draw. However, other than not having to take and erect your own tent this was no different and there was certainly no added " glamour"
On arrival we were not met by anyone and simply told to find our tent - which clearly wasnt ready as the beds werent made.
The " luxury hamper" appeared to consist of a few sachets of coffee/ sugar/ tea as you would get in any B&B, a bottle of local grape juice and a bottle of local cider!
The large cool box only had 3 ice blocks and these were not replenished daily so our food perished on the second day. When I requested some I was told they hadnt been replenished as they did not like to go into tents without permission and we were out for the day. If this is their rules could they not ask when people arrive if they are happy for their tents to be restocked daily! The daily temperature was approx 28 degrees I would have thought it was obvious these needed doing!
The blurb on the website says you get single beds - err no - camp beds!
The utensils/ cookware/ tableware all appear to be remnants purchased at a car boot sale.
Where was the PYO vegetable patch or local/ own grown produce for sale? Apart from 5 duck eggs placed on a table outside the toilet block advertising 1/2 dozen (!) eggs for sale either this was fiction or very well hidden!
Apart from the nice swimming pool this was a very disappointing experience and I certainly lthink there are better value breaks to be had. Had we paid full price for this I would be asking for a significant refund for false advertising!

Response from campsite owner: 
We are sorry to hear that Sarah was not there to greet you when you arrived on site last Tuesday. This does happen from time to time, as you know we are a small family business and the member of staff who was onsite is too young to drive. As soon as Sarah was back normal business resumed and you were offered assistance with your bags. With regard to your beds not being made, from memory a double duvet cover was not on your bed - not through any kind of laziness or oversight, simply it had taken us that long to wash, dry and iron it for your arrival. It is a very busy time of year and we do not have a big set up. 

The tents come fully equipped with a double bed that you would find in a bedroom and a configuration of camp beds which is clearly described in the inventory that you are given in your welcome pack. We would like to give everyone a proper bed but I am sure you can understand the logistics of moving and storing a minimum of 16 single beds would be an impossible task.
The cool boxes not being cold enough in this warm weather is a problem that I am glad you have bought to my attention and we are looking to resolve this for future guests. I am sorry that your food was ruined - it is hard in that kind of heat as it is still camping and electricity is not provided down in the fields.

Our supply of produce from the Vegetable Garden is often bountiful and is picked as it is ready and put out for sale. It is a shame that you did not take part in the daily animal feeding and vegetable picking session as this is when you would have seen and been able to sample much of what our garden has to offer. We also supply meat but as described this is frozen and defrosted as ordered. We do work very much on the basis that if you need something all you need to do is ask.
What sets us apart from other campsites is the pool, sauna and gym facilities and we are glad that you enjoyed this part of your stay.
Definitely not Glamping
I would not recommend Wattle Hill Oast if you want glamping. By the end we decided the only 'glamping bit' was the bed. Internally, the Bell Tent does not look like the photo's. The worse part was the smell, the tent smelled very unpleasent and was worse when it was hot. We were provided with 2 small ice blocks for a very large chest. The hamper was disappointing too, to say the least. Don't expect much for the 'woodland' play area either. All in all this was a very disappointing experience. To quote countrygirl
'Corners have been cut and this site bigs itself up to be something it really isn't, sadly. If they actually did provide what they say they provide it would be wonderful. But it's not. It's very overpriced, under equipped and over rated'.

Response from Cool Camping: 
We are really pleased with how this season has gone so far. With over 100 guests through the door already, we are keen to hear good and the not so good feedback. We pride ourselves on offering something special and all we can say is we are passionate about doing this and all work extremely hard in making every guests stay a good one. It is a shame that your cool box wasn't cold enough, as stated in the welcome pack, we are happy to give you more ice blocks if you ask for them and we also stock 2kg bags of ice if you desire. These have been very popular over the last couple of weeks with the glorious weather we have been having! Our welcome hamper is advertised as a few bits to get you going, we are sorry that you were expecting more, but again we are happy to provide anything you ask for on arrival. Within the welcome pack we are particularly fond of the biodynamic organic grape juice for the children and cider for the adults which is grown and processed a couple of miles away. The woodland play area is advertised as rustic and is presented as such. We do not wish to take away from the beauty of the area itself and would much rather see children building dens and playing hide and seek than jumping all over plastic play equipment. All we can say is you can't win them all and we hope you have a more pleasurable experience on your next adventure.

Recent trip
Great pool. Friendly welcome. Lovely spot. Spacious tent. Space.
That said not sure it compares in terms of value with other trips we have had at the price paid.
Amazing to say the least
On arrival we were greated by Sarah and our team, and shown all the features including a swimming pool, sauna and a spacious toilet and shower facility which were all immaculate! 
We were then taken over to our bell tent which was on a huge field alongside 5 other tents all with their own benchs, fire pits and stoves. Our bell tent was a great size which fit a lovely double bed, deck chairs and a cooler for all our items. 
Apart from the great facilities and amazing location, it was the hosipitality of Sarah and her team which set this place apart from other glamping sites. We were gievn a lovely hamper on arrival with local produce and all the cooking utentils you needed were provided as well as fire wood and running water. 
We had never been glamping before and are already thinking about our next trip! Everything was thought about to the 'T' and from arrival to departure we felt looked after!

Fabulous!
We stayed at the Wattle Hill Oast for two nights in May with our two children (Will 10 and Emily 5).  Booking was very easy and straightforward.  Upon arrival, we were very warmly welcomed by Sarah the owner.  We were shown around the indoor complex to start with and it was absolutely beautiful.  No expense had been spared at all.  There was a very well equipped gym (which maybe I should have used!), exceptionally high standard changing rooms, both male and female (with a proper hairdryer!) and clearly my favourite part, the fantastic salt water swimming pool and sauna.  The whole area was again, clean, warm and had a real touch of luxury.   
Next it was down to the luxurious bell tents in the back of the land rover with our luggage.  The tents were a great size, very very spacious for 4 and would easily fit 6.  The beds were comfy and the bedding immaculate.  The cool box provided was great and would fit everything you would need for a week's stay.  The tea light chandelier was a lovely touch.  
Outside there was a fire pit and also a two ring gas stove.  We liked the way that the stove was attached to the picnic table so made cooking very easy.  
The children's play area in the woods was a real hit with both my children and my son had a great time with Sarah's son.
All in all, this is a great glamping experience and you will not be disappointed!
Thank you Sarah, you made us feel very welcome and were always on hand if we needed anything.  Looking forward to coming again!
Luxury it isn't
Want mud? There's mud a plenty here! Stunning hedonistic retreat?  Did we go to the same place you did? The ONLY luxury thing on this site is the saltwater pool. The sauna didn't work when we were there for 3 days (enough time to get it fixed I would have thought, especially as the place seemed booked up), and there was only 1 useable shower in the ladies as the glass screen dividing the showers was smashed, and again 3 days didn't seem long enough to get it fixed (was a nice touch to be met by the wheelbarrow of smashed glass at the door on our arrival). If you wanted to use the ladies toilet in the 'luxury' toilet block you needed a torch as the lights didn't work. The 'luxury' continues.........washing up facilities for your dishes was nothing more than a horsebox with a gas cannister and stove for you to heat up a pan of water.  The standpipe in the camping field was handy, would have been even better if we had been provided with a water carrier - a standard piece of camping kit!!   
I get the feeling the owners have never camped a night in their lives. The kit for cooking was basic to say the least, (my own camping equipment is more comprehensive), and cooking for 6 on one gas burner isn't easy or fun. We were instructed to use it outside as someone had apparently burnt the carpet in their tent, however as it poured most of the time we were there, I'm sorry but we weren't going to stand in the rain and cook. Luxury????  
Beware you can't make campfires here as some descriptions might lead you to believe, but you are provided with a small metal fire pit. The table for food preparation was laughable and I spent a great deal of time on my knees at the little coffee table trying to prepare food for 6. 
One thing they seemed to get right was the size of the coolbox, it was huge, about 3 foot long, plenty room for everything, but don't expect to keep anything cool in it, we were provided with one ice block of the size that you might use in your lunchbox for work. Again, they didn't seem to have a clue what campers actually require. Our tent had been pitched on a slope so no -one got a very good nights sleep as they tried to stay on their beds. The pictures must have been taken with a very wide angled lens, they are NOT as huge as they might appear.  There weren't even enough camping chairs for us all. Luckily we had our own with us. 
Pick your own? There wasn't any. Corners have been cut and this site bigs itself up to be something it really isn't, sadly. If they actually did provide what they say they provide it would be wonderful. But it's not. It's very overpriced, under equipped and over rated.
Response from Campsite owner:

Thank you for review – what a shame you guys felt you had such a tough time glamping although we are glad you found some solace in the pool. The weather was bad over the May half term week and there was little we could do to alleviate the mud that the rain had caused and continued to cause during your stay. In response to your feedback:
·  We pride ourselves on our luxury shower block, gym and changing rooms. There was a catalogue of maintenance issues during your stay and we did our utmost to solve the problems as quickly and efficiently as possible. The second ladies shower for example, was fixed within 72 hours of it breaking. The Sauna Stove has now been replaced and the shower screen was a handmade bespoke piece, which unfortunately could not be replaced so quickly. We gave our guests some money back to apologies for the inconveniences caused by these issues during their stay.
·  Each tent has individual water carriers available on request for those that do not bring their own and the gas stoves are as explained for making quick cups of teas or heating something small like baked beans. The portable fire pits are for cooking big meals on and gazebos are available on request to shelter under if the weather is wet. Again, the 6 seating picnic table is usually ample space to prepare a meal on. There were also spare chairs available by the washing up station.
·  Our washing up station is functional but we agree that this needs some work. We are looking to improve this for 2014.
·  The cool pack replacements are delivered to your door daily but again, on request we could do this more frequently for those guests who need them. Some guests even ask us to put their meat and dairy in our onsite fridge, which we are more than happy to do.
·  Our PYO vegetable garden is open and as the weather allows us there will be plenty of fruit and vegetables available. With spring coming late this year, the vegetable garden is advertised as subject to availability.
·  Finally, the bell tents we use are the largest on the market with a 6 metre diameter and as advertised they sleep 4 comfortably and up to 6 at more of a squeeze. There was no wide angle lens used to take our photos.
It's a real shame the weather didn't allow you to truly enjoy our 17 acres of beautiful untouched Sussex Countryside. Perhaps your next holiday will be a more positive experience and we take on board all of your comments for our future guests.
Wattle Hill Oast
We had a fantastic weekend at Wattle Hill Oast just recently. We have 2 boys aged 7 and 4 who were completely in their element at WHO - from the excitement of sleeping in a tent, to the swimming pool, to feeding the pigs, collecting eggs, running around the field and woodland, even the washing up! We were very well looked after by the family, who really made our weekend special. We visited Rye, Bodiam Castle, Hastings old town and Camber Sands. However there is so much to do in the area that we will be back again!!
Wattle Hill Oast
A truly welcoming, comfortable and relaxing retreat. The remote getaway is far enough away from the world to relax yet has some fantastic things to do close by, especially the Cross Inn pub a short walk away! From the clucking hens to the warm swimming pool, I thoroughly recommend this site!