Dernwood Farm Wild Camping
Little Dernwood Farm, Dern Lane, Waldron, Heathfield, East Sussex TN21 0PN






As hidden and earthy as it gets.
Dernwood Farm is hidden away down a rolling country lane among the patchwork fields of Sussex. Like a Russian doll-within-a-doll, the campsite itself is further secreted inside an eight- acre clearing in the middle of a coppice wood originally grown for charcoal burning. Isn't it fitting, then, that fires are a welcome addition to the earthy, authentic camping experience on offer here?
On arrival you make yourself known at reception, pick up your organic eggs and choose from a rich selection of fresh flavoursome beef (produced here) to roast on your barbecue. Then, armed with some logs, pop it all into one of the trolleys or wheelbarrows provided and make your hobbit-like journey through the woods to the fairy-tale field that truly earns its moniker of 'wild'.
'It's a kind of filter', says Amanda, your welcoming host, of the 10-minute walk through the woods, 'a real discovery as you shed your city skin and unwind. It also keeps away noisy campers looking for a quick fix.' There's no electricity here; this is a low-impact, eco-friendly campsite, so it's just you, your canvas, and delicious food cooked by your own fair hands over the firepits provided.
Come spring, the three adjoining semi- natural ancient woods are aglow with thousands of bluebells. When you take a walk through them keep an eye out for the small pits once dug for the mining of ore in centuries past.
This is a place to really lose yourself in for a few days, zone out from the urban noise you left behind, and tune into the wildlife around you.
Gallery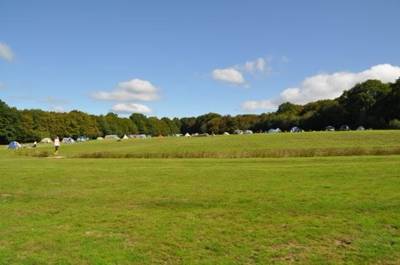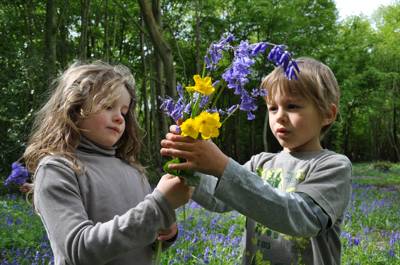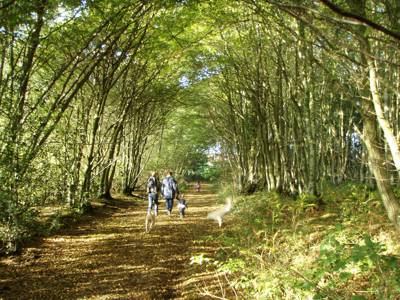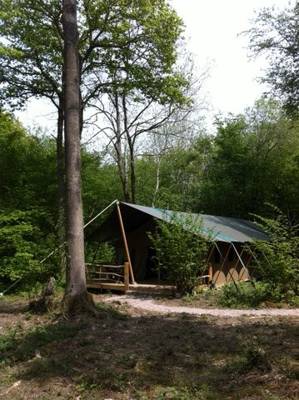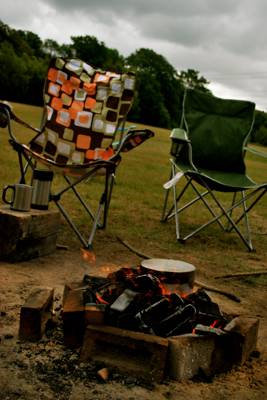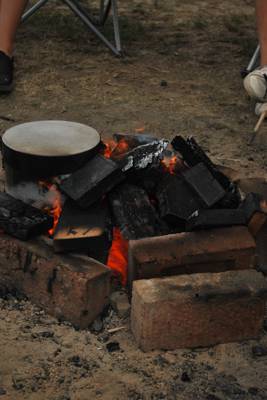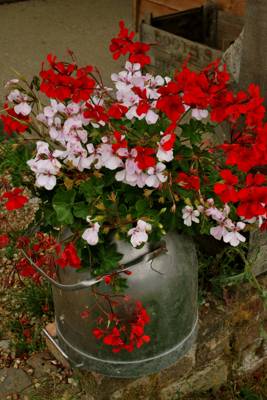 The Owner Says
Wild Camping
Our wild camping field is an 8 acre field in the middle of 70 acres of our ancient woodland. 
We aim to provide a low impact, sustainable and eco-friendly campsite; it's a field in the woods, with lots of of peace & quiet, for people who are looking for a real back to nature camping experience. 
There are two (toilets and a covered washing up area (cold water), and stand pipes. There is also a brand new shower block. 
The field is a car free site, which is perfect for families, it's a 7-10 minute walk from the car park through the woods to the field.  We have a fleet of wheelbarrows and trolleys for you to ferry your gear.  We allow camp fires and we have nets of logs and kindling for sale at our  shop, we also sell our delicious home produced meat to cook on it.  I know this is always  a highlight for many people;  being able to see the cows, sheep and pigs out in the field and then cook steak and sausages from the farm, the ultimate in food traceability and provenance.
Bell Tents
Gorgeous five meter Bell Tents are in individual clearings in the woods just off the sunset side of the camping field. The clearings allow each tent its own privacy and are large enough to let in lots of sunshine. They are furnished with everything you'll need for 4 people and come complete with their own tripod with grill pan and Dutch oven in which you can cook anything from bread to a roast dinner. With a 'tree bog' toilet and 'jungle' bucket shower. 
Safari Tent
The Safari Tent is the ultimate in luxury camping and is enough to tempt even the most reluctant of campers out into the woods. Situated in a large sunny glade in exclusive eight acre area of ancient woodland, it offers home from home comfort with the excitement and adventure of sleeping under canvas. Sleeps 6 comfortably in 1 twin room, 1 double room and a cabin double bed. Wood burning range and hot running water to the Belfast sink in the kitchen and a state of the art compost loo and 'proper' hot shower in the bathroom out the back.
The Cabin
The newest addition to our camping stable is The Cabin which was built by a team from William Hardie Designs after an idea by architect and innovative design aficionado George Clarke. The build was filmed throughout and shown on the third series of the Channel 4 programme George Clarke's Amazing Spaces, using local resources and timber harvested from our ancient coppice woodland.
We have  made substantial  changes to the cabin since then tripling it in size as although the small space with hidden furniture worked well for TV, on  a practical level it  just didn't!    We have created a separate bedroom and doubled the size of the living room creating an open plan kitchen/diner/sitting room.  The sitting room end has a comfy double leather sofa bed with red velvet curtains you can pull across making another cosy bedroom.  The bedroom has a triple sleeper  (double bed at the bottom, single on top)  so this means that if you're travelling as  a family you can put the kids to bed and have a bit of adult time at the end of the evening, and if you're a couple it means you have a separate room and won't have to use the sofa bed.  One of the walls can still be lowered as seen in the original programme.  For cooking there is a gas oven with a hob plus you can get a pan on top of the woodburner. Best of all is the wood fired hot tub, perfect for a glass of wine and stargazing!
Reviews
Sign up or sign in to leave your review of Dernwood Farm Wild Camping
Lovely campsite
We booked this campsite for the May bank holiday 2016 since then we have been to 3 other campsites all rated well but my girls age 11,9 & 6 have asked to please return to Dernwood farm wild camping. This campsite is their favourite. So I'm writing this review on behalf of my girls and myself. We booked the Encarpment but my girls would rather we Book the camping field so they can meet friends more easily. The girls loved exploring the woods on their own, making dens and enjoyed the great big swings. They loved the huge open field and playing balls games here, esp football which my 11 year old loves. The campsite is set up so that one doesn't feel as though you are invading private spaces when playing games on the field or walking around. We loved the Encarpment it was lovely. It is private surrounded by trees with only 3 huge tents pitches, benches and large fire pit. It would be great for family groups. The site has lovely local meat we ordered burgers and bacon ( please be aware it is frozen) The shower & toilet facilities are clean & were recently built. This is not a commercial site it is just a lovely car free camping site, relaxed and quiet with great woods for the kids to explore. The owners are ever so friendly. Be aware it's a walk from the car park to the camping site with trolleys. But my girls loved the excitement of it all. Furthermore even though it was fully booked it didn't appear crowded at all. We love the campsite so much my girls have asked me to please book it for a weekend in the summer. It is our favourite campsite. If you want peace, quiet, fire pits ,nicely spaced pitches, great woods for kids to play or ride their bikes, a large field for ball games this campsite is for you.
Wonderful Wild Camping
This is truly a lovely spot. You park up by the farm where there are good modern showers and toilets. There were plenty of huge trolleys to load your gear into. You then do have a walk through beech wood to the main field. The wood is very pretty and the path was well maintained, though it was dry. The main field is very large and skirted by the woods. Yes there are pylons in the far corner but really no big deal and there's no need to pitch near them. In the field is another toilet block and washing up facilities. The woods are great for exploring. I'd be very keen to return when the bluebells are out. Great for young families. Clean and quiet. We have a small dog and he also loved it. In summary great location with all you'd need. Granted it takes a bit of effort to get to the field but well worth it. We'll be back.
AMAZING
I completely disagree with everything Campbell Murray  mentioned.  My family and I stayed there recently and you could not have asked for a better more suitable place to visit, with or without children.
We arrived on a Friday night and though they said they were fully booked it certainly wasn't, its not like other camp-sites where they pack them in just to get a quick bob.  We wild camped and yes there is a pylon in the woods away from the field but your not camping underneath it.  As for low flying planes due to the flight path, hilarious, we live near Heathrow, try going there, you couldn't even hear  them here.  We enjoy our astronomy so wanted to come to the Observatory at Herstmonzueax near by ( again recommend).  We find  the wild camping field perfect for star gazing as there is no light pollution at all.  This is our 4th year at Dernwood and were delighted this year to have the  new showers and toilets in the main car park, and with hot water.  We booked at the beginning of the year to stay in the Safari tent and WOW, what can I say.  We cooked a big stew over the fire (with meat from the shop, steaks are a must and so are the burgers all very reasonable) it was amazing, listening to all the wild life, we cant praise here enough.  Amanda and her family are all very accommodating and even the farm dogs great you with a welcome.
At the end of the day it is a field in the middle of the woods, if you are looking for a place with all mod cons then perhaps Sandy balls is more your style.  Thanks Amanda and co and see you all next year 
missed opportunity
We loved the idea of car free camp site and the woods were great. However the 600 mtr very rough track and poor buggies designed for a smooth road made kit transfer harder than it should have been. In fact very hard especially in the rain. They should allow cars to use the track at the back of the woods to transfer kit or thier own quad could do it. With young children in poor weather it became a real pain.
The field is also rough, electricity pylons run through, lots of low flying planes through the night for gatwick and there arent many good level pitches. Fires are allowed which is great but no foraging for kindling allowed and wood expensive.  Shop closed often and missing a lot of basic things. Toilets poor, filthy and few. No hot water for cleaning cookware. 
At £80 for a weekend it was also the most expensive camp site we have ever stayed at. Would strongly recommend anyone not to uae this site.
Nice campsite, but could be nicer...
We stayed here a year ago and in general it was a lovely campsite and nice spot.  This review is mainly from the viewpoint of having small children with you, so if you don't have any then maybe the less positive parts are not so relevant for you. 
Positives: lovely open big space, great to have access to the farm animals wandering around, lovely woods, friendly campers and dog friendly pitches, reasonable loo facilities and one cold tap, open fires :)
Negatives: big space means noise reverberates around the whole field so not so good if you wanted to sleep, buzzing pylons at the bottom of the field where there was the only shade from the baking sun was a bit of a put off, looooooooooong walk with children to the camping field through the woods without being able to bring a car, farm shop was incredibly expensive (what farm shop isn't, but inflated prices more than a London butcher made me gulp!).
 In general we had a good time, but I think there are so many lovely campsites in the South that there is a lot of competition.  Maybe things are different this year!

Best Price Guarantee, with no fees
Instant booking confirmation
Trusted for 10 years
Chance to win camping goodies in our regular competitions!
Beautiful, friendly site!
Lovely family run site. I would really recommend it to anyone looking for something that isn't a big commercial site. It's real camping with a gorgeous walk through the woods to the camping fields. You can have a campfire too which is great. Beautiful woodlands to walk around and build dens in.

Run by a lovely family - who were nice enough to tow us out of the carpark when our van got stuck! The shop is great too... you have to try the sausage rolls!!!

Dernwood Farm Wild Camping
Great campsite for the kids. Pitched at the top of the field by the children's play area which is nestled on the outskirts of the woods. Beautiful walk around the campsite and the bluebells were a sea of purple. Truly stunning. On the downside it took us 4 trips with the large trolley to unload the car and take all our stuff to the field. Pretty tiring and not great if you have young children. The wind can really pick up across the field so pitching up on the far side or the bottom of the field is advisable although you will get a better view of the electricity wires and pylon! Shame as its a beautiful campsite. Would be nice to have hot water and showers/washing up stations. I spoke to the owners and it is planned for 2014. Lovely swimming pool in Hailsham that we took the kids to so we could have a hot shower and wash. You must try their home made lamb burgers. Fantastic. 
Dernwood
Once you are all set up then this is a great camp site although there are some practical issues to be aware of if you have a young family. The half a mile walk through the woods gets very muddy in the wet (take wellies) and it is therefore somewhat of an endurance having to lug everything from your car to the field (and back again). As this is a camp site that is within easy range of London there is clearly going to be a high demand on trolleys on a Friday between 6 and 8 pm and again on a Sunday 10-12 am. Given that the the only other infrastructure on site are two pretty basic WCs and a cold water sink then I think it is not asking too much for more trolleys to be provided and some gravel placed on the muddy parts of the track. Another WC hut at the top end of the field would have been useful. Other than the inability to drive to the pitch to drop stuff off this is a great camp site so long as you are aware there is no shower block or hot water.
Different site with good and bad points
Some notebable good and bad points on this site. On the plus side, the staff were friendly, the field was quiet and had very pleasant surroundings. It was also huge which meant there was a lot of space for pitching and playing. On the minus side, people shouldn't understimate the time and effort in lugging stuff from the car park to the field. It was at least 10 minutes. There was also a lack of enough wheelbarrows so sometimes there were none to use. I would add an hour to two hours for both setting up and unpacking becuase of this. Not ideal after a long drive and or it is wet. Packing up was always in the back of your mind because of this. The other major issue with that there was only two loos, one cold water washing place and ONE DRIBBLY TAP for the whole huge field. This was totally inadequate. For the reasons above, I would question its suitability for families, especially ones with young kids.
Dernwood Farm Wild Camping
A wonderfully warm welcome from Amanda greets us as we arrive, luckily still with plenty of daylight left as walking through the woods to the site in the dark is a quite a scary experience if you haven't been there before! Pick your trolley and wheelbarrow carefully as although it isn't a long walk (maximum 10 minutes at a slow pace) when your pushing and pulling your gear it can seem like miles.
But trust me the walk is worth it and all adds to the sense of adventure as Dernwood is wild camping it at it's best. A wonderfully large field, surrounded by woods makes for peace and quiet, isolation and when the sun sets wonderfully dark star filled skies. If your after glamping though this isnt for you. Two very basic toilets, cold running water only and beware the wind whips up the field at quite a pace.
Unlike the other reviewer the pylon didn't bother us or spoil the experience. Do make sure you buy some steak and taste their sausages - both were extremely tasty especially when cooked in the open.
At one point I commented that it was like camping in the 70s, children played with wild abandon, fires burned and we could hear the guitars and drums brought by other campers. We only stayed two nights but it was enough to soak in the atmosphere and know that we most certainly will return!
Dernwood Farm Wild Camping
This is a lovely campsite in many ways. Most of the information in the introductory text is absolutely correct - it just misses one important detail. It's true that there is no electicity on site but unfortunately the existence of electricity is all to obvious as a major powerline runs right over the site with one of the pylons actually in the camping field. On the plus side, the campsite is in a wonderful setting tucked away in the woods, miles from any roads and you really do get a sense of being away from it all. It is also great to be able to have a camp fire and cook meat from the farm on it. Whilst it is possible to camp at the opposite end of the field some distance from the pylon it is quite hard to escape the view of it. I realise there is little the owners can do about this but unfortunately it would put me off visiting again.