Hare & Hounds Campsite
Rye Road, Rye Foreign, Rye, East Sussex TN31 7ST







A small, peaceful campsite with a relaxed atmosphere and an unbeatable location for visiting Rye and East Sussex
A small town atop a sandstone promontory that was once a strategic port, Rye has retained its charming cobbled streets and higgledy-piggledy houses to now look like a piece of old England pickled in a jar. Just two miles to its north, The Hare & Hounds has a strangely similar vibe. The red tiled roof and old, strutted windows look across Rye Road to a stretch of orchards, while a tiny thatched cottage is almost hidden behind its own greening garden hedge. A blackboard sign beyond the cottage door reads simply, 'please drive in for free range eggs', though you half expect a lady on horseback to gallop down the drive with a basket of them swinging under her arm.
It's the view from the back windows that we're interested in though. Behind the old pub – sadly they recently called last orders and it's now been converted into a tasteful B&B – two simple grassy fields offer camping for tenting folk looking for a laid-back place to pitch. If you still fancy a pint, though, it's an easy walk down the road to The Oak or you can head back to the bustling lanes of Rye, close enough to reach by bike.
The campsite itself has a wonderfully honest feel. There's no one marching round with a rule book or designating pitches and the place exudes and incredibly informal atmosphere, yet everything operates with an air of mutual politeness – kids playing ball games in the ample space without getting on anyone's nerves. The washing, toilet and shower facilities are all brand new, bringing and oddly modern contrast to this obviously historic area, and a policy of limiting the pitches to just 30 in the two and half acre field means you'll never get your guy ropes tangled with the neighbour.
Beyond the picture perfect townscapes you can escape the summer crowds by heading into the surrounding countryside – within the High Weald AONB, there's plenty of top walking to be had, with particularly good local routes following along the banks of the River Rother. Or head down to the beaches of the south coast to dabble in the sea and build sand castle replicas of Bodiam Castle, a perfectly formed, moated keep just 10 miles from the campsite.
Gallery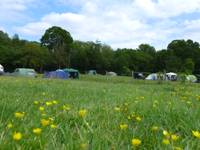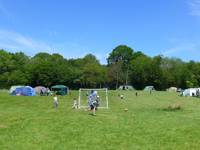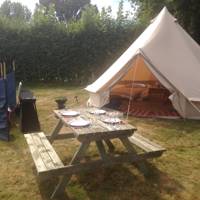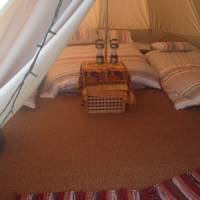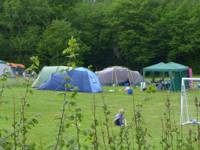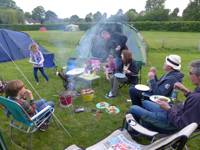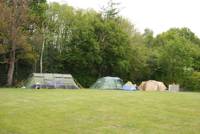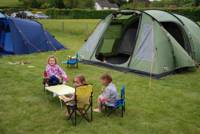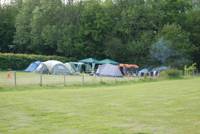 The Owner Says
A small, peaceful campsite with a relaxed atmosphere and an unbeatable location for visiting Rye and East Sussex.
Win a £100 Blacks Voucher!
If you've stayed at Hare & Hounds Campsite campsite, please take a minute to tell us about your experience. Every month, one lucky reviewer will be picked at random to win a £100 voucher, courtesy of our recommended retailer Blacks. Each review counts as one entry, so get writing!

Reviews
Add Your Review
Great place for camping, highly reccommended
Easy access, nice, open set up, good scale, friendly atmosphere, decent facilities, great location, nice views, even the weather behaves itself!
A good open campsite
An good campsite, which has plenty of space and allows campfires. An easy cycle distance to Rye and onto the marshes. A great campsite for families with kids. Four stars instead of five, when full or nearly full the facilities are stretched.
lovely, friendly campsite. great location.
We booked the Hare and Hounds campsite as it seemed the ideal location to escape the capital and relax near the coast. We were greeted on arrival by the friendly owners who were only too pleased to show us around and allow us to pick our spot. The campsite composes of two fields with each plot within easy walking distance to the facilities. The showers were nice and clean and well equipped, there is a large area for washing up plus a fridge, freezer, microwave and charging points. We walked to Rye along the footpath which didn't take too long and the beach at Camber is beautifully sandy. We loved it!
martin
We stayed for a week in August 2015, with 3 other families, and had a wonderful time. Ben and Harriet were great hosts, nothing was too much trouble, facilities were new, clean and tidy and being able to have a fire each night was an added extra. You're ideally located for the beach, Rye and various Country pubs , can't wait to book again!
lovely place!
Harriet and Ben are really lovely. We booked for two nights camping plus one night in the B&B, but as the weather was awful last week opted to stay in the dog-friendly B&B room for two nights instead. Harriet was really helpful with making last minute changes.  (She also does a totally awesome breakfast!).  The recommended pub down the road does lovely food & great beers. In Rye, the "Edith's House" cafe is lovely, and the Standard Inn does a cracking lunch - get a window seat and watch people pass by the Tudor house on the other side of the road.
Great campsite!
What a lovely place - peaceful, green and set in beautiful countryside, it has great facilities and even when full never felt too crowded. The owners were incredibly helpful, and renting a fire-pit was brilliant as well. Perfect place, and will definitely come back!
Free advice to carless travellers - book the taxi to and from the site a good day in advance. We managed, but Rye isn't exactly swimming in taxi companies!
Relaxed family fun
We took our two boys (aged four and two) to the Hare & Hounds for their first camping experience and it was the ideal choice. The field is small enough to let the kids run around without worrying about them disappearing and the spaces between pitches big enough to not have to constantly chase and catch them before they disturb other guests. The facilities are modern and clean and there are a number of nice touches, such as washing-up liquid and bowls being provided and the wood and burners than can be hired and wheeled to your tent so you can enjoy a warm (and safe) camp fire. Nearby Camber Sands is a stunning beach (albeit with expensive car parking) and we will definitely return to the Hare & Hounds. It's a shame you can't get a pint now the pub has closed but there are plenty of other places withing walking distance to quench that thirst.

Wheelbarrow loads of charm
We spent a delightful couple of nights on the south facing slopes of the Hare & Hounds campsite. After a brisk morning spent at nearby Camber Sands we were greeted by a fire pit hand delivered by the only form of transport necessary in cute surroundings - a wheelbarrow. The facilities are all brand new and owners very accommodating with the kind on 'lean on a gate post' charm perfectly in tune with the gently rolling slopes. Fresh seafood (scallops & prawns) can be bought straight from the boat in Rye for an unforgetable barbecue feast.
Super campsite, great location
Chilled, family campsite that has recently been refurbished. The owners have great knowledge of the local area, pointing us to a local fish shop when we purchased some prawns which we cooked on the fire. Space for the kids to run free in the day and a fire pit for roasting marshmallows on in the evening. Showers and bathrooms were always clean. Really recommend this delightful campsite! 
Best Price Guarantee, with no fees
Instant booking confirmation
Trusted for 10 years
A chance to win camping goodies in our regular competitions!
Book campsites near Hare & Hounds Campsite