Car-free camping for canoeists (and walkers) on a tiny Thames island
Three cheers for whoever it was at the Environment Agency who thought it would be a good idea to use land at certain Thames locks for camping. This site, at picturesque Cookham, is typical in its unfussy appearance and pleasingly unsophisticated facilities. There are two areas in which to pitch tents, a sheltered one near the lock-keeper's house, and a more scenic one on Sashes Island, wedged between the Thames and Hedsor Water. Birdlife abounds: visitors include kingfishers, red kites, parakeets, geese of all kinds and even the occasional hobby.
Toilets are in an eye-catching hexagonal wooden building, and there is a water tap at the back of the shower hut. Otherwise facilities are decidedly minimal and the field is, in all, just that: a patch of grass where you can pop your tent in peace.
To get to the lock, cross the bridge at the bottom of Odney Lane, take the wide path to the weir and then follow the signs. It should be stressed that, as with all Thames lock sites, Cookham is not accessible by car. Furthermore, campers have to book in advance and must arrive an hour before the weir gate is locked (April 5:00pm; May and June 6:00pm; July and August 6:30pm – arrive an hour before). There's a £10 deposit for the key.
Cookham village, though small, boasts one Chinese and three Indian restaurants, a smattering of pubs, and the unmissable Stanley Spencer Gallery. It's an easy half-mile stroll from the lock.
Please note: This campsite is not accessible by car.
Gallery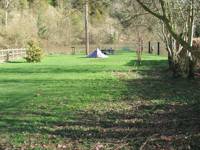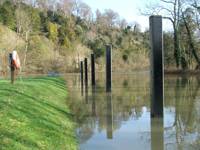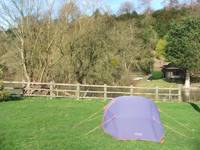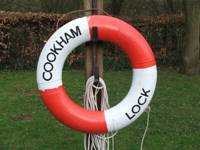 Reader Reviews
Add Your Review
Canoeist dream rest stop
It welcomed us with a grumpy lock keeper as we arrived after 5:30PM with gates already locked and no booking. After listening and begging to keep us all went beautiful and smooth after. Lock keeper showed his shiny side :) Beautiful place must do. Just remember to book ahead and arrive well before 5:30PM. It can only held 10 tents...according to keeper, bit more space that for 10, but I understand why, worth keeping that limit... :)
Cookham Lock
Cookham Lock is a very secluded campsite. So secluded in fact, that it is hard to get to. But well worth it. The campsite is located adjacent to the lock. Which means that if you camp will small children, they WILL need to be supervised. The coming and going of boats is an attraction by itself. Although the aminities are very basic, this is a pleasant campsite conveniently located near London. My only frustration is that I wanted to visit Cliveden, which you can see from the lock, but which is only reachable by road. On the other hand you can see the campsite from Cliveden and think "so close, yet so far away". The lockkeeper lives in a cottage next to the lock. He is very friendly. The Bounty is a pub about 30 minutes walk. If you fancy a drink by the Thames, I can strongly recommend it. It is a nice, easy walk, and having a drink, on the bank of the Thames, on a warm summernight, is very close to my idea of heaven. I stayed two days, I wish I could have stayed longer.
Best Price Guarantee, with no fees
Instant booking confirmation
Trusted for over 10 years
A chance to win £50 of Cool Camping vouchers!
Book campsites near Cookham Lock