A pop-up campsite on the banks of the River Great Ouse, with workshops, music, good food and a festival vibe
The big music festivals may have been cancelled again this year but that doesn't mean you can't still find a campsite with a family festival atmosphere. On the banks of the River Great Ouse, Wild Canvas have set about offering exactly that, with tipis from the organisers of the Tipi Field at Glastonbury Festival and a concoction of local food, family-friendly workshops and small-scale DJ sessions that can't help but meet the appetite of starved festival goers. Think boutique festival camping but without drunken teenagers tripping over your guy ropes in the middle of the night and background beats keeping you awake at 4am. 'Good vibes only', as the kids would say.
Popping up for just one month in the stately parkland of Bedfordshire's Turvey House Estate, Wild Canvas has a festival feel without the festival crowds. Camping pitches are more than 15 metres apart, there's a limit to the number of campers on the site and workshops are all organised in a socially distanced manner where possible. Most take place around the wellbeing yurt or the main canvas hub, where there are pop-up food offerings and a bar, with groovy summer tunes mixed by Wild Canvas' favourite DJs. Not that you have to take part in anything. You can simply kick back and enjoy the space of the campsite and, of course, an evening around a campfire, which are happily welcomed here provided they're raised off the grass.
The setting itself also takes some beating. People are more accustomed to hearing about the Lake District and the South West Coast when it comes to camping, rather than rural Bedfordshire. But the ancient oaks and historic parkland of the Turvey House Estate is the very picture of English beauty too. The river, which flows languidly along the edge of the campsite, is great for a dip on a hot summers day and there are several good footpaths on the doorstep, including the North Bedfordshire Heritage Trail. When the sun's out and the kids are larking around by the river you'd happily claim Bedfordshire is the most beautiful county of them all.
Our Coronavirus Booking Guarantee
Book with complete confidence at Wild Canvas Camping with the Cool Camping Coronavirus Booking Guarantee. We guarantee the following clear policy for your booking:
A low deposit of 30% to secure your booking
Balance not due until 30 days before your holiday, in case of late changes to Coronavirus guidance
Complete flexibility to move bookings up to the end of 2021 in the event of Coronavirus restrictions
In the event of a lack of 2021 availability, switch your dates to 2022
Due to low deposit and late balance payment, no refunds are offered
Details
Facilities
The camping area is vehicle free and it takes less than five minutes to walk to your pitch (wheelbarrows available to borrow and tipi guests get a free buggy transfer including in their booking). Campfires are permitted but must be raised off the grass (logs can be pre-ordered or purchased on site). Compost toilets and washing up stations in the main camping field, plus additional compost toilets in the other camping fields. Hot showers in the main camping field. A communal zone, 'Wild HQ', is home to a bar, pop-up café and is also where some of the workshops take place. The Nest, a large yurt located on the river bank, is the wellbeing centre and is used if weather does not permit activities to run outdoors. Due to distancing measures, workshops will be by pre-registration only, Wild Canvas will publish a list of daily activities and workshops, which you can book in advance (if there's still availability, you can book on site too). Music and speakers are permitted, though these should be turned down after 8pm (and quit from 10pm).
Suitable For
Tents, small campervans, glampers, families, small groups and chilled-out festival types – yes. Motorhomes, caravans and dogs – no.
Nearby
Bring bikes to make the most of the area. The relatively flat Ouse Valley provides extensive opportunities for family cycling. In the nearby village of Olney, Emberton Country Park (nine miles away; 01908 252570) has some family-friendly routes around lakes, glades and meadows with cafes and play equipment too. Box End Park (10 miles away; 01234 846222) offers water-based fun on two purpose-built lakes. There's an aqua park playground (suitable for ages six and up) or, for older kids and adults, the opportunity to water ski, wakeboard or enjoy open-water swimming. Woburn Safari Park and Whipsnade Zoos (0344 2251826) are both possible day trips by car (22 and 40 miles from the campsite respectively).
Food & Drink
If Wild Canvas is about offering festival-style camping then, of course, that means a bit of festival food too. In Wild HQ there's a pop-up café serving a selection from pizza to breakfast baps, a good quality coffee and pastry offering, and a host of food trucks that will drop in through the summer for additional variety. Plus, there is a bar, where you can sample the local ales to the mellow sounds of Wild Canvas Radio.

Open
Late July and August only.
Why book with Cool Camping?
Coronavirus Booking Guarantee
Best Price Guarantee, with no fees
Instant booking confirmation
Trusted for over 10 years
A chance to win prizes in our regular competitions
The Owner Says
A pop-up camping experience with a family-friendly festive spirit, gorgeous traditional Tipis, modern Tipi Tents, and lovely, generously-spaced, grassy, flat pitches for regular campers.
Our river-side location is simply stunning, located within the grounds of Turvey House Estate in Bedfordshire. With ample flat and grassy land, the parkland grounds offer comfortable camping along the banks of River Great Ouse, perfect for a cool summer dip.
Wild Canvas is a place to experience the freedom of simple living, comfortable yet connected to the elements, a festival spirit, quality local food and drink, family-friendly workshops, a range of wellness activities and a very gentle summer soundtrack at Wild HQ. Our workshops and activities program can be seen and booked on our website; and include Yoga, Pilates, Paddle Boarding, Arts and Crafts, Circus Arts, Super Heroes Fancy Dress and Kids Disco and much more. Plus, some of our favourite DJs will provide a gentle summer soundtrack in our lovely courtyard and hospitality space where you can purchase food and drink.
Accommodation
Room for around 30 camping pitches in the spacious meadow, plus a collection of fully-furnished festival tipis.
Grass Tent Pitch for Camping
Grass pitch
Sleeps 8
30 Available
With ample space to pitch your tent however large or small, our flat and grassy camping fields are great for campers looking for space and lovely riverside nature views. Campers can also camp with friends and family as there is loads of space for group clusters whilst still maintaining distance from other campers.
---
Furnished Traditional Tipi
Tipi
Sleeps 6
4 Available
Our traditional tipi comes with beds and furnishing for up to 4 people, it also includes an external fire dish. The tipi price includes up to 4 people. Additional occupants can be added at extra cost, up to a maximum of 6, including children.
---
Check Availability
Location
Contact Wild Canvas Camping, Coppey Moor Cottage, Turvey, Bedfordshire MK43 8EQ
Getting There
The nearest, main line train station is Bedford (Thameslink) with regular trains from Kings Cross. From there you will be able to take busses (number 41) to the village of Turvey (direction Northampton). The campsite is just under a mile from the village.
Reviews
Add Your Review
Rated ★★★★☆ over 4 reviews
What ive needed all year!
Wild canvas is exactly what was needed, after a year of being locked indoors i started to become such an introvert, getting used to being indoors and whatnot. Its a great way to spend family time from sitting around a fire in the evening to cooking breakfast in the morning, the activities wild canvas provide for the kids is amazing too. Lets not forget the wild swimming in the river besides the field, its just perfect! Last but not least the Patty and Bun box they have to offer, is TO DIE FOR! All in all im enjoying myself once again at a wild canvas run campsite! Will be back
Great camping, with festival vibe for those who seek it.
We stayed for the weekend including the opening night. There are three large fields with the bar and music on the edge of the first field so you can seek out the festival vibe if you like or stay further away if you prefer the quiet. Along all fields is a small river in which you can or watch the minnows peck at your feet (watch out for the current though). It's a beautiful place with a coffee van that offers croissants in the morning and at night there was food. Pizza one night, pulled pork or chicken the other. Showers and toilets are clean. Very family friendly.
No festival vibe
Arrived Friday afternoon and no barrows to transport camping equipment, bar not open until 6 no DJ's as advertised - the only thing which gave me the festival vibe is the over priced can of warm cider (£5) and the rain and kids shouting late at night - asked staff about music on Saturday and they didn't know - left after one night disappointing
Response from Wild Canvas Camping
Thank you for your review. Friday was our opening day and there were a few last minute changes we had to make to accommodate people isolating. We apologise for any inconvenience.
We have advertised a campsite with a gentle festival vibe across 6 weeks, our program is spread out across the entire event and a detailed schedule is available on our website and on notice boards at the campsite. I can appreciate that in 1 night here you might not have experience much of it. We did indeed have a DJ on Saturday evening at the bar and this was on the notice board. We do not make it the responsibility of the crew to know the programme.
In addition, we have already had dozens of workshops and activities take place including; Yoga sessions, QiGong, Children' s Disco, T-shirt Printing, Crafts workshops, Kids Nature Clubs, Live Music in the Yurt, Story Telling and more, and all this just in the first 3 days!
I apologise that the sound of kids on campsite disturbed you, we have always said that this is a family friendly campsite and children are an integral part of it.
Also to inform future guests that the Cider is now cold and costs £4 per can. You are of course also welcome to bring your own.
a positive and memorable camping experience
I have been camping with my 11 year old son a few times and this time he said when we arrived, "You know I don't like camping. It's boring and I want to go home!" By the end of the first day he said, "Maybe I was being too negative. I really did enjoy today!" What made the difference for him and myself, were the shared events that were on offer, the hula hoop, tai chi and forest sounds classes that we participated in and the friendliness of our neighbouring campers, whose children played with my son and whose grown ups joined me for tea on the camp stove and evening chats around the fire pit. The last night, where we shared a delicious curry at the cafe and had a boogey to music, was a great end to a fab few days and this was despite it raining and storming for most of the time! As a single mum with a reluctant son, I too arrived with reservations we'd feel isolated, or he'd be disengaged but we both had our reservations swept away. Neither of us were expecting to have such a great experience. It's by far our best camping trip together. The friendly staff, campers, camp shop, cafe, coffee box van, barn and tepee with organised events and activities all helped to make us feel welcome and part of a camping community for the few days we were there. Thank you! We'll be going again next year and I'll know now to pack my wellies!
Why book with Cool Camping?
Coronavirus Booking Guarantee
Best Price Guarantee, with no fees
Instant booking confirmation
Trusted for over 10 years
A chance to win prizes in our regular competitions
Book campsites near Wild Canvas Camping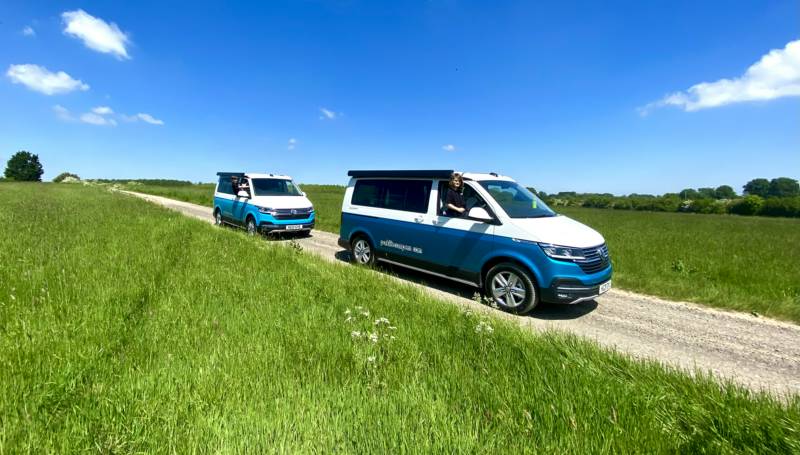 Holidays in Milton Keynes
Holidays in Buckinghamshire
Holidays in South East England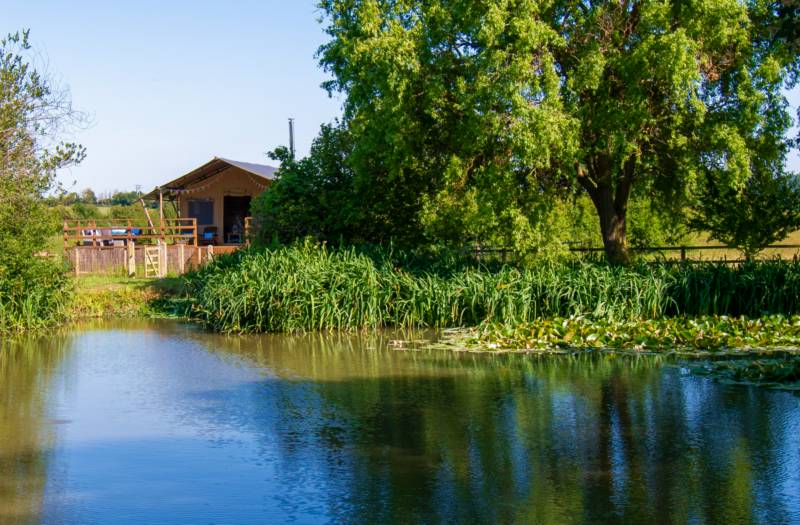 Glamping in Bedfordshire
Glamping in South East England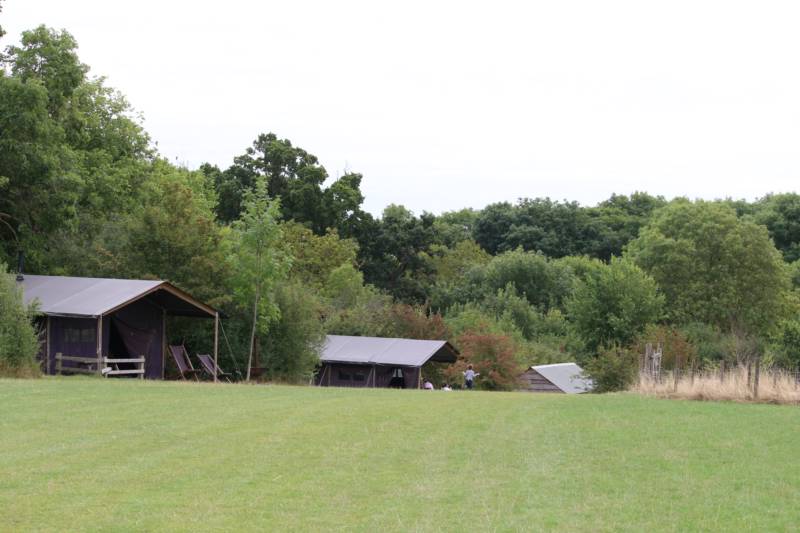 Glamping in Bedford
Glamping in Bedfordshire
Glamping in South East England
Available:
2 Safari tents