Shallow Grange Farm
Old Coalpit Lane, Chelmorton, Buxton, Derbyshire SK17 9SG










An eco-friendly spot where you can get away from it all.
It can be a nightmare finding a decent working sheep farm to camp on in the middle of the Peak District National Park. Luckily Shallow Grange, three miles south of Buxton, manages to combine both sheep (around 200 ewes to be precise) and tents amid 110 acres of grassy farmland and rolling hills. 
 To stay here is to be in noble company, historically speaking – we're not still baahing on about sheep – since the Sherwood Foresters used the land as their summer camp back at the beginning of the last century. But those days long gone, it's been functioning as a campsite in its modern form for a couple decades, run by Ed and Marilyn, who've worked hard to make the site a pleasant and highly eco-friendly experience. 
 You'll find a comprehensive recycling system; renovated shower block with thermostatically controlled underfloor heating system (and Dyson hand dryers no less); toilets with low-volume flushes; and solar panels to supplement the hot water temperatures. Their latest project is a 100,000-litre rainwater capture tank. The Merry Men would be jealous indeed. The site's large camping meadow is flat, well drained, and bordered by ancient low stone walls. It has space for 30 tents (with generously sized pitches), and there's a separate touring field for caravans, which has electric hook-ups that can be used by those staying in tents (if they pay the caravan tariff). It's a simple sort of site, despite the jazzy eco-facilities. There's a pond, where you can fish for perch, carp, and bream (all season; £5 per day). 
And as it sits in the Peak District Dark Skies area, it's a great spot for stargazing, too.
Gallery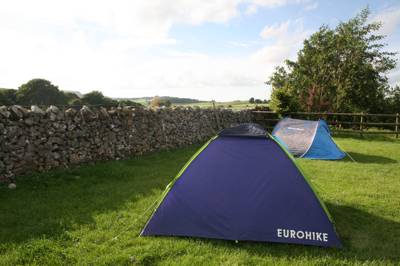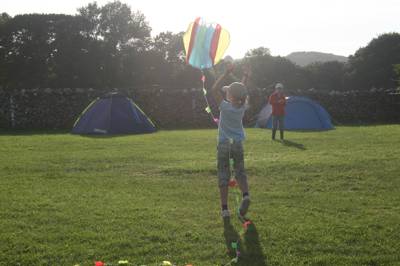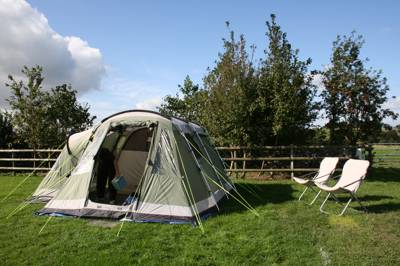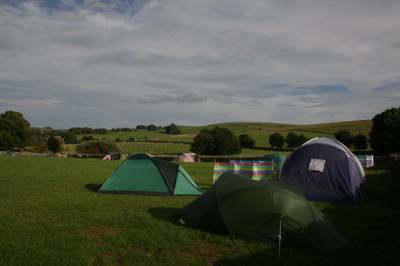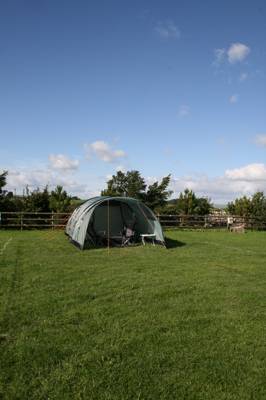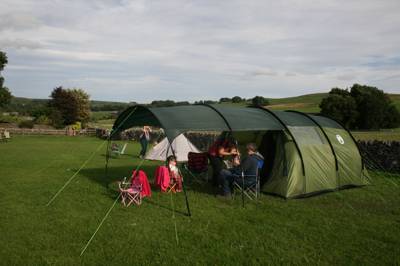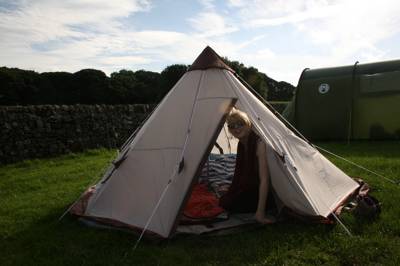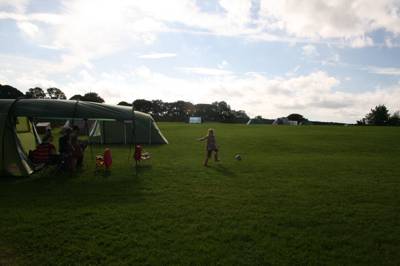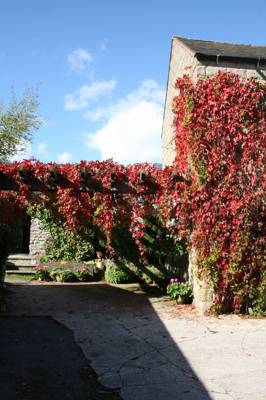 The Owner Says
New for 2014 - We now have fire baskets for hire & bags of firewood for sale
Reviews
Sign up or sign in to leave your review of Shallow Grange Farm
shallow grange farm
Me and my hubby had a 2 night stay at shallow grange and it was everything we expected , very friendly owners and the facilities are very clean and the site is well maintained and looked after . At first with the reviews i read i thought it was going to be quite noisy but it wasn't of course you get farm yard activity but to be honest i hardly heard a thing . I can say me and my hubby had a very pleasant stay at shallow grange and we will defiantly be visiting the site again and i would recommend it to other happy campers. go on give it a try 
Very well appointed site
This is a lovely campsite just outside of Buxton.  The camping field is large with well defined pitches and excellent facilities.  There is an emphasis on recycling and the modern shower block is well maintained. Showers are included in the price and are hot all day. A lot of time, effort and money has obviously been spent on making it very comfortable and the whole place is very well run.  Ed and Marilyn are very welcoming.  There are some lovely walks in the surrounding area, with a well maintained public footpath actually crossing the farm.  You can borrow maps at the farm house.
The only slight issue I found was the road noise.  While not on a busy main road, there is one nearby and the nature of the landscape means that the sound is amplified by the valley. That said, it didn't really detract from our experience there and we will be returning in the future.  
Immaculate, shame about noise
The site is immaculate, the facilities second to none, the local walk beautiful. However camping is location location location and this one has issues: two working quarries (one just over the road), the a515 to the west (with a hill that the big trucks grind up at high volume) and another busy road to the  south. Unless you actively need lots of noise to drown out your tinnitus, there are far more peaceful sites in the peaks. 
Shame about the traffic noise and airplanes
Firstly, I must agree with most of the positive comments I have seen and can recommend this site to heavier sleepers. Beautiful, we'll kept spacious site with good facilities. although the site was three quarters empty when we went (June 2014), so things may not be so good when full.
 I also admit to being a lightish sleeper, and I have often put up with and slept through sheep and crow noise, and the occasional tractor (and had to again here), but that comes with the turf.  From a traffic point of view this is not a site I can recommend for lighter sleepers and those who want to get away from urban noise.  I am sorry to say its one of the noisiest sites I have ever camped on. It's next to a busy A road with regular lorries late into the night and early morning (perhaps due to the large quarry nearby and being a rat run to the A6). This was supplemented by regular lowish flying commercial airplanes, suggesting it must also be on a flight path! I live in Birmingham near A roads and under the international flight path and it's was noisier on the site! 
I noted large fields to the rear of the farm sloping away into the next valley and away from the road. No doubt these fields would be quieter, but were not in use for camping on our visit and did not look like they ever were either - shame.  
We had a great, but tired weekend and would return to the area, just not this site.  If anyone can suggest something similar in the same area or anywhere else for that matter, for tent and car, then I am definitely interested! 
Lovely site and definately worth a visit!
3 day stay, along with two other families.
LOCATION/SITE -
Lovely campsite, hospitable hosts (Edward and Marilyn), nice back-drop and views (although due to position not an abundance of rolling hills BUT still gorgeous), pitches (NON-ELECTRIC) were pretty even - slight slope but nothing to create problems.  Great places to visit nearby.
BONUS -  children (and adults) welcome to play ball games etc in middle of camping field!
FACILITIES
Showers, toilets and washroom were all v v clean.  Despite the wet evenings and constant rain, there always seemed to be someone moping up and tidying the place.
ICE PACK/FREEZER FACILITY
Able to obtain a key for freezer use (£5 returnable with key) which is mega useful for freezer blocks and any freezer items.  I'd like to think anyone should be able to leave stuff in there and return to it later.
Nice calibre of people on the site.  Great location. And spotless place!!  WILL DEFO RETURN and recommend!!
Best Price Guarantee, with no fees
Instant booking confirmation
Trusted for 10 years
Chance to win camping goodies in our regular competitions!
Beautiful site
We stayed here for a long weekend at the beginning of June and loved it. The facilities are some of the best I have come across, clean and plenty of them. The view from the campsite is stunning and we were lucky enough to have sunshine so spent the evenings sitting enjoying the view whilst the children were able to play in the large amount of space in the middle of the field. You do get road sounds with the zoom of the odd motorbike but it did not ruin things and couldn't be heard at night.
Ed the farmer and his wife were very welcoming and accommodating. He even did a talk about the sheep for the children, letting them feed and stroke them.
You are allowed campfires if they are off the ground. We asked for some wood and were charged £5 for a large bag, which we felt was very reasonable, especially as the bag contained wood of varying sizes, kindling, newspaper and a fire lighter.
The pitch was flat and we had plenty of space. Admittedly the site wasn't full. The pitches are marked out around the edge of the field and I imagine that if the site was full it would feel a little tight on either side.
There is a barrier with a code at the entrance to the campsite which I haven't come across before on a site and it felt very reassuring. There is plenty to do in the area as well.
All in all we had a great trip, would definitely recommend the site and will be returning. Thank you Ed!
Shallow Grange Farm
Visited site summer 2012, good pitches, great central area for children to play. Facilities were clean and modern. Gorgeous views from site. Would be happy to visit again.
Bank holiday birthday weekend!
It was my 40th birthday, and my wife had arranged a field hire for over 30 friends and family to camp, although there were over 100 of us for the evening! The weather was at times bleak so we were extremely grateful to Ed as he helped us make the best of it. The site was spot on; the location is great, the facilities were spotless despite the rain and mud, and the friendliness of Ed and his wife and staff made it for us. We all had a fantastic time. We will definitely be going back, but this time we'll spare them the chaos and go on our own, and buy them a beer :-)
OK
Nothing to write home about really! Facilities are good clean showers no real complaints regarding toilets and showers. Pitches were quite small and felt cramped although well marked out. No real complaints but nothing to gush about either!