Book campsites near Baystone Bank Farm Campsite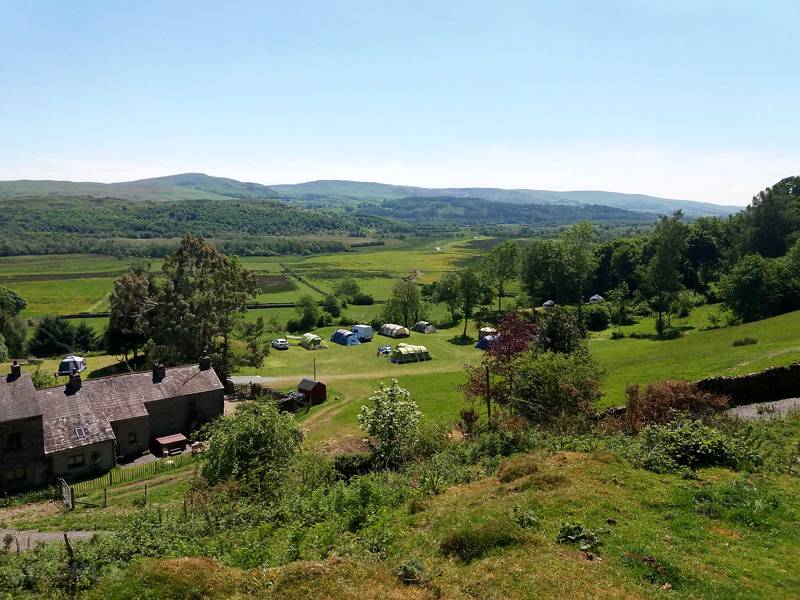 Campsites in Ulverston
Campsites in Cumbria
Campsites in North West England
Available:
21 Pitches
4 Shepherd's huts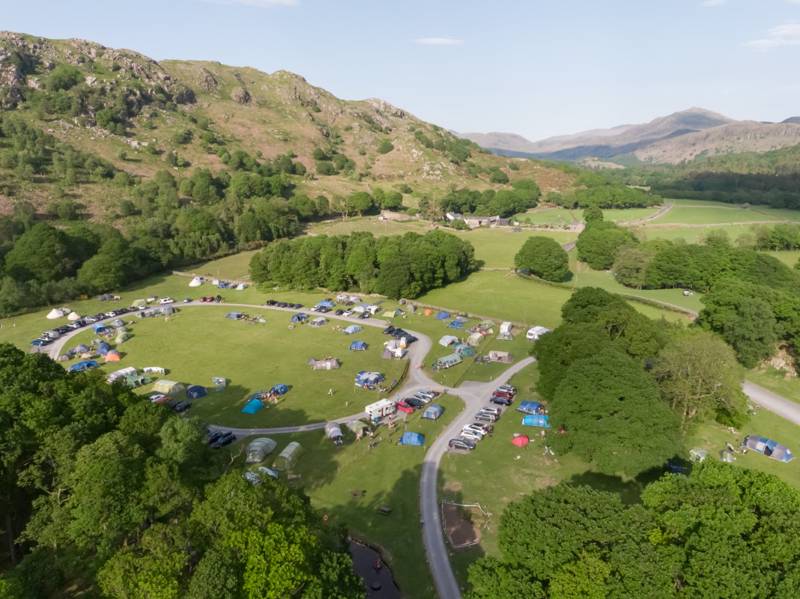 Campsites in Eskdale
Campsites in Cumbria
Campsites in North West England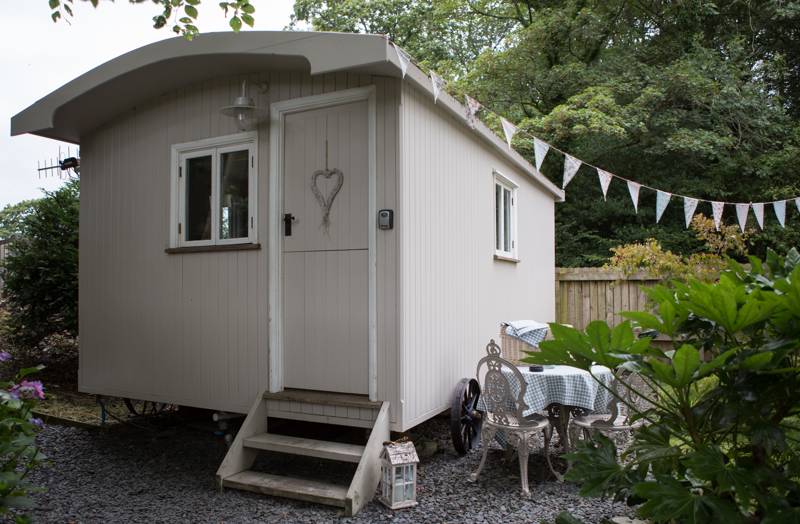 Glamping in Ulverston
Glamping in Cumbria
Glamping in North West England
Available:
2 Shepherd's huts
1 Cabin
Baystone Bank Farm Campsite
Lake District camping on a working farm with a stream to splash in, campfires encouraged and a horse-riding centre on the doorstep so you can tour the local scenery in style.
Baystone Bank Farm has the feel of farm from time gone by. In the south-west of the Lake District, at the foot of White Combe mountain, it's setting is as English as they come. Traditional Swaledale sheep dot the surrounding slopes and a mighty Shire horse grazes in the neighbouring field, as if an old horse-drawn plough has just been unshackled. This is 'rural' defined.
Through the centre of the site runs a small and very paddle-able stream, its waters funnelled down from White Combe and Black Combe, the hulking mountains that rise north of the campsite. Across the stream a collection of non-electric grass pitches are perfect for tent campers, while, on the nearer side, more grass pitches are joined by slate grey hard-standings for campervans or caravans. In total, the campsite still remains a small and peaceful affair, with space for kids to run free and build dams in the stream, while parents enjoy the tranquillity of pitching on one the Lake District's smaller, lesser known campsites.

Those who want the location but without the camping are also catered for. There's a handful of pre-pitched bell tents, decked out with proper beds and soft furnishings, and a custom-built, timber roundhouse set on the campsites raised terrace area. There's also a separate orchard, through a gate at the end of the site, which has been specifically set aside for groups of campers, who want to book together and have a space all to themselves.
The campsite is just one of many feathers in Baystone Bank's hat. Along with continuing to farm Swaledale and Blackfaced sheep on the surrounding fells, it is also home to the Cumbrian Heavy Horses Riding Centre, where you can saddle up on the largest of horse breeds, including shire horses and Clydesdales. There are steeds for all sizes though, and all levels of ability, so campers are welcome to saddle up and head out on one of their guided hacks.
Those who prefer two feet to four need no telling that the walking here is excellent. Several footpaths run right through the farm's own land and trekking up to the top of White Combe and along the ridge to Black Combe is a must. Standing in isolation as the ridge does, it offers excellent all-round views, of the Irish Sea to the west and across the crinkling mountains of the rest of the national park to the east. In the distance below, the likes of Muncaster Castle, the Esk estuary and the North Walney National Nature Reserve all offer just a glimpse of the many other attractions on the doorstep.
Details
Facilities
Our wash block has clean toilets including 2 ladies & 2 gents toilets, all with new hand basins and hot running water,  4 new shower cubicles, a covered dish-washing area with double drainers and a small fridge and a freezer for communal use and ice-pack freezing.
Our well stocked new Shop and Cafe are now open from May - October so you can buy your camping essentials and get hot/cold food and drinks. 

Fire-pits are scattered around the campsite and logs are available to buy at our on-site log hut.

Our 2 non electric Bell tents are seasonal from May - October and each feature a double bed and children's sofa bed inside & a side-table/cabinet. You do need to bring your own bedding pillows & towels.

 - Dogs are welcome in both our Roundhouse & Bell tents.
The insulated Roundhouse is availabe all year round and has electricity, water, a well-equipped cooking area, hard-wood storage cabinets, a wood-burning stove and a king-sized bed and all bedding and towels are provided.
Suitable For
Tents, campervans, caravans, dogs – yes. Large groups by prior arrangement.
Nearby
Across the meadow is Baystone Bank Farm's very own horse riding centre. It is the world's only BHS-approved Heavy Horse Riding Centre (07769 588565 or 01229 777764), with magnificent shire horses with their great shaggy feet along with other breeds such as Clydesdale, Suffolk Punch, Brabant and Percheron. There are miles of fabulous riding routes on the private farmland and beyond and a variety of horses to suit all levels of experience. Rides are carefully organised as instructional hacks, with tuition, and start from 1½ hours (longer fell and beach ride experiences are available to suit experience levels). For those who prefer to stay on their own two feet, there are endless walking opportunities. A series of footpaths run through the farm, with routes up both Black and White Combe (the foothills are accessible from the campsite) and the rest of the national park on your doorstep. Coniston Water (10 miles) is the closest of the main lakes nearby, but there are several smaller tarns that you can walk around, too including Rydal Water and Tarn Hows. Grizedale Forest is only 30 minutes drive away and offers miles of fabulous off road mountain biking.
Food & Drink
It's a 5-minute drive or a half hour walk to The Punch Bowl Inn (01229 774457) in the local village of Hallthwaites. The pub is right opposite the village hall (and the bus stop) and is rather unassuming looking from outside. There are outside tables round the back, though, and the food is decent and well priced. Best to ring the Punch Bowl to reserve a table though as they are not open on certain days during the winter months. For more options, drive the 10 minutes to Broughton-in-Furness, where there's a trio of good pubs open all year round.  There is also the Beach Cafe at Haverigg by the sea where there is a playground for the young ones which is also about 8-10 mins away and the Harbour pub which is reasonably priced and offers a 3 course Sunday lunch which is good value.
Open
All year.
Location
Contact Baystone Bank Farm Campsite, Baystone Bank Farm Campsite, Whicham, Millom, Cumbria LA18 5LY
Getting There
Baystone Bank Farm is just off the A595 between the 2 turns to Millom at either end of the Whicham Valley. Unless you actively want a scenic route, avoid going through the Lakes and exit the M6 at junction 36 (signposted Western Lake District (S), Kendal, Barrow) following the A590. Follow the A590 as it splits off left towards Barrow and continue until you reach Greenodd. At the roundabout, take a right towards Workington on the A5092, following the road through Lowick Green and on to Grizebeck where you should join the A595 heading for Workington and the Western Lake District. Follow the A595 past Broughton-in-Furness and Duddon Bridge, then past the turn off to Broadgate. Continue for a further 1½ miles over Dubdale Brow before turning right at the sign for the campsite. There are 7 farms with the same postcode, so if you're using a SatNav be sure to enter Baystone Bank Farm as the name!
The nearest train station is in Millom, 5 miles away.
Reviews
Add Your Review
Rated ★★★★★ over 191 reviews
Absolutely brilliant
Affordable spot with absolutely fantastic scenery. Hosts were very welcoming and helpful, facilities were great, would undoubtedly come back again in the future.
Fantastic
From start to finish, nothing was to much trouble , you ask , it was done . My kids went from zombies playing computer games , to happy fun kids . From playing in the safe stream running through the centre of camp , to 5 k hikes , they even went horse riding in the Heavy horses on site . It was a experience they'll never forget , Annie & Jean were fantastic, and everyone else I didn't catch their names . But Thank You . John
Great location and friendly owners.
Although we did stay here last summer I forgot to leave a review. A fantastic site in a lovely location with a stream running through it. The owners and wardens were super helpful and friendly and we could not fault the place. we will defiantly be returning and cant wait, look forward to seeing you again soon.
A November Visit
A great place to have a few days away before the next lockdown which wasn't too far from our home in our camper van. Despite the wet and windy weather we thoroughly enjoyed the peaceful site surrounded by their four legged lawn mowers, the babbling beck and beautiful fells. We're looking forward to another visit.
Relaxed, well equipped and beautiful setting
The campsite is easy to find, we received a warm welcome and were able to set up quickly. All facilities were clean and modern. The setting is beautiful with views towards the Lake District and the sea.
Wild and beautiful place
This campsite is very beautiful surrounded by fells with a brook running through it. The facilities are really good, modern and very clean. The site is quiet at this time of year so hard to gage how busy it gets, but for us in early October very peaceful due to only 4 or 5 other tenants being there over the week (some days none). Be sure to have lighting to move about the site with as it goes very dark with no lighting in the camping area. It was a shame the farm shop was not open as we were looing forward to buying local farm produce, however we understood it is not peak time of year. We only met the campsite warden once upon ariving and the next day he left as the main season was over with the owner coming to take over, however we never met the owner. We did ring the main line a couple of times with 2 questions who were very helpful, but not sure what would happen if there was an on site technical issue with no warden present. The weather from the fells can come down heavy in the valley (camping area) so be sure to tightly peg your tent or secure you caravan/motorhome well. Our trailer caravan survived the storm! wind and sheet rain!. Just two things that I feel can be made more clear/ Improved -: 1- The no go zones on the farm land, whilst it does say on some of the gates no "Vehicle access boyond this point " its not clear footpath wise. It is a shame the fells dont seem to accesible from the farm/campsite, possibly access can be given with permisson from the farm owner? provided live stock is not in said route. 2- The mop and bucket left in the shower area (which is requested the Tenants use to clean the shower area after themselves) is often dirty, I changed the water but there was no cleaning product left out so I used the hand sanitiser instead! might be a good idea to leave some cleaning fluid out. Overall we are coming back ASAP...
Charming, rustic and beautiful
We stayed as a couple in the bell tent for 2 nights and we couldn't be happier. The campsite was set in beautiful rolling hills with a stream babbling through the site. The bell things have a double bed, table and pouffe seats as well as carpets and rugs. There is a fire pit for keeping warm and cooking and the shower, toilet and washing up facilities were just 30 seconds away. All facilities were spotless and newly fitted. The campsite is charming with chickens roaming free and sheep and cows visible in the fields and hills surrounding as well as beautiful horses. It is 20 mins or so from Coniston Water and 35 mins to Bowness on Windermere. All in all, a fab trip, excellent value for money and we can wait to come back again in the spring.
Amazing location views outstanding
Great secluded location fantastic views great walks close to the beach good size pitches by a streams with fire pits, facility good clean great showers and washing up area would stay again.
Amazing location
Stunning location in a valley made a fantastic few nights in one of their bell tents. Sitting outside with a fire pit in such a chilled place was an amazing break and we'll be back to explore more of the area
Great litle site
Lovely position, very friendly and informative greeting from Gordon and his wife. Toilet facilities could be improved, but all in all I would definitely consider returning.
Delightful site
I am so glad we chose this site as I am note sure what more we could have wanted! Anna and Gordon are super friendly, nothing was too much for them, and the cafe's cooked breakfast is just what was needed. The site itself is small and broken up into different fields so that it feels much nicer. Location is brilliant too as it is so easy to get to! Great to be able to have a campfire too as not many sites we found allowed them. We will definitely be back next year!!!
A great little campsite!
We've just got back from a lovely stay at Baystone Bank Farm Campsite! The site is in such a picturesque location with 360° views. The facilities were clean and the pitches were spacious. We particularly enjoyed having a fire pit at the pitch! The staff were very welcoming and friendly and it was great to watch the chickens wandering free around the site! We would definitely recommend staying at the site and we'll be booking to stay again next year!
Excellent
Lovely surroundings with friendly staff. Toilets and showers are clean and tidy.
One of the best campsites we've stayed at...
Great mix of pitch locations - from hookups in the midst of site to secluded tent turfs up on the slopes above, most with their own fire pits. The surroundings are beautiful, with walks straight out of the site onto the hills around you. There is even a hidden lake and ancient stone circle to be discovered - both of which we had entirely to ourselves when we visited. You are also a short drive from the spectacular sunsets across Silecroft Beach. Lovely people running the site (with its own little shop/cafe) and the facilities were spotless. We found it through a local recommendation and would happily pass that recommendation on to everyone else. And they love dogs. Perfect...
Lovely, friendly site in a beautiful setting.
We really enjoyed our time camping at this site. The child adored playing in the gentle stream thoroughly. Also loved the friendly, nosey little chickens which freely roamed the site. We were blessed with beautiful weather. The bonfire pits are a great touch, although some are placed a little awkwardly on the pitch. It's a bit snug, but everyone was on their best behaviour and the nights were incredibly peaceful. There is a lovely cafe and the wardens were superb. Ann(?) Makes a mean toastie 👌 We will definitely come back. Highly recommend for families, couples, and small groups.
Cracking site
Was a pleasure to stay here. The camp site is clean and the little stream running through it adds to the outdoor experience. Toilets clean and free showers. Overall a cracking weekend had by all. Will deffo be booking again.
Fabulous
I stayed one night at this lovely camp site, from great scenery, on camp facilities and that warm family feel. It has defiantly been the best campsite I have stayed at up to yet. I would highly recommend. The only negative was we needed to leave. 110% will be returning. Thankyou to the lovely gentleman who welcomed us, made us feel comfortable and offered any help. Big big Thankyou.
Fantastic stay on beautiful early Autumn weekend.
With a stunning weather forecast for the weekend promised I decided on a last minute camping/walking trip to the Lake District and very quickly found lots of other people had beaten me too it. As a result I found Baystone Bank via Cool Camping and decided to give it a try. I was travelling relatively light with a small solo tent so booked a pitch with no vehicular access and was a little concerned about having to lug all my gear down so I sent an email to the campsite asking about this along with a few other questions. The owner rang me back almost straightaway and was very helpful. On arrival I was greeted by the Warden who contrary to some of the reports below couldn't have been more helpful. He also arranged for me to bring my car down to the pitch to drop off my gear before taking it back to the car park. The field was lovely, well kept and mown and the occupied pitches well spaced out. I was self-sufficient with food to help with social distancing but the lovely little site shop had all the basics should I have needed them. Facilities were clean and had good space, the gents toilet area was a little cramped but was clean, tidy and didn't cause me any problems. The ability to have a camp fire was great and I made use of this on both nights. On a clear night the stargazing is superb also with the Milky way clearly visible due to lack of light pollution. While this is not in the campsites control, I was also really pleased to get a very good 4G signal for data. (BT Mobile) All in all this was a really great stay and I enjoyed it so much I have booked a tent pitch with Electric for the upcoming October half term. All be it with a bigger tent and a tent heater!
stunning location, bring everything
Arrived on the day after 2pm and lovely confused lady tried to send us for a horse ride thinking we had a booking! finally managed to communicate that we had booked for one of bell tents. she explained that person who normally did that was off so she would phone owner. the friendly owner showed us the facilities and tent and left us. the bell tents no longer have cooking facilities or cups, crockery or cutlery as shown in pictures. please bring your own cooking equipment and everything you need to make meals. tent ok, bit smaller than looks in photos, but warm enough. There are two bell tents on site, ours looked older and had many black dots of mould on outside of tent, which were visible inside. equipped with bed frame (very creaky!), mattress, two crates for bedside tables, a small foam sofa bed/pad for children, four small pooffee style stools, a battery lamp on the tent pole, a coffee table and three candle holders. no really what we were expecting for glamping, as it is normally about luxury- but fine for a couple of days. outside there was a fire pit and a table and chairs, solar fairy lights that did not work. Views are truly incredible, you can see the sea and a huge valley, surrounded by sheep and horses, also hens as neighbours. The shower/toilet facilities were exceptional- very powerful spacious showers, good temperature, private rooms, toilets always clean. There were plenty of sinks for washing up including liquid and cloths. fridges and small freezer were already full when we arrived, so we couldn't use. due to covid shop/cafe had various opening hours and we never seemed to be around when it was open as we were in lakes to hike. Only real downside was lack of cooking and fridge facilities. we couldn't even make a cup of tea whilst we were there as the tents aren't yet equipped with electric, and no kitchen on site. Bringing everything you need is not really my idea of glamping! would visit again, but in own tent bringing all!
Great setting ... beautiful views
We very recently stayed 5 nights, Sunday to Friday morning ... a perfect location, babbling stream, surrounded by beautiful views ... on a working farm with Cumbrian Heavy Horses, very gentle majestic beasts. Gordon, the Campsite Warden was extremely welcoming & very helpful ... he has spares of everything you need! Anna, also very welcoming, runs the shop & cafe and they have a good range of essentials. We loved the peace of the place, was very glad there were no noisy groups ... we came to enjoy the West Lakes in all its glory and that's what we did! The facilities were very good & very clean, you can also have a log fire, wood is provided via an honesty box system which is very trusting & I liked that ... We will return ... thank you to Gordon & Anna
Couldn't fault it.
Great location. Lovely staff. Clean facilities. Reasonably priced. Unbeatable views. Free range Chickens.
Incredible atmosphere
Friendly arrival, wasn't too busy so had the pick of pitches. Beautiful location with really nice farm atmosphere. Basic facilities are just what you need! Only a half hour drive from Old Man of Coniston trail it walking is your thing.
Friendly, helpful campsite
Just got back last night from Baystone Bank Farm. What a great little site. Gordon the warden is an absolute credit to the site. He was very friendly, approachable and helpful warden. The facilities are fantastic too. Free, hot showers are always useful after a cold night.
Lovely Campsite
Was a lovely Campsite, staff very helpfull and managed to put our full party together! Site kept very clean and tidy! Would stay again!
A lovely campsite, would definitely go again!
Great views, friendly staff, warm showers and just a 15 minute drive from haverigg Beach! 👌
Excellent
Lovely campsite with excellent facilities. The surrounding area is stunning with some lovely walks. Has the added bonus of horses everywhere you look :)
Beautiful campsite
Very friendly, beautiful views and everything was very clean :)
Friendly, family fun with the most beautiful views
My boyfriend and myself took two dogs and two kids for an overnight stay at Baystone bank farm and had a fabulous experience. We would highly recommend this farm and can't wait to return for a longer stay. The fire pit was cute and the views with the horses were beautiful. Hot, clean showers were always available and the staff were very helpful. 5 stars from us x
We stayed for 5 nights in mixed weather. Over the stream up the hill - family and friends - adults
Loved peace, scenery, stream, being amongst the animals. Great facilities with no queue even when site busy and during Covid. Cleaning better than at home. Staff cheerful and competent - happy in their jobs. Loved watching the horses being brought in from their various distant fields in the mornings from our tent. Thanks
Beautiful site, well organised and friendly
We stayed at Baystone for 2 nights in September and were so impressed with both the beautiful site and views, and the owners, Gordon and Anna. We were met on arrival and showed to our pitch, with all the amenities explained. The views from our pitch were just stunning and we weren't too close together. The shower, toilet and washing up facilities were great and the kids loved having sheep, chickens and the most beautiful shire horses to look at. Sleeping next to a stream was so soothing! It was also great to have an onsite shop and cafe. Would definitely return.
Beautiful location and good clean facilities.
Great place. Friendly staff, clean toilets and washing up facilities. Has the best showers of any campsite in England I've visited. Each pitch has a fire pit with wood available to buy (wood was not seasoned though and very smokey). Amazing views and the kids loved the stream but ithe stream was noisy at night trying to sleep.
Little gem in the country
Beautiful site in the western lakes. Loved falling asleep to sound of stream, which grandkids loved playing in. Spotless facilities, inside dish wash area and plenty of freezer pack space. Chickens and friendly dogs wandering around and sheep and heavy horses nearby all add to the experience. Staff very helpful. Loved the honesty box for fire pit logs. Will definitely go back.
Amazing family trip!!!
We've recently returned from an amazing first camping trip 2 adults and 2 little ones 2 and 6 years. The campsite is stunning. The most beautiful views and very safe for the children. The amenities are brilliant and everything is very clean!! You can grab a bag of wood for £5 using the honesty box for your own firepit which we used at night to toast our marshmallows and drink hot chocolate around. There is a little shop selling everything you need they also have a little cafe where you can eat in or take out. We were lazy campers and enjoyed a yummy full English at the tables inside for just £5. The staff are super helpful and so friendly they clearly love where they work. There is plenty of room for the kids to play and lots of walks from camp. The main attraction has to be the stream that runs between camp. All the kids played in it all day. We went out on day trips but our children couldn't wait to get back to camp to just play with their new friends in the stream and try and catch the chickens. My littlest one loved looking at the sheep and horses. The horses are next door and you can book horseriding if you are a confident rider. Overall this campsite is beautiful, spotless, fun and well run!!! It has enabled my children to have lasting happy memories during what has been a strange year for everyone. We will definitely be back :)
Fantastic site and facilities
Stayed in one of the bell tents at Baystone Bank Farm Campsite and waa blown away by the quality and glamping experience. The tent was very clean and spacious and the facilities were just a short walk away which was so conveniant. Toilets and showers were also very clean and maintained throughout the day. All the staff were so freindly and helpful and couldnt do enough to make sure we enjoyed our stay. Will be going back and we have been inspired to replace our standard tent with a bell tent for future campibg expiditions! Thank you for a wonderful few nights away.
Fantastic family camp site
3 kids and 5 children on our first camping trip. We couldn't have chosen a better campsite. Annie was waiting for us on our arrival, early evening in the drizzle and she was very helpful and welcoming. The facilities are all kept clean and well stocked, and the shop/cafe is perfect for home made muffins and emergency camping supplies. All the staff helped us through the 3 days we stayed with advice on day trips and camping issues. The site is perfect for children, they can play in the stream and I felt safe letting them run free round the campsite. I would highly recommend this campsite and we will definitely go back for another holiday, we loved everything about it!
Clean, accommodating, beautiful, filled with conveniences
My stay at Baystone Bank was immensely enjoyable. I was welcomed by a warden called Gordon, who helpfully pointed out to me the following amenities offered by the site. There is a shop, selling food, camping amenities and even cooked meals. There is a woodstore, where campers can buy firewood for use in the fire pits located at each and every pitch. There is a wonderful shower block, with warm showers, clean toilets and washing up sinks (scouters and washing up liquid is provided). The campsite is surrounded by a beautiful valley filled with powerful horses, sheep and chickens. One can see the ocean yawning out Southward at the end of the valley. The presence of a campsite warden was very helpful. Gordon helped me when I was having problems with my camping stove, and provided useful information about walking routes to a local pub. He truly was an absolute star. I would return to Baystone Bank in a heartbeat, and would recommend it to anybody travelling to the South of the Lake District.
Relaxing!!!
What an amazing experience for the first time family camping!! Initially.. quite easy to find, plentiful parking, and blown away by the surrounding mountain views. The owner and her brilliant sheep dogs were available with-in 10 minutes of us arriving to ask about our journey, tell us about the site and give us a lift with our camping gear on the quad and trailer.. what a welcome!! The site was extremely well maintained and clean with no litter to be seen, plenty of families enjoying themselves in the stream or playing on the fields and great pitches with a designated area for camp fires. Wood can be bought on site via an honesty box and this was re-stocked daily. We had amazing weather for the 3 nights we were there other than about 1 hour of heavy rain which swiftly drained away from our pitch up on the hill. Our little girl enjoyed her first time in a tent and on a campsite and this was largely due to the site, its amenities, the stream, the animals (chickens, sheep, horses etc) and the fact the beach was less than 10 minutes drive away with plenty of parking.. My Mother came to visit on 2 of the 3 evenings as she was horse riding near by and there was no issue with this, in fact, one night we couldn't get the car out and the owner offered to take her back to the hotel!! Talk about going the extra mile!! We ended up taking my Brothers car but the sentiment and thought was there. Not much else to say other than if you want a well placed and clean site with amazing pitches and a fantastic & accommodating owner then look no further!! We will definitely be back and have recommended it to family and friends.. Thank you Baystone Bank :-)
Welcoming - Clean - picturesque
This campsite was perfect for the short holiday we intended. No more than a 10 minute drive from beach, shops and some lakes within an hour drive. Staff were very welcoming and friendly and all facilities were kept clean on a frequent basis. Overall would recommend
Friendly People, Great Venue
A generally great place to stay. Well spaced out camping sections with own fire pits. Hot showers. Fridge facility. Very friendly and helpful staff. There is a shop on site selling all the essentials plus breakfast and lunch. I will certainly be returning next year.
Peaceful campsite
Lovely campsite in the Lake District. We booked on the grass pitch, with no car and had a great size pitch for our small tent with its own fire pit. The scenery is beautiful with hills, horses and sheep. Toilets and facilities are clean. The staff is super friendly. This is the perfect place for a short or long camping stay!
Peaceful with friendly staff
The camp site is very organised and very peaceful. Exceptional staff and owner Annie was always helpful. Lovely stream nearby and located at the foot of a mountain with walks nearby (walkable to the punchbowl pub in daylight too). The facilities were clean and there was a lovely little cafe / shop on site. We hope to return in better weather conditions.
Fantastic Family Campsite
A beautiful site with great views and super clean facilities! Our children loved the stream which was just at the end of our pitch. Pitches were generous and the fire pit was great. The owner was full of good advice of good beaches and we did a lovely walk straight from the campsite up the hills. The campsite was quiet at night and other campers were really friendly. The weather wasn't great but we still had loads of fun. Top Tip - if you have children make sure you take water shoes for the stream and lots of spare clothes as they will get wet!
Lovely little site
This site is a little hidden treasure !! With its babbling stream running through the middle for little ones and big ones to play in , to the free range chickens roaming around we felt very at home here . The toilets were incredibly clean and tidy and the little shop had all the essentials . Annie the Warden at the time of our visit was incredibly friendly and approachable and knowledgable . Cherry on the cake had to be the fire pits per pitch and the wood shed open 24 hrs ! Thank you for a lovely stay we will be back in 2021 for sure xx
Brilliant weekend with a brilliant host!
What a cracking weekend we had! We were made to feel so welcome from the moment we arrived! We were pitched by a beautiful tree-lined brook that had its own little campfire circle set up. Julie couldn't have helped us more. She's fab and we felt so at home. The Shower/toilet/wash up facilities are spot on. The little shop is brill and does a lovely breakfast as well as other great food ( I didn't get the lady's name who worked in there but she was brill too!). Don't worry if you forget something.. they're sure to have it. The scenery in Cumbria is to die for and your not far away from the lakes and the coast. By the way... Crakeside Fish and Chips (25 mins away) is THE best fish and chips I've had in a long. long time. Me and Karen are already planning our visit for next year to Baystone but we want to do a week... one weekend isn't enough to really experience all that this part of the world has to offer. Thank you for a memorable and really happy weekend! See you in 2021!! Mike
Lovely place to camping with family
The camping is fantastic the staff we received was super attentive and the facilities of all camping is very good. It has a small river where children can play and close to the tents makes the place a very nice place to be. Walking around the beautiful nature and the mountains view it's really relaxing to body and spirit. I really recommend !!!!
Great campsite!
A group of 14 of us stayed here over the weekend and had a great experience. Nothing was too much trouble for anyone and Annie always made sure we had everything we need! Toilets and showers were super clean even when it was rainy and muddy all weekend. We stayed in the top field which was a bit of a walk to the toilets but wasn't really a major problem. They have a little cafe and shop for essentials which was nice. Views were gorgeous! Really nice campsite with everything you need definitely recommend! 😊
Great campsite
Amazing campsite with great toilet/shower facilities. Grass pitches are big and campfires are allowed. Toilet facilities were spot on: they have a good amount of showers and toilets which were cleaned regularly during the day and covid19 measures were enforced. Staff there was very helpful and lovely. The cafe worth a try, we enjoyed the English breakfast on our last day
Clean and beautifully situated campsite!
The cleanest bathrooms with the nicest showers of any campsite I've ever been in. Having the river running through meant the kids had constant entertainment and delight!
Lovely
We had a lovely stay with our family. The facilities were great, constantly being cleaned which was brilliant. Lovely friendly owner who couldn't have been more helpful. Great stay for anyone with or without children.
A hidden gem, lovely site.
We had a wonderful night, would have liked to stay longer. Great site, lovely to stay on side of stream with no cars so great for the kids to run free. Toilets really clean, hot showers. Lovely shop/cafe. Great area. We will be booking again!
Lovely Site
We've just come back from a lovely stay at Baystone Bank. We had the most perfect pitch next to the stream with plenty of green space for the kids to run about on. You couldn't take the car to the pitch but I actually preferred that as although slightly more difficult to set up and pack up it meant we didn't have to worry about cars driving round where the kids were playing. The stream running through the site is a fantastic feature and the children loved playing in it. I had a farm ride out on one of the shire horses, the whole experience was fantastic the views from the top of the farm were breathtaking and what beautiful well trained animals they are, I hadn't rode for 20 years but was given lots of tips and reminders and was made to feel confident in what I was doing. It's a must do if you like to ride. We took a trip to the local beach which was lovely and not too crowded. The only complaint I would make about the site is the mud on the tent side of the little bridge to the toilet after a lot of rain was crazy slippy. I was well prepared for it with my walking boots on and being extra careful and still slipped (luckily not right into the stream) digging it out a bit and replacing with gravel would make a massive difference. The kids loved buying little toys from the on site shop, the lady running it was so lovely and the breakfast there was fantastic too. We can't wait to come back!
Great little camp site
Lovely campsite at the bottom of the Lake District. Really friendly staff, good toilets and showers, little shop/cafe on site (supermarket a 15 min dive away in Millom), good size pitches, lovely stream running through site for kids to play in and beautiful scenery all around you.
Idyllic campsite
Perfect setting of a stream running through the site, moutain views, heavy horses to book and ride, campfires on each pitch and chickens roaming the campsite. Shower block was always clean and a handy site shop and cafe. All staff we spoke to were super friendly. Nearest beach, Silecroft, is massive and safe for children as the water is shallow. Our weather was mixed so hope to go back one day. Thanks for the happy memories.
An absolute gem
We really loved it here. Absolutely beautiful location, friendly and helpful staff and excellent facilities. My little one loved splashing about in the stream and we all loved that we could make a proper campfire. Will definitely be coming back, so happy to have found this! Thanks for having us :)
Beautiful site perfect for families
We stayed for two nights mid week and absolutely love the site. Annie was extremely helpful and friendly and nothing was too much trouble. The site itself can be a little muddy when it rains but thats all part of camping. The stream is what sets this appart from other sites. We had so much fun playing and paddling with my little boy and all the kids seem to love it. Overall this is a great site with very good facilities. Clean showers and toilets and a pretty well stocked shop. Cant wait to go back!
Excellent stay
Good social distancing, toilets.shop and wash areas felt clean and spacious . Beautiful site , helpful and friendly staff .
Picturesque camping at its best!
This is a fantastic campsite. I never write reviews but Baystone Bank is too good not to share. The landscape is breathtaking, with mountainous ranges all around and a view out to the sea. There is a sweet little stream for children to play in, however we were a group without young ones so pitched into the field beyond so we could sit by the fire into the earlier hours without bothering families. The heavy horses clop by often and wind up the hills which is lovely to see. The staff are really wonderful and Gordon the site manager was especially helpful. He gave lots of advice on the area and found us a perfect pitch for our 5 tents. I highly recommend this campsite and we all can't wait to return!
Lovely site
We had a great weekend camping here. The site was lovely and the owners were very friendly. We loved being able to sit round the fire at night. We'll definitely be back!
Perfect
I brought my 11 And 13 year old sons camping, pitching up right next to the stream with our very own little campfire. The stream was amazing to dip our toes in, kept the boys entertained for hours and cooled our cans down like our very own fridge (the boys living that trick!). Bbq and marshmallows over a campfire whilst listening to the stream in an amazing valley at the foot of the fells... we didn't want to leave!
Amazing place
We stayed for two nights. The weather was great which always makes a difference! There is a lovely bubbling stream running through the site which is perfect for the kids to play in. The site is secluded but easy to find. It's well looked after and maintained adding to the beauty of the place. The site wardens are friendly and attentive - but not intrusive. All in all a great site and excellent value for money.
Too short
We arrived late evening but that wasn't an issue as there was a mobile number on the shop door that got us through to the wonderful Gordon, the caretaker of the site. He gave us a warm welcome and the run down of the place. Fire pits at each pitch was nice. We were there two days which really wasn't enough time to explore the wonderful area and experience the beautiful horses! The sound of the little river by the tent was really lovely and great for the kids to play in and adults to cool down! Our daughter loved being greeted by chickens wandering around the tents in the day. My only complaint not really a complaint to be fair is that we had booked in for months in advance but we tried to call more than a few times coming up to our trip in order to extend but mailbox was either full or you just couldn't get a reply. I realise given the Covid staycationing it's hard to keep up with demand but we were disappointed to have to leave after only 2 nights! Thanks so much to Gordon though really lovely helpful man and would do anything to help you!
A little Gem
What a wonderful campsite. Fire pit provided, great facilities and very accommodating! Gordon and his wife the camp wardens are just simply lovely. They keep everything spick n spam. Dogs welcome. Silecroft beach only 10 mins drive away and it's vast. We had beautiful weather so spent the day there. Met the wonderful campsite owner with her two Gorgeous collies. Def a must this campsite. We will be back next year.
Peaceful, beautiful location - great showers
The campsite was in a lovely location and just right for us - not too big but not too basic. The showers and washing up facilities were kept really clean by the staff despite the appalling weather. The showers were some of the best I have used while camping and had plenty of room to shower, dry and change. The male toilets were not quite as good as the showers and were a bit cramped. All social distancing rules were highlighted really well and it was a pleasure to stay there. We didn't use the firepits t
What a lovely spot
Gordon took care to find us a flat, clean pitch for our tent after several days of rain. We loved being by the stream, and went for a pleasant stroll nearby. Excellent, clean facilties (Gordon again!). Nice option to buy breakfast, although we didn't...
The best camping experience - even in the storms!
The staff at Baystone Bank are phenomenal! So welcoming, friendly, helpful. My girls and I had a great three days - the worst storms in 40 years and this campsite saw us through! Facilities are practical, clean the cafe and shop well stocked, the stream was such a relief in the heat.
Lovely countryside camping overlooking the SW Cumbrian mountains
We had a wonderful stay in one of the bells tents. Situated in a little valley with a gorgeous Beck running right through the site. Relaxing with a fire in the evenings was so peaceful. The owners were friendly and the facilities were great with plenty of hot water. The showers were the best camping showers I've ever used. Cute little shop and cafe onsite.
Lovely place for the family!!!
Me and my family love to spend a few days in this lovely camping! the staff was very attentive and friendly! everything very nice and clean, bathrooms and showers always clean. We had very hot days where we could cool off in a lovely river in the middle of the camping. We hope to return soon!
Everything and more - you need to go!
This campsite was a last minute decision before we headed into kendal for our little mini break. The campsite is absolutely fantastic with everything you could want and more! We had a pitchby the stream and would reccomend this to anyone as it was great for our adventure loving son! Each pitch had a firepit which was brilliant an amazing extra feature to the campsite. You can buy logs from a little shack with an honesty box at £5's for a pack, bargain! The little shop was brilliant with milk, bread snacks and ice creams, with a cafe attached too! Toilets and showers were clean and given we are currently in a pandemic they were definitely on it with cleanliness. Such welcoming staff and absolutely loved Gordon the Wardon who was so informative and friendly. He couldn't of been anymore helpful on what seemed the hottest day ever his spirits weren't dulled. We are booking again tomorrow, we can't wait and are bringing our friends next time! Thank you!!!!!
Lovely campsite in a beautiful setting
Very easy. Facilities very clean and well maintained. Lovely site with the stream running through which was great for the kids. Friendly warden. We had a great time!
Brilliant!
Such a gorgeous location and the stream kept our kids entertained for HOURS! Loved the individual fire pits. All the facilities were ace and I loved the cafe and shop - had everything we needed. Will be back!
Fantastic Little Site
We have just spent 4 nights at this lovely campsite and we had a wonderful time. I arrived on my own with 2 children after a week of torrential rain. Because of this I couldn't take my car onto the field but a lovely lady ferried my belongings on the back of the quad bike to my pitch which was really appreciated. There had been a lot of rain and the field was very muddy when we arrived, however this dried quickly after a few days of sunshine, but If it has been wet I would definitely recommend taking wellies. The pitch we had was very spacious with fantastic views of the hills and countryside. The stone fire pit was a bonus and saved me from having to bring my own. We were over the bridge away from the main site and it was very peaceful where we set up. The stream is a fantastic and a safe place for children to play and make friends, my children also loved the chickens that roamed the site and enjoyed giving them worms! The facilities are basic but good, nice hot showers which were kept clean by the wardens who never seemed to stop working and were always friendly and helpful. The site has a really good vibe and seemed to attract lots of different people from families to groups of young people. It is a lively site so if it is silence at 10pm you are after then it may not be the place for you, however even though people stayed up chatting everyone was respectful and it wasn't rowdy or overly noisy. Also being pitched by the stream drowned most of the noise out. The sound of the stream definitely lulled me to sleep each night and I slept like a log. The only thing I would mention is that you can't park next to some of the pitches which means carrying your equipment to your pitch. If this is an issue it's probably worth checking your pitch in advance. All in all we had a fantastic stay and will definitely be back to this lovely site.
Great Site
On arrival met the camp warden, absolute gent. Showed me the amenities on site and listed places to visit. Kid friendly and plenty of trails to go walk about. Thanks again.
Beautiful views, peaceful, organised
We loved this campsite, kids played for hours in the stream, building dams and we enjoyed the beautiful views. Little on site shop has milk, basics and ice lollies- this meant we didn't leave for 2 days. When we we return we will visit the beach! Walked to the local pub (30 mins) through the fields. Gordon and Anna who run the campsite are kind, helpful, organised and made us feel welcome and cared for. The facilities are good, the men's toilets could be improved though. Overall we loved our stay . Thank you.
Ideal 👍🏻
Stayed here for one night on the 6th August, very organised and easy facilities to use and get too and polite social distancing set up. Good location for the lakes and the beach. Great for the dog. There's random chickens roaming about, it was our puppies first camping trip, so now he's met a chicken 😁 Thanks wed defo go back 👍🏻
Beautiful location
This is a beautifully located site and run extremely well by friendly helpful people. We had young kids with us who loved paddling in the pretty stream which runs through the middle of the site. The toilets and showers were kept really clean despite the rain and mud. The weather wasn't friendly during our stay but had it been we certainly would've walked up the fells which you can do straight from the site. Very peaceful and definitely recommend.
Relaxing, friendly retreat.
Stayed for 3 nights at the beginning of August. Lovely scenery and we were pitched near the stream which is a relaxing feature - we used the stream as our drinks fridge! Gordon the warden was very helpful and laid back. Toilet/shower/washing up block clean and spacious. Firepit worked well and you can buy logs for £5 per bag on site. The only reason my review isn't 5 star is because many of the pitches are the other side of the stream, therefore you have to park nearby when unloading your car before taking the car back to the car park. Not a major issue until it rains heavily when packing the car or if you have mobility issues or rely on the car to power your mini fridge for example (for non electric pitches). However, definitely worth a visit.
The owner where so friendly and done all they could to make are stay a nice experience
The river is brilliant for the kids . Camp fires are good for the night to keep warm
loved it
Friendly and helpful welcome from site wardens Gordon and Anna, good size hard-stand pitches, stream is a good feature as are the individual fire pits. Showers good, water hot. Didn't eat at the café but it looked good. Will come again.
Excellent Campsite
Lovely setting next to a babbling brook We were in our motorhome on one of the EHU pitches The wardens were very helpful and knowledgeable of the area Facilities - no comment as we didn't go into them Useful shop on site for essentials and fresh eggs daily from the local chickens on site Fabulous walks and views Local pub within about 1.5 miles Would stay again !!!!
Beautiful site and friendly hosts
We were pitched along side the stream which runs through the camp, going to sleep with the sound of running water each night was very relaxing. All Pitches come with a fire pit, we didn't use ours but that is a really cool feature. Showers and other facilities are regularly cleaned and are sufficient for the site. Good location for walking/cycling. Would definitely stay again
Relaxed, beautiful, friendly
Loved our stay at this site, beautiful setting and the staff/owners were very pleasant and helpful, will definitely return.
Friendly campsite with spacious pitches
We stayed at Baystone for four nights in July. We had a lovely time and it was a great location on the edge of the Lake District, within driving distance of Coniston, Ambleside etc. The pitches were very spacious so you didn't feel like your neighbours were on top of you. You were allowed open fire pits every night which was lovely for toasting marshmallows. The staff were very friendly and helped take your stuff to your car and back if needed, as you cannot park near your pitch. Downsides included the car park being very full at times, as well as the number of toilets available being very few compared to campers (just 3 female toilets) and often not to a high standard of cleaning (toilet roll not having been replaced, etc).
excelent campsite
Stayed 6 nights with family and a dog. Pithches are spacious, facilities are grate, best I ever seen on campsite. Deeply cleanned several times a day. Little shop provides most important essentials with delicious farm eggs . Nice beach near site, stunning views and lots of things to do within short drive distance. Definitely worth comming back there. Thanks to whole team for great time we experienced on site.
Great rural spot
The stream is lovely to paddle in and we enjoyed the overly confident chickens roaming about! The site is a reasonable size with great views and walks immediately from there. The wardens were super friendly and helpful and the shop is good to pick up essentials and cheap activities for kids to play with. We took the 11 minute drive to Silecroft beach which was perfect at low tide with clear, shallow water and plenty of sand. I imagine it's a fairly muddy field in worse weather than we visited so I'd definitely recommend a hard standing pitch for campers and caravans. Due to Covid, the horse riding was only available for experienced riders (I'm definitely not confident enough to describe myself as that!) not needing close contact with staff, I'd return to do a riding experience when it's fully open as the horses were beautiful. It's properly rural so don't turn up expecting to take a short walk anywhere more built up; the family next to us did drive out to quite a few places further afield though.
Best camping trip to date
We have just returned from an amazing week at Baystone. We are a family of 4 and stayed in the Bell tent. We have had the most amazing holiday. Facilities were spotless and only a very short walk away. Showers were never busy, always immaculate and good temp/pressure. The individual fire pits were brilliant as very rare to get them on a campsite. The kids loved paddling in the stream and looking at the animals each morning. Waking up to the sound of a lovely running stream and sheep was just bliss. Loved it so much we have just booked to return in December to stay in the round house. Thanks everyone for making our stay so memorable 😁
A beautiful, tranquil spot. Highly recommended.
A gorgeous site with the stream running through and chickens pecking round the pitches. Facilities basic but perfectly adequate. Great walks with spectacular views over the Duddon Estuary and Lakeland hills.
Cosy farm campsite near sea, hills and lakes
We had a great 5 days camping next to the stream at Baystone bank. The campsite has great views of the surrounding hills and lots of things to do nearby. We are a family of four with two children (7 and 4). Once the weather settled down the children loved playing in the stream and watching the chickens around the site. The only downsides are that it is quite a large site and therefore a lot of campers (which meant the bathrooms often had a queue and overflowing bins) and some of the younger groups played loud music which spoiled the atmosphere for us (as we prefer the sound of nature). When we complained we were told "everyone is entitled to have fun"... so if you don't like loud music at 9pm we suggest finding a quieter campsite.
Glorious riverside camping
Gordon the warden is really friendly and gives lots of great advice. The showers are great for a campsite with good water pressure and spacious changing area, lovely riverside pitches with individual fire pits and beautiful countryside with free roaming chickens and sheep and horses in the surrounding fields. Utilities room has PowerPoints and fridge/freezer and nice hot water for washing up. Bring wellies or walking boots as the site gets muddy in the rain! Thank you for the great experience!
Fantastic Campsite
Had a fantastic day at Baystone bank- a gorgeous spacious site, with brilliant and clean facilities (especially when considering the mud!) Everyone was incredibly welcoming- particularly Gordon the Warden. Would highly recommend a stay.
Great for a quick stop over
On arriving, Graham was really friendly and showed me to my pitch and allowed me to park my car close so I could get all my stuff to it easily. Much appreciated! The campsite is small enough that everything is a short walk (car park and wash facilities) but not so small you're all on top of each other. Showers are some of the best public showers I've been in and were actively being cleaned throughout the day. The same for the toilets. I don't know if this is due to COVID but it was hugely appreciated and they should continue to do it in the future! One criticism of this campsite Though was that it was VERY boggy in parts, notably where I was pitched and in and around. Not great when there's 12 hours of torrential rain. I was offered a new pitch but it was unfortunately too late- everything was flooded round me. It might be useful if there were wood chippings put down in and around the space for the tents in that area. Similarly, it would help to have some near the stream and by the bridge which you cross to get to the facilities/car park. This too was incredibly slippy and not easy when carrying lots of heavy stuff. Off the back of this, my only other 'complaint' is that there could do with being another bridge put in place And maybe some lighting or fencing on them. There's only one narrow bridge for everyone to get across, which isn't too useful during busy times (when Various people are coming and going with all their stuff for example). Also not too great at night when you cant see (one wrong move and you're going in the stream!) Not a huge problem but again, when it's torrential rain and the mud is incredibly slippy, it is a little tricky. All in all a great site for two or three nights. Lovely and peaceful and beautiful views round. Will need a car to get to pubs, walks and other areas in the Lakes - it's sort of in the middle of nowhere!
Great location
I visited on a very rainy weekend but still had a lovely time, my daughter loved playing in the stream and seeing the chickens roaming around so much she didn't want to come home. The warden is very welcoming and helpful, there is a handy shop open in the mornings and firewood for sale. The area is lovely for walking and visiting the nearby beaches perfect for a short visit as you don't have to travel far. The showers and toilets were great, free showers and nice hot water was a bonus. It is a lively little campsite which we liked but might not be for people who like thinks very quiet. All set up for Covid/social distancing and felt safe and clean. Thanks for a lovely weekend :)
Fantastic experience
Beautiful settings, clean toilets and washroom facilities. Friendly staff. This was our first camping experience and we wasn't disappointed, what a lovely place and so clean. Everything you need was on sight. Surrounded by beautiful views. Can't wait to return.
Good all rounder
The stream in the middle of the site is the focus of the whole thing and it really makes a lovely setting, with the hills on either side. At one end are the farm buildings and bathroom block, and at the time there was a young foal in the field. Pitches are well laid out. The warden Gordon helped us get the caravan on to our pitch as our mover broke just before departure- thanks. There are walks straight from the site and a lot is within driving or cycling distance eg beaches, pub etc. You can get to the famous lakes from here but I would suggest steer clear of the busy parts and enjoy this area with its scenery and coastline. Only negative was that it was a bit noisy - one large group in particular were quite loud and were playing music at night
Nice atmosphere but amenities lacking for the price
The campsite had a very friendly vibe and the people running it were very welcoming and helpful. However, the whole campsite turned to mud as soon as it rained and given it rains 2/3rds of the year in the Lake District it might be wise to make better provision for wet weather! It also wasn't made clear that two of the three fields have no access for vehicles so if camping there you will be a distance from your car. Facilities are basic but fine and unusally short on loos for the gents. Given all the above, £72 for three nights (two people, no electrics) seemed a bit steep.
Fantastic Family Friendly campsite
Everything about this campsite is fantastic. The site itself is in a lovely quiet location, and the pitches are big enough for a large family tent and space to spread out too!! We camped at the side of the stream which my son spent every day playing in and making friends! All pitches have the added bonus of firepits and wood is available to buy on site for just £5. The toilet and shower facilities are extremely clean and always have hot water available!! There is also the bonus of 4 plug sockets for a few home comforts like charging phones or hair dryers!! My little boy loved going to look at the animals on the farm, and especially loved the chickens! The wardens on site were extremely friendly and helpful! We are already looking at booking again this summer.
Lovely setting!
We really enjoyed our stay here and liked that the fact that it wasn't too big. Nice setting with the winding stream and views beyond. Good walks from the site and very friendly staff. A great little trip, would definitely recommend!
Stunning scenery, great staff, wonderfully wild
The campsite was easy to find and the wardens were really helpful in transporting some of our kit up the hill on the quad! The shower block, toilets and sinks were spotlessly clean and the queues were never long even though the site was busy. We enjoyed a lovely bacon sarnie from the little cafe each morning too. The price was really reasonable for our stay. Only improvement I'd like to see is another small toilet/ shower/ sink block up in the top field as it was a bit of a trek to get there (especially with a baby). A bit more draining/ matting down by the bridge would be good too as it did get a bit churned up during our wet stay! On the whole, great though and I'd definitely recommend a stay.
Beautiful site, friendly and clean.
Gordon the warden went the extra mile for us and ensured our group was all camped together, despite our last minuet booking of two separate pitches! Beautiful location, friendly site with very clean facilities. Jess the dog loved it too!!
The perfect COVID escape
We had an excellent time camping in the top field of Baystone Bank Farm Campsite this weekend. There was rain and mud (it is the Lake District after all), but all the campsite staff were lovely and the facilities were excellent (and constantly cleaned). We will visit again.
Absolutely Brilliant!!
This was our first family camping trip and there couldn't have been a more perfect camp site! We was plot 29-30, which was lovely with the stream and fire pit. The toilets and shower facilities were spotlessly clean, the shop was filled with everything you need for camping and my little boy loved the chickens and the horses. Most importantly, the two people running the place (sorry I'm rubbish with names) was so friendly, they really made us feel comfortable and they are one of the reasons why we want to return and we have recommended to all of our friends and family :)
Lovely place
Lovely location between the hills and not far from the coast. It's a beautiful campsite with clean facilities and very friendly staff. We especially enjoyed the small stream and the fire pit. Fantastic experience we can highly recommend and will return for sure.
Ideal for our family - 7 under 10 grandhcildren, boys!
We had the Orchard with 5 tents on it. Just ideal for the children, chickens appearing occasionally, the stream or beck was a great attraction. Surprisingly none of us fell in though some braver adults did use it as a plunge pool! Anna and Gordon [the wardens] were extremely kind and helpful as was Annie the owner. It couldn't have been easier. Toilets and showers were constantly kept clean and mask wearing was obligatory, of course, when using them. Rainy nights and days did mean it got a bit muddy but a few days of sunshine will sort it out, though hard to order that! It is, after all, the Lake District!
First camping trip ever : amazing time
We have just returned from our first every camping trip where we were staying at this lovely campsite. On arrival it was raining and gordon and Sally were so lovely offering help and assistance at all times. We got set up and we were placed on a pitch on the hill which because of the weather was prefect as water travels down hill however its a good 1000 steps to go for a wee as we were furthest away from shower block but it was nice an peaceful. Facilities provided were clean and there's even a shop on sight for if you forget something. This site is all set up to allow you to have a lovely break away even during these Covid 19 times. Tip if you want a warm shower go early on gets colder throughout the day. Overall was a lovely break away with lovely hosts who were always on hand, this place made our first camping trip very enjoyable and we would definatley go again.
It was okay but wouldn't return.
The location of this site is it's best asset, views are lovely especially whenever the weather is in your favour. However, we experienced a moderate amount of rain, which normally wouldn't be an issue, but since the non-electric tent pitches were set on a steep field, the place became very muddy. As you are not allowed to park your car with your tent on the top field, packing up was somewhat of a nightmare. Carrying tents and equipment was incredibly difficult down a slippery, waterlogged hill about 1/4-1/2 a mile to the car park. The hill only became so difficult to navigate because cars were permitted to pull into the bottom of the hill to unpack, and then go back up to the car park. Because there was nothing in place to prevent a mud bath, cars were repeatedly getting stuck and creating an even messier path. As seasoned campers we definitely don't mind a bit of mud, but this was beyond a joke for something that could be helped with a bit of gravel. Facilities were okay, the women's much nicer than the men's. There were washing up bowls and liquid left in the washing section which was certainly a nice touch. The site warden was incredibly kind and helpful, happy to do anything for you. If you can book an electric pitch or are in a caravan I am sure your experience would be much better as you wouldn't be on the top field. Overall, an okay campsite, but needs consideration about how to make the top field more accessible.
Friendly staff, beautiful views, excellent facilities.
The staff were so friendly. They go around every now and then to check if everything is alright with the campers. The campsite has mountains on all sides and the sea can be seen from the top of the field. Showers, toilets and sink area to clean pots and pans in are kept in clean condition. It can get relatively crowded on some days and times bu that's because it's such a good, popular place. Thoroughly enjoyed my stay at Baystone. Will be going back.
Beautiful little campsite
Booked this campsite as it said camping was along the stream. Iknew my 6 year old grandson would play all day there while I watched on. Check where your pitch is in advance as we were over the brow of a hill with no access by car. Was gutted to have to lug our equipment up the hill then back down again at the end of our stay. I was up and down that hill like no ones business when he wanted to play with his new found friend in the stream. Gutted to say the least. Would love to go back but not being the youngest of campers, that hill is still haunting me especially negotiating it a dozen times when packing up our car some distance away.
Beautiful mountain views and nice Campsite
A great place and welcoming staff. The campsite was fully booked when we arrived but still we had enough privacy and space. Showers had always hot water and enough of space to manage it with a 15 mths old baby too. Landscape around was beautiful and everywhere around sheep and other animals. Lovely time.
Amazing campsite...fab night
We booked baystone bank farm to camp for one night to see how we got on (3 adults, 5 kids aged between 4 and 11) as a group of friends in the same bubble to see how we got on before booking a longer holiday. This campsite looked amazing on the photos, we honestly didn't look at any reviews, and the location close to the south lakes zoo was the deal clincher. On arrival we were met by the lovely lady who owns the campsite, she explained the pitches (we had 2 due to the size of our group), where we could find them and how the system worked. Our pitches were really good sizes, we could have managed in one pitch even with the large 8m+ tent. The setting of the campsite is beautiful, rolling hills, sheep in the background and the lovely little brook running right through the centre. The kids loves the fact that it was a farm with chickens, horses, cats and dogs roaming around, plus the brook that was nice and shallow and advertised as being somewhere for the kids to play, that, plus the hill to roll down kept them entertained for hours. Theres a little shop on site, we didn't use it as we had all the damping supplies we could possibly need, but I believe the week camping beds, electronic pumps etc. As well as food and drinks There is an honestly box system in place to purchase wood for the campfires, which was £5 a bag, as each site came with a campfire which the kids loved for toasting marshmallows (and every other type of food we brought). I've camped previously, bit this was by far the nicest campsite I've been to and the welcome was very friendly. We will definitely book this campsite again it was fab xx
Excellent campsite
Location is stunning, perfect for families, staff really friendly and helpful, showers and toilets really clean - we could not fault the site. First time camping with our one year old, it was perfect for him because of all the animals around to keep him entertained. Got a nice breakfast barm in the on-site cafe too. We will be returning and recommending it to others.
Lovely campsite
Enjoyed 2 nights in one of the bell tents. Lovely views, quiet campsite with very friendly on-site staff. Good, clean facilities.
Fantastic night camping
We booked baystone bank farm to camp for one night to see how we got on (3 adults, 5 kids aged between 4 and 11) as a group of friends in the same bubble to see how we got on before booking a longer holiday. This campsite looked amazing on the photos, we honestly didn't look at any reviews, and the location close to the south lakes zoo was the deal clincher. On arrival we were met by the lovely lady who owns the campsite, she explained the pitches (we had 2 due to the size of our group), where we could find them and how the system worked. Our pitches were really good sizes, we could have managed in one pitch even with the large 8m+ tent. The setting of the campsite is beautiful, rolling hills, sheep in the background and the lovely little brook running right through the centre. The kids loves the fact that it was a farm with chickens, horses, cats and dogs roaming around, plus the brook that was nice and shallow and advertised as being somewhere for the kids to play, that, plus the hill to roll down kept them entertained for hours. Theres a little shop on site, we didn't use it as we had all the damping supplies we could possibly need, but I believe the week camping beds, electronic pumps etc. As well as food and drinks There is an honestly box system in place to purchase wood for the campfires, which was £5 a bag, as each site came with a campfire which the kids loved for toasting marshmallows (and every other type of food we brought). I've camped previously, bit this was by far the nicest campsite I've been to and the welcome was very friendly. We will definitely book this campsite again it was fab xx
Relaxing get away
Great little site in a peaceful location. Our daughter loved playing in the steam for hours making new friends even though the weather wasnt great. Wardens were lovely and very helpful. Would definitely come again.
Beautiful & Clean
Brilliant place and facilities were clean! Gordon was wonderful and took the time to get us situated and later went around to make sure everyone had what they needed for the night! I would definitely recommend them to others and will come back in the future!
Stunning views and amazing hosts
Just returned from 5 nights at the site, loved it! The wardens Gordon and Anna are amazing. Always there smiling, offering to help if you need it, but just had a positive presence! The shop is wonderful and has everything you could need. We used an electric pitch, and it was very roomy, love the fire pit being on the pitch too, meaning we could chill by a campfire of an evening. Toilet block was clean and well maintained. Plenty of washing up space too. Will definitely be returning!
A true gem of campsites
We camped for 2 nights midweek in July 2020 and a fantastic well maintained, clean, tidy & friendly campsite. No large noisy groups allowed making it ideal for families and couples alike. Beautiful scenery & walks. Already made enquiries to return & definitely recommended to anybody looking for that piece of tranquility under canvas.
Beautiful campsite
We stayed for 3 nights in July and had a great time. The facilities are immaculate and were being cleaned every time I used them. The staff are super friendly and accommodating. The scenery is out of this world, with beautiful walks to go on. Would highly recommend And will certainly visit again.
Fab campsite
This is one of the nicest campsites I've stayed at. Lovely views, spacious pitches, perfect stream for the kids to play in and camp-fire pits for marsh mellow heaven! Showers and loos and washing up spot all terrific. Loved waking up to the sound of escaped sheep munching at the grass around our tent and the beach down the road is a tonic! Too many campsites these days feel kind of 'sterile', with absurd additional charges, a set of unfathomable rules and the feeling that you're going to get told off any minute. Not here - this place manages to pull off good old fashioned family atmosphere with a happy but respectful vibe - thanks, I think, to chilled out but very available owners. A real find, thanks.
Excellent, can't recommend enough
We were met upon arrival and shown around the campsite into our pitch which was incredible every amenity possible horse were friendly welcoming and the site was spotless, fantastic facilities the showers were the best I've experienced whilst camping ! we only stayed for one night and wish we'd booked for longer will definitely be returning
Great Campsite, Amazing Views
Stayed here July 2020 just after COVID-19 lockdown, wanted a campsite with amazing views and plenty of walks around the site. Well this place did not disappoint, no sea views on this site but the massive green hills were just as good. Plenty of places to walk, but I would recommend wellies. This camp site was nice, the facilities are really good, bare in mind this is a basic camp site but the showers are amazing and the toilets are fine. This camp site also has a small shop selling basic essentials and also fresh coffee and breakfast rolls and sandwiches, the girl in the shop was very friendly and helpful. The one thing I liked about this site is the fact you can have a bonfire and wood can be brought on site for £5 a bag. The owner and the staff were very friendly and was happy to help with anything required.
Fantastic
What a wonderful campsite. Fantastic pleasant team with great clean facilities. Highly recommend to anyone. We will definitely be back 🙂
Lovely site.
Lovely clean site. Nothing too much trouble for Gordon and Anna. Would definitely recommend.
Brilliant, friendly place
The site has a lovely friendly atmosphere. It's quiet and child friendly, with great views. Owners are really helpful and kind. Facilities are great - nice new shower block and washing facilities. Little shop on site and cooked breakfast available.
Lovely rural campsite in a great setting complete with stream and campfires
Very friendly site with camping alongside a pretty stream. Hard standing available too. Great facilities, nice showers. Well stocked shop and cafe. Would definitely recommend and look forward to our return.
Great site (Just one downfall)
We just spent 3 nights here with another 3 families. Lovely location with fabulous views of the surrounding area and out to the Irish Sea. Staff extremely helpful and friendly, owner also lovely, came round on the quad to introduce herself. It's a working farm and home to Cumbrian Heavy Horses. Facilities are brilliant, 4 large individual shower rooms, 3 washing up stations (washing up bowl, liquid and sponges available to use if wanted), 2 freezers for ice blocks, 3 ladies toilets and a male toilet. Everytime we visited the toilet block it was clean and tidy. Lovely little stream running through the main part of the campsite, great for kids to paddle and play in. The only downside we encountered was that we were not on the main part of the site (which we were aware of when booking and didn't think it would be a problem). When we arrived with a full car of camping stuff as you do with kids, we were told that we couldn't take our cars to the part we were staying and we discovered at this point it was up a hill. The staff were very helpful and helped us with our things, but it was a massive pain not having the car available next to our tent and the trek up and down the hill to the facilities block was hard, especially with kids. On the plus side you were away from the hustle and bustle of the main part but it was just a bit inconvenient, hence a 4 star rating rather than 5. All 4 families said that we would stay here again, but we would only stay on the main part of the site.
Wonderful Campsite.
Second stay at Baystone and thoroughly enjoyable as always. Facilities are always clean and the new showers are great, though I didn't seem to time it right for hot showers this stay (husband did though)! Camp fires, dogs, babbling brook... You couldn't ask for a more beautiful camp site. Top job on the renovations folks, great to see.
Beautiful site, good amenities, friendly staff
We camped for 3 nights and had a really good time. Beautiful site, good amenities and friendly staff with nice log fires in the evenings. Would recommend others to stop and enjoy the southern Lakes.
very clean
Great 1 night stay, very professionally ran despite on low staffing numbers due to cover. Camping next to the stream, organised fire, is better than most sites offer plus very clean facilities (shower, toilets and cleaning area) Great all round!
Highly recommend, nice site with friendly staff
We camped here for two nights recently and really enjoyed our experience. The pitch was sizeable and right next to the stream. Gordon the warden was very friendly and pointed out a couple of nice walks in the area (also his dogs were very cute!). Showers and toilet facilities were decent as well Overall I highly recommend this site and I will likely book again in the future.
excellent
Great pitch right next to the stream with a fire pit set up for use. Clean facilities and excellent service from Gorden the warden and Anne in the shop. You can feel the authentic farm vibe with chickens roaming free and sheep and horses grazing near by. Everyone is super friendly and helpful.
Great New Year stay
This is a great friendly small site. We stayed on one of the hard standing pitches with hookup. The site is very clean and has an authentic farm feel. We spent 2 nights here to bring in the new year and went on a walk in the local hills on NYE. The showers are AMAZING; perfect after a long walk! They had 2 showers open which was easily enough in low season. The dish washing facilities are great and the grounds are clean and well presented. We will definitely be back later in the year!
Lovely spot
We stayed in the round house - was much less camping and more wooden cabin experience which was really nice. Double bed, kitchen, and a wood burning stove. Campsite itself is lovely and you're surrounded by hills. Would recommend heading into the lakes from here over the coast but depends on what you enjoy!
Fantastic campsite, very friendly
Just what we where looking for, made to feel welcome. Kids loved playing the stream and sitting around the fire. looking forward to our next visit next year.
Best Showers
I know that seems like a strange title but when you've had a lovely cooked breakfast been on a really long walk, visited the seaside, eaten a very good meal in a local pub, sat round an open fire and stared up at the stars while listening to the babbling brook - that's just what you need. Best showers!! Lovely campsite. Well stocked shop. Great cafe. Close to sea, Lakes and countryside.
Beautiful surroundings
Myself and my partner brought our two 8yr old daughter's for the first time, we are all relative novices at camping. We were greeted by Anna and Gordon who were a great couple working on the site running the shop and campsite. They were really friendly and helpful. The site itself was set in picturesque area. The weather wasn't great but we didn't let that put us off and Gordon helped us erect the tent. The facilities were great, new showers have been installed and loads of hot running water. Washing up facilities and a fridge and freezer which is really useful. The shop & cafe run by Anna is reasonably priced and the food simple but really tasty. The girls loved playing in the crystal clear stream and loved watching the chickens, sheep & shire horses all around the surrounding farm land. We loved making marshmallows & schmores on the fire pit. We had a lovely couple of days even though the weather wasn't great and was so relaxing. There's plenty to do a short drive away and we were also able.to venture further away to Whitehaven for the day to. Thankyou for a lovely friendly welcoming stay at baystone. Really look forward to staying again.
Fantastic relaxing weekend
A fantastic, small and well run campsite in a gorgeous setting. Gordon and Anna were great - so helpful. Our children enjoyed roaming around the site, the stream, and the horses and chickens. Having a fire at night was a real highlight. Fabulous beaches are a short drive away. The facilities are good. I would definitely recommend and would love to return.
Amazing setting
Just back from another stay this weekend @ Baystone Farm. Amazing! Had the best time ever, great place & location with spectacular scenery. The site is warm welcoming & extremely friendly. It was lovely to here the children loving life playing in the stream building dams making new friends and learning lots of life skills while just having the time of their lives. Hearing people's chatter, laughter and everyone having a good old time really is good for your soul. The smells from bbqs & campfires was just fab. The facilities are some of the best, even during the work to improve & update them. Plenty of hot water, clean and always available. There is a fridge & freezer for your use if you want to and this weekend it really did come in handy with the amazing weather we was blessed with.☀️☀️ Special mention to Gordon & Anna who make sure your happy & everything is ok for your stay. Lovely couple and had a good old laugh with Gordon on his rounds last thing at night with molly looking for treats, thanks Gordon for allowing us to have full on campfire fun, your the best!
a beautiful setting a brilliant campsite
Another fabulous weekend at this wonderful campsite ! We are a large group of campers who like to have fun and we are allowed to do this here unlike some other campsites! Facilities showers and loos are great and are the cleanest ones we have been to ! fabulous views and not to far away from lots of great places if you want a day out 👍🏼 Gordon the warden is great and is always welcoming of our group ! Thank you
Lovely setting, great for kids
Really enjoyed our stay, lovely small site in a farm setting and the children really enjoyed playing in the stream. Will definitely visit again.
Beautiful campsite
Had a lovely stay here, the stream was great, our boys (2 + 5) spent most of their time building dams and getting very wet (bring lots of changes of clothes!). Good location for heading into Coniston Water and then south to the beaches. There are some short walks from the campsite also which were good for little legs. Showers were a good size and new ones are being installed - would definitely recommend.
Beautiful campsite, great stay
This campsite is lovely. We have just returned from a week stay at the campsite and we really enjoyed it. On arrival we were shown to our pitch by 'Gordon the Warden' who was really friendly and helpful. There is a small stream that runs through the site, which was a great way for the kids to play and make friends. The facilities are good, 2 showers, and toilets. Some people may think this is not enough, but for the size of the campsite and the amount of people staying there it seemed to work fine. 3 new showers are currently being installed (with the help of Rusty the sheepdog). Each pitch has a fire pit assigned and logs can be bought, along with firefighters from the little shed for £5 per bag, which is good fun for keeping warm and roasting marshmallows of an evening. Tesco is a short drive away in Millom. There is also access to a fridge and freezer to keep items in. The campsite is great for families and is quiet and peaceful. There are also chickens on site and you can buy their eggs from the little shop. Definitely recommend this campsite for all looking to spend some time in the Lakes.
Friendly place
Overall a very friendly campsite. Warden was cheery and helpful. Tent pitches are a nice size and pretty flat for the most part. A few stones when putting in tent pegs but nothing too challenging. The stream running through is a real hit with the kids. The toilet and shower facilities are a little basic compared to other campsites I've been to but they are functional. Good location for Eskdale. Cumbrian Heavy Horses adjacent is a nice feature although riding these horses is much more expensive than you could find elsewhere. Not really suitable for the enthusiastic youngster that would like to go on a pony trek.
Amazing place
Beautiful place with beautiful surroundings. Me and 2 friends stayed here for 4 nights and cant Express enough how much we loved our stay. Upon arrival we were met by gordan who made us feel welcome straight away! On site you have a beautiful stream, a little cafe/ shop. Each pitch has their own fire pit where you are encouraged to have your fires in the evenings (wood can be purchased on site for £5 a bag). Yes there are only two showers, 2 ladies toilets and one gents... however whilst we were there the 2nd gents had just been finished and was ready to use and 4 new showers are being fitted. To be honest this only effected us on our last night as all pitches were fully booked so was a slight queue for the showers but up until that point this was never an issue. There is a Tesco about a 10 minute drive away where we purchased alcohol (which isn't sold in the shop on site) and other bbq essentials. We will definitely be going back!! Thankyou to all the staff for making this the perfect holiday.
relaxing
This was our second time staying at this campsite and this time we came with friends. They also loved the campsite. The children love playing in the little stream even in the rain! The new shop and cafe onsite is an added bonus and is a lovely well stocked shop. We didnt use the cafe but it did look nice. We went down to the beach, which was nice. The shower block isnt finished yet so it's a bit limited at the moment but nothing major for a 2 night stay. The plot sizes for your tent are excellent and the campfire is brilliant! We love this campsite. Overall I would really recommend this campsite for anyone looking to get away from it all looking for a peaceful relaxing break. We will definitely be back
relaxing
This was our second time staying at this campsite and this time we came with friends. They also loved the campsite. The children love playing in the little stream even in the rain! The new shop and cafe onsite is an added bonus and is a lovely well stocked shop. We didnt use the cafe but it did look nice. Overall I would really recommend this campsite for anyone looking to get away from it all looking for a peaceful relaxing break. We will definitely be back
Response from Baystone Bank Farm Campsite
Thank you so much for your lovely review.  We try very hard to make this lovely campsite somewhere where you can get away from it all and relax. 
Peace and tranquility
The campsite is in a mini valley between to hills with sheep on one side and horses top and bottom, our 3 year old loved being able to see the animals especially the chickens that lay fresh eggs you can buy in the shop also the farm Cumberland sausages are tasty so you would won't to grab a pack of them as well. The facilities are currently being upgraded I would imagine them being great when it's finished but currently they are passable but the price to camp at this site is very reasonable so you get what you pay for currently. Having a fire is a must, marshmallows with the family you can't beet it with dry wood available on site. The stream is fantastic clean and the kids get so imaginative building dams with the rocks they will be out of you hair for hours on a hot day. Gordon and Anna the site wardens are fantastic always available for a chat sum advice on the weather and Gordon buzzes about the site being helpful in every way you can imagine helping numerous people with tent problems and so on. We like to go different places when we camp but give it a couple of years and we will return it was a great experience. Thanks
Stunning location
Absolutely gorgeous Campsite in the quieter Western Lakes. Beautiful stream running through the site and next to the Heavy Horse Centre. Working farm so lots of animals and machinery to see! Lovely little camping shop and cafe, really friendly staff. Firewood and firelighters can be purchased on site via an honesty box system, camp fires are encouraged which is lovely, as many places don't allow this now. The facilities are nice and clean but minimal (2 ladies loos, 1 gents, 2 showers) and it is clear that these are being developed and added to. Not generally an issue unless the camp site is very busy. Lovely hot shower every morning too! Gordon and Anna, the site wardens, were very friendly and lovely to meet (not forgetting their lovely dog!). Just be careful with briefly unsupervised BBQ's, the farm dogs love chicken! 😂 The only issue we had was a very large and extremely noisy group across from us playing loud music until after midnight. Bit difficult to sleep after a heavy day of mountain climbing! Had a wonderful holiday here, would definitely visit again.
Beautiful location, friendly atmosphere
The views are spectacular and it was lovely to be situated in the middle of a working farm. Campers are well looked after by on site wardens and there is a shop and cafe on site. We were lucky in that it was very quiet during our stay but when busy the facilities become more limited (though they are currently installing more shower units)
Fantastic, highly recommend. Definitely returning!
Great place to stay, very welcoming, lovely sights and the chance to have your camp setup right beside a stream along with a camp fire was brilliant and cosy. I will definitely be returning here for another camping trip. Cheap and cheerful, cant go wrong with the price.
AMAZING
Beautiful place set in gorgeous surroundings! We stayed in one of the bell tents that where fully equipped with everything we needed for our stay! Annie was amazing and will def be returning!
Amazing camp site !!!
This campsite is a little gem of a site in the middle of some amazing unspoiled countryside in the lakes. We had an amazing time on a working farm with the sheep and shire horses ! We were made to feel welcome from the minute we arrived. Annie the owner was always checking to make sure we were ok even though she was working her socks off on the farm. The shire horses are stunning, my daughter spent two hours tiding Sparky and I don't think she ever wanted to leave! This place is awesome !! Thankyou Annie and the rest of the team we will definitely be back again :-) Ben and Lisa Eaton
Remote Site - Excellent!
Stayed in our Motorhome here on Pitch 1 for Easter Weekend. Pitch 1 is a hard standing with EHU and has a lovely grassy area too to set up outside. Weather was amazing and had a wonderful time. The staff continually check that things are all OK, as there was some noise on site in the evening, but let's face it... it's Easter weekend and the busiest time ... and it didn't disturb us - you got to expect this if you are camping on a bank holiday! Facilities are being updated but were clean and adequate for now. This site is in a fab location with stunning views and a stream running through the middle. The hard standing pitches were fab and every pitch has a natural fire pit to use. The staff and owners made regular checks of the site in the day and at night. Beautiful rural site with walks right on your doorstep... what is there not to like. Loved it!
Excellent site, quiet, peaceful, beautiful
We booked the orchard area for our group on 10 adults and 1 dog. The site was great, with the gate closed we could let the dog off the lead, the stream through the field was great for keeping drinks cold, the toilets were only a short distance away. They were always clean, even though they are currently being renovated. Fridge & freezer available for use, two sinks and clean hot showers too. You can buy wood on site for £5, so we had a fire every night. It was excellent. Good location for Conniston and lots of walks nearby. We booked in at the Punch bowl inn for a Sunday lunch- would also recommend. There's a Tesco in Millom too, so you're never stuck.
We had the best time here over the weekend, the campsite is beautiful.
The campsite is beautiful, we camped near the river and had our little campfire lit. The owners were lovely and very accommodating. It was cold but still couldn't have wished for a better experience or campsite. Great campsite for walkers and horse riders alike.
Response from Baystone Bank Farm Campsite
Thank you so much Grace for your positive comments. We try very hard to make every customers experience a lovely memorable getaway.  We hope to see you again in the future.
The landscape was amazing!
Was a great experience, really enjoyed the surrounding areas. Will definitely be coming back!
Response from Baystone Bank Farm Campsite
We are really pleased you had a great time staying with us.   The area is beautiful and is always appreciated by us every day.  Delighted you will be coming back to us for another visit
Ideal base for exploring South-West Lakes
Very friendly campsite within close proximity to some really good walking routes, for example, hiking up Black Combe, or having a stroll around the nature reserve/along the beach in Millom. The staff were really friendly and very welcoming. Also the facilities around the campsite were really good. We stayed in the Roundhouse, and it was a very cosy room with great cooking and cleaning facilities, and the bed was comfy which provided us a great nights sleep. We loved the log burner as well, which kept us nice and warm all night. The board games were a nice addition too, as they kept us entertained in the evening before bed. Overall, I would highly recommend this campsite to anybody looking to stay in this area of the Lakes!
Already planning the next trip down!
This campsite was our heaven from the second we set foot on it! We were welcomed by the campsite ranger, shown to our pitch and told where everything was. Looking around, there was all ages and everyone just got along so nicely, such a lovely atmosphere. We stayed for 3 nights and never had an issue with anything, showers were always hot, plenty of space, the atmosphere was brilliant. The surrounding Cumbrian Heavy Horses were also lovely and very inviting. The whole place just has a lovely feel to it, even being on a working farm just added to the joy of it all. My boyfriend and I are already planning when we can next come down and definitely stay for longer. There were also wee leaflets at the toilet blocks to help with things to do. A very well run, friendly, quiet campsite! A huge thank you for hosting us and we hope to see you again soon!
Beautiful setting and good pitch size
Really picturesque setting in between the mountains and only 10 mins from the beach. We enjoyed being over the stream as the kids loved the excitement of driving through the stream. The site itself is clean and well kept although clearly lots of people ignore the rule about where to have fires as there was a few fire pits dotted all around each pitch. Good spacing on pitches. Beautiful setting. Lovely to see the horses and sheep. Shaun and the other staff were super friendly and both nights as the log sale had run out they came round and offered the logs as soon as they were availiable. The shop was well stocked but there were only 3 toilets in total and the mountain of rubbish by the bins was quite smelly. It was a shame some other parents didn't police their children to make sure they followed the rules as they regularly threw the fire stones into the stream. But not the campsites fault.
Disappointing
We book the Bell Tent for two nights. On arrival we had a warm welcome from Shaun who showed us our tent and the equipment in there. The tent didn't appear to have been cleaned after the last occupant, the top cover on the bed was covered in crisps and the sheet was stained, but we removed these and used our own. The tent includes utensils and a tea towel, the tea towel looked like it had been dragged round the floor and there were three plates and two forks, not enough for four. We discovered this after Shaun had left, they may have sorted the problem, but we made do. While we were staying the site was full and the facilities were not enough for the people on the site. Having noticed this we got up early 7:30 to shower, but there were often queues, two showers were not enough and as for the toilets, two ladies and one for the men. Men were always queuing and on our final morning at about 6:30 my husband waited for 15 minutes as someone was in the men's toilet tapping on their phone, he gave up and my son went up. He knocked and was told he'd be out in a few minutes, he gave up and used the ladies, he did hear the man eventually come out. The local towns don't offer much. I was grateful that the lady who ran the shop opened up especially for me to get some marshmallow for our BBQ, but until they update the facilities, we won't be back.
Beautiful, friendly campsite
We received a warm welcome at Baystone and stayed in a lovely pitch right next to the stream. The children loved to play in the stream and explore the campsite, playing with the other kids staying there. The shop was really useful and reasonably priced for odd things we had forgotten. It was great that there are fire pits already set up for campers to use and enjoy the views whilst sat next to the fire. The only downside to the campsite are the facilities. There aren't enough toilets and showers for the amount of campers and are in need of a real update and deep clean! There is also only one sink available for washing up which meant there were queues at times. Beside this, we really enjoyed our stay and Shaun and his dog were a real highlight. He went of his way to help people out and make sure they had a pleasant stay and is a real credit to Baystone.
Basic & rustic
We stayed here on a recommendation. It's in a gorgeous spot and Sean, the Manager, is very helpful and welcoming. It was great being able to have a campfire and the stream running through the site was very pretty. We were disappointed by the toilets - as there are only two for the women and one for the men. In the Ladies, the bin was overflowing each of the three days we were there. The hot water heater in the Ladies, had a little laminated label attached, stating 'hot water not working,' so my guess is that there hasn't been any hot water in the ladies for a long time. Why not just get it fixed? The washing up facilities were clean. The only drawback was that there is only one sink for everyone and the hot water wasn't properly hot and on one occasion there wasn't any hot water at all. A fellow camper who'd stayed longer said it was a bit 'hit and miss'. I had a hot shower, my partner's was cold and the cubicles were grubby and uninviting. There was a definite aroma of the cesspit as you walked down the sloped path next to the roundhouse and when we left and wanted to throw our rubbish bag in the very large commercial sized bins, we were grossed out that not only were all 5 bins overfull but there were loads of bags of rubbish piled up in front of them. The weather was inclement, which didn't help, but I just felt that they could up their game in the hygiene department, as basic doesn't have to mean inadequate or grubby. I would love to visit again once these issues have been addressed.
Peace and quiet
We had a lovely stay at Baystone Bank and were made to feel welcome by Shaun the site manager on arrival. We hired out the orchard as were with friends and it was lovely and private and the kids enjoyed running around exploring. The site has only been up and running a few months and they have done remarkably well however the facilities have room for improvement but this will happen in time. I definitely recommend this site and hope to stay again.
Great campsite and friendly staff
Great wee campsite, great location and stunning views, The staff are friendly and Shaun was on hand with any queries. The kids loved playing in the stream and had a fantastic week camping.
Relaxed off the beaten track feel
Fantastic friendly site. Loved having the Orchard to ourselves for a chilled weekend with family and some good friends. Special thanks to Shaun and of course Teddy for making us feel so welcome.
Picturesque location
A gorgeous location and we were lucky enough to have sunshine and clear skies to enable us to fully appreciate the beauty around us. The shop/cafe on site was a welcome treat on arrival as we had a coffee and muffin before setting up camp! The lady in the cafe was very helpful, as was the campsite warden who kindly gave us a splash of milk for our coffees one morning. He also has a very friendly dog called Teddy who kept our kids entertained. There is a little stream for children to play in - take wellies! We only had two negative points about our stay; the first being the toilets - there is a terrible smell coming from the sewer system - perhaps this needs updating? And the second gripe was the communal fridge - it was disgusting inside and in dire need of a clean. I appreciate that campers using it should do it but as they clearly have not, a member of staff needs to get on the case! We preferred to use our cooler bag after seeing the state of it. But overall, a lovely trip - thank you!
Nice views and location but...
Great location and very picturesque campsite situated in a little valley near millom. Approx 40 pitches and a separate orchard for a more private campsite. There is a stream that runs right through the middle of the site accessible over a little metal bridge. Kids can play safely for hours in the stream as it's very shallow. The site is safe enough to let your kids roam freely for hours without having to worry where they have disappeared to. Campfires & bbq's encouraged with a supply of logs £5 per bag. A small shop with a few essentials was good but could be so much better if they had local businesses supplying meat, eggs,cheeses etc as everyone drove to the local Tesco in Millom, extra revenue and adds to the experience if it's done properly. Now the negative points, the shower and toilet facilities are very poor there is only 1 toilet for men and 2 women's toilets for a 40 pitch site, so there would always be a queue to use. We had no hot water to the toilets and the dishwashing station for two days over the weekend, there is only 1 dishwashing sink so there were always people waiting to wash dishes, a major pain! This area needs some major investment and if they get it right then this site will be a good edition to the area. The farm sheep dogs are left to roam the site and use it as their toilet, twice right outside of our tent and dog mess over most of the site, this with kids running around is pretty disgusting. We have a dog ourselves and always clean up after it so feel this is a major let down with this site. Shaun the site manager is approachable and informative and is a good addition to the business but feel his hands are a little tied. Overall I'd give this site 3stars with the facilities letting the site not be a 5star site.
Good family camping
This is a great campsite for children with a stream to play in and animals to see around the farm. Great campfires and a good choice of different pitches. Great to have access to a fridge and freezer. Facilities basic but sufficient. Good access to different parts of Western Cumbria, beaches, and some of the lesser visited Lakes.
Fantastic setting for families
Our first camping trip further afield (normally camp near home) and we were not disappointed. Lovely setting (we had a pitch by the stream which was perfect for our two boys, 8 and 5, to paddle in and make friends), fire pits for all, small grass play area for badminton and swing ball (we also set up our own croquet set there), walks for all abilities, animals aplenty, plenty to see and do in the area, fab shop selling camping essentials AND ice creams, and decent facilities. Shaun (and the lovely Teddy the dog!) was so helpful, checking all was ok for us, suggesting places to visit and setting us up with an electric hook-up despite those pitches being fully booked. We were lucky for most of our four-night stay that the weather was good too - the last night was far more dramatic with high winds and rain. Would rate this site five-star but felt that it could do with more toilets/showers/washing up areas for the size of the site (and it got very busy at the weekend). Definitely recommend though as a base for exploring Cumbria/the Lake District. We visited Muncaster Castle, Ravenglass-Eskdale Railway, Silecroft Beach and the Laurel and Hardy Museum in Ulverston. All in all, a great camping trip. Thank you, Baystone Bank Farm!
Fantastic family camping! Idyllic location!
We absolutely loved our first family camping experience here, so much so we booked an extra night. The campsite is set in beautiful surroundings and the stream was a big hit with the kids. The facilities are basic but everything you need for a comfortable stay - showers, toilets, fire pits for every pitch, fridge and freezer and free access to a plus for phone charging and hair drying! Shaun is fantastic! Really friendly and helpful and even lent us two camping chairs for the week! The shop has all the essentials but there are plenty of shops nearby. We had a brilliant time at Silecroft beach on two of our days, spent a day at Muncaster Castle and explored the walks beyond the campsite. I would highly recommend Baystone Bank! 5 stars all round!
Wonderful stay
Just back from a fantastic camping stay at Baystone Bank Farm. We had intended to stay a couple of days but loved it so much we stayed for 5!!! The sight is wonderfully rural but makes a great base for exploring the lakes. We ventured out and about every day (steam train at Haverthwaite, lake cruise at Lakeside Windermere, a great Motor Museum with quiz and medals for the kids, Silecroft beach which is miles of sand with not another soul in sight!!!) although we were always keen to get back to the site, enjoy the views and the great camp fire by the tent. The people are lovely, fellow campers were very friendly and respectful (the usual campsite atmosphere during the day/evening but it all gets quiet at around 10.30pm which was great for us trying to get the kids to bed!). Special mention has to go to the site staff, especially Shaun, who were all brilliantly friendly, knowledgeable and helpful without being intrusive. All in all this is the best campsite we have been to for views, atmosphere and although the facilities are basic (fridge/freezer, showers, toilets, sink) this just added to the traditional camping feel. Showers are due to be upgraded in the next couple of weeks and this will just make a fantastic campsite even better. We will be back!
A great find tucked away in the quieter parts of Lake District
An idyllic setting which is perfect for kids ! Facilities very basic but useable. Only four stars as I feel more than two showers and three toilets would be needed in busier periods.
Idyllic setting- outstanding staff!
Absolutely loved our 4 nights on this peaceful and pretty idyllic site. It has a charm all of its own, and the area is unspoilt with so much to offer. A helpful telephone booking with Julie was followed by a warm welcome onto the sight by the multitalented and extremely helpful Shaun! Good sized pitches are thoughtfully allocated, each with a fire pit. The surroundings are simply beautiful, and the many thoughtful touches which are being added to by the week, make this site a gem of a place. The local recommendations made by Shaun, and Brenda in the site shop, are worth listening to! Foodies will love the Bakers and Melville Tysons in Broughton in Furness, and King Billy's in Kirkstanton serves the BEST steak outside of South Africa and should not be missed!
Great stay and lovely people!
We stayed two nights on a grass pitch and had a great time. The campsite was well equipped and in a perfect location for accessing the beach and exploring the mountains. Being a heavy horse centre also, it was lovely to be surrounded by horses too! Shaun was fabulously helpful and friendly and the shop was great for handy extras including breakfast bacon! Communal fridge and freezer was also a great addition. They even fired up a barbecue and sold burgers and hot dogs! I would definitely return to stay again. :)
Brilliant
Me my partner and 3 children have just come back and had the most amazing time everyone was so helpful and friendly and couldn't do anof to help. We have booked again whilst we were there it was so good. Safe to say we will b going a few times a year now thank u to all the staff for making are stay an amazing experience
It was lovely and quiet, with friendly and helpful owners
My two friends and I were very happy with the peaceful surroundings with scenic views. We visited the surrounding villages and beaches while there and learned some of the history. The people and animals were friendly and helpful and so easy to talk to and like. We would definitely go back :)
Fantastic holiday, brilliant campsite!
Me and my partner recently spent 3 nights at Baystone Bank Farm and it's safe to say we will definitely be returning in the future! The site itself is lovely and surrounded by beautiful scenery. The site comes with good facilities such as a communal fridge/freezer which I have not come across before on other campsites and is a great idea. The site manager Shaun was very welcoming and friendly with a great knowledge of the local area, also his little dog helper Teddy became a treasured memory from our visit. The campsite is close enough to local pubs and attractions but also very peaceful and tranquil. A great place for couples and families. Looking forward to returning again and the new kitchen/shop will be a great addition! Thank you for a fantastic stay and we hope to see you again soon, Rachel & John.
Fantastic last minute mini break, what a place !
Just returned from staying in a bell tent for the weekend and what a lucky find it was ! The tent was good quality with air vents and well equipped with double bed and single sofa bed ideal for kids. There was crockery, cutlery and pans with a 2 ring gas burner and kettle. Outside there was a table and 4 chairs to soak up the beautiful countryside. The toilets and shower blocks were close by and a communal fridge. We spent a full day at the beautiful beach at Silecroft, we really could have been abroad ! We only live within 45 minutes drive but were totally relaxed and my boys loved playing swingball, football and messing about in the river. There is a little shop that sold a little bit of everything ! In all, a fantastic time had by all and will be back. Memories forever. 😊
Great campsite
Lovely little find, Shaun was a legend from the moment we arrived, great location near to Haverigg beach which our dog loved and to Broughton in Furness where there's some nice pubs. The campsite itself was very clean, there was an honesty box to leave £5 if you needed logs for the firepit, it was a really busy weekend though it never felt overcrowded or too noisy.
Lovely campsite, excellent care and customer service
We have just returned from an amazing stay at Baystone, probably our best camping holiday to date! The site is in a beautifully picturesque part of Cumbria, with an small beck running through the middle. We stayed on a pitch next to the river and the addition of having a fire made for a wonderful holiday. Shaun was the most helpful and informative campsite manager we've met, friendly and with loads of really good local knowledge. The kids miss Teddy his dog, who was a friendly playful part of our week. The facilities are basic but adequate and kept very clean, the future plan sounds very exciting! We all loved our stay and will be back.
Beauty spot
This is a great family campsite in a stunning location! My children had hours of fun playing in the stream with their friends and playing opposite our pitch with the sites badminton and swingball. The showers and toilets were few, but were nice and clean. Future plans to expand these facilities sound exciting. We had a good sized pitch with ehu for our 8 man tent and Shaun was so friendly and nothing was too much trouble, he made sure we didn't want for anything. He definately goes the extra mile.
Beautiful location
We had a lovely stay at baystone bank, Shaun the site manager couldn't be more accommodating and welcoming, kids had a fab time playing in the stream and seeing the sheep and horses, everyone enjoyed the campfires, so handy having the little on site shop for essentials like ice creams and sausages! Can't wait to come back especially when the all the improvements are complete
Everything...such a sweet site...well looked after n ran by a complete legend nothing to much trouble
Amazing weekend here with the family...near to Millom and a beach...walks...horseriding...amazing facilities and warm welcome such a gem of a place we all fell in love with Baystone Farm Campsite.
Lovely family camping trip
We stayed here with 2 young children (2 and 3) and the site was perfect, lovely little stream running through the picturesque site which was great for the kids to play in. Nice quiet location but in easy reach of south lakes scenery and attractions. Shaun the site manager was a great guy made us all feel very welcome and was on hand for any queries we had. Would recommend and will be back again.
What a view!
First time visit to Baystone Bank Campsite, and it was just lovely. Small private site with a mix of grass and hard pitches with a couple of yurts and the Round house. Beautiful little stream running through the camp field made the look idyllic. Services good, although sink and toilet got abit messy at the weekend when it was fuller. Shaun the site manager was lovely and happy to talk over site and route options. Each pitch had a fire pit which is a luxury we enjoyed. As the site allows dogs it was shame that some owners didn't follow the courtesy of cleaning up after them :-( Otherwise it was a lovely site we would recommend especially if you have pets and want to get off the beaten track.
The location and the reception we received on arrival.
When we arrived we were met by Shaun who is very enthusiastic and proud of the site. He showed us to the pitch and told us about the facilities which are available. He then explained all about the walks, things to do in the local area and if there was anything we would like to ask about the site. The weekend we were there it was very busy on the site but it had a brilliant atmosphere with everyone enjoying themselves. A bonus for the people in tents with the beck (brook) running through the site was somewhere to cool their wine and beer bottles/cans. We will return even though some things are "work in progress" but with Shaun's enthusiasm I'm sure things will even improve.
Lovely short weekend break
A gang of 8 of us came here camping for the weekend. The campsite was lovely, Shaun was welcoming as we arrived show us to our pitches. The pitches were spacious and we had more than enough room for our cars, tents and a nice place to sit for the nights. There was also a 6 mile walk nearby for us to do and Shaun was more than happy to help with anything he could. Plus teddy the campsite dog was an absolute cutie.
Warm Welcome, Warmer Fire (Just).
Excellent facilites, Warm welcome and great banter from Shaun. Great tranquill atmosphere in the unspoiled, uncomercial area of the Lakes. Set in the valley amongst the mountains, this gem of a camp site is the best I've had the pleasure of staying at.
Wonderful Holiday
Went for the weekend with some friends an absolutely amazing campsite, the views were incredible and the people were so helpful and welcoming Would 100% recommend to anyone looking for a peaceful break. Thank you for an amazing holiday !
Beautiful location and great welcome
Just had a lovely weekend at Baystone Bank Farm Campsite. We were in a bell tent, which was fabulous. All facilities very clean. Staff on site were lovely and really friendly and helpful. Fire pit a bonus. Great views and lovely stream for kids to play in, and the horses in the fields around the site very impressive to see. Will definitely be returning, thanks for a great visit👍
Perfect Peaceful Glamping
My boyfriend and I had a lovely weekend retreat at Baystone Bank Farm. The campsite is located in a truly beautiful spot with magnificent views, and is incredibly peaceful, the only noise coming from the stream that runs through it. It is a convenient location, with many walks right on the doorstep, but also a short drive from the coast and a supermarket in Millom. We stayed in one of the bell tents, which was wonderfully furnished and incredibly comfortable. Everything we could have needed was provided. Shaun, the campsite warden, was very accommodating and friendly and ensured we had everything we required- and despite us forgetting bedding, was very kind and helped provide us with some for the duration of our stay. Shaun is certainly an asset to the campsite going above and beyond to ensure guests are happy! Being able to purchase firewood and firelighters on site was very useful. The toilet and shower facilities are basic but clean and comfortably close to the campsite, and this was fairly reflected in the price of our stay. The bell tents also have no electricity access, but we did not find this a problem as battery operated lighting was provided, and if anything this added to the tranquility of our stay. We would recommend a stay here to anyone and will certainly be returning for a longer break in future!
Idyllic
Last weekend was our third weekend in a row at this spectacular site! We love it so much, especially the campfires and the stream. It is so peaceful and the views are spectacular. The facilities are kept immaculate. Hand wash and paper towels are really appreciated. They are regularly replenished and the whole area kept very clean. Shaun and Teddy certainly have the best job in the world! We hope to return as often as possible. Thank you again.
Perfect
Amazing site in a beautiful setting. Awesome facilities, friendly guests and perfect hosts. Can't recommend highly enough and looking forward to returning. Many times 👌