Pier Cottage Caravan Park
Pier Cottage, Coniston, Cumbria, LA21 8AJ












An unbeatable location between Coniston Village and Coniston Water
If you've ever turned the pages of
Swallows and Amazons
then you're already part way to imagining the scenes at Pier Cottage. The great lake that's central to the book is a combination of Windemere and Coniston (the shape of the former with the mountain backdrop of the latter) and just as children laze idly in their sailing boats, the scenery today is a speckling of dinghys, canoes and slender, plastic kayaks. True, the fictional camping takes place on an island, but the reality of Pier Cottage still isn't far behind. The campsite rests on an outcrop of shore and boasts a decidedly separate feel from the surroundings, something only accentuated by a river channel running along one side. There's certainly a storybook charm to it all, an easy slide of boats into the water and a beautiful pitch-up view across the lake, but there is one obvious absentee – the pegs and guy-ropes of traditional canvas campers.
We know, we know. We said we wouldn't and we have. Pier Cottage takes the official title of a "Caravan Park" and in doing so seems to wave it's last goodbye to all the spirit and tom-foolery of nights around the campfire. But not so fast. Though Pier Cottage is a site for campervans, caravans and motorhomes only, it still manages to leap like the Coniston fish over the bar we've set for cool campsites. Facilities are relatively basic – the toilet and shower block is well maintained but the sophisticated ablutions are mostly found in people's own motorhomes, connected to the water supply that runs to every pitch – and the site has a simple, traditional feel. It is the location, though, that makes this spot so impossibly hard to match.
Boat launchers, wind surfers and wild swimmers are a stock customer here. Pier Cottage has its name for a reason and it's not from peering out from behind the mountains. No, this is a waterfront spot that can brag spectacular lakeside views and a short walk to the Coniston Boating Centre. Hire out your own raft or head out on their famous Steam Yacht Gondola for a tour. The boating centre was never mentioned in Swallows and Amazons – perhaps paying £20 for a kayak would dampen the quaintness of the storyline. Nevertheless it's not a bad price.
Away from the waters edge the fells that poke the horizon all offer the walking that the Lake District National Park is so famous for. A steady stroll around Tarn Hows is one of the nicer low level walks but those with time should hike up the Old Man of Consiton, climbing away to the west of the campsite to 2,635 feet. It's one of the more hardy climbs around but well worth it for the views and when you tumble back down into Consiton village you're already perfectly placed for one of the four pubs, the only difficult bit is deciding which one to choose!
Gallery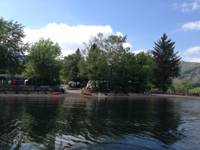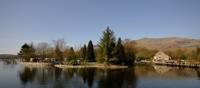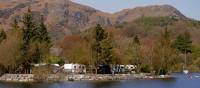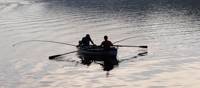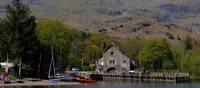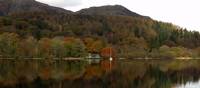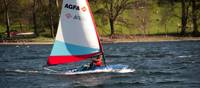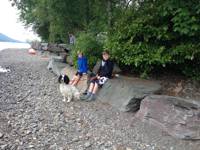 The Owner Says
Small caravan park located on the edge of Coniston Water.
Reviews
Add Your Review
Nothing to dislike
From the moment you go through the village and turn onto the lane towards the campsite,there's sheep in the fields and tranquillity strikes,piece and quite,the world slows down and you know that you are in for a ( step of the world of madness)time to do what you want and when you want,you are not over faced with is everything ok and there is a tour leaving in 15 minutes,from the walk along the shore of the lake to the village and the walk back with fish and chips this is heaven,the site is clean,basic and ideal for a couple of days or a couple of weeks,central for a base to explore the rest of the lakes but once you setup and take a look down the lake you may not even move from the site,the owners have a walk around every now and then,say hello and nice to see you again,this is true camping
Just Simply....Wow!!!
Everything you could ask for and more! Beautiful site, beautiful views and the absolute perfect location! There aren't enough adjectives to describe how much enjoyment you will get out of this place. The Lake is right outside your tent, there is a dock with lovely benches to sit, reflect and unwind after a long days adventures and the views are to die for. The village of Coniston is no more than a simple 5 minute walk down a straight road which is well hedged off for pedestrians and their furry companions to walk safely into town. The selection of good quality pubs is fantastic and you can easily pop between 2 or 3 all night for a very good value tasty meal then some great real ale and cider locally produced. There is a butchers in the village to serve all your bbq needs and a well stocked shop. The owners of the site itself cannot do enough to help you and should be very proud of the little bit of paradise they have created. We and our 2 fur kids felt so at home here and were never short of something to do be it walking on one of the many routes around the site, kayaking on the lake, walking up stream on our own adventure or just relaxing around the site taking in the breathtaking views.We were gutted to leave but were all exhausted from our escapades so needed to sadly return to the real world for a little while to recharge! We cannot wait to return and the fact that the site is booked up so far in advance should tell you what an absolute gem this place is. Thank you so much for having us, we will most definitely be back soon! -Stacie, Rob, Freddie & Poppy :)
Win a £100 Blacks Voucher!
If you've stayed at Pier Cottage Caravan Park campsite, please take a minute to tell us about your experience. Every month, one lucky reviewer will be picked at random to win a £100 voucher, courtesy of our recommended retailer Blacks. Each review counts as one entry, so get writing!

Best Price Guarantee, with no fees
Instant booking confirmation
Trusted for 10 years
A chance to win camping goodies in our regular competitions!
Book campsites near Pier Cottage Caravan Park