Crag and fell views, and riverside fun
The Borrowdale valley – south of Keswick, at the foot of Derwent Water – pretty much encapsulates what's best about the Lake District. Apart from the odd small hamlet, this dramatically beautiful landscape (National Trust-owned for the most part) is the preserve of traditional hill farms, one of which has gone into partnership with glamping provider Inside Out Camping – and a more bucolic site is difficult to imagine.
At the site, there are six rustically-furnished yurts, which each comfortably sleep four on futon beds and set in their own private field by a babbling river with plunge pool. Pick your location, or go for an Inside Out lucky dip – either way you're in for a back-to-nature treat in one of the Lakes' loveliest valleys.
Gallery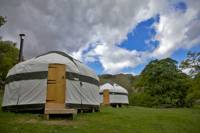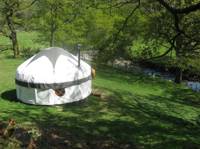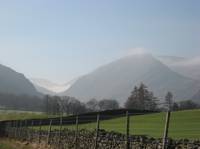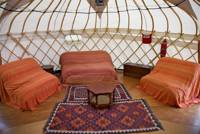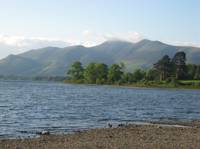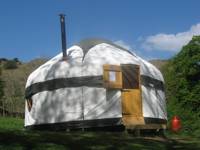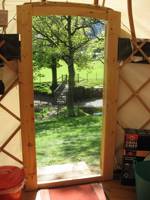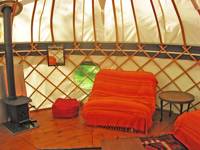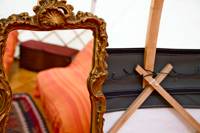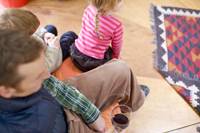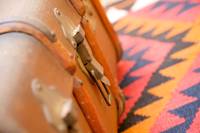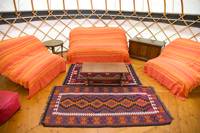 The Owner Says
Inside Out Camping's Yurts in Seatoller, Borrowdale provide you with affordable luxury in a really beautiful place. It's the ideal place to come and stay with family or friends as you can wander by the River Derwent close to the site or walk straight out on to the fells. There's cosy duvets and a wood burning stove to keep you comfy when needed. 
Reader Reviews
Add Your Review
Great Yurts and location
The yurts are based within the Seatoller farm campsite and as such share the same facilities which could be considered on the basic side compared to today's glam camping standards. Have a look at the Seatoller campsite for a review of these facitlities but if you are seasoned campers looking for a yurt experience the facilities will not present a problem. The location of these yurts is absolutely the best thing here (fells, woods, river) but a close second is the yurts themselves which are light filled and well equipped with just about everything you will need - oh and very, very warm even on one morning when the October temperature dipped to -5C. The Yurts are operated by Simon who is the third best thing and an absolutely great guy seemingly eager and happy to assist with any query. Our family aged 11 and 8 loved every minute of our stay.
Not so glamorous
A lovely location, but overall disappointing. The yurts are in a nice quiet setting, with great views and a river running alongside, which my children really enjoyed paddling and swimming in. The wood burning stove was great, and the quilts warm. Unfortunately we did have a few issues which meant our experience with Inside Out Camping didn't meet our expectations of a 'glamping' holiday. While the furniture/floor etc. of the yurt were clean, the yurt itself was not – with algae/mould on the inside of the roof and a skylight which was so dirty not a single star could be seen – not the stargazing experience promised on the Inside Out Camping website. The campsite facilities are very basic and do not meet the standards expected for a 'glamping' holiday. There is no hot water for washing up, no lights in the toilets (tricky at night with young children). The men's facilities were inadequate and dirty. The toilet roll wasn't replaced in the toilets for 4 of the 7 nights we were there, until my husband managed to find someone at the farm to speak to about it – this also suggests they presumably weren't being cleaned during this time. I didn't mind walking to the showers, which were nice and hot, but you do have to leave the campsite and walk up a road (which was surprisingly busy) to get to them – again not ideal with young children. We have both camped and 'glamped' as a family over the years and it takes more than a yurt (a not very clean one at that) to call a holiday 'glamping'. A shame as the location is great.
Yurt4U
Oh dear...read the last review and wondering whether to book? Well...don't believe all you read!!! Simon is fab. From the start of the booking process he is excellent. If you want to check in then book a hotel. Otherwise drive down the unsuitable track (last year I saw an 18 year old girl in her mum's ford Kia navigate the track on a number of occasions) amble across the stream and then make your way across the field surrounded by glorious views. You will know it's your yurt because Simon will have told you which one..but lest you lose your memory when faced with such glorious peaceful surroundings...your name is in big letters on the front door. And when you enter you can't fail to suddenly think you are back in Brownies by the camp fire. All the 'glampers' that have gone before you have enjoyed the wood burning stove and the aroma nestles around the yurt... It's a mixture of Christmas...fun...peace...reflection. If you arrive late, as I have, then you leave the unpacking until the morning, throw the Eco logs in the burner, pour yourself a glass of wine and dive into bed..the duvets are thick, soft, warm...you fall to,sleep with the twinkle of the fairy lights and you may get a glimpse of the moon through the roof. I've no complaints about the toilet block. It's clean, it's functional and I've never been caught in the dark! In the morning the dew has settled on the grass, and the short walk to the toilet block is a pleasure the peaceful hum of the site is not obtrusive, everyone is getting ready for the day's activities. The facilities within the yurt are just fine. Clean. Everything you need..and it's fun. And the 'walk of shame' to the showers?!?! Haven't a clue what that is?!? The walk isn't 10 minutes...more like 7. It's a lovely walk. Last year I was blasted by the hot water came out refreshed and bought a dozen eggs before I hot footed it back to the yurt. Milk? I'd brought a pint with me..but I hadn't packed olive oil and salt...but luckily they were in the cupboard so the glorious golden yellow yolks were perfectly scrambled and tasty on the two gas burner hob. I will return time and again to Hollow Farm. It's gorgeous.
Not So Glamorous...
My partner and I spent 4 nights "glamping" here a couple of weeks ago and I am sorry to say that the experience was far from glamorous...
We arrived at the campsite after driving down a track unsuitable for cars to find the tent and its surroundings infested by midges. The Yurt itself seemed cute and the views were lovely. On entering the yurt that was what looked like a welcome book but how I was wrong... this was in fact a book of dos and dont's which included the need for us to strip our beds and clean the tent on departure. 
After searching the website before we went we found out that there was no electricity in the yurts so therefore no fridge to store food & drink. We did find however that there was a BBQ? But no outside seating. There were tea bags and some left over coffee. But no milk.You catch my drift. Great thinking with the solar lighting though and the wood burning stove was a nice touch. 
There wasn't any soap in the toilets, no hot water for washing up and the light in the men's toilets seemed to be on a timer of around 20 seconds (much to my partners delight). The showers were great - very hot and powerful but were a 10 minute walk away at the farm where parking is prohibited so walking down in the morning was like doing the walk of shame. 
We are not happy campers which is why we opted for the glamping option but unfortunately we were disappointed. I have never reviewed anything before but felt that people should be better informed about what to expect. These are all points that we would have made to Simon had we have met him. We got a deal which meant we paid £32 per night but I would not be willing to spend more than this.
All in all a great idea but lacking attention to detail. 
Response from Inside Out Camping
Thanks for taking the time to comment on your stay. It's always good to hear how things went. 
The folder in the yurt is to provide information for guests and yes there are quite a few practical do's and don'ts around keeping safe and looking after the yurt. In my opinion asking to leave the yurt as found isn't an unreasonable request but i will review the wording in the folder.
I rent a space from the farm who own the regular campsite as a whole and was asked me not to put seating outside for guests – I will though look into the possibility of folding chairs and table etc and how to store them.
Leaving milk in the past has ended with the majority of it unused and left to go off so I decided not to do it anymore and just make sure there is tea and coffee.
I'll check timing of the light in the toilets and due to there being no electricity on the campsite hot water isn't available and for the same reason the showers have needed been built in the barn 10 mins away. 
I will also pass on your comments to the farm re the track to the field.
Great Experience!
We stayed over two weeks here last summer in an ordinary tent and it was a great experience! Really great service too...
Lovely view, calm and quiet fields and genuinely family friendly. Lots to do around as well, and some great walks immediately from the site. 
Shower blocks and clean toilets make all the difference too... 
Inside Out Camping = Brilliant
Myself and 3 friends headed up to The Bell Tent at Hollows Farm for the weekend - and what a great place to stay. 
There a solar lights in the tent, a wood burning stove, kettle, futons - this is the way camping should be. None of us own a tent, and The Bell Tent was a great alternative. I'm a converted 'glamper' for life.

The area is also fantastic, we are keen(ish) walkers, and even went for some rowing on Derwent Water. Found the local pub, and had a great breakfast at the Shepherds Cafe in the lovely hamlet 10 mins away. There is also a beautiful river at the bottom of the campsite. Which I fell in. 
Simon was great in providing information for us in the run up, so even when we arrived in the dark we knew where we were going.

Highly recommend!

Not just for glampers!
If you are a traditional 'tenter', don't overlook this wonderful campsite. The prices are very reasonable (£6 per adult per night, under 3's free) but don't detract from a beautiful camping experience.
Pooh sticks? The small stream will provide ample opportunity for fun. Dinghys? the river is even flowing and shallow enough for the smallest campers. 
The site offers cold water toilet and washing facilities for day to day use and a short walk (5mins) provides beautiful hot showers with unlimited time allocation.
This is a turn up and pitch site, no bookings taken, but has plenty of room and never seems to get overcrowded. 
Enjoy your stay!
Inside out camping
We've just returned from a fantastic weekend in the Bell Tent at Hollows Farm.  It was the first time we have taken our two children camping and they loved it.  The setting of the campsite is idyllic, with streams, trees, hilly bits and the river all around you - perfect for entertaining 2 young children all day long.  The nearby villages of Grange and Rosthwaite are easy to walk to, with tea rooms and a hotel with bar in Rosthwaite.
The bell tent was great.  Very cosy and spacious enough for the 4 of us.  The booking process was very friendly and efficient too.
Highly recommended by us.
Inside Out Camping
Our little family stayed in a yurt at Hollow's farm last summer, early in the season. We were completely captivated by the magical setting of the site, so much so that we are planning to go back again this year for more. We loved the feeling of being right away from it, all which came over us as we drove down the narrow land and across the tiny ford into the camp site, yet we were hardly any distance away from Keswick for food shopping and easy access to all the wonderful things that the Lake District has to offer. We were grateful for a friendly welcome from Simon when we arrived and were delighted to find ourselves in a warm, clean and tidy yurt with all the bedding and basic equipment that we needed. The toilet block was nearby and although the showers were a bit further away they were clean, powerful and hot - all we needed after a day on the bikes. We have enjoyed wild and campsite camping in the past but were ready for the extra comforts of a yurt, and would highly recommend Inside Out Camping as a company that understands how to make camping an easy and enjoyable experience.

Inside Out Camping
This is a great place to go with an adventurous 6-yr old; river, woods, tree-swings, hiding places, hill-top dens, bracken-monsters ... And that's before you get into the wonderful tents. We took a box of food and not much else; everything you need is provided.  The site is quiet enough to be peaceful, but with other families and kids to keep ours busy. We didn't leave the site all weekend but there is plenty to do within half an hour of Borrowdale. My wife isn't a big fan of camping but she loved this weekend. It's like camping with all the grungey bits taken out.  Inside Out Camping, where have you been all my life?
Inside Out Camping
We treck from Wiltshire to the wonderful yurts at Borrowdale twice a year and whatever the weather we have a truly relaxing and wonderful time. Simon has always been more than helpful and easy to get hold of and a genuinely lovely bloke! The yurt is always toasty warm whatever the elements throw at it, with plenty of logs to keep the fire going. We love to walk the fairly flat and absolutely breath taking walk from the yurt into Keswick and get the boat back across Derwent Water. The site is quiet as it tends to attract walkers and those who appreciate the natural things in life. My daughter plays safely in the river which is just across the field and from where we have often walked across to the Honistor slate mine which is also worth a visit. Toilets are always clean and the showers at the farm are hot and powerful. I can't imagine that anywhere in the lakes could be any better for situation or customer service, thanks Simon! 
Inside Out Camping
We started off trying a bell tent for something different from our normal camping holidays. We had such a fantastic experience that we returned with friends, and hired both of the bell tents. Looking up at the Yurts in the evening, all lit up, we decided we would try them on our next outing, and haven't looked back! We have become creatures of habit, and turn to our favourite place twice a year. Simon is great, and is always on hand if there any questions or help needed. We have been going for the Inside Out Camping experience for years now, and are very much looking forward to the next time! 
Inside Out Camping
I hired two yurts with seven friends and each of us had a wonderful time. They were clean, tidy and in a great location, close to local amenities. They also had all of the necessary utensils; pots, pans etc. It would have been better if the yurt had all single beds, however, as opposed to singles with one double. They could have been a bit kinder with the weather too but then that probably wasn't their fault :)

Best Price Guarantee, with no fees
Instant booking confirmation
Trusted for over 10 years
A chance to win £50 of Cool Camping vouchers!
Book campsites near Inside Out Camping