Book campsites near Hemscott Hill Farm
Campsites in Warkworth
Campsites in Northumberland
Campsites in North East England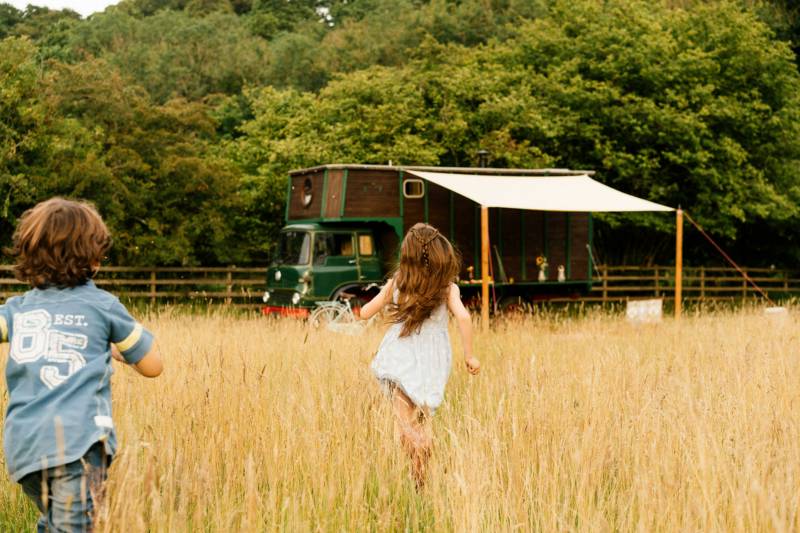 Glamping in Morpeth
Glamping in Northumberland
Glamping in North East England
Off-grid camping in the wilds of Northumberland, a stones throw from a vast, sandy beach
For sheer dramatic wild beauty, the Northumberland coast takes some topping. The wind-buffetted beaches along this unspoilt stretch of the North East seem to go on forever. With plenty of wildlife, dune fauna and the boundless, shimmering blue of the perma-choppy North Sea, there couldn't be a more fitting setting for a spot of back-to-basics camping.
Introducing Hemscott Hill Farm – a pop-up campsite nestled in the undulating dunes that rise and fall along the fringe of seven-mile-long Druridge Bay. Combining the thrill of totally off-grid camping with epic coastal views and a few basic facilities to smooth out the rough of the wild camping experience, this marram-dotted landscape is an utter joy.
The walk to the nearby farmyard takes you through the evolution of the dunes; from the sand, sea sponge and spiky marram grass near the beach, through to thicker vegetation and then onto the meadows of the farm (geography students take note!). And while, across Hemscott's many acres, there is ample open space for guests to savour the great outdoors, there's also an intimacy here that belies the farm's proximity to the sprawling peaks and valleys of the Northumberland National Park.
If anywhere deserves the accolade 'a walker's paradise', it's not the national park, but right here on the Northumberland coast. Venture in any direction from Hemscott for countless spectacular strolls; from the fossil-strewn beach at Hauxley, to the many ancient castles that dot the northern stretch (Northumberland has more than any other county in England). Hemscott is also on a number of national and tourist cycle routes. And as dusk descends, stoke up the campfire and enjoy the dazzling sunsets as they yield to the twinkling light of infinite stars under the UK's darkest night skies.
Details
Facilities
Campfires and BBQs welcome as long as they are in fire pits or raised off the ground.
Suitable For
Experianced campers with their own facilities. Over 16s Only, couples, adult families, tents, small campervans – yes.
Children, Caravans, motorhomes and groups – no.
Nearby
Easy access to the miles of golden sands stretching from the two beaches at Amble in the north to Cresswell Beach in the south. Explore this 7-mile stretch of Druridge Bay Country Park via the Northumberland Coast Path. The farm is also on the stunning Coast & Castles National Cycle Route No. 1. Small on gradient but big on scenery, heading north, this easily rideable path takes in Warkworth Castle (01665 711423), Bamburgh Castle (01668 214515) the Dunstanburgh Castle (01665 576231). You can hire bikes from Breeze Bikes (01665 710323) in Amble. The coastline's big draw is the hauntingly beautiful Holy Island of Lindisfarne (be sure to check the crossing times) but for the lesser visited but no less impressive Coquet Island is well worth a look. While you cannot land on this RSPB-managed seabird colony, you can marvel at the thousands of puffins, terns, and eider ducks that call it home.
Food & Drink
The Widdrington Inn (01670 760260) and The Plough (01670 860 340) in Ellington are a pair of decent locals boasting a changing ales selection and hearty pub grub. For tasty home-baked treats, it's a ¾-mile stroll to The Drift Café (01670 861599) in the dunes outside Cresswell. It's also a second hand book shop. The small fishing town of Amble (7 miles away) hosts a number of up and coming restaurants including The Old Boathouse, and Sea & Soil – plus superb ice cream at Spurreli.
Open
May – September. Advanced booking essential.
Location
Contact Hemscott Hill Farm, Hemscott Hill Farm, Widdrington, Morpeth, Northumberland NE61 5EQ
Getting There
Directions from the A1 (North and South): Leave the A1 at Chevington Moor/Widdrington exit (if travelling North it is shortly after Earsdon, if South it is after Weldon Bridge turn off). Follow the road to Chevington Moor and go straight over the crossroad. Follow this road for a few miles until you get to the roundabout at Widdrington Village. Go straight across the roundabout towards Druridge village. After about 2 miles the road reaches Druridge Bay National Trust Car Park and bends sharply to the right, follow the road and after ½ mile you will reach Hemscott Hill.
You will be advised where to park and check in when you received your booking pack.
Buses run to Widdrington Village from Newcastle, Morpeth, Berwick and Alnwick, hourly. The bus stop is just over 2 miles from the farm. Limited train service to Widdrington Railway Station. Morpeth and Alnmouth train stations are about 12 miles away. If you are coming by public transport the owners will try to collect you depending on time of arrival.
Reviews
Add Your Review
Rated ★★★★★ over 35 reviews
Relaxation close to the sea
My friend booked this site for us in our campervans and I was extremely happy she did. The proximity to the beach and the long views from a couple of little hills near were we camped were amazing. I was very pleased to be able to have a fire (raised off the ground) which warmed us as we star gazed the dark sky. Enough wind to fly my big kite too. Happy days, and I extended my stay for a couple more nights too. Would highly recommend for a quite and affordable basic yet beautiful get away.
Great Site
This was a fabulous location, the weather was dry and with amazing skies. Despite it being a bit windy it was one of the best campsites we have been to. Great birdlife; gannets feeding off the coast, hundreds of goldfinches, and sand martens. The nature reserve to the north had lapwings and oystercatchers. We had a low flying Chinook too, so low that we could see that the navigator was smiling.
Relaxing and quiet
Had a wonderful time at Hemscott Hill .... such a beautiful location. The beach was just over the dune and the dog enjoyed the sea. The high light was watching a pair of weasels playing in the grass next to the tent. Only draw back was that we paid far more by booking on line than my sister in law who booked direct.
Beautiful beach front location
We were lucky enough to get the field to ourselves for a few days . The site is just as described - a gorgeous off-grid camping experience. The wind put our tipi to the test but the views and proximity to the beach made it worthwhile. We hardly saw a soul all week - perfect .
Perfect ❤️
What a great weekend. Upon arrival everything was perfect, the staff were welcoming and lovely. The bar WOW absolutely stunning. Found a pitch easily although due to the wind we couldn't pitch at our favourite spot. It was fun but hard work trying to get our tent up but once up it was worth the effort. The wind dropped later in the evening and the weather was beautiful. Everyone on the site was so friendly and the views and just beautiful. Absolutely loved loved our stay I was only sad we couldn't stay longer and will definitely be back next year. Thank you, Victoria and Lee x
Always a lovely experience
I have been to Hemscott Hill farm camp site a few times now and it never disappoints. Lovely friendly couple who meet and advise on best place to pitch. We went to the Barn for a few drinks this time and was pleasantly surprised to find the most beautiful space, again with the same friendly feel. We will definitely be back.
Awesome nearly wild camp
We were testing our new roof top tent and needed a place on the way home to stop off on the way home. Really nice site, we found a nice secluded spot in a dip and kept us a bit more sheltered. The barn is lovely and the staff are really friendly.
Great little gem
Staff were warm and friendly on arrival, receiving a little pack with information, contact numbers and such covering most things needed during the stay. Plenty of space to pitch up without intruding on other campers easily, a short walk to the water taps and the chemical disposal for the camping toilets and the bins.We were barely 100m from the beach so even if getting the tent up in the wind was a little stressful (which is expected on the coast) after all was done the sound of the waves crashing soon had relaxed again. 7 mile stretch along the coast line for great walks and there was a great cafe only a stone throw down the road that did great food if you fancy a break from camp cooking (a tent across from us said the pizza was amazing). Cannot wait to go back.
A gem of a place
The only campsite we could get our hands on in the whole of the UK for the dates we wanted after a last minute decision. Plenty of space to pitch up without invading the privacy of near by campers and who could say no to having a pitch barely 100m away from the beach. Friendly and warm staff
Absolutely stunning!
We stayed here for 3 nights and I wish we stayed longer! What a beautiful spot, waking up to the sound of crashing waves and sea view. This place is right next to the beach, tucked behind the sand dunes. There is a water tap available and somewhere you can dispose of toilet. There is the Barn at the Bay at the entrance which has a bar but otherwise it is pretty wild camping at its best! Highly recommend!
Absolutely Fantastic, wish we stayed even longer!
What a brilliant campsite! Just over the sand dunes from the beach, perfect location. Falling asleep listening to the the crashing waves was lovely and seeing the Milkyway was perfect. We had running water and lavatory disposal. Barn on the Bay was great for drinks too. Thank you for a lovely stay.
Beautiful views. Sounds of the sea. Peaceful location.
Really enjoyed this scenic spot. Falling asleep to the sound of the waves. Campfires off the ground allowed. Friendly fellow campers. Toilets available at times when the barn bar is open. Lots of swallows and Alpacas to say hello to too. Even squeezed in a swim and a surf.
Great spot for camping and helpful informative staff
On arrival the site was busier than we had expected, but once we were pitched up it didn't matter as the dunes and the sound of the sea make you feel amazing! The staff were really helpful and gave a great little info booklet and were there for anything we needed. Fantastic location so close to the beach! Even a barn bar!! You need to take everything (including toilet) but that's all very clear on the website so you know beforehand. We will visit again!
True wilderness on the wild Northumberland coast
The kind of campsite I dream off! Right by the sea in the sand dunes and totally quiet - although campervans slightly further away. You are minutes walk from the 7 mile long Durridge Bay, on the route of the National Cycle Way #1 (nice and flat and goes all the way up the coast) and to top it all there is an onsite bar in the barn Fri-Sun. No facilities (appart from water and CDP) and no kids, due to COVID restrictions. Highly recommended - catch it before it closes for this year - we'll be back next for sure :)
Great Vibe and Great Location
Hemscott Hill Farm is one of a very few places where you camp in the dunes right next to a massive beach! The resources were a little limited due to C19 but congratulations to the owners for managing to open and still comply with the regulations. We would certainly go back.
Great Vibe and Great Location
Hemscott Hill Farm is one of a very few places where you camp in the dunes right next to a massive beach! The resources were a little limited due to C19 but congratulations to the owners for managing to open and still comply with the regulations. We would certainly go back.
Fantastic
During awkward times with covid 19, this is a back to basics camp site. Only water and waste disposal supplied and it's great. My wife and I, two dogs had a great 4 days, beach is amazing the area is amazing in any direction for 20 miles.plenty of tourist places to drive to, Cragside is amazing need a day there for sure. Weather can't be helped and killed our tent on the last day, wind is key here, find some hiding place or storm lash your tent. We are planning on returning next year for sure So peaceful and quiet, considerate campers, aswell. Very clean and well kept. Loved it
Wildcamping experience by the beach
It was a lovely spot to have a (legal) wild-camping experience, knowing that car and belongings had a degree of security being on a designated site. The closure of the toilets due to Covid guidelines was a bit of a hiccup as we hadn't been advised before arrival but we managed. The Drift cafe was handy and the food was very good: we enjoyed bacon rolls and wood-fired pizza. Food at the Plough and Widdy Inn nearby was good value but booking was essential due to reduced capacity. The site was litter-free and was being respected by responsible campers, even down to moving cars away from pitches overnight. The beach was through a gated fence, down a bit of a vertical scramble that would not suit anyone infirm. It was windy, and rained during the nights, and the sea was never quiet, but it was a delight to wake up in a sun-warmed tent surrounded by nothing but nature and have miles of clean beach to walk on. Great for a mini-break but we were glad of a shower when we got home.
Stunning
A last minute booking to this absolute gem of a place! If you want your soul to be fed in being totally embraced in natural no fuss living you will LOVE this place. Greeted by the gorgeous Alison in the beautiful farm setting (Cream teas available from Wednesdays!) We made our way up a track and within seconds Found ourselves a stones throw from a glorious, seemingly endless golden beach. The site is 'in the dunes' and comprises hillocks which provide excellent privacy. The view from our tent door was the sunrise and sea... heavenly! The website and communications with the farm prior provided all the information we needed. You need to take everything you need to survive for your trip (including a loo) apart from water and food. Co-op in the nearby village kept us supplied. We finished our break with brunch at the amazing Drift Cafe on our way home. On arrival it felt really busy, and it was but extremely efficient, delicious food and loads of seating areas. Already planning my next visit to Hemscott. Well done guys and thank you for opening the dunes in these crazy times, it's Just beautiful! 🌟
No toilets!
It was not obvious on the Cool Campsite page that you needed to bring your own toilet. Infact it describes the site being on cycle routes! It's only when you scroll down and read the section 'What the owner says' that it is stated! Basic facilities should read no facilities except a stand pipe. Otherwise the location was good.
Great site!
Superb location right on the beach, the bar/restaraunt area looked really nice although we did not use it. Managed to find a good spot even though the site was quite busy.
Perfect Wild Camping
It was the perfect location for a nice break away camping. Listening to the waves on a night, the beach being just a minute away.
Location/Staff
Superb Location, minutes walk from the beach with basic but good toilet/shower and washing up amenity. Perfect for tent campers and small Camper vans. The owners could not have been more helpful when my Van broke down. This will become a staple site whenever we go to Northumberland - which is likely to be often in the future.
Can't get a campsite much closer to the beach than this!
Picturesque setting, stayed here camping with 3 yr old and 10 month yr old with great weather for 6 nights. Basic facilities; cold water kitchen area, compost toilet x 2 and basic shower x 2 but heated. Worth the basic facilities but wouldn't fancy it in the rain with young children due to facilities. Amble nice, spurrllies top cafe/ice cream shop, old boathouse also good. Quiet seaside towns without being too busy like down in Cornwall (although we did visit out of school holidays). Friendly hosts, help when we needed it. Would recommend!
Beautiful campsite beside a fabulous beach.
We camped with our 2 kids (10 + 13yrs) at half term and had a fantastic time. Firstly the site is right next to the most gloriously wild, almost deserted, 6 mile long beach. We pitched our tent next to the fence and looked straight out over the beach - heaven! There was a chilly wind coming off the North Sea but that just added to the experience, we had a campfire each evening to keep warm and to toast marshmallows + popcorn. Over the bank holiday weekend the site got full but was never crowded or noisy - there is plenty of space. The compost toilets on the top of the sand dunes were good and much better than a porta-loo. You can get a coffee, cake and a glass of wine/beer/gin from the main barn most evenings - we normally preferred the view from our pitch though. There is so much to do in the area for a family, but the best times were spent at the tent or on the beach. This is a fantastic, friendly, back to basics camp site that I hope we will get back to soon. I just wish there were more sites like this one.
Fab first camping experience!
My 2 kids and I had an amazing weekend here last Summer.  We booked a basic tent very late in the day and turned up not quite sure what to expect .....................
We had a great welcome from Alison and the team - nothing was too much trouble and we were offered air beds, cooking packs, wood etc to make our first evening trouble free.  Our tent was basic, but clean and perfect for our needs.
The nearby washing up hut and shower huts were great - there was plenty of cooking equipment that we could borrow, which made cooking meals, hot drinks etc very easy.  
Campfire cooking was a huge treat for my two children - this was their first camping trip.  Sausages and baked beans on a campfire was just heaven - followed up by hot, melting marshmallows roasted on wooden skewers. 

Pizzas cooked on a wood fire oven on Saturday night - ordered from Alison - were fantastic and the kids were in foodie heaven.

For us townies, the weekend was a total break from our usual life.  Waking up with daylight steaming into the tent (rather than having an alarm clock), spending time cooking simple food on the fire and hanging out on the beach creates special memories.  
During the day we played on the beach, flew kites, beach cricket and walked along the massive stretch of beach to reach the ice cream parlour at the far end.  Very simple outdoor pleasures and not an i-pad in sight!

Our weekend was over too soon but we will definitely be returning.  The children thought that it was one of their best weekends EVER!
The Bells of Hemscott
We stayed in Poppy last August for five days. It was the most relaxing glamping trip I've ever been on. Our airbed was super comfortable, the duvet was nice and warm. We took our own blankets too as it does get chilly at night time. The facilities are clean, practical and well maintained. It is great camping so near the sea and the beach is almost deserted. We ate our breakfast as the waves lapped the shore, watched the most spectacular sunrises over the site and drank red wine round the fire pit. It was bliss. 
Lynsey Valente
My husband & I stayed here last year for our anniversary and we had a fab memorable weekend. The tents are in such a beautiful setting (I took a lot of photos!), we stayed in a gorgeous tent, Drift which was in the sand dunes with the beach just over the back from us. It was lovely just to get up and go for a walk along the beach which is really quiet and peaceful. The facilities are everything you need. We particularly loved chilling on a night warming by the fire pit. Can't wait to return! Thank you!

Peaceful camping on the dunes
We camped here in late August and had a great few days. The dunes were peaceful and the beach is stunning. The facilities are basic but adequate. We were able to hire a fire pit and enjoyed sitting round it looking at the amazing skies. The children had the freedom to explore and run around and we enjoyed walking up to Druridge bay and the local farm shop. If you want to get back to basics and enjoy a bit of tranquility then this is th eperfect spot. We will be back this year.

Excellent location
The dune location is excellent. Beautiful beach. We stayed a few days in August. Pitches well looked after. The facilities are basic as expected. However there were some negatives. Given the space the dunes area offers a generous pitch - but considering the location are too close together (recognise that there is more space closer to the road). The portaloos are good quality - but only 2 of 4 were available for most of our stay - and seemed as though they needed emptying. Overall the £20 charge per pitch per night is expensive for very few facilities. We had just returned from camping in France where (even taking exchange rate into account) basic facilities like this are half the price. Will return to the are but unlikely to come back here.

Simple quiet spot
We had a great week visiting the coastline of Northumbria.  Took in the castles, beaches and even a fabulous second hand book shop in Alnwick.  Camp site is spacious, uncrowded and the facilities clean and complete.  We mostly cooked on gas as it was so cold due to a northerly wind we didn't fancy waiting too long for dinner or the kettle to boil.  But I think we were just unlucky.  Beautiful sounds and sights of tractors harvesting all around though!
The Bells
Wow! - this place is right next to one of the nicest beaches. Clear waters, White sands backed by rolling dunes. We visited in early june and whilst the water was on the cool side (to say the least!) had a wonderful weekend exploring the coast and country side. The campsite is clean and the tents are really lovely. Its great not having to pitch up or pack away! The showers are really fantastic and along with the toilet facilities super clean - its always nice to shower down in the morning after a night of campfire cooking.
All in all - a great place to visit and stay. We will return!

family weekend
We were looking for a camp site where we as a family could  spend a weekend together .The reason for it was we had lost my brother in January and we wanted to get together to celebrate his life...druridge bay was the obvious choice as we all grew up there..we had a family member with a bungalow/hut on the sea front cresswell so as children and actually for the rest of our lives its been a favourite place for us..Because a lot of the family didn't own camping gear we decided glamping was the way forward..well we wernt disappointed...My niece found Bells of hemscott..
 
We had a wonderful weekend......if your looking for a site which takes you back to nature and are happy to accept the natural lie of the land,then this site has it all...Very well thought out for creature comforts,lovely warm welcoming beds...tents very inviting pleasing to look at and full of charm..all the bits you would need to sustain you..cook the old way or yes there are gas stoves with refills for mornings or before you got the outside fire  going..
 we had a great time with the bbq kids toasting marshmallows chocolate bananas..yum !
 
we took kites...real ones and the kids loved flying them on the field..we did treasure hunts..face painting and of course a short walk away are the endless sands and sea.Al in all we had quality time with the children..
The farm is a working farm and the cows often stood along the fence eyeing us up...much to the amusement of the children..we walked down the farm tracks that led to the beach,just along the cresswell road it was magic and so removed from the hustle of city life..mind you there was plenty work going on at the farm..At night we had stunning sunsets and the starriest sky that you could ever see..we sang around the fire each one singing whatever came to mind..quality time..
 
If your looking for mowed lawns ,invisible lines which you daren't cross..no ball games..cant ride your bike here..then mabey Bells is not for you..
If your looking to being back to nature where for a while you can escape modern day life..with lots of creature comforts...lovely roomy tents ...lovely furnishings....all the utensils you need..well Bells of hemscot have it all...thanks Allison and hubby...great weekend !!

glamping at Hemscott
What a beautiful spot just minutes walk from unspoilt Northumberland coastline.  This truly is a real gem of a place to stay.  We stayed here with close friends and all our children and we had a lovely time.  The tents are sooo spacious yet cosy with all lovely finishing touches including chandeliers, snuggly quilts, comfy beds and bunting! Also lots of lovely kitchen equipment stored in funky boxes that are fun to play around with using them.  The owners have put a lot of effort into the set up of each of the tents.  We enjoyed great food cooked on the outdoor camping stoves provided and used the kitchen area to have our meals.  The views you woke up to were amazing including the most beautiful clear skies.  You pass through a working farm to get to the site which just adds that bit more countryside feel to the whole experience.  It is such a treat to go camping where the tent is already up and the beds are made! A truly wonderful glamping weekend was had by all - would totally recommend and we look forward to coming back soon! Thank you.

Wow this is amazing glamping!
What a beautiful site to enjoy glamping at its best.  The site is situated down a country lane and just across the road there is access to Druridge Bay Beach - a 7 mile long stretch of beautiful coastline.  When you arrive Alison meets you at the farm to assist you in transporting your belongings down to the bell tent field or a more apt description would be meadow, as this is accessed on foot down a track that takes you on a lovely walk between the ponds, which home two swans and a lovely range of water birds.   The bell tents are decked out beautifully with really comfortable double/single air beds and snugly duvets and pillows.  Plates, glasses, mugs, cutlery, knives, bottle opener, tin opener, gas stove, fire pit/bbq and tools, cool box including a pint of milk, water carrier …… the list goes on, they have thought of all the essentials that you might need and more.  We are a camping friendly couple and enjoy getting back to nature and this site enables all this with the added bonus that you can just turn up and everything is already there and pitched ready for you to just move in, but the added bonus of camping luxury.   The showers are very powerful and lovely and warm, the composting loo is interesting, but once you read the instructions very easy to use and is great that you feel you are contributing to keeping the site environmentally friendly.   The site is lovely and peaceful, you awake to the dawn chorus of the local birds and beautiful light under the canvas, if you are up with the lark the sunrise is beautiful as are the sunsets, with the light casting beautiful shadows across the trees onto the tents.  The beach is endless and beautiful, if you head down to the right and continue to its end you reach Cressington, keep going as there are steps (which are hidden) at the end that conveniently take you right up to the local ice-cream parlour - well worth a stop off and if you walk along the road back towards the campsite then there is a cafe.  The local farm shop which is situated on the road towards Widdrington, is well worth a pop in for your bbq meat and just further on from this you will find a pub.  We would highly recommend a visit to this place if you are looking to stay in this area.  We shall definitely be returning :-)