The Bells of Hemscott
Hemscott Hill Farm, Widdrington, Morpeth, Northumberland NE61 5EQ













Off-grid camping and glamping in the wilds of Northumberland.
For sheer dramatic wild beauty, the Northumberland coast takes some topping. The wind-buffetted beaches along this unspoilt stretch of the North East seem to go on forever. With enchanting salt marshes, undulating sand dunes, and the boundless, shimmering blue of the perma-choppy North Sea, there couldn't be a more fitting setting for a spot of wild camping.
Introducing The Bells of Hemscott – a pop-up experience open for several weeks in the Summer that combines the thrill of off-grid camping with a few choice comforts of its posher alternative. Plotted on affable host Alison's working Hemscott Hill Farm, The Bells offers acres of open space for guests to savour the great outdoors. And yet, there's an intimacy here that belies Hemscott's proximity to the sprawling peaks and valleys of the Northumberland National Park.
A Canvas Village offers 'Comfortable Camping' in the titular bell tents. There's a shepherds' hut and several pre-erected, fully-furnished bell tents and the location of the Village changes every year depending on farming activities but you will never be more than a fifteen minute walk to the beach. Alison can also accommodate a number of tents in the Wild Camping area on large spacious pitches next to the open sandy beach.
Hemscott is well and truly an off-grid camping experience. What meagre facilities exist for the bell tenters are basic but perfectly clean and functional (think compost loos). But hey, places like this need little in the way of window dressing. And you didn't come to one of England's most ruggedly spectacular corners to be pampered now did you?
If anywhere deserves the accolade 'a walker's paradise', it's the Northumberland coast. Venture in any direction from Hemscott for countless spectacular strolls; from the fossil-strewn beach at Hauxley, to the many ancient castles that dot the northern stretch (Northumberland has more than any other county in England). And as dusk descends, stoke up the campfire back at Hemscott and enjoy the dazzling sunsets yield to the twinkling light of infinite stars under the UK's darkest night skies.
Alison has started breeding a number of rare breeds and campers can, by appointment, interract with some of the animals on the farm, including pigs, hens and ducks.
Gallery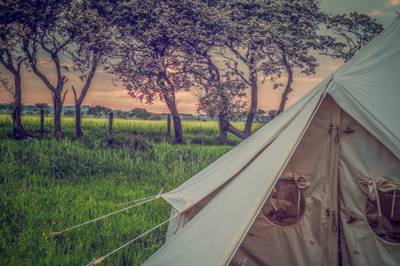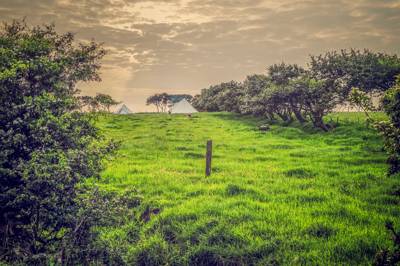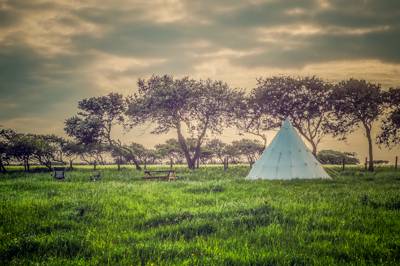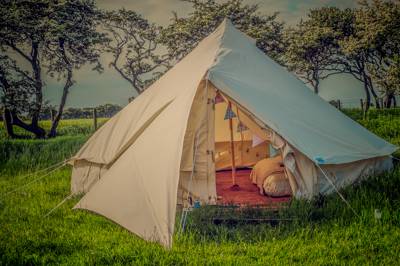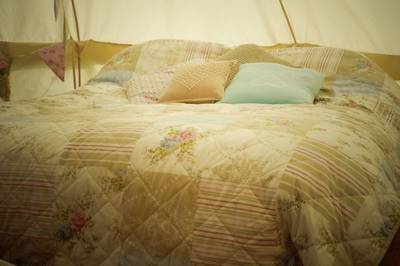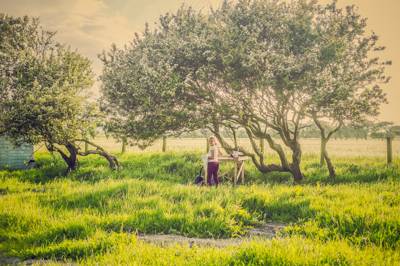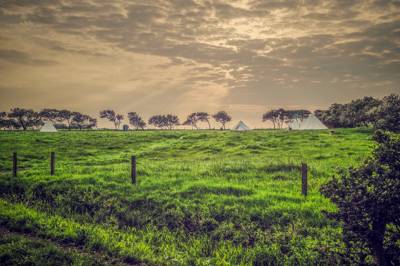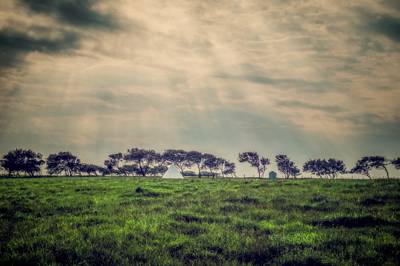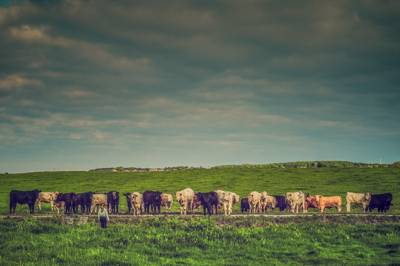 The Owner Says
The Bells of Hemscott is a unique opportunity to get away from modern life and wind down in traditional canvas Bell Tents in an open meadow on a Northumbrian farm. We operate a pop-up site that is open from the end of July to the end of August only. We aren't offering fancy glamping experience with posh facilities. Our Canvas Village is made up of our beautiful furnished Bells & Whistles tents,  a small cosy Shepherd's Hut and basic facilities, a combination of a cooking & washing up shed, compost loos and hot showers available at the farm. There are no electric hook ups and we unashamedly steer clear of that 'fancy stuff' we want to stay as 'wild' as possible. Our farm is on a lovely quiet and sandy beach at Druridge Bay that you can easily wander over to and enjoy a barbeque or a dip in the clean water. Watch the sun rise on the beach and set over the ponds and into the distance. The beach is about a 10 minute walk from the Canvas Village. We also have beachside Wildish Camping available in August next to the beach for those who prefer to bring their own gear.
Reviews
Sign up or sign in to leave your review of The Bells of Hemscott
Fab first camping experience!
My 2 kids and I had an amazing weekend here last Summer.  We booked a basic tent very late in the day and turned up not quite sure what to expect .....................
We had a great welcome from Alison and the team - nothing was too much trouble and we were offered air beds, cooking packs, wood etc to make our first evening trouble free.  Our tent was basic, but clean and perfect for our needs.
The nearby washing up hut and shower huts were great - there was plenty of cooking equipment that we could borrow, which made cooking meals, hot drinks etc very easy.  
Campfire cooking was a huge treat for my two children - this was their first camping trip.  Sausages and baked beans on a campfire was just heaven - followed up by hot, melting marshmallows roasted on wooden skewers. 

Pizzas cooked on a wood fire oven on Saturday night - ordered from Alison - were fantastic and the kids were in foodie heaven.

For us townies, the weekend was a total break from our usual life.  Waking up with daylight steaming into the tent (rather than having an alarm clock), spending time cooking simple food on the fire and hanging out on the beach creates special memories.  
During the day we played on the beach, flew kites, beach cricket and walked along the massive stretch of beach to reach the ice cream parlour at the far end.  Very simple outdoor pleasures and not an i-pad in sight!

Our weekend was over too soon but we will definitely be returning.  The children thought that it was one of their best weekends EVER!
The Bells of Hemscott
We stayed in Poppy last August for five days. It was the most relaxing glamping trip I've ever been on. Our airbed was super comfortable, the duvet was nice and warm. We took our own blankets too as it does get chilly at night time. The facilities are clean, practical and well maintained. It is great camping so near the sea and the beach is almost deserted. We ate our breakfast as the waves lapped the shore, watched the most spectacular sunrises over the site and drank red wine round the fire pit. It was bliss. 
Lynsey Valente
My husband & I stayed here last year for our anniversary and we had a fab memorable weekend. The tents are in such a beautiful setting (I took a lot of photos!), we stayed in a gorgeous tent, Drift which was in the sand dunes with the beach just over the back from us. It was lovely just to get up and go for a walk along the beach which is really quiet and peaceful. The facilities are everything you need. We particularly loved chilling on a night warming by the fire pit. Can't wait to return! Thank you!

Peaceful camping on the dunes
We camped here in late August and had a great few days. The dunes were peaceful and the beach is stunning. The facilities are basic but adequate. We were able to hire a fire pit and enjoyed sitting round it looking at the amazing skies. The children had the freedom to explore and run around and we enjoyed walking up to Druridge bay and the local farm shop. If you want to get back to basics and enjoy a bit of tranquility then this is th eperfect spot. We will be back this year.

Excellent location
The dune location is excellent. Beautiful beach. We stayed a few days in August. Pitches well looked after. The facilities are basic as expected. However there were some negatives. Given the space the dunes area offers a generous pitch - but considering the location are too close together (recognise that there is more space closer to the road). The portaloos are good quality - but only 2 of 4 were available for most of our stay - and seemed as though they needed emptying. Overall the £20 charge per pitch per night is expensive for very few facilities. We had just returned from camping in France where (even taking exchange rate into account) basic facilities like this are half the price. Will return to the are but unlikely to come back here.

Best Price Guarantee, with no fees
Instant booking confirmation
Trusted for 10 years
Chance to win camping goodies in our regular competitions!
Simple quiet spot
We had a great week visiting the coastline of Northumbria.  Took in the castles, beaches and even a fabulous second hand book shop in Alnwick.  Camp site is spacious, uncrowded and the facilities clean and complete.  We mostly cooked on gas as it was so cold due to a northerly wind we didn't fancy waiting too long for dinner or the kettle to boil.  But I think we were just unlucky.  Beautiful sounds and sights of tractors harvesting all around though!
The Bells
Wow! - this place is right next to one of the nicest beaches. Clear waters, White sands backed by rolling dunes. We visited in early june and whilst the water was on the cool side (to say the least!) had a wonderful weekend exploring the coast and country side. The campsite is clean and the tents are really lovely. Its great not having to pitch up or pack away! The showers are really fantastic and along with the toilet facilities super clean - its always nice to shower down in the morning after a night of campfire cooking.
All in all - a great place to visit and stay. We will return!

family weekend
We were looking for a camp site where we as a family could  spend a weekend together .The reason for it was we had lost my brother in January and we wanted to get together to celebrate his life...druridge bay was the obvious choice as we all grew up there..we had a family member with a bungalow/hut on the sea front cresswell so as children and actually for the rest of our lives its been a favourite place for us..Because a lot of the family didn't own camping gear we decided glamping was the way forward..well we wernt disappointed...My niece found Bells of hemscott..
 
We had a wonderful weekend......if your looking for a site which takes you back to nature and are happy to accept the natural lie of the land,then this site has it all...Very well thought out for creature comforts,lovely warm welcoming beds...tents very inviting pleasing to look at and full of charm..all the bits you would need to sustain you..cook the old way or yes there are gas stoves with refills for mornings or before you got the outside fire  going..
 we had a great time with the bbq kids toasting marshmallows chocolate bananas..yum !
 
we took kites...real ones and the kids loved flying them on the field..we did treasure hunts..face painting and of course a short walk away are the endless sands and sea.Al in all we had quality time with the children..
The farm is a working farm and the cows often stood along the fence eyeing us up...much to the amusement of the children..we walked down the farm tracks that led to the beach,just along the cresswell road it was magic and so removed from the hustle of city life..mind you there was plenty work going on at the farm..At night we had stunning sunsets and the starriest sky that you could ever see..we sang around the fire each one singing whatever came to mind..quality time..
 
If your looking for mowed lawns ,invisible lines which you daren't cross..no ball games..cant ride your bike here..then mabey Bells is not for you..
If your looking to being back to nature where for a while you can escape modern day life..with lots of creature comforts...lovely roomy tents ...lovely furnishings....all the utensils you need..well Bells of hemscot have it all...thanks Allison and hubby...great weekend !!

glamping at Hemscott
What a beautiful spot just minutes walk from unspoilt Northumberland coastline.  This truly is a real gem of a place to stay.  We stayed here with close friends and all our children and we had a lovely time.  The tents are sooo spacious yet cosy with all lovely finishing touches including chandeliers, snuggly quilts, comfy beds and bunting! Also lots of lovely kitchen equipment stored in funky boxes that are fun to play around with using them.  The owners have put a lot of effort into the set up of each of the tents.  We enjoyed great food cooked on the outdoor camping stoves provided and used the kitchen area to have our meals.  The views you woke up to were amazing including the most beautiful clear skies.  You pass through a working farm to get to the site which just adds that bit more countryside feel to the whole experience.  It is such a treat to go camping where the tent is already up and the beds are made! A truly wonderful glamping weekend was had by all - would totally recommend and we look forward to coming back soon! Thank you.

Wow this is amazing glamping!
What a beautiful site to enjoy glamping at its best.  The site is situated down a country lane and just across the road there is access to Druridge Bay Beach - a 7 mile long stretch of beautiful coastline.  When you arrive Alison meets you at the farm to assist you in transporting your belongings down to the bell tent field or a more apt description would be meadow, as this is accessed on foot down a track that takes you on a lovely walk between the ponds, which home two swans and a lovely range of water birds.   The bell tents are decked out beautifully with really comfortable double/single air beds and snugly duvets and pillows.  Plates, glasses, mugs, cutlery, knives, bottle opener, tin opener, gas stove, fire pit/bbq and tools, cool box including a pint of milk, water carrier …… the list goes on, they have thought of all the essentials that you might need and more.  We are a camping friendly couple and enjoy getting back to nature and this site enables all this with the added bonus that you can just turn up and everything is already there and pitched ready for you to just move in, but the added bonus of camping luxury.   The showers are very powerful and lovely and warm, the composting loo is interesting, but once you read the instructions very easy to use and is great that you feel you are contributing to keeping the site environmentally friendly.   The site is lovely and peaceful, you awake to the dawn chorus of the local birds and beautiful light under the canvas, if you are up with the lark the sunrise is beautiful as are the sunsets, with the light casting beautiful shadows across the trees onto the tents.  The beach is endless and beautiful, if you head down to the right and continue to its end you reach Cressington, keep going as there are steps (which are hidden) at the end that conveniently take you right up to the local ice-cream parlour - well worth a stop off and if you walk along the road back towards the campsite then there is a cafe.  The local farm shop which is situated on the road towards Widdrington, is well worth a pop in for your bbq meat and just further on from this you will find a pub.  We would highly recommend a visit to this place if you are looking to stay in this area.  We shall definitely be returning :-)