Hadrian's Wall Caravan Campsite
Melkridge Tilery, nr Haltwhistle, Northumberland NE49 9PG











Less than a mile away from Hadrian's Wall
The 82 miles of Emperor Hadrian's monumental, Pict-proof stone wall is Northumberland's most famous landmark. Though its military barracks are in ruins, the historical structures remain impressively atmospheric. It's easy to imagine how the soldiers must have felt, keeping watch at the very outpost of the civilised world. By day scanning a horizon of rolling hummocks and wind blown heathland, by night using the light of the moon in a sky that, to this day, remains one of the darkest spots in Europe. The wall is now a World Heritage Site, but you can still camp just a mile or so from one of the most complete and dramatic sections at Hadrian's Wall Campsite.
The site is terraced on four levels, each commanding amazing views over open country side and to the wall itself. In the summer months, an extra 'wild camping' field is opened up, with oodles of space for large families and campfires by arrangement. Weary backpackers can also rejoice: there's a strip dedicated entirely to your aching bones – no need to book, just stagger up on the day – with a handy cook house to help speed the post-walk meal along. The campsite is well located for rambles along Hadrian's Wall Path, an 84-mile National Trail shadowing the line of the wall. The site-owners will even arrange transport to or from your start/finish points, leaving you free to enjoy your linear walk and the wall. Just keep an eye out for those Picts.
Gallery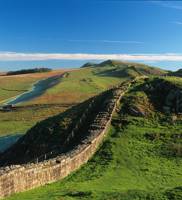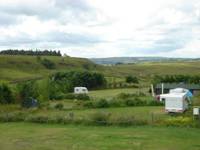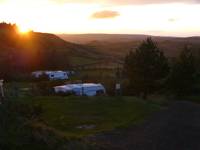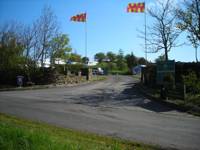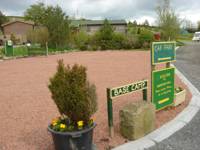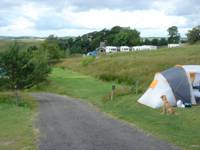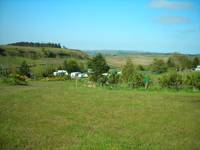 Reviews
Add Your Review
Very nice campsite, but horribly overpriced
Arrived without a booking as I had wanted to plan more spontaneous. Thus, I was charged DOUBLE the published price for a Motorhome (£30). After over three weeks in Ireland and Scotland this is by farthest the most expensive campsite I have stayed on. Even though I was willing to pay, because I had decided to rather spend the day with my planned activities than looking for another place to stay, it doesn't seem good value for money. The site as such is, as described in the book, nice. According to reception it was fully booked, but didn't feel too crowded. I had a good walk to Hadrian's Wall.
Great site
Stayed here for 2 nights while exploring Northumberland in a camper van. Site is very well looked after and staff a very friendly and helpful. Great place to explore Hadrian's wall and associatted sites, they have a good small OS map of the area that you can buy from reception which is good for planning walks. If you can manage the walk take pitch at the top of the site or in the wild camping field for some great views.
Hadrians Wall Campsite
We recently stayed here on a hard standing pitch with electric hook up in our camper van and found it to be an excellent site.
The shop is well stocked, warden friendly and helpful and facilities were as clean and spotless as any we'd encountered.  Showers nice and warm and everything seemed to be really well maintained.
The onsite shop was a bonus, opened up for us by the guys on site when we arrived and well stocked with basics to help us restock a few things.
The site is located in a beautiful part of the country, we had a look around the wall and visited Haltwhistle - the centre of Britian (apparently!) which is only a couple of miles from the site.
As an observation, the Milecastle Inn is walkable from the site, my wife and I managed it with ease and it was a lovely pub with great food and a decent pint.  However, if we'd had the kids with us we wouldn't have fancied the walk as its mostly down the road, which whilst not that busy, is very roman in its straightness, so cars do travel at speed.
Would stay here again, great location for exploring the local area and a well kept site and I thought it was really good value for money.

Hadrian's Wall Campsite
Two adults,four children in a motorhome - all thought it an excellent site with friendly staff, well-stocked shop and clean, new and thoughtfully designed facilities - note there are now SIX showers - three in each washroom. Would have given 5* if it had wifi. PS Cool Camping's idea of a local rainy day activity is for hardier souls than us!! Housesteads Roman Fort is excellent in the dry, even the wind &/or light rain but it is in the open air, on an exposed ridge and the museum, though interesting to all ages is not big - definitely not a place to pass the time on a rainy day!
Win a £100 Blacks Voucher!
If you've stayed at Hadrian's Wall Caravan Campsite campsite, please take a minute to tell us about your experience. Every month, one lucky reviewer will be picked at random to win a £100 voucher, courtesy of our recommended retailer Blacks. Each review counts as one entry, so get writing!

Best Price Guarantee, with no fees
Instant booking confirmation
Trusted for 10 years
A chance to win camping goodies in our regular competitions!
Book campsites near Hadrian's Wall Caravan Campsite