Book campsites near La Rosa Campsite Extraordinaire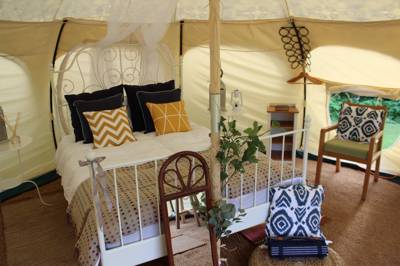 Campsites in Staithes
Campsites in North Yorkshire
Campsites in North East England
Available:
1 Shepherd's hut
1 Cabin
La Rosa Campsite Extraordinaire
Glamping in Yorkshire: Unique caravan glamping kitsch in beautiful surroundings
Day-Glo carnival psychedelia is the order of the day at La Rosa, where camping and the world of kitsch go colourfully and surreally hand in hand. The nine themed vintage caravans are fun, quirky, and comfy; but they are definitely not luxurious. Old-fashioned eiderdowns and wood-burning stoves will keep you warm and cosy, but don't come expecting any mod cons. Candlelight, lanterns, and campfires replace electricity, adding to the romantic – almost magical – atmosphere, while a compost loo, cowshed showers, open-air bath, and enamel washstands complete the low environmental-impact facilities. The site is surrounded by the North Yorkshire Moors National Park's forest, with views from the lower field over beautiful, expansive moorland; and every effort has been made to run the site in harmony with this surrounding Area of Outstanding Natural Beauty. Each trailer has its own theme. Uncover Romany culture in Tinkers' Trailer, or bow to The King in the American-style Elvis trailer. Go on a night's Seventies Safari, or on a trip with Barbara Cartland on acid in Psycho Candy. And did we mention the circus big top? This large communal tent, built by a real circus actor, sits atop a grove in the top field surrounded by vintage 1920s campervans. Whichever world you choose to make your own for the night, you'll never have stayed anywhere quite like this before.
Details
Facilities
Communal campfires provided. Showers in the old milking parlour, and a compost loo in a shepherd's hut disguised as a fortune-teller's booth; a big top circus tent stuffed with tea sets, dressing-up clothes, and games; a tipi; and an old-fashioned honesty sweet shop complete the rather unusual facilities.

Divided between a lower field with 4 caravans, all with stoves, and a larger top field with another 5 caravans, and slightly more basic facilities. The lower field is nearer the water supply, but the top field is great for a group, and there's a communal big top stuffed with fifties' tea sets, dressing-up clothes and games. None of the caravans has electricity, but candles are provided. Both fields have a fire pit, but the top field has a chilling-out tipi, too. Showers are in the old milking parlour, and there's a shepherd's hut with a composting loo dressed up as a gypsy wagon. Bedding and fuel are provided.
Suitable For
Camping in 9 vintage caravans, groups (can book out the whole site) – yes. Dogs, own tents, campervans, caravans – no.
Nearby
Nearby Goathland is famous not only for providing the backdrop to the popular Heartbeat TV series, but also the Hogwarts railway station in the Harry Potter films. You can hop on the North Yorkshire Moors Railway's (01751 472508) steam and diesel locomotives here to reach the seaside town of Whitby, or Pickering in the other direction.
Food & Drink
One of England's oldest (and rather eccentric) pubs, the Birch Hall Inn (01947 896245) in Beckhole can be reached on foot and serves Beckhole Butties along with a range of local microbrews through a tiny hatchway.