Book campsites near Crows Nest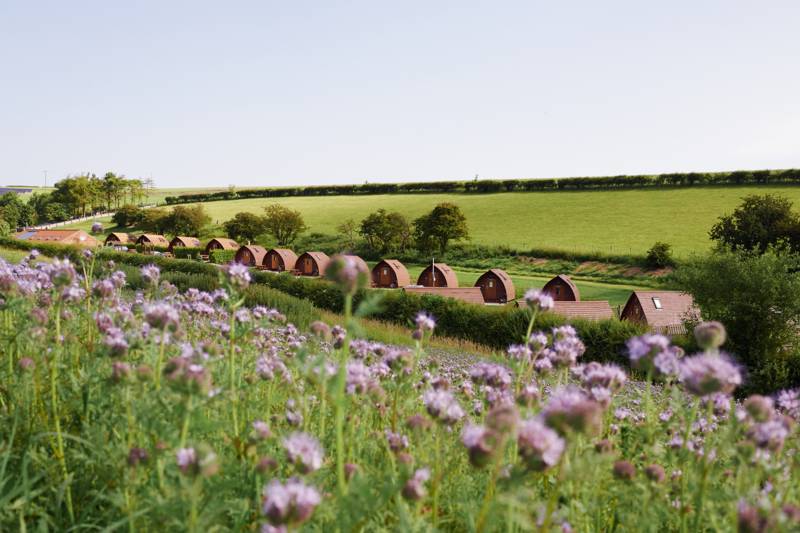 Campsites in Scarborough
Campsites in North Yorkshire
Campsites in North East England
Available:
16 Pods
4 Yurt or Gers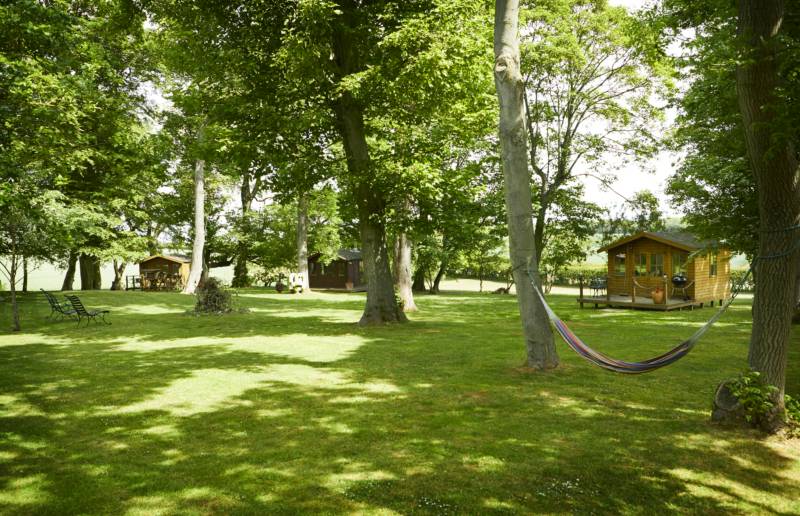 Glamping in Scarborough
Glamping in North Yorkshire
Glamping in North East England
Available:
1 Vintage caravan
1 Quirky
1 Tree house
...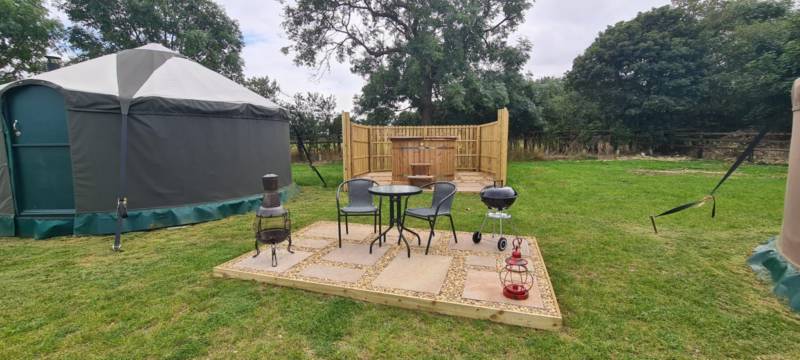 Glamping in Driffield
Glamping in East Riding of Yorkshire
Glamping in North East England
Available:
6 Yurt or Gers
1 Quirky
This tents-only cliff-top site adjacent to Crows Nest's main caravan park boasts some of North Yorkshire's most breathtaking sea views
Crow's Nest is a tale of two campsites. The first is a large holiday park with a bar, café, fish-and-chip shop, indoor swimming pool, and row upon row of static caravans. Not exactly Cool Camping. But venture a little further, and in sharp contrast you'll find a large tents-only field with panoramic views over the sea and across the Yorkshire Wolds and Vale of Pickering. A children's playground forms a handy boundary between the two very different areas.
The tent field climbs up and then slopes gently down towards the cliff-top. There's room for around 200 tents (and the odd campervan) on a pitch-where-you-like basis. As you head up the hill, you'll spy some secluded areas surrounded by hedges for small groups of tents, and the closer you get to the sea, the quieter and more peaceful the site becomes. Large family groups head for the serviced pitches near the playground, while a mixture of couples, groups, and families are spread across the rest of the site. You can take the path down the cliffs to the shingle beach at Gristhorpe Bay and, if you're lucky, you might spot members of the local seal colony that live on and around the rocks here.
Details
Facilities
An award winning ablutions block sits on the edge of the camping field, featuring ladies and gents facilities, family shower rooms, a disabled shower room, pot wash and laundry. There's a well-stocked shop along with other facilities in the main holiday-park. About 12 electric hook-ups near the play area. No campfires
Suitable For
Tents, 1 or 2 campervans, dogs – yes.
Bookings are accepted for families and couples only. Crows Nest does not accept same or majority gender parties.

Nearby
The North Yorkshire Coast boasts a multitude of great days out. The Cleveland Way runs along the cliff-top in front of the site and takes you into Filey (around 21/2 miles) in one direction, and Scarborough (5 miles) in the other.
Food & Drink
The restaurant at the Copper Horse (01723 862029) in Seamer has a theatrical theme and award-winning food. For great fish and chips we have a takeaway on the park or head to Inghams (01723 513320) on Belle Vue Street in Filey.
Open
March – October.
Family Friendly
Swimming pool, games room, playground... there's no denying the family-friendly functionality of this cliff-top campsite but it's the location by Gristhorpe Bay and the tumbling footpath down to the beach that make it a real winner.
Location
Contact Crows Nest, Crows Nest Caravan Park, Gristhorpe, Filey, North Yorkshire YO14 9PS
Getting There
Crows Nest is situated just off the main Scarborough to Filey coast road (A165), five miles south of Scarborough and two and a half miles north of Filey.How to Find Us by Car
From the North (Whitby) — Take the A171 road to Scarborough then join the A165 signposted to Filey. After 5 miles you will come to a roundabout with a Jet petrol station on the corner, turn left at this roundabout. We are then the second caravan park on the left.
From the North (Thirsk) — Take the A170 road to Scarborough then join the B1261 to Gristhorpe. Follow this road to the end, you will come to a roundabout with a Jet petrol station on the corner, go straight on at this roundabout. We are then the second caravan park on the left.
Please be aware that Touring Caravans are prohibited at Sutton Bank.
From the South — Take the M18 to the M62 (east) to Howden. Follow the A164 to Bridlington, then join the A165 road to Scarborough. Two and a half miles north of Filey you will come to a roundabout with a Jet petrol station on the corner, turn right at this roundabout. We are then the second caravan park on the left.
From the West — Take the A64 road to Scarborough (via York). After a series of roundabouts turn right at the roundabout with a McDonalds restaurant on the corner, follow this road until you meet the B1261. Turn right here signposted towards Filey. Follow this road to the end, you will come to a roundabout with a Jet petrol station on the corner, go straight on at this roundabout. We are then the second caravan park on the left.
By Train - the nearest station is Filey, however the majority of trains to the area arrive in Scarborough.
By Bus - the 120 service runs between Scarborough and Bridlington. The nearest bus stop is just at the bottom of the lane.
Reviews
Add Your Review
Rated ★★★★☆ over 10 reviews
Poor site management
We arrived to check in at 12.30pm, yet our pitch was still being used (and you need to vacate by 12 noon) We were asked by the staff to be patience for 10 minutes - the pitch had 1 large tent and awning up which was going to take longer.....and it did as we couldn't start pitching up our tent until 15.35pm. Mick, the site owner was rude, wasn't sympathies at all, asked us to wait for them and wanted us to check when they were ready and was rude to me as a new customer. This was a very bad first impressions. The site it self was acceptable with a play area, shop, toilets/showers and bar area. The family changing rooms were good but the showers had a burst of VERY hot water every 10 seconds which was not good with a 4 year old in, never mind an adult. There were no signage regarding this. The fish and chip shop was very very tasty and was the best part of the campsite. I really hope that no other individual or family have to deal the same first impressions we had.
Really fantastic setting and very clean.
It's location is really great, fantastic views, very well thought out lay out to place. Showers and toilets really well maintained and cleaned frequently . Lovely area for kids to play. Fantastic fish and chips! Will definitely be back.
Perfect setting for a camping trip
We stayed 3 nights in the non electric field and the views are some of the best ive had on a camp site, right over the bay to Scarborough castle with amazing sunsets. The shower and toilet facilities are fabulous and were cleaned very frequently makinh us feel safe at this uncertain time. There is also a great onsite shop for any forgotten bits and a chip shop. Its within easy reach of Scarborough and filey and a short walk to cayton bay. A really good campsite all round we will definitely be back!
Fun fun fun
The campsite was lovely, the whole place was so clean and the shower block facilities were always getting cleaned. The site itself was lovely and the kids playground is brilliant. The only down fall is the entertainment bit for the kids is tiny!!! Far to squashed on a night it put our kids off. Also the swimming pool dont even try it we lasted 5 minutes in there if that the chlorine was far to much it was stinging our eyes, we weren't the only ones to get out of it cause of it. The place is lovely though, the chippy is really nice the shop is great and the site is really clean and tidy, no one bothering you and everyone was friendly
Overcrowded and disappointing
The campsite is in a lovely location, close to Filey and Scarborough. The views from the cliff top are indeed lovely too. We stayed over the August Bank Holiday and it was terribly overcrowded. It felt more like a festival pitch than cool camping. Unfortunately some of the other groups on site were antisocial. For example, swearing in front of children, running their car engine to charge their cool box and driving (fast) to the toilet block a few hundred meters away. We left early and would never return.
A mile from the beach
We stayed for a weekend as a family during August. The location is great as it is about a mile to Cayton Bay and 4 miles to Filey which was great for us to explore. We were camped in the overflow field. There were no allocated pitches which was very different from our usual campsite expectations but found a reasonable position to camp in. Not having allocated pitches did mean that tents were put up too close together and in places felt very crammed in. In the overflow field were so portable toilets (4 for about 40 tents and the field had capacity for more) and the closest set of showers/toilets and washing up area was 0.25 miles away across the site. I didn't feel that there was enough showering and toilet/facilities. There was no hair dryer to pay for, however there were some plugs. The site was generally noisy, not well maintained and we didn't stay for the full time we had booked in for as it wasn't very pleasant with two small children. We were also disappointed with the swimming pool as you have to pay to use it, which was not mentioned in any of the info we looked at for the campsite. It wasn't that warm in the swimming pool and the staff kept opening the doors creating a cold draft and making the pool temperature colder, it also was highly chlorinated and we weren't able to stay in that long because of how it stung our eyes. I would not recommend and I would not stay there again, it was not at all what we were expecting.
except the fantastic view, completely disappointed !
During our family trip in England/Scotland (3 weeks in August 2018), we spent one (bad) night on this campsite (the only place where we feel disappointed and I would say even more, disgusted !). The campsite stands in a beautiful place, but very dirty and overcrowded. It was amazing to see this beautiful view over the cliff, and then heartbreaking to see the grass of the campsite full of rubbish everywhere !!! We were also stunned to see so little respect between campers : several people were sitting in their car, just between their tent and the one of their neighbours, with the engine turned on during 15-30 minutes (for heating themselves or charging their phone?). Our own neighbours came back in the middle of the night (2am), speaking loud as if it was midday, letting their engine turning during half an hour (apparently to get light in their tent ?). Then they made a fire with all the rubbish from their bin (even with the plastic bag) except the glass bottles that they simply threw over the cliff barrier ! We don't recommend this campsite (too big for a good gestion ?) and too crowded in summer.
Views views views
Views views views 
family friendly
Just returned from a trip to this wonderful campsite. The place was busy but well organised with good quality faciliites (both clean and well manitained). The site is excellent for families and surley this is what camping is about. Not for those seeking peace and solitude.

The Family friendly Campsite
Just got back from the Crows Nest Caravan Park and it look likes the secret is out because this place was packed out with families, I managed to pitch my tent on on a gentle slope, the only decent space left for my 6 man tent.
The facilities were very good, clean and well maintained, but as I said packed with families which means lots of children, very loud children, every morning at 5:30am we got a wakeup call by crying babies.
So if you're looking for a good family campsite with all the facilities to boot Bingo! But if peace and quiet is your thing avoid this place like the plague.