Book campsites near Hooks House Farm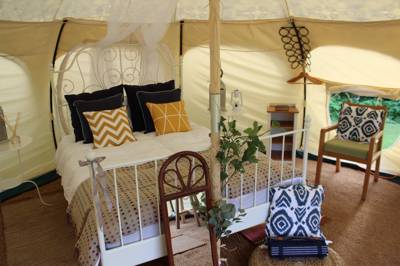 Campsites in Staithes
Campsites in North Yorkshire
Campsites in North East England
Available:
1 Cabin
1 Shepherd's hut
Campsites in Scarborough
Campsites in North Yorkshire
Campsites in North East England
Available:
1 Pod
1 Wooden wigwam
1 Cabin
...
Panoramic views over sea and moor from a peaceful, low-key site
Robin Hoods Bay, near Whitby in North Yorkshire, is an area steeped in romance and intrigue. Its very name is a mystery: there's nothing to link this place with the infamous green-clad hero of Sherwood Forest, but the name stands as an inexplicable suggestion of some legendary past.
What's certain is that this was smuggler country. And if you arrive at Hooks House Farm late on a clear evening under a full moon, you'll be able to picture the scenes from long ago, as the breathtaking sight of the wide sweep of the bay is laid out beneath you in the silvery moonlight... Step back a few centuries and you'd have spotted the shadowy figures as they emerged from small wooden boats and scuttled towards the shore clutching their contraband... Throughout the 18th century, locals crippled by high taxes turned to illegal imports to make money, receiving tobacco, brandy, rum, and silk from Europe. Gangs of smugglers used a network of underground passages and secret tunnels to deliver the stash inland, making a tidy profit in the process.
Even now, the charming town of Robin Hoods Bay has the feel of an age-old smugglers' den, with unfeasibly narrow streets and tight passageways – although these days you're more likely to stumble across a second-hand bookshop than hidden contraband. Ancient fishermen's cottages cling to the near-vertical slope as the cliff drops down to a little harbour at the water's edge. In addition to this older part of town there's a newer, Victorian enclave on the flat ground at the top. The well-ordered mansions are a world apart from the cobbled jumble below.
To shed some light on the town's past, the volunteer-run museum (01947 881252), reached via the narrow cobbled pathways and steps, has a model of a smuggler's house, showing how contraband could be concealed, as well as stories of shipwrecks and historic rescues.
Although the bay is picturesque, it doesn't have a beach to tempt sunbathers. The ground is dark and rocky – more suitable for bracing walks, rockpool explorations, and fossil hunting than lazing around. But the wide sweep of this bay is stunning. And at the friendly, family-run campsite at Hooks House Farm, high up on the hill above town, you couldn't wish for a better vantage point. The first-rate views really make this site: from its grassy field sloping gently down towards the sea you can watch the tide wash in and out over the whole sweep of shoreline, or gaze across a colourful patchwork of sheep- and cow-dotted fields, woods, rolling hills, and moors.
And if you're feeling energetic, the surrounding countryside (including the Yorkshire Moors) is perfectly placed for outdoor fun. The disused railway line that runs through here on its way from Scarborough to Whitby has been transformed into a popular walking and cycling path, and forms part of the wittily named Moor-to-Sea path, a long distance route that provides up to four days of cycling. Robin Hoods Bay also marks the eastern end of the classic Coast to Coast Walk, while the Cleveland Way, a 110-mile National Trail between Helmsley and Filey around the North Yorkshire Moors, also makes its way along the coast here. If you're after shorter walks, try the half-mile stretch beginning with a footpath from the site down to the town, where you'll find several cosy pubs – all great venues for discussing the demise of smuggling as a lucrative career, the possibility of finding fossils on the beach, or even for speculating on how Robin Hoods Bay might have found its name.
Details
Facilities
Clean but basic facilities, with 3 showers, 5 basins, and 4 toilets in separate blocks for men and women; there's also a block with washing cubicles. A further block has 3 washing-up sinks, a kettle, a microwave, fridge and freezers; and there's recycling for paper, cardboard, plastic tins, cans, and glass. The campsite vibe is peaceful, relaxed, and low-key, with no organised entertainment and no long list of rules and regulations to adhere to. It is next to a road, but as it isn't inundated with vehicles you're more likely to be bothered by the cries of seagulls and bleatings of sheep than by traffic noise. The owners, Jill and Gordon Halder, are famously attentive, ensuring that all the facilities are kept suitably clean and that visitors have everything they need. No campfires.
Suitable For
Tents, campervans, caravans, dogs – yes. Groups – no.
Nearby
Robin Hoods Bay's narrow streets are fun to explore and the town has its own cinema at the Swell Café Bar (01947 880180). With original 1820s pews, it feels more like a theatre than a cinema. Whitby is only 6 miles up the coast and its abbey (01947 603568) is a good place to start your visit. Take in the views over the town and the coast (and the tea shop) before you head down the famous 199 steps into the bustling, higgledy-piggledy streets of the old town and harbour. If you're here with kids, the harbour walls make a good spot for crabbing, while the beach awaits for kite-flying, fossil-hunting, and exploring rock pools at low tide. Several boat trips leave from the harbour; between mid September and early November the Speksioneer and its sister boat, the Esk Belle II ('The Big Yellow Boat') set off in search of minke whales that follow the shoals of North Sea herring as they swim down from the Arctic to their spawning grounds off the coast of Whitby. If you're lucky, you might also spot porpoises, dolphins, and seals, and even if you're not, you'll definitely see some beautiful coastal scenery. The 21-mile ex-Scarborough-to-Whitby train line runs through the upper village and makes a great hiking/biking route – bike rental from Trailways at nearby Hawsker (01947 820207).
Food & Drink
Pubs in the town include the Dolphin (01947 880337), which has a cosy, old-world smugglers' feel; the Bay Hotel (01947 880278), where you can overlook the bay from the quayside as you enjoy a drink or meal; and the Laurel Inn (01947 880400), which has a bar carved from solid rock. Bramblewick restaurant (01947 880187) is a café by day and offers candle-lit dining by night, and kids will love the old-fashioned Browns sweetshop, with its traditional sweets and hand-made chocolates. The town also has a fishmonger's, and lovely fresh bread is sold at the General Store. Whitby's Magpie Café (01947 602058) is considered one of Britain's best chippies. Fish foodies should also try Green's restaurant (01947 600284).
Opening Times
Start of March – End of October.
Location
Hooks House Farm, Whitby Road, Robin Hoods Bay, North Yorkshire YO22 4PE
Getting There
Heading south from Whitby on the A171, take the B1447 signposted to Robin Hoods Bay. Hooks House Farm is on the right, half a mile before the village.
Arriva buses from Scarborough to Middlesbrough run through Robin Hoods Bay and Whitby. Bus no 93 stops at the campsite gate's year round.
Reviews
Add Your Review
Rated ★★★★★ over 26 reviews
One of the best campsites I've ever stayed at.
Amazing views over Robin Hood Bay and plenty of good electric hook up points for our Camper Van. It is a steep campsite but plenty of wood chocks are provided to level off vans. Loved the walk down into the bay with nice shops and good Pub's for food and drink. Went beginning of April so it was a bit cold and windy but it was great sitting in the van with the heat on having a drink and admiring the landscape. Great Place.
Super location and clean, well-maintained facilities, fabulous view.
We enjoyed our stay here, the owners were friendly and helpful. Showers, toilets and other areas were all very well maintained and clean, with cleaners in evidence and hard at work at least once a day. The site is on a bit of a slope so it can be a lottery where you end up, some pitches were slightly more sloping than I'd be comfortable with in a tent but, hey, this is Robin Hood's Bay: if you want to camp here, the hills literally come with the territory. My one suggestion for improvement here would be to have the kids' play area and dog walking area separate.
Really great camp site, amazing views, friendly, helpful owners and great facilities.
We stayed for 8 nights and had a great time. The owners were really helpful and always cleaning, the facilities were great - I really appreciated the kettle and the microwave and I liked the private washrooms too. There is a milk fridge too and although I have a cold box the weather was very hot and it was great to be able to keep the milk cold. Robins Hood bay is a great place to visit, the beaches are lovely and there are several pubs and places to eat, people were really friendly everywhere we went. We did the cliff walks both ways - Ravenscar is a bit underwhelming and we also cycled the cinder path both ways. The owners were really helpful with tips and advice. There is a regular bus service from Whitby to Scarborough that stops outside the farm so you can walk and get a bus back. Highly recommend the camp site and the area. Research the Moors before visiting as there are very few parking spots and the parking doesn't seem to link to the footpaths.
Amazing views and great facilities
We are just back from a 4 night stay and loved it so much that we will be going back. The view is stunning and the owners are very welcoming and unobtrusive. We had strong winds (40 mph), but were well positioned so all was good. Highly recommended for a relaxing time!
Amazing
We had an amazing week here... Both my children were in tears when we left. Stunning views, very friendly owners and great facilities. We'll definitely be back Thank you Hazel
Perfect!
  Location: fabulous
Price: affordable
Facilities: great
This campsite has become our go-to place for a couple of days by the sea. We love Robin Hoods Bay- the steep walk down to the water, the narrow magical cobbled streets to explore, the village feel. Make sure you grab some chips and eat them on the beach (regardless of the weather) and have a pint in the Bay Hotel- which is also good for pub food.... and don't forget rock-pooling shoes and your net!
The site itself is well maintained, the facilities clean. We had help from one of the owners levelling our van recently in a heavy downpour. Generally quiet, the site is popular with families but all calms down during the evening which is nice. There is a large field to the side of the site for playing- ball games and kiting. 
Undoubtedly the best part of all is the views- unbeatable. Waking up to the morning sea is a delight, then watch the sun go down as you grill your sausages- ace!
Booking is advised- the site is rightly very popular and you don't wanna miss out!
Recommended
The site has a fantastic view over the bay, and it's reasonably priced. A lot of the site is on a gentle slope. It's a mixture of caravans and tents, and I am guessing is fairly windy at times. Facilities are basic but new, very clean and well thought out (three hooks in a shower room - precisely what is required; A kettle in the fridge room.). The area is beautiful, we visited Whitby and Robin Hood's Bay, which are easy to get to, in fact you can walk from the site to Robin Hood's Bay. The owners were very accommodating, and even helped to post back an item that we had accidentally forgotten, without complaint. It would be great to visit again when the weather is better.
Awesome Views.
Just back after staying here for two nights . We loved it! Called in without booking and was lucky to get a spot. Even before I had pulled up someone was waiting with ramps to level us  up and make sure we had everything we needed. The facilities were spotless and the Bay is a stunning place to spend the day. We will definitely go back.
Location, location
The views are the best. Walk down the path through sheep, turn left, right, and have a garden lunch at the Victoria with the best views too. Fish&chips&Pint overlooking the rock pools at The Bay. We will continue to return...
fantastic farm camping
didnt book a site as thought we take a chance bein we were booked in a site on following nite in whitby so did this site on spec we were lucky they ad 2 spaces goin on pullin in to the space vacant the man was there with ramps laid down n ready to help with any thing we needed help with. this site was very clean fantastic showers with plenty of hot water as clean was the toilet area. these people were on site from 7ish till late sat by reception area for anybody needin assistants and always a smile weather u were off walkin trip use of facilities. for a workin farm u couldnt of ask for better cleaner site really cant wait till we go back. the village is something else its a step back in time well worth the hike down the very sloping hill. thks again hooks house farm we will be back.
Hooks House Farm
Stayed here Sunday 6th July to Friday 11th July, lovely welcome from the owners. Gordon even pitched our caravan on to the pitch that was reserved for us. A fantastic, stunning view every morning of Robin Hoods Bay. A very relaxing time my husband & I had. Will definately go back again.

Wonderful Site
Fantastic view of Robin Hoods Bay coupled with clean facilities (there was constantly someone in there ensuring they were spotless every time. This has quickly became one of my favourite sites and will definitely return for repeat visits. The owners are very welcoming and there is a large playing field for the children. Only slight downside is the sloping field (small price to pay for the view though). If your walking back from Robin Hoods Bay with a pushchair you will definitely go through a good workout!! Highly recommended site.
Immaculate and beautiful
We have been camping here for 7 years and have never had anything less than a fabulous camping experience. The lovely family keep the site pristine at all times. There are no poor pitches, they all have a stunning view over the bay. The location is perfect and our 7 year old loves it too. I cannot recommend this site highly enough.
a tent with a view
I absolutely love this place. Fantastic clean spacious facilities, equipped with microwave and freezer. The site itself is wonderful with views of the coast the only downside is the slope but still return here as often as possible. Owners are friendly and the walk to the pub and beach easy. 
Hooks House Farm
What a fantastic site! Great view! Excellent and very clean faciliites!

First time camping
We have just spent our first weekend camping in our first tent, 2 Adults, 1 four year old and a Springer spaniel, and although it was a wet one, the sit couldn't have been better, as novices we were directed to a flatter more shielded spot by the owners.  Facilities were really clean, views stunning and the location perfect for short walk down to the bay.  Will definitely return. 
Hooks House Farm
Great little site. Quiet, clean and friendly. Stunning views across the bay but chill when the wind is from the east. Good value for money. 
Perfect View
I love this campsite and keep returning several times a year. The view is stunning - it's hard to drag yourself away from your tent to do anything! The facilities are great. The showers always have hot water and are spacious. They also have a block of wash rooms which are really useful when it's busy. The facilities are always very clean and well kept.  As the campsite is on a hill it can be windy but it's never caused us any problems and there are sheltered spots around the edge of the field. Last time we went more hedges  had been planted to give more shelter in the future. The campsite is about a 5-10 minute walk from the  upper part of Robin Hoods Bay where there is a pub and shop. Can't wait to go back in a few weeks. 
Hooks House Farm
A great clean campsite with fantastic views of Robin Hoods Bay. There was nothing better than waking up to an unspolit view of the sea. There was no waiting when using any of the facilites and they are all clean with great hot water in the showers. Can get quite windy so I reccomend a wind break as I didnt have one.
If wanting to use restaurants in Robin Hoods Bay I reccomend booking in advance as I found it difficult to find any tables at the better establishments.

Great views
We really enjoyed our stay here, three nights after completing the Coast to Coast walk. We pitched at the bottom of the site, which is flat and has exceptional views. The facilities were very good, extremely clean too, and the staff we spoke to could not have been more helpful. The site was very busy (August), so there was the occasional shower queue, but there were individual washrooms where there always seemed to be space. Robin Hoods Bay was a stroll away down a footpath from the bottom of the site, the location was perfect. 
Hooks House Farm
Welcoming: very friendly
First impression: small, green, well kept
Views: stunning! Unparalleled view over Robin Hoods Bay, Towards the historically interesting Ravenscar.
Facilities: potakabin's & sheds all absolutely spotlessly clean. Showered free!
Pitch: generous, not penned in. We pitched by hedge -less breezy.
Play: not tons of room around tents, although quiet enough for cricket on 'road track' . A whole field adjacent to camping field to play frisbee, cricket, footy etc.
Location: 20 mins decent walk down (fairly steep) footpaths to the bay. Great views all the way.
Return: absolutely.
Hooks House Farm
First time at Hooks House farm May bank holiday weekend, but will definitely return.  Friendly welcome from the owners.  It's the first time i've been to the area and we absolutely loved it.  Robin Hoods Bay is amazing, you just feel transported back in time.  Great meal at Smugglers.  The campsite itself is rather breezy, so I would make sure to check the wind forecast before setting out.  Get there early to bag one of the flatter spots at the bottom of the hill with uninterrupted views of the bay as a proportion of the main field does slope.  I usually go for back to basic sites that are a little less organised and not quite as busy with plenty of room between tents, however the great spot we had meant it didn't bother me.  The facilities were good, however the shower I had was on the cool side.  There's a bus stop about 200m down the road where you can get the bus into Whitby, but a taxi from Bay taxi's is almost as cheap and great service. 
Hooks House Farm
Nice campsite with good facilities only a short walk from Robin Hoods Bay. Would definitely recommend. I stayed at this campsite a couple of years ago with my girlfriend during a chilly weekend in April. We managed to forget the tent pegs but were able to buy some from the friendly staff in the small shop/office. Our pitch was a short walk from the toilet blocks which were always clean and tidy. An on site snack van provided us with a warming hot chocolate on a chilly April day. Robin Hoods Bay was a short walk away, providing several options for dinner. The campsite is ideally located for cycling along the National Route 1 which runs along the coast along an old railway.
Hooks House Farm
Loved every minute of staying at this site. Managed to grab a fantastic pitch with fabulous views over the Bay. Granted the weather was with us (not too windy!), even so, a very well run site with a relaxing atmosphere. Hope to go back soon.
Hooks House Farm
Beautiful site in a very convenient location, with a couple of downsides. Would definitely recommend. Pros: Outstanding views. Quick walk into Robin Hoods Bay. Really handy for buses to Whitby and Scarborough. Cons: Very very windy site, so sleep quality wasn't great due to noise and paranoia about tent flying away. Also a little bit of road (and sheep) noise. Not able to book, and site fills up very quickly weekends. Big site, so a fair walk to facilities.
Hooks House Farm
This is one of the best campsites you could very stay at Both myself and my wife stayed here last octomber(2009) Yes we had gale force winds and rain at times but the views and friendly people made it great