Howgill Lodge Caravan & Camping Park
A well-laid out campsite in the Yorkshire Dales with views across the Wharfe Valley
It's never fun to pitch your tent on a slope. There are plenty of campsites in the mountains with good views but finding a place like Howgill Lodge, which is both tucked into a view-tastic hillside but also perfectly terraced so that your pitch is flat, well, in the Yorkshire Dales, that's nothing short of a minor miracle.
Near the foot of Simon's Seat, a 1,600-foot mountain reached via a steep path from the campsite, Howgill Lodge is an ideally-placed ramblers' campsite with good facilities and ample space. A gravel track leads from the old stone reception building, first past a series of hardstandings and then down through four terraces, each backed by a drystone wall and with picnic benches laid out, ready for the day's campers to arrive. Birch trees and the odd oak break up the space and, at the bottom, the camping area doglegs around to another long, tent-friendly paddock that's a little more private at quieter times (though a longer walk from the facilities). In summer time, when the trees are green, the sun's out and ivy creeps along the patchwork of drystone walls, it's a layout worthy of the camping version of Capability Brown.
The general ambience here is laid back. Campfires are allowed in firepits, well-behaved dogs are welcome and there's an easy-going mix of walkers and families. The former come to hike the fells or walk the 80-mile-long Dales Way (which passes 500 yards from the campsite), while the latter might not walk much further than the River Wharfe for a swim (about half a mile; 10 minutes with the kids). Nearby Bolton Abbey, with a magnificent ruined priory and a picture-worthy picnic area reached via stepping stones, is also a great place to spend the day, while young ones will particular enjoy Hesketh Farm Park or a ride on Thomas the Tank Engine, which runs on the Embsay and Bolton Abbey Steam Railway, 15 minutes' drive away.
Details
Facilities
Main washblock with toilets, showers, a covered washing-up area, coin-operated washing machine and dryer, plus a couple of smaller toilet blocks so that you're never too far from a loo. There is also a small shop stocking essentials. Campfires are only permitted in firepits raised off the grass (available for hire). There's a picnic bench at every pitch.
Suitable For
Everyone! Tents, campervans, motorhomes, caravans, families, groups, dogs...
Nearby
It's all of about 100 metres from the campsite to the nearest decent footpath, which zig-zags its way up the slope beside the campsite climbing to Simon's Seat, not especially high at 485 metres (1,591 ft) but a real landmark of the area and rewarding hikers with impressive panoramic views. As a result, it's a popular walk and the loop from the campsite is around four miles. In the opposite direction, you can easily join the Dales Way, which runs beside the River Wharfe, following an easy route along the valley bottom to Burnsall (around an hours walk) where there's a good pub and café. On a hot day, there are plenty of good spots along the river for swimming. By car, head south for family attractions – ruined Bolton Abbey Priory, Hesketh Farm Park (01756 710444) and the Bolton Abbey Steam Railway line (along with good tea rooms and ice cream in Bolton Abbey Village). Or head north for more popular mountain climbing routes, such as the hike over the hills to Malham Cove, Gordale Scar and Janet's Foss.
Food & Drink
The two pubs in Appletreewick (both dog-friendly and serving food) can be reached by following the Dales Way (around 25 minutes walk), which follows the River Wharfe before you turn off and cross a field. The New Inn (01751 720252) has a selection of quirky beers, while the 16th-century Craven Arms (01756 720270) has log fires, gas lamps and stone-flagged floors. The Red Lion (01756 720204) and the Riverbank café (07711 530156) in Burnsall are more like a one-hour walk away, beside the river all the way.
Open
March–November.
Why book with Cool Camping?
Best Price Guarantee, with no fees
Instant booking confirmation
Trusted for over 10 years
A chance to win prizes in our regular competitions
The Owner Says
If you want a peaceful, relaxing and truly back to nature getaway then look no further than Howgill Lodge. Set amongst the rolling hills of the Yorkshire Dales, in between Bolton Abbey and Burnsall, Howgill offers an idyllic setting for your Yorkshire Dales holiday. Close to the river Wharfe and part of the Duke of Devonshire's Chatsworth Estate, Howgill is a hidden gem nestled in the heart of Wharfedale.
Offering electric and non-electric pitches, we can accommodate tents motorhomes and caravans and for those wanting a more luxurious stay our beautiful timber lodges are equipped with everything you need for a stress-free break and include a private log fuelled hot tub. Whatever you choose, you will be sure of a warm welcome and outstanding views over the rolling hills of the Wharfe valley.
Howgill Lodge offers the perfect destination in a completely rural setting yet within easy reach of nearby attractions, there is always plenty to do, including a beautiful 20 minute riverside walk to a traditional Yorkshire pub.
Here you can expect stunning scenery and a traditional warm Yorkshire welcome. We can't wait for you to visit!
Accommodation
Around 50 pitches for tents and caravans, with plans afoot for pods and bell tents to be added for glampers in 2021.
Check Availability
Extras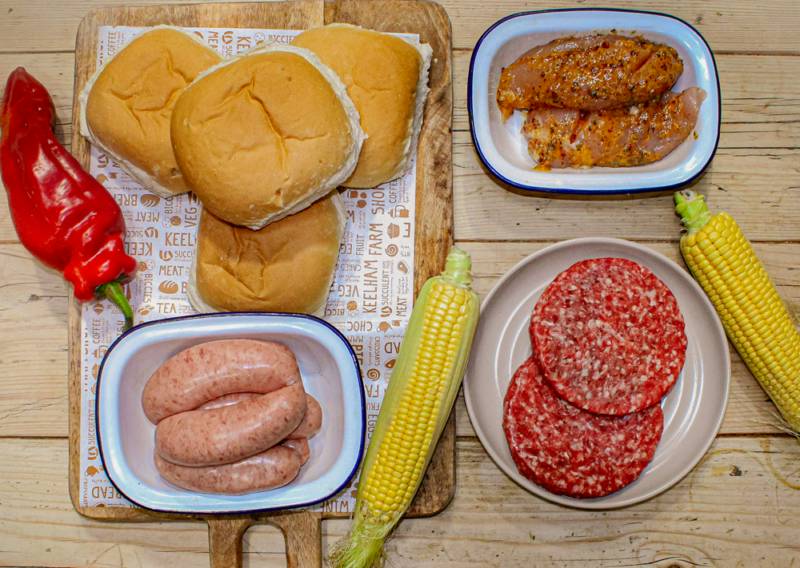 A BBQ for Two
Fire up the barbie and let's get cooking! – We all love a BBQ and this box provides the perfect selection of family favourites for everyone to enjoy. A seasonal box of locally produced meat all prepared with great care by the award winning Keelham Farm butchers.
What's included:
4 x thick pork sausage
4 x plain teacake
2 x steak burger
2 x salt and pepper chicken fillets
2 x corn on the cob (subject to availability)
1 x red pepper
Please note you will need to order these at least 72 hours in advance so that we can make sure they arrive for your check in date.
The BarbeKing - Family BBQ Box
Fire up the barbie and let's get cooking! – We all love a BBQ and this box provides the perfect selection of family favourites for everyone to enjoy. A seasonal box of locally produced meat all prepared with great care by the award winning Keelham Farm butchers.
What's included:
2 x beef burger

8 x thick pork sausages
2 x 4oz topside BBQ steak
2 x pork and apple burger
4 x piri piri chicken & vegetable kebab
2 x salt and pepper chicken fillet
2 x chicken piri piri fillet
2 x corn on the cob (subject to availability)
1 x red pepper
8 x plain teacake
Please note you will need to order these at least 72 hours in advance so that we can make sure they arrive for your check in date.
Breakfast for Two
What better way to start the day than to wake up to a traditional English breakfast! Our breakfast pack is sourced from only the finest local ingredients and contains everything you need to make a delicious morning feast for the whole family.
What's included:
8 x Rashers Dry cured Back Bacon
6 x Thick Pork Sausages
1 x Punnet of Cherry Vine Tomatoes
6pk Free Range Eggs
250g Flat Mushrooms
Please note you will need to order these at least 72 hours in advance so that we can make sure they arrive for your check in date.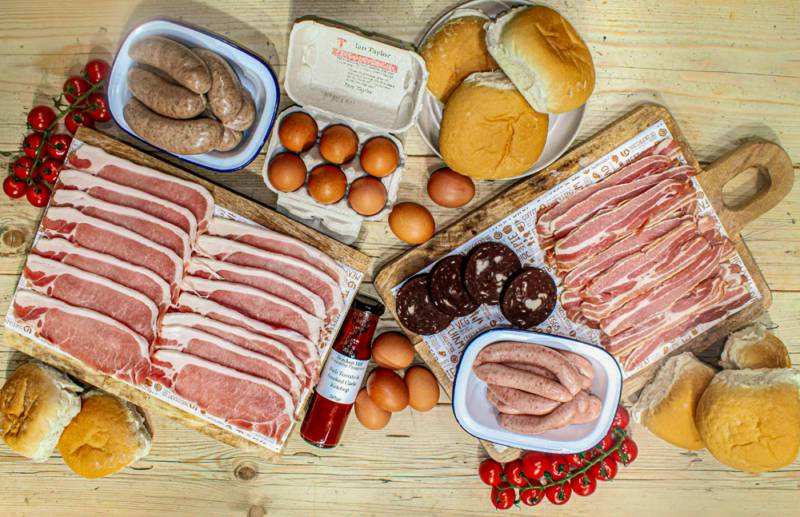 BreakFEAST - Family Breakfast Box
What better way to start the day than to wake up to a traditional English breakfast! Our breakfast pack is sourced from only the finest local ingredients and contains everything you need to make a delicious morning feast for the whole family.
     What's included:
12 x Thin pork sausage
8 x Cumberland sausage
15 x Rashers Keelham cured bacon
15 x Rashers smoked streaky bacon
4 x Slices black pudding
12 x Medium free range eggs
1 x Tomato and smoked garlic ketchup
8 x Plain teacake
1 x Punnet cherry vine tomatoes
Please note you will need to order these at least 72 hours in advance so that we can make sure they arrive for your check in date.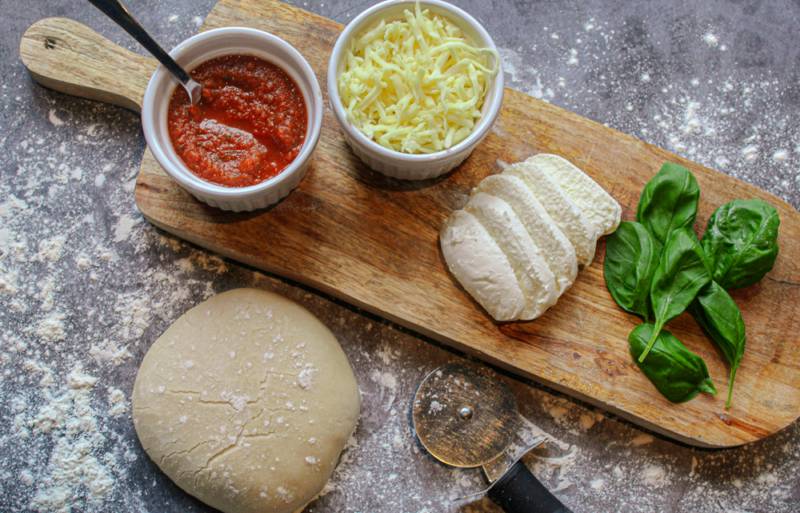 DIY Pizza Kit - Margarita
Experience true Italian authenticity with our traditionally baked sourdough pizzas! Including step by step instructions making this a perfect opportunity for all the family to get involved.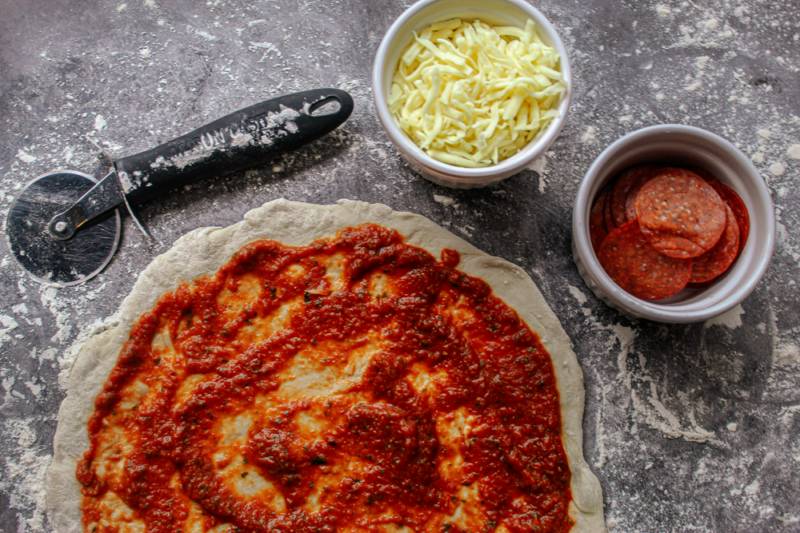 DIY Pizza Kit - Pepperoni
Experience true Italian authenticity with our traditionally baked sourdough pizzas! Including step by step instructions making this a perfect opportunity for all the family to get involved.
Location
Contact Howgill Lodge Caravan & Camping Park, Barden, Skipton, North Yorkshire BD23 6DJ
Getting There
From the A59 at Bolton Abbey Roundabout, take the B6160, signposted 'Burnsall'. Continue through Bolton Abbey, under the arch and, about three miles later, you will reach Barden. Barden Tower, an old ruin, is on your right. Turn right, now signposted 'Appletreewick' and go down over the bridge. A mile later, just on the bend by the phone box, turn right onto Howgill Lane. Continue past the farm and you'll reach the campsite.
Beware: SatNav's have a tendency to take you off the A59 early and direct you along a very narrow road. Do not turn off the A59 until the roundabout at Bolton Abbey.
Dales buses run between Skipton/ Ilkley (both of which have train stations) and Grassington. Ask for the Howgill Farm bus stop.
Reviews
Add Your Review
Rated ★★★★★ over 28 reviews
Perfect romantic retreat with stunning accommodation and great walks on your doorstep
One of the best weekend getaways we have ever had. Everything was perfect. We stayed in the Fisherman Timber Lodge which was stunning inside and out . The hot tub was a perfect way to relax after enjoying beautiful scenic walks which are only a stone throw away. We highly recommend staying here and we will definatley be back! Thank you for such an amazing weekend.
A magical campsite tucked away in the dales
We really enjoyed our stay at Howgill Lodge. The setting is beautiful and there are so many great walks in the area. We arrived in our 30 year old campervan to find we were next door to the Alpaca meadow, we were both so excited, they were soo cute! We visited the nearby Stump Cross Caverns after a long walk in the rain too an amazing adventure. Our holidays are often quite action adventure packed and this site served that purpose perfectly. I would like to go back there and chill out in one of their hot tubs in the clamping pods. Such a great campsite definitely will go again. Thanks for having us and send our love to the alpacas, we miss them already!!
Idyllic location
September 2021 This is a really nice campsite, with really friendly and helpful staff, clean facilities and a beautifully laid out terrace arrangement with beautiful views of the Yorkshire Dales and plenty of trees. There is a great woodland area for walking our border collie and plenty of walks from the site, including a 1.5 mile walk along the river to two great pubs. The Craven Arms had great food and A local delicacy Theakston Old Peculiar ale from the wood. The pastries and [really good] coffee offers in the morning is a really nice offering, and if you've missed that window, there's a Love Brownies cafe 200 metres away with great coffee and [obviously] delicious brownies. If you need any more reasons to stay here ..... they also have three very cute Alpacas! To be aware, we were in a 7.4 metre motorhome, and whilst the journey from the main road via Bolton Abbey was ok, the final couple of miles of road are very narrow. It was manageable, but worth being aware of.
Lovely campsite in a beautiful area
It was our first time at the campsite and we will definitely be back. We had a camping pitch with no electricity. We brought a camping picnic bench, but could've saved room as all pitches have a wooden picnic bench. Nice size pitch with peg friendly ground. Clean toilets and showers. A couple of lovely pubs around a 20 minute walk along the river. We had a 7 and a 9 year old, and they loved meeting new friends on the small football pitch. See you again.
Immersed with nature & clean
Perfect camping spot if you value excellent facilities. Clean toilets & showers and plenty of them (I never waited). Encouragement to use different allocated sinks for veg prep washing up, hand washing. Very soothing for my OCD and reassuring in these times. There's even a dog wash! Super wardens, lovely flat pitches, so many special brushes with wildlife, good coffee, wonderful view, quiet at night so excellent sleep….nothing bad to say.
Happy at Howgill!!
We had a fabulous 4 nights at Howgill campsite. The levelled pitches are a genius feat of engineering as you do feel as if there is more space. On arrival staff were friendly and all facilities were clean and accessible. Nice open space for boys to play football (though be prepared for a slope!) Walks from the campsite were plentiful and the views to die for! Highly recommend The Craven Arms in Appletreewick but be sure to book in peak season. 4 stars instead of 5 as the designated dog walking area was really really steep and not huge. Not a problem for my nimble footed kids, but the lady we met with walking difficulties was a bit stuck. Also, the toilet block at the bottom site was without water overnight - apparently it is something that can happen- not a huge issue, but if we'd known it was a possibility, would have stocked up on water bottles. Would certainly return. Thank you.
Wonderful views
We stayed in a lodge and then camped. Both experiences were wonderful and the owners could not have been more friendly. The area is stunning and the facilities were immaculate. It's also a lovely quiet campsite.
Fabulous site, wonderful views. Nice walking area.
Booked for 2 nights but unfortunately had to leave after 1 . Wonderful pitch plenty of room and the use of a picnic bench was a great addition. Clean well managed site. First year in our camper van and have been trying out sites to book in the future . Will definitely be rebooking but wont give pit number as I don't want others to book it before me.,
Loved it - and we live in Cornwall!
Arrived to be met by a terrific thunderstorm. Petrified dog, and made the awning fix a little tricky, but a wonderful experience. When the storm cleared and the Dale views came into sight we were hooked. Glorious local walks up to Simon's Seat, and Applewick; then a diet busting treat at the Brownie Barn...mmm can still smell it! The terraced site gives everyone a feeling of space and privacy, with lovely staff and clean wash-houses! WiFi good so teenagers happy. If you like Beatrix Potter then you'll love the rabbits too. And don't forget the llamas...no sorry, Alpacas! As Arnie said: "we'll be back"...
Beautiful
The views are amazing! Very peaceful campsite Would recommend
Beautiful campsite!
I thoroughly enjoyed my few days ag this campsite and would certainly hope to return. It is as beautifully laid out as suggested on the website, the terraces giving lovely level pitches and beautiful views. Facilities are great, with everything having been thought about, and regular cleaning, plenty of water points, and evident fire safety measures, I enjoyed beautiful walks from the site, all clearly marked. And as a traveller on my own I was delighted to discover that the Wi-fi signal was really reliable throughout the campsite, enabling me to keep in contact with family and friends.
Can't wait to go again!
From start to finish we had a great experience, the check in was quick and easy, staff were really friendly and helpful. The site facilities were great and the site layout was brilliant, plenty of space and nice and level, didn't even need to use our levelling blocks. Really close to the river for walks to Bolton Abbey, or Burnsall. We'll definitely be booking again soon!
Fab-u-lous!
Beautiful setting, all the facilities, clean, well maintained, helpful staff, well spaced plots on terraces that make for a calm and peaceful stay but with pubs, walks, cycling, the river, the Dales, hikes, The Brownie Barn, all "on tap". We will return. Thank you.
What a beautiful spot
Spent 3 nights here with our dog and 17yo daughter. So beautiful, peaceful. Did a wonderful walk up a limestone gorge. Lovely pubs just a short walk along the river. Our daughter was delighted to find "Love Brownies" just a 5min walk from the campsite and their coffee was great too. It was so quiet that 9 rabbits hopped out and munched on the grass around our camper van while we sat in the sunshine. Lovely.
Great site in a great location
Stayed for 4 nights at the end of June at this well designed site close to great walks and a healthy walk from two nice pubs in Appletreewick Good sized pitches and good facilities on a medium sized site We would happily return to do a few more walks
Superb campsite with stunning views
What a superb campsite. Stunning views, plenty of clean showers and loos, it even has a warm water hose to clean my dog with. Fantastic! The best campsite I have stayed at in England.
Dissapointed
We were really looking forward to our visit, however I was unfortunatly bitten by a very agressive insect while camping in Scotland the week before we were due to visit. This necessitated hospital treatment with facial paralysis and extensive swelling. We contacted How Gill and explained the position requesting to delay our visit to some time in September and as we are retired we indicated that we were very flexible on dates. While fully appreciating the T&C's, and we had paid the full amount we were dissapointed that this request was refused.
Lovely, peaceful campsite
The layout of this site is excellent, with each pitch having a view thanks to the tiers. It is in a peaceful area far from any road with excellent dog walks all around (bear in mind no dogs are allowed on the walk up to Simon's Seat so head for the river). The fire pit hire was brilliant, and all of the facilities were clean and well located. Only comment I would make is to take insect repellent and citronella candles as the midges were off the scale when I was there (third week of June), and also although the shop has quite a number of lines don't rely on the shop for essentials - sold out of eggs and milk which other people complained about too. But don't let this put you off, just go prepared! Craven Arms was a lovely circular walk, river swimming in the Wharfe, Betty's tearoom in Ilkley and just sitting looking at the beautiful views while listening to the bubbling of curlews. Would definitely recommend!
A perfect family campsite!
Plenty of clean loos and showers dotted around the site, a well stocked shop (that also serves hot drinks and pastries 7:30-9:30), really well maintained pitches and some stunning views (pitch 33 was perfect for watching the sunset each day). Each pitch comes with it's own picnic bench, and there's the best campsite wifi I've ever experiences, with at least 2 (and maybe more) WAPs providing excellent coverage. Lots of rabbits around the site, but the cherry on the cake for those with kids is the 3 alpacas, We'll certainly be back!
Beautiful experience
Beautiful clean camp site , we had a tent pitch which was perfectly flat and come with a picnic table , there are miles of beautiful walks , the kids really enjoyed the river , everything u need on site and super friendly staff , we will be back
Stunning location and views!
Absolutely stunning site. We stayed in pitch 103, which was on the top terrace and had fabulous views up and down the Yorkshire Dale's. The facilities were immaculately clean, and staff friendly and helpful. We will return, and would highly recommend!
BEST SITE SO FAR
Picturesque, spotlessly clean and lovely on site staff. So peaceful. This was our first time in our newly renovated caravan and we absolutely loved it, only wish we could have stayed longer. We will return for sure! Thanks
Beautiful in every direction
The site is absolutely beautiful! We were in pitch 26 which has exquisite views over the Yorkshire Dales and was very private as the field in front isn't flat enough for a tent so you have a lot of space! Facilities are close by and very clean. Drinking water is on tap at the end of most pitches and the fire pit we hired was fantastic! We had a delicious lunch at the Craven Arms and a lovely breakfast at the Red Lion in Burnsall. The staff at Howgill are very friendly and helpful and apart from the rain, we had a wonderful camping experience! Will definitely be back again.
I recommend this site
We stayed at Howgill Lodge Caravan & Camping Park for 3 nights. The site itself is very well laid out. The terracing gives privacy and space to each pitch - and ensures everyone has a lovely view. Very clean and well maintained. Facilities are good with lots of hot water in the kitchens to help clean those dirty BBQ dishes! You can rent fire pits which is great. The location is good - close to Billy Bob's Ice Cream Parlour which is great for the kids. The Brownie Barn next to the campsite serves incredible milkshakes. I've put this on my list of sites I'd recommend to friends.
Can't fault it!
Stunning views, well organised campsite. Owners seem to have thought of everything with some lovely touches. Friendly staff and fab walks from the campsite. I'd definitely return.
Beautiful setting
Beautiful setting in a great location. Spot rabbits, lambs and pheasants from the doorway of your tent and paddle in a lovely river just a 2 minute drive down the valley. Don't take the bikes unless you're a serious Yorkshire cyclist, it's steep steep steep!
Utterly fantastic
Absolutely stunning campsite with unparalleled views, loads of space and wonderful staff. Only sound at night were the owls and sheep. Great dog walk attached to the site. Gorgeous short walk to the local pub/s, and the coffee shop just next door is fab too. Toilet/shower facilities were shut due to Covid but all seems very well laid out for these reopening soon. We will be back!
Great little site
Well laid out nothings too much trouble get your own spot cut out the hillside . Very nice setting in a valley
Why book with Cool Camping?
Best Price Guarantee, with no fees
Instant booking confirmation
Trusted for over 10 years
A chance to win prizes in our regular competitions
Book campsites near Howgill Lodge Caravan & Camping Park