Book campsites near Wold Farm Campsite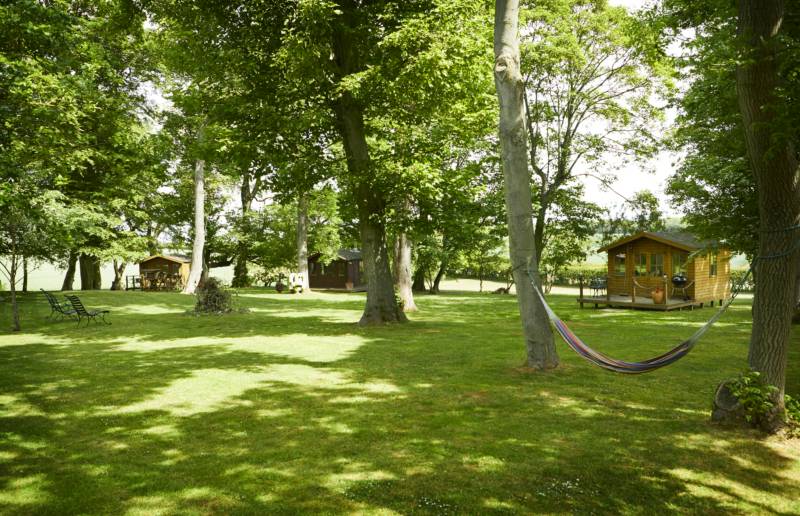 Glamping in Scarborough
Glamping in North Yorkshire
Glamping in North East England
Available:
3 Cabins
1 Vintage caravan
1 Quirky
...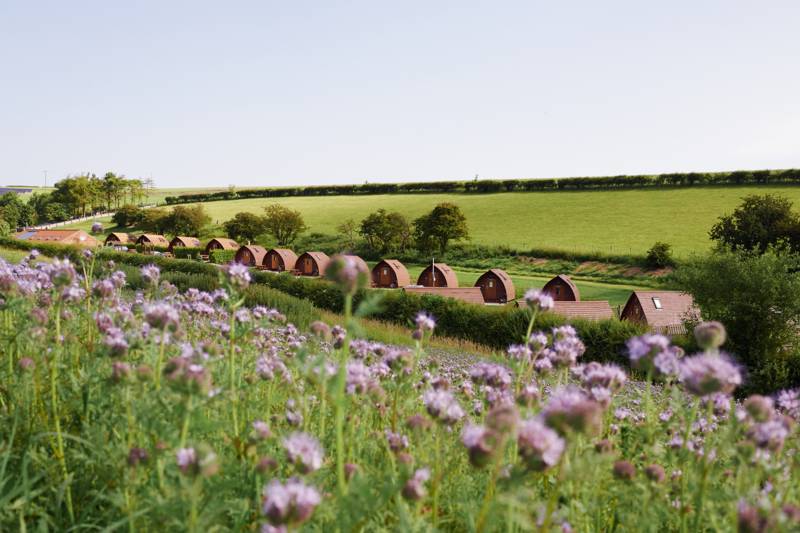 Campsites in Scarborough
Campsites in North Yorkshire
Campsites in North East England
Available:
16 Pods
4 Yurt or Gers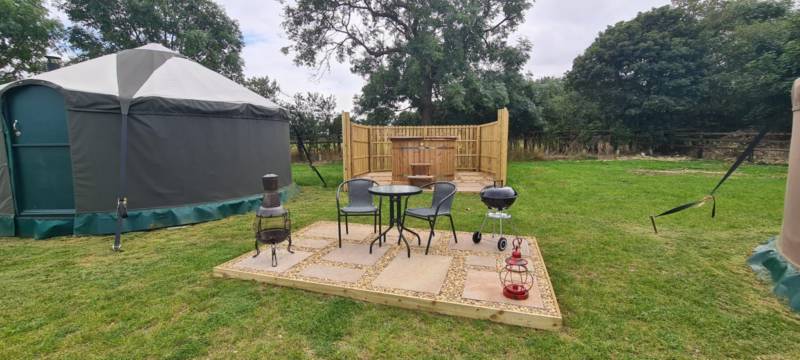 Glamping in Driffield
Glamping in East Riding of Yorkshire
Glamping in North East England
Available:
1 Quirky
6 Yurt or Gers
A cliff-top, Yorkshire paradise for bird lovers
Opened on the Yorkshire coast back in 2008, this is a site for lovers of open fields and big skies. Three-quarters of a mile up a rough track, Wold farmhouse stands in wondrous isolation on the great chalk promontory that is Flamborough Head. There are several individual camping fields, each enjoying uninterrupted views over the sheep-filled fields to both Flamborough lighthouses (new one on the left, old one on the right) with a sliver of sea to top it off. There's a new toilet, shower and pot washing facilities.
This site is an Eldorado for walkers, birdwatchers and beach lovers. Take the campsite's private footpath to the cliffs, just a 5 minute walk away, and you can either birdwatch (puffins, gannets, skuas and countless others adorn the skies) or do the circular nine-mile walk of the entire headland, taking in no fewer than five spectacular Yorkshire coast beaches and bays along the way. Meanwhile, dipsomaniacs and those who just enjoy the odd tipple will be encouraged to learn that despite its apparently remote location, there are no fewer than nine drinking establishments within a mile and a half of the site.
There are so many things to do in this corner of Yorkshire, with Bridlington, Filey and Scarborough only a short drive away, that the owners present campers with a welcome pack. It includes info on Sewerby Hall, Zoo and Gardens (3 miles; 01262 673769) which in 2009 successfully defended its title as Britain's Best Picnic Spot. Take along a sandwich and a flask and find out what all the fuss is about.
Details
Facilities
Toilet and shower block. Drinking water and washing-up facilities. Exclusive to guests is a scenic path for gaining access to the cliffs. Quiet picnic area.
Suitable For
Tents, campervans, caravans – yes.
Nearby
Sewerby Hall, Zoo & Gardens (01262 673769) is a lovely spot, as is the RSPB reserve at Bempton Cliffs. You should also consider taking the 'Puffin cruise', which leaves from North Pier in Bridlington 5 miles away, on which you can spot puffins from late May to mid July and Skuas in September; advance booking advised (01262 850959). Flamborough Head Lighthouse, 3 miles from the site, was built in 1806 and is still very flashy today (01262 673769). Try also the fairytale-like nature trails at Danes Dyke and South landing.
Food & Drink
There's a pub for every taste in Flamborough and a surprising number of them given its seemingly remote location, but the one with a reputation for decent food is the Seabirds, Tower Street (01262 850242).
Open
April – November.

Location
Contact Wold Farm Campsite, Bempton Lane Flamborough Bridlington, East Yorkshire YO15 1AT
Getting There
Take the Scarborough road out of Bridlington and turn left on to Marton Road/B1255. Follow this for a couple of miles, past Bridlington Bay golf course, to Flamborough, through the village and beyond. There is a train station at Bempton, then get
bus no. 510
from Bridlington runs to Flamborough.
Reviews
Add Your Review
Rated ★★★★★ over 6 reviews
Peaceful stay amongst the lambs and puffins
We had a lovely stay in our new campervan. The site is very peaceful with lots of outdoor space for the kids to play. The toilets were closed due to covid restrictions. The site has a private road to bempton cliffs and we spotted puffins and lots of other birds on the cliff edge. The lady at the farm was really lovely and helpful. We would definitely recommend the site and plan to visit again soon
Lovely, peaceful and relaxing
I have been here twice once as a camper and once in the little pods. The hosts are so friendly and accommodating. There were no showers when we stayed here the first time but it didn't detract from the stay at all. We are hoping to book to come again soon to stay with our daughter who was around 3 months the last time I came to stay in a pod she is 5 now and I know she will love this site with its amazing views and lovely walks
A hidden gem in a great location
We (a family of four) just spent the Bank Holiday weekend at Wold Farm and we thoroughly enjoyed it. The owners were always polite and helpful, the showers (on a £1 meter) and toilets were always spotless and the site never felt too busy despite it being full. Being on the Wold, the site does undulate a little - though the caravan and electrical hook-ups are all nice and level. There's a private track the leads to the coastal path; turn left to reach RSPB Bempton and its fabulous sea birds (check what's there at different times of year - you're unlikely to see puffins after the end of July, for example). In the other direction is Thornwick Bay, where our kids spent ages exploring the rock pools, caves and arches (it's a geographer's paradise). Flamborough village is a little windswept, but has plenty of pubs - the Royal Dog and Duck does the traditional pub thing well, with good food and local ales. Definitely a site we'd go back to the next time we're vacationing in this lovely part of Yorkshire.
Hidden gem - stunning location
Couple- Stayed early May in a tent. The site is split up over a couple of fields. There were a mix of tents, caravans and camper vans on site, with plenty of room. We were able to choose where we pitched. The location and surroundings are wonderful, we felt so relaxed and views are magnificent! Its a working farm with sheep in the surrounding fields. It took about 15/20 minutes to walk to one of the pub (The Seabirds does good burgers, a bit pricey, worth it though) . One of the reasons for our visit was to see the Puffins, so the location was great for that. They are just up the path from the site. Owners are knowledgeable about the local area and more than happy to help. The facilities block looks quite new and was always clean. Ideal for sole travellers/families/couples. Will definitely be back!
Lovely area and owners
We stayed here for four nights in August 2013 and booked it based on it's inclusion in the Tiny Campsites book.  The only downside to the stay was that the campsite isn't so tiny any more.  It's now two fields and includes electric hook ups for caravans and tents (there are probably now 30 to 40 pitches).  Unfortunately this resulted in a noisier stay than expected due to other guests and hogging of the two toilets by guests who thought it was okay to wash their hair in the sinks, despite a long queue outside by people who actually needed the toilet.
However, the owners were lovely and friendly, the views were stunning and the overall area was wonderful. There's a lot of walking to do and the headlands and sea are a definite plus. We would definitely recommend it to others but it's not one for the Tiny Campsite wanter.   
Brilliant!
Wow! Wold farm is situated in the most amazing place with breathtaking views! We have just tried out one of their new pods and have booked again for a weekend in2 weeks time. Friendly welcome on arrival and very approachable people