Butt Farm
Victoria Road, Beverley, East Yorkshire ​HU17 8PJ











A family-friendly campsite on a working East Yorkshire Farm just outside the market town of Beverley
History buffs will feel at home on East Yorkshire's Butt Farm. Across the fields, the cobbled market town of Beverley marks itself out with the towers of Beverley Minister – a grand gothic masterpiece that took almost 200 years to build. While, in a neighbouring field, a World War II anti-aircraft gun site is already under restoration by Historic England. It's an intriguing little landmark to discover on your tent-step. Indeed, the farm itself has an air of history about it – centuries-old barns, complete with worn red bricks and ancient wooden shutters, and mature trees show there's nothing young about this lush patch.
What is new, however, is the campsite. The brainchild of young tenants Oly and Jen, who took over the farm in 2014, the site boasts the newest of facilities as a result. The showers, washrooms and dishwashing area are modern, clean and warm, while segments of subtle glass tiling on the roof allow in natural light and avoid new windows spoiling the barn aesthetics. From outside it keeps its history, yet inside there's a modern function.
Beyond the barn, there's a dog shower, chemical disposal point, recycling in a converted grain silo, plus electricity and water on the hard standing pitches, while tent campers can tuck themselves around the meadow perimeter. The field is around two and a half acres in size, so space is never an issue. And, when you do decide to take off, a blackboard and maps in the information area will help you decide on where to go.
A footpath and cycleway are well marked to lead you directly into Beverley and the surrounding areas. The route also takes in some of Butt Farm's 180 acres, home to cows and sheep – visit early in the camping season and there's plenty of their youngsters about too. Head in the opposite direction, meanwhile and you'll eventually come to Skidby Mill, Yorkshire's last working windmill and a noted landmark on the Wolds skyline. The original warehouses surrounding the mill still stand and are used as a museum of rural life, with activities for children and an excellent café in the courtyard. It's all just another historic feather in Butt Farm's camping cap.
Gallery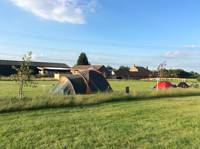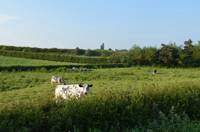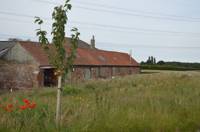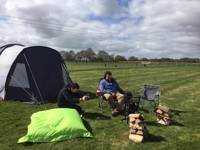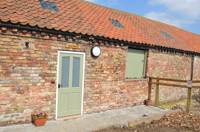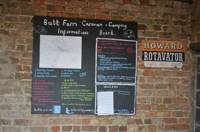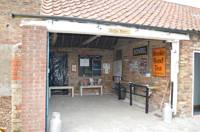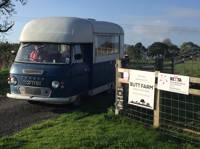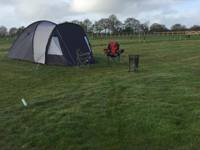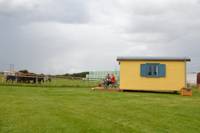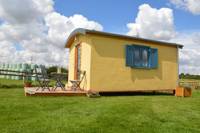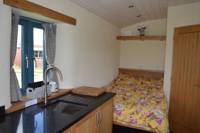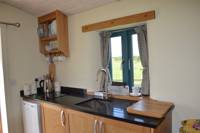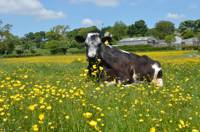 The Owner Says
Butt Farm is a working family farm situated 2 miles from the historic market town of Beverley in East Yorkshire. The farm is located on a footpath and cycleway network enabling you to walk and cycle into Beverley and the surrounding areas. Butt Farm is the perfect place for a camping or caravanning trip to East Yorkshire and ideally located for exploring the East Yorkshire coast, The Yorkshire Wolds, York and Hull.
Win a £100 Blacks Voucher!
If you've stayed at Butt Farm campsite, please take a minute to tell us about your experience. Every month, one lucky reviewer will be picked at random to win a £100 voucher, courtesy of our recommended retailer Blacks. Each review counts as one entry, so get writing!

Reviews
Add Your Review
Lovely stay and made to feel very welcome
We were staying as part of a group and easily accomodated so as we were all next to each other. Lovely big grassy pitches, nice clean facilities and a warm welcome from the owners who gave us lots of advice about walks, cycles and bus services into Beverely. We hired one of the wood burners and sat out til late watching the lovely sunset. Will be back! Thanks
Great family camping.
My two boys (7 & 10) and I have just enjoyed 2 nights on Butt Farm. What a super site! For us, in particular, the large area of grass in front of the pitches meant all the children had plenty of space to play without the non stop 'Mind the tent!' reminders!! With fire pits in the evenings, they played until it was too dark to see. The site facilities are clean, warm and well thought out. Oly pointed us in the direction of a super beach, checking the tide times for us, and it was touches like that that made our stay so enjoyable. We definitely have plans to visit again. Thank you.
Very friendly site with excellent customer service from the owners
We were due to camp with our 4 and 6 year olds at the end of March but the weather turned horrid. We got a lovely e-mail from the owners with an update on conditions at the site (very wet) and offering us the chance to re-book. Changed to May with no hassle. Had a lovely carefree long weekend and made the most of the scenic walk into Beverley. Arrival and departure were easy and there is plenty of information available while you're on site. Clean and tidy facilities with loads of hot water. One tiny thought is that the site could possibly benefit from an additional toilet and shower for busier times. A great little site. We would definitely stay again and have recommended Butt Farm to our friends. Thank you Jen and Oly.
Wonderful and very friendly site
Had a brilliant overnight in our motorhome. So friendly and also environmentally sound too. Loads of hot water! Open fields to two sides and if you are lucky a sunset.
Beautiful small site with seamless arrival process and cleanliness!
Great to just arrive and get pitch and the could go out immediately! Everything well presented and clean, with good signs/directions and information room. Had everything we needed and lovely outlook with cows in field, when awoke in the morning. Will definitely be back as easy to get into Beverley, which is fantastic! Think we will be regular visitors to this site and already planning next trip, when I think we will get the bus into Hull
Lovely site
A well run and well kept site in a beautiful, peaceful setting. Friendly hosts had loads of info on surrounding walks and facilities and the on site amenities were also spot on Will definitely return
Peace and quiet
Lovely friendly hosts who listened to our requests , lots of baby animals and fabulous long walks for the dogs will definitely be back
Lovely peaceful site
Lovely site. This is our 2nd visit, we came 2 yrs ago when theyd first opened. Clean facilities all round. Undercover pot wash area with plenty of leaflets with suggestions for walks. Fresh eggs for sale with honesty box. Nice walk into Walkington, over fields, where there's 3 pubs. Pleasant walk into Beverley. We will be back next year, keep up the good work.
Butt Farm is a great wee site
This was our second visit to Butt Farm. The owners are friendly and helpful but blessedly none interventionist. The regulations are clear and reasonable. The site is very clean, well resourced and peaceful. The only issue the site has is that in periods of heavy rainfall the grass pitches are not possible - a problem we encountered in Northumberland as well. We had booked a hard standing pitch so not a problem. It is very easy to get into Beverley from the site - a 20 minute walk or a short car journey. It is easy to travel by public transport or by car/van to lots of local and unsung beautiful places in east Yorkshire. There is a friendly new addition in Tiger the cat who loves to check out the campers and is willing to be petted and is not averse to a little edible treat.
Wonderful weekend break
Just back from a fabulous weekend break at Butt Farm. It's a lovely small campsite with all the amenities you need. Clean toilet and shower block. Decent power showers. Even a dog wash for your for legged friend. It's family run and there's always someone around to offer help or advice on the local area. There's plenty of walks straight from the site and just a short drive to a beach. Extra thanks to Ollie for taking time to show our grandson Kade around the farm. He hasn't stopped telling everyone about it. Looking forward to coming back when the weather is warmer 😀
Fabulous Friendly site!
We stayed at Butt Farm for 5 nights over the Easter weekend as a family with 3 adults, 2 children and a dog on a tent pitch. The site was easy to find with the brown tourism signs helping us to not miss the turning off the main road. Upon arrival at the site, our names were clearly on the board with pitch number however Oly happened to be around, immediately made us feel welcome and talked to us about which pitch might be best for us. We were expecting bad weather during our stay and we certainly had a lot of rain and wind! The sun and a rainbow did make an appearance but we were very glad of the spotlessly clean and super warm toilet block. The showers and hot water were plentiful and helped make our stay that little bit cosier! The dog wash was also a great facility although we were probably more impressed with it than the dog was! There is a fabulous utility area with washing up sinks, fridge and freezer and the walls are covered with maps and useful information about the local area. It was great to see some of the suggestions separated in to 'dog friendly' and 'kid friendly' - exactly what we needed. There are some printed off maps too of local area walks (small donation to honesty box) and we used one and were able to follow it fine for a walk around Beverley. Jen and Oly were welcoming and friendly every time we spoke to them. They make themselves available when needed without being intrusive and Oly checked we were ok a few times with regard to the weather which was really kind. He was also kind enough to show the children the 3 and 4 day old calves which they loved. Another lovely touch was the Easter eggs left outside the tent! The site did get muddy and wet which was expected but Oly did a great job in trying to sweep water away and some of the paths have wood chip on which helped enormously. We were very impressed that regardless of all the rain and mud, the toilets were always clean - Oly and Jen must have camping fairies to help out! The site is well situated being only a couple of minutes drive from a supermarket and not much further to the town centre. We also drove to the Humber Bridge country park which was only around 15 minutes away and there is plenty more to explore locally! We had a great few days at Butt Farm and even though it is a fair distance from home for us (4.5 hours) we are sure we will be back!
Another fantastic wkend at Butt Farm!
Enjoyed yet another fantastic wkend at Butt Farm, more changes from last year more electric hook ups & a fancy new site map! Site is lovely & clean & fresh eggs off the farm & during summer there's usually home made buns/cakes! The owners Oly & Jen are so welcoming & friendly always pop over to check everything is ok when you arrive & during your stay. Even the easter bunny dropped by to leave us some Easter eggs! Keep up the good work Jen & Oly thanks again & see you soon!
Butt Farm an amazing little site on the outskirts of Beverley
A fantastic little site run by Jen and Oly who are very welcoming and helpfull. Lovely clean toilet blocks, EHU and mains water on certain hardstandings. As it is a working farm there are always cattle and chucks to wake up to in the morning and Norman the main bull is a handsome grand lad who came to see us each morning of our stay. We would highly recommend this site it is lovely and a great little country side retreat that we will be returning to very soon.
Best Price Guarantee, with no fees
Instant booking confirmation
Trusted for 10 years
A chance to win camping goodies in our regular competitions!
Book campsites near Butt Farm
i
Campsites in East Riding of Yorkshire
Campsites in North East England
Campsites in England
Available:
2 Yurt or Gers
1 Cabin
4 Safari tents