Harry's Field
Abbotswell Road, Frogham, Fordingbridge, Hampshire SP6 2JA






Family-friendly, traditional New Forest camping with a pub next door and footpaths leading directly from the gateway.
The New Forest may be 150 square miles in size but the essential characteristics are almost perfectly parcelled up in the immediate surroundings of Harry's Field. There's an appropriately named old English pub – The Foresters Arms – next door, footpaths and bridleways leading immediately from the end of the lane and wild ponies grazing in the heathland across the track. If you want to enjoy all the New Forest has to offer without spending your holiday hopping in the car, Harry's Field is certainly a top choice.
The campsite has all the basics covered. The field is flat and well drained, there are showers, sinks and toilets at one end and pitches are generously sized. There's also a great buzz about the place. The meadow affords room for up to 60 pitches, with two set aside for pre-pitched bell tents, and, though they don't like big groups or late night noisiness, the campsite still has a thoroughly sociable, family feel. Even the pub has a tendency to captivate every age group – while parents are having a taste of the local ales, kids will fall in love with the donkeys who graze an apron of grass by the front gate.
"We want to run Harry's Field as the sort of place we would love to camp ourselves", owner Vivien explains. The Sheriff family grew up on a staple of summer camping holidays and it's clear their approach to the site draws on classic camping memories: campfires are allowed, dogs are welcome and they'll happily provide guests with an annotated map outlining the best walks and bike-rides in the area – a little local insight goes a long way. There are no frills, bells or whistles and they don't have plans to fill the place with new, manmade facilities either. If it's the sort of place they'd camp themselves then, we're happy to say, we'd certainly go camping with them.
Gallery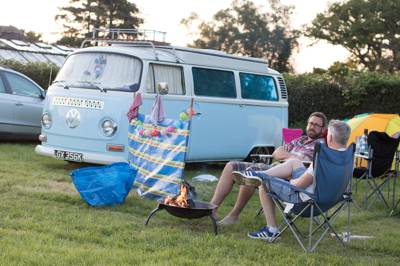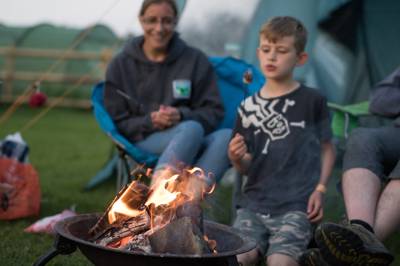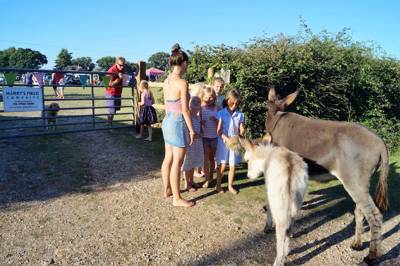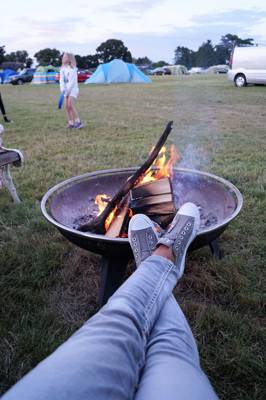 The Owner Says
Harry's field is a small campsite run by campers for campers. We've created a tranquil retreat in one of the most serene corners of the New Forest with everything we'd expect to see on our perfect pitch.
Combine years of experience, decades of enthusiasm and almost half a century of New Forest camping heritage and you get Harry's Field, a perfectly formed campsite in one of the New Forest's most striking hamlet's.
We love it here, in fact, for three generations our family have lived right next door. Combine years of experience, decades of enthusiasm and almost half a century of New Forest camping heritage and you get Harry's Field, a perfectly formed campsite in one of the New Forest's most striking hamlet's.
 Escapism and considerate New Forest camping underpins our philosophy at Harry's Field, so we don't welcome large groups – sorry to be party poopers. With no busy roads, just quiet country lanes, the only thing that will keep you awake at night will be the hoot of owls – and maybe a snoring husband, but I'm afraid we can't do much about that!
There are cycle trails and numerous walking routes right from the campsite so you can truly explore the best of the New Forest right from the gate.
Harrys Field has a very well stocked little shop and we pride ourselves on selling local milk, cakes , bread and meat from the local butcher (which our guests rave about)
Reviews
Sign up or sign in to leave your review of Harry's Field
Little gem of a campsite
My daughter and I camped for 3 nights over the bank holiday weekend and had a wonderful stay, in an idyllic location. The family running the site are friendly and welcoming and the facilities are basic but very clean. We loved the quirky touches like the "gold" mirrors in the posh toilets and music to accompany washing up! Local meat from camp shop was delicious on the BBQ, as were the freshly baked croissants for breakfast. Space was limited, so not much room for a game of football or cricket but the children all seemed to be having great fun. Would definitely return here, the owners are doing a great job running this campsite.
Could be great
Many people obviously enjoyed this new site for 2016 and the location is truly stunning. Anyone who believes that 2 sinks and 4 porta-loo showers is adequate for 300+ people obviously has a differing set of priorities to me. The pitches are a little small and too closely packed for my liking but it doesn't seem to bother others. The close proximity and high camper density gives the place a kind of festival feel that some people obviously like. I've given three stars for this site. One for the friendliness and enthusiasm of the team that run the site and two for the location that is really fantastic. If it weren't for the location... If the owners were to build a toilet/shower block before next season then I could see it being worthy of 5 stars.
Fantastic site
This is one of the best sites I have stayed at in the Uk. This is a relatively new venture for 3 generations of a family and I think they are on to a good thing. The site is imaculately maintained. This is probably aided by the limited number of weeks in the year that they are open. The toilets and showers are a mix of permanent and portalloos/ showers. In my opinion they set the benchmark for cleanest loos you'll see. They are constantly being cleaned throughout the day. The result was that a couple of people that claimed they never use portaloos havpd no problem here. Pizzas cooked fresh on site on Saturday night we lovely. I'd recommend that you book early, as those later on faced big delays due to the popularity. Great pub next door for food and drink. It even has some wild but very friendly donkeys on its doorstep. Finally, the family that run the place are great. Very friendly and totally focuses on ensuing all have a fantastic camping experience.
Fantastic site!
We spent 3 nights here in mid August, the owners of the field couldn't have been more friendly and accommodating. That seemed to rub off on all the campers staying there, it had s a warm, welcoming atmosphere. There were some nice extra touches too like a kettle, teabags and milk in the washing up area so you can make that first cup of tea in the morning to get you going, and the pizza van on Saturday night was great. Loads of power points for phone charging and pretty much all the essentials stocked in the shop. Good pub, and nice walks from the campsite. What more could you want?! We'll definitely be going back next year! This place deserves to be a success, well done guys!
A - MAZE - ING!!!
Fantastic campsite, with a lovely, friendly feel!! We arrived here in the late afternoon and felt very at home immediately!! Offered a cup of tea upon arrival and was asked "would your daughter like to come and sing happy birthday to this little girl and have some cake?" The little golf buggy rides were a hit and the helpfulness of everybody on site was brilliant!! I felt like I knew Viv & Ian like they were old friends by the time we left. The pub next door was great with fantastic food. Would recommend this site to everyone, and will definitely be back. Thanks for making our holiday even more enjoyable.
Best Price Guarantee, with no fees
Instant booking confirmation
Trusted for 10 years
Chance to win Vango camping goodies!
Great Site
We have just returned home after 6 fantastic nights camping here, no one wanted to leave in fact our little boy cried his eyes out and said he wanted to live here all year long. It was a fabulous site with a lovely atmosphere; for once we felt we could let the kids go off biking round the field and not worry. The guys who run the site could not do enough for you and some lovely little touches made a huge difference, mobile phone charging, Wood Fired Pizza on the Saturday night, well stocked shop with fresh bread every day, great pub next door, the list goes on and on. We have camped many times and I have to say this was the nicest site we have stayed on, would highly recommend to all. Looking forward to returning next year
Friendly and welcoming - very special site
LOVED Harry's Field - feel very lucky to have found it on it's opening weekend! This is a very special place with a lovely atmosphere - a credit to the incredibly friendly & welcoming family who run the site.  
Best bits: tea & cake on arrival (amazing!), freshly baked pastries on the weekend, spotless loos and showers (they may only be portable showers but the water was hot, the pressure was good, and there were plenty of hooks to hang up clothes / towels behind the shower curtain to keep them dry),  good size pitches, no traffic noise (unless you count donkeys and horses walking past...!), firepits, yummy local sausages and bacon from the little shop on site, pub next door will serve you in plastic glasses so you can take your drinks back to your campfire, big co-op nearby in Fordingbridge to get supplies, recycling on site (we were given bags for rubbish & recycling when we arrived), plenty of plugs for charging mobile phones...oh, and the wonderful Viv, Ian, Harriet, Jesse, Harry and Pete who made us feel so welcome.
I loved our time here - it was really nice to stay somewhere where you feel the people who run it genuinely care about your stay and go out of their way to make sure you have the best possible experience.  At the end of our weekend it felt like we were leaving friends - hope to be back soon :-) 

Fantastic site
Stayed for 2 nights in May and were thoroughly impressed with this site.  The hosts were so friendly and helpful,  the facilities were clean and the shop was well stocked.  There were so many lovely little touches to the site including the joy of warm croissants on sale in the morning!  Thankyou so much to Vivien and Ian for all of their hard work and for making our stay so enjoyable.
Never met a more helpful and welcoming family & campsite
We (two adults and two young kids) turned up with a brand new (and untested) bell tent with no guy ropes or pegs!! Naturally panic set in but Viv, Jesse, Harriet, Harry and Ian were on hand to recover the situation, whizzing about in a golf buggy decked out in bunting followed by Dash the Dog. Its a thoroughly family friendly campsite. It is in its infancy at the moment, but that all added to the whole experience. They made a fuss of every single family that came through the gate, came around with tea, coffee and cake for their inaugural weekend, and had a great little shop with all the camping essentials and loads of local meat, which was a lovely surprise. They had bucket and nets for the kids to use in the local river. we had to leave early because of the boys being ill but Viv was quick to send an email when we were home to offer us some time to make up for the loss. We hope to return in August and will endeavour to make it an annual trip as they were so kind and helpful. It was like camping in a friends garden! :) see you soon guys. Patrick
Great family friendly site
We were lucky enough to stay at Harry's Field on their debut.  It was perfectly thought out, all the little touches making it very special, mobile phone charging points, plug in kettles, adding that little something extra!  Three generations help to run the site which adds to the whole experience, Harry, Viv and Ian were always on hand, it was a very relaxed and friendly site. The pitches had ample room, with open spaces for the kids to come together for a game or two! We had a great meal at the pub next door and there are numerous walks on the doorstep, the location is perfect for a relaxed, chilled out getaway.  We shall definitely be returning.