Book campsites near Orchard Camping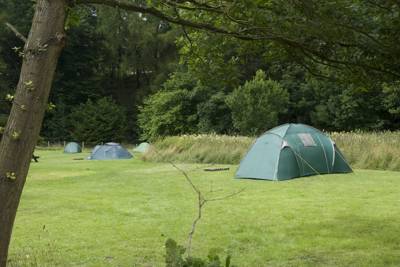 Campsites in Hathersage
Campsites in Derbyshire
Campsites in East Midlands
Available:
53 Pitches
7 Pods
Holidays in West Yorkshire
Holidays in North West England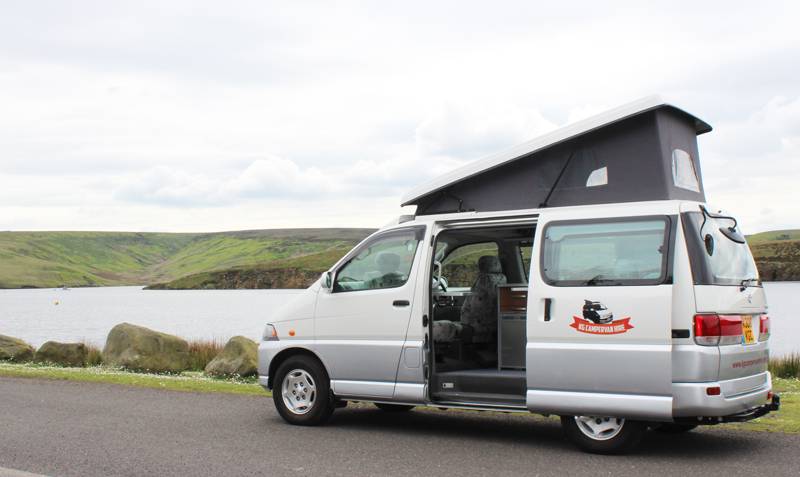 Holidays in West Yorkshire
Holidays in North West England
A tiny South Yorks site with spectacular views of 'God's Own Country'
They say good things come in small packages and, with just six grassy pitches, there are few sites more intimate than Orchard Camping. That's not to say you'll find yourself squeezed. There is ample room around each tent and, despite being an orchard, you're not exactly tucked amid rows of apple trees. Instead, this feels more like a cosy, 'in your garden' camping experience, an atmosphere aided by the house next-door which hosts many of the facilities.
From the undesignated spot you chose in the camping field, it's just a couple of steps into the main courtyard where you'll find showers, toilets and shelter if it rains. These outhouse buildings are also home to a small kitchen area with a sink, microwave, hobs and a kettle with complimentary tea and coffee. With such a small number of pitches onsite, you can happily stash food away in the fridge without worrying about losing it later in the week. A drying area next to the kitchen is just the ticket for those who've had a hard day out on the hills. And for those truly cream-crackered ramblers, home-cooked food can also be ordered from the house. Simple, comfort farmhouse fare, but excellently cooked and well priced, rest those weary bones with dinner in the warmth of the inviting dining room.
The family-run rusticity of Orchard Camping makes it popular with small groups, particularly hikers and cyclists taking on the surrounding hills. Parties in need of slightly more than the six pitches provided can extend into another small field which is similarly well-catered for by the relaxed and welcoming hosts. Equally, singletons seeking peace and quiet in the countryside needn't worry about gaggles of noisy ramblers next door, the site is only big enough for a group to hire the whole place out exclusively, so there's either one group taking the site or no groups at all.
Beyond the campsite, a 15 minute walk takes you into the pleasant old market town of Penistone, its name deriving from the areas location in the foothills of the Pennines. Unsurprisingly then, the surrounding landscape is criss-crossed by good footpaths and long distance walks, as well as windy country roads that will suit cyclists looking for a challenge. The Tour De France flashed here in 2014, a doth of the cap to Yorkshire's top cycling reputation. Those who battle to the hilltops are rewarded with truly spectacular views. That said, when you land yourself back in the grassy garden of Orchard Camping you'll still be able to boast a beautiful backdrop and all with the warm friendly feel of this tiny farmhouse campsite.
Details
Facilities
The site is split over two separate areas with great views. The first area is a small orchard with up to 6 camping pitches (access to power can be arranged). The second area is a ¼ acre used for larger parties or special events. Power is provided to a limited number of pitches in this area. Showers and toilets are accessible in the court yard area. An interior downstairs bathroom is also available (only accessible between 6 am- 10am and 6pm- 10pm). Outbuildings in the yard offer storage space, a drying area and a basic self-catering kitchen. The kitchen comprises a fridge, microwave, kettle, toaster, hob and toasty machine. There is space to eat in this area during wet weather. Complimentary tea and coffee are provided. Home baking is also available to purchase. You can eat this in the house dining room. They offer breakfasts, packed lunches, snacks and basic evening meals.
Suitable For
Tents, campervans, couples, families, groups (by prior arrangement) and dogs – yes. Caravans and big motorhomes – no.
Nearby
In the foothills of the Pennines, Orchard Camping is a top destination for ramblers and cyclists, with the Peak District a 15 minute drive away. The Pennine Way is more famous but the locals recommend the Penistone Boundary Walk. Cyclists should try the quieter areas of the 2014 Tour De France Route. The market town of Penistone is a 15 minute walk from the campsite. It's one of the oldest towns of its kind, and has a couple of great cafes and shops for a quiet break. In the north, The Yorkshire Sculpture Park (01924 832631) and The National Coal Mining Museum (01924 848806) provide a little extra culture, as does Brodsworth Hall and Gardens (08703 331181), a 30 minute drive east.
Food & Drink
Complimentary tea and coffee are provided and home baking can be ordered onsite to eat in the house dining room. Breakfasts, packed lunches, snacks and basic evening meals are on offer. Cafe Creme (01226 766118) in Penistone is a delightful place in town for tea or a light lunch.

Opening Times
July & August.
Family Friendly
Please note that parties of 10 or more people will be a private booking and the sole occupants during their stay. Other campers are assured parties will not be invited during their time.

Location
Contact Orchard Camping, Tumble Dove Farm, Halifax Road, Sheffield, West Yorkshire S36 7EY
Getting There
Penistone buses link to Barnsley and Sheffield. Train links to Huddersfield and Barnsley, both inter-changes for other areas.
Reviews
Add Your Review
Rated ★★★★★ over 2 reviews
Perfect pit stop
We stopped in here on our way to Northumbria from London in our camper van. It was ideal. A friendly welcome, great facilities, a warm sitting room for the kids to play in, and a beautiful orchard for supper. We had a great time and will definitely come again.
Excellent camping
My wife and I have been camping for more than 30yrs and his is one of the nicest campsites we have stayed on.