If you aren't to the manor born this is a great place in which to pretend you are
The 100 acres of garden and fields surrounding the manor house at Wing Hall make for a near perfect camping spot. Sitting just outside the pretty Rutland village of Wing, the site overlooks a colourful collage of woods and rolling fields of wheat and rape, and just a mile down the road is the lovely 3100-acre reservoir, Rutland Water. Created by flooding in 1974, the water and surrounding area now provide both a haven for wildlife and sport and leisure opportunities, with the 25-mile track around its perimeter making a beautiful cycle route. Surrounding the reservoir, a major nature reserve and wildfowl sanctuary spans some thousand acres and has several pairs of resident ospreys, which can sometimes be spied from one of more than 30 birdwatching hides dotted around the water. Robin Curley's great- great-grandfather built Wing Hall in 1891, and she has lived here all her life, long before England's tiniest county, Rutland, regained its independence from Leicestershire in 1997. The campsite used to be a basic, fiver-a-night-type stop, but Robin and her five (now grown-up) children have created something rather more sophisticated here over recent years.
Son Lyndon has transformed the onsite shop into a delectable deli, stocked with locally- sourced organic produce, artisan breads and a wide selection of wines and ales alongside the usual campers' basics. The shop also has maps of local walks, and onsite bike hire is a recent innovation. Daughter Zia runs the Veranda Café, serving up breakfast, lunch, afternoon teas and evening meals, including local treats like local rib-eye steak and roasted goats' cheese with homemade salsa. Enjoying one of her cream teas on the lawn, you can easily forget you're on a campsite – it feels more like the grounds of a stately home. The campsite has four camping fields, with around 250 pitches across the whole site, of which just 20 are for caravans. A large, flattish field on the left as you enter the site is for tents only. A second field on the right of the long, tree-lined entrance drive has wonderful views across the surrounding countryside and is for tents, caravans and mobile homes. A third field has a handful of pitches overlooking the valley and the resident free-range chickens, while a fourth field has swathes cut through wheat to provide more pitches and some of the best views. A short walk down through another wheat field takes you to the three fishing lakes at the bottom of the estate. There are acres in which to play or cycle around the site, and a large tree in the middle of the second field, with a couple of swings slung from its branches, provides a focal point for kids.
Despite the site's wide range of facilities, the general ambience of this place is far away from the holiday-park atmosphere you might expect. And the no-music policy, which is particularly popular with families, helps to maintain an air of peace and tranquillity. As night falls, parents swiftly sweep up their offspring in compliance with one of the few onsite rules – unaccompanied kids back under supervision after dark – and tranquillity returns. In any case, if splendid isolation is required, there are plenty of nooks and crannies and hideaway pitches to hole up in.
Best Price Guarantee
Easy and Secure, with instant booking confirmation
Trusted for over 10 years
A chance to win a brand new Coleman tent!
Gallery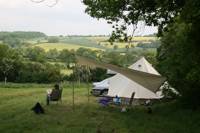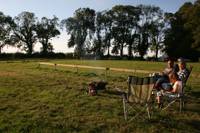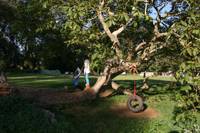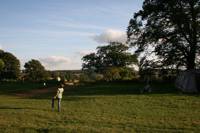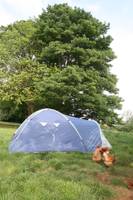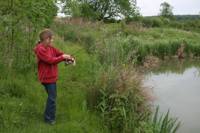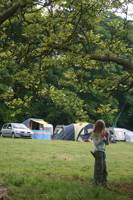 Reader Reviews
Add Your Review
How much?
We stayed at Wing Hall over a May weekend. The facilities were more than adequate, the pitch a good size, good space, the cafe excellent and the shop stocks a very good range. Pleasant view across to the next rolling hill. The staff were very friendly and helpful all of the time. Some of the pitches slope, but this is fairly reflected in the photos on this page and you certainly aren't going to see Chris Bonnington going past in his crampons. Unfortunately there are buts, including a very big but. The shop is expensive even by campsite shop prices. I understand the comments below regarding overcrowding and inadequate facilities. We were fortunate to go on a quieter weekend with a lot of space but with the layout of pitches I can understand the comments regarding it being like a festival / car park at busier times. With this number of pitches the toilet and washing up facilities would be woefully inadequate. Had we turned up on a busy weekend this would have been my camping hell, but then I do like my space and not everybody wants the same as me out of camping. The big one. Electricity, over £50pw before you actually use anything. That is way above our monthly domestic bill. Is there something very special about the electricity in Rutland? Of course, £52.50pw is just to occupy a pitch with EHU, if you actually want to use the hook up then that is on a pay as you go system. One extra bit in the rules, you trip the electric then there is a £10 reset fee. Most sites we have stayed at charge £3-4 per night with no meter and a "Yep, it's back on now, no problem, cheers". I was told the prices at Wing Hall had just increased. For a couple staying on an EHU pitch the price, I believe, would now be £30pn+electric usage. I know there are campsites that are charging £30pn+ but for this I expect an A-class campsite/plentiful, spot-on facilities/special location. I relied on the leisure battery for the weekend to see if the price was justified. In our opinion, Wing Hall is not in the £30pn league, or even close, and we will not be returning. The star rating purely reflects the premium price that is being charged to stay at this regular campsite. On the shores of Windermere in August or a couple of miles from Rutland Water in May? Hmmm.
Left early
Terrible. Overcrowded, insufficient facilities for number of people often no hot water in men's showers. Lies showers not properly cleaned, cobwebs and clothes dusty after being hung up. Often queuing for ladies loos.Washing up facilities in need of repair and water flow frequently dried up due to pressure of use. Charged £9 per night per adult not £7 and £4.50 for children. Have camped for many years in a variety of places including Canada and these were the worst.
Relaxed, safe environment. Idyllic location. Clean well maintained facilities.
Managed to cope extremely well with the high volume of campers over hot Bank Holiday weekend. Staff friendly and keen for everyone to have a good time. Music and noise level rules were respected. Would definitely recommend Wing Hall camping. We were a large family group with a mix of tents and motor homes. Staff were very accommodating and met our request to be pitched together.
Wonderful
I stayed at Wing hall for a long weekend on 6th to 9th of May n thoroughly enjoyed my stay. The views are just fabulous. The staff were friendly. The price was very reasonable. The facilities I believe have been upgraded since many of the reviews below and are more than adequate for basic camping. The shop has a great selection and although I didn't use the tea rooms they looked very nice. Can't fault the site, great stay will definitely return. 
Magic Location
Just back from a weekend at Wing.  First the downsides.  I would agree that it can get very crowded.  It is probably a victim of its own success.  The pitches are fine but they get a lot of campers in and with the odd game of football going on it feels cramped.  The washing facilities struggled with the volume of people.
On the upside this part of England really is gorgeous.  Classic England, rolling hills and all that.  It is just a few miles from Rutland Water where there is plenty to do if you have children from mini-golf, bird watching, cycling, boats trip etc.  There is a great little farm shop which stocks all the essentials from home make cakes, breakfast items to beers and wine.  There a lovely cafe/bar and I was pretty impressed with the food though it can be popular and may be best to book if you like the menu.
It is basic but you know that before you arrive so do not be surprised if there's no pool, kids entertainers or Costa.  I am sure it would be perfect at the start/end of the season when the numbers were limited which would bump it to 4 stars for me.
Nice site but very poor facilities
This is such a pretty campsite with great shop and cafe: however the basic requirement to have decent & functional wash and toilet facilities has been greatly over looked. The toilets and showers are ramshackle (make do) structures with little protection from the elements and the only place we could find to wash our faces and clean our teeth, when the few toilets there were were busy, was a single sink with only cold water. Such a shame for a campsite that offers so much in other areas. It was okay for an overnight stay but you'd probably struggle if you stayed more that a few days.

Very busy
The review of this site is misleading when it notes a handful of pitches overlooking a valley. This is one of the most densely packed campsites I have ever been on - think festival when it is full. However, it does have great views and a welcoming atmosphere. One for a qui weekend.

Pretty poor
I wish I could say the same as some of the other happy campers. Unfortunately, our experience was quite the opposite. We had booked a site with electric hook up for 2 tents. On our arrival, and after paying in full on arrival, we were shown the "campsite". The site, situated on the side of a slope also had a ditch running through the middle of it ( from  some or other works), the other site apart from being on the slope was completely uneven and not suitable for a tent. The campers present in the sites adjacent to our two were also suitably unimpressed with the slope but had decided theirs was ultimately even ground so had pitched anyway. After asking to move sites I was told by the worlds most unhelpful and rather unfriendly lady, that that was not possible and there were no other options  available either. We elected to leave and requested a refund as the service/campsite we paid for and hoped for was clearly not the one we got. We since found another lovely site that day and had a great weekend adjacent to rutland water . Since then we have tried almost daily to speak to someone who could "authorise" the refund for our weekend and have been fobbed off by the same unhelpful lady. I doubt this review will make it to their guest book but worth considering before you go.

Response from Wing Hall
We're always disappointment when guests aren't happy - we're a family-run and focused site and do our best to keep everyone happy. That said, we're obviously limited to where we can put electric pitches and John didn't like any of these. The fields of the site are good and flat and I don't think John's representing us in a fair light, as anyone who's stayed with us will know.
I think it's important to note that given that we obviously weren't the site for John, and because he made it clear none of the pitches were suitable, we agreed to a refund - although this takes a few days via Paypal.
John - we're sorry if someone wasn't very helpful, we're family-owned and run, so pride ourselves on taking extra care of our guests and going that bit further.

Wing Hall
Took our boys here for their first camping experience at the weekend. We pitched our tent in field three which had beautiful views of the surrounding countryside and lots of chickens wandering around which the boys loved. The little farm shop was really well stocked and it was nice to have the cafe on-site (we're very new to camping so still building up our resources!) - music on Saturday night which we enjoyed as the children played on the lawn.
A really enjoyable, relaxing stay. The "no noise after 10pm" policy meant that we all got a good night's sleep. A really nice campsite for children, I'm sure that we will be back.
Wing hall
I think this site has loads of potential and may be quite nice on a quiet weekend but we stayed there last bank holiday and it was way too crowded. The field we were camping in felt like an overflow carpark, couldn't see any views only cars and tents.
Great campsite, plenty of charm
We really like Wing Hall camp site and stayed for a few nights just before a bank holiday weekend. There are a couple of different camping fields and they are quite spacious, though it did get very busy in the lead up to the bank holiday.
The great things about the site included the on-site cafe, which while we were there seemed to cater for everything from breakfast to evening meals.  Good food at reasonable prices.  The owners hens wander around the place and often wandered up to us in the cafe, which was quite lovely.
Toilet block and shower facilities were more than ample and even as it got busy, stayed pretty clean throughout our stay.  We did struggle to get hot water one morning though.

The only thing that would improve the site in our opinion would be if they allow camp fires somewhere because it's the perfect place to sit out with friends in the evenings, but the warmth of a fire would make it so much more enjoyable. 
It is very handily placed for walks and cycling at Rutland Water and there is a terrific pub in the village, but it does seem essential to book if you want to eat there as it was bursting at the seams when we visited.

Wing Hall
A very friendly and welcoming campsite.  The shop stocked boutique style food with amazing fresh bread and cakes, we didn't get to sample the cafe, but it looked very inviting, and was pretty busy on the weekend.  The live music on the Saturday night was entertaining and lovely to see the audience getting involved.  The amenities were fine, shower water was hot, washing up facilities were standard.  A nice little campsite with affordable fees, with dogs welcomed for free.  Close to Rutland water, and Oakham Village which was a pleasant village to see.  A nice campsite to visit.

Wing Hall
3 of us stayed here on a bank holiday weekend, with a 5 m bell tent and a dog. There are 4 camping fields, we were given pitch 211 which is in the corner of the left-hand field when facing the main house, so quite near the road into Wing itself. Fortunately this is a very quiet road so there were no noise issues with this, and the pitch itself was fine-flat and a good distance between us and the next tents. Other fields seemed to be reserved for caravans and motor homes, and were a lot busier. The shop is justly famous, and also hires out log baskets and the like; there's nothing in the way of shops in Wing, although there is a Tesco and a Co Op in Oakham (and a market on saturdays, with a fishmonger that sells local trout).

As far as facilities go, there's a portakabin with toilets and potwashing sinks, although the hot water ran out on a couple of occasions. I'm sure this wouldn't be a problem on quieter weekends and when we used them the showers had plenty of hot water. In all a welcoming and very family-friendly site.

Wing Hall
This campsite is a favourite of mine, it has a ramshacled air of decaying empire about it. The showers our a bit rustic but the excellent food from the shop more then makes up for it. Most of the pitches are fine but the adults only field is as lumpy as the last time the farmer plowed it. And a very short walk to the village pub gets a very good meal. will be back.
Wing Hall
I love the spacious grand feel to Wing, you can get away from everybody if you wish or camp up close and get to know the neighbours. Its a feeling of glamping without the fancy ready tent, the surrounds make it feel like a luxury site. The showers are not the best can be prone to muddiness and not lashings of hot water that you really really need on a cold morning. The cafe is a treat and adds to a pleasant stay and Rutland may be the smallest county but its big on character and Wing adds to that personality well.
Best Price Guarantee
Easy and Secure, with instant booking confirmation
Trusted for over 10 years
A chance to win a brand new Coleman tent!
Book campsites near Wing Hall
i
Campsites in Rutland
Campsites in East Midlands
Campsites in England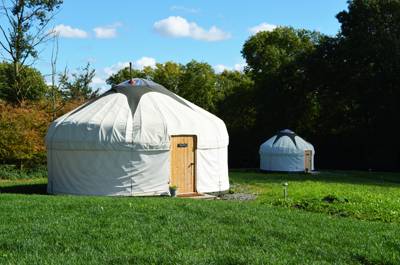 i
Glamping in Market Harborough
Glamping in Leicestershire
Glamping in East Midlands
Glamping in England
Available:
3 Yurt or Gers