Book campsites near Three Horseshoes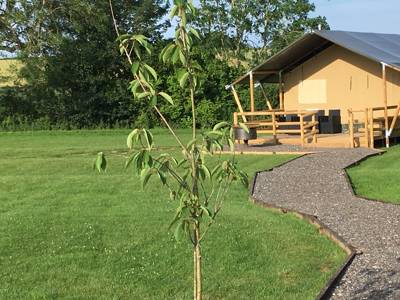 i
Campsites in Lincolnshire
Campsites in East Midlands
Campsites in England
Available:
2 Safari tents
Three Horseshoes
Three Horseshoes,Shoe Lane, Goulceby, Lincolnshire LN11 9WA











Small is beautiful – and so are the views at this lovely Lincolnshire retreat. Best of all, there's a cracking pub onsite!
Ian and Denise, the team behind the "pop-up" summer site at Overstrand in Norfolk, now have a permanent home for their latest venture, behind the Three Horseshoes pub in the village of Goulceby. In the heart of a relatively unexplored area of outstanding natural beauty (AONB), the Lincolnshire Wolds, the site has spaces for just seven tents alongside two fully-equipped bell tents and a yurt. It's a great spot for sitting and admiring the Wolds scenery and sunsets, and when you're ready for a little exercise, the 147-mile Viking Way passes by on its way from the Humber Bridge to Rutland Water.
This is definitely a get-away-from-it-all destination for campers. But if you do find yourself in need of some retail therapy, England's antiques capital, Horncastle, is about six miles away; Louth (eight miles to the north) is the main hub of the Wolds and was recently voted Britain's favourite market town, with independent shops and cafés galore. The quiet seaside town of Sutton-on-Sea, with sandy beaches but without the kiss-me-quick atmosphere of the busier Lincolnshire resorts, is about a 40-minute drive away.
Reviews
Add Your Review
Fab site
Great little site and a lovely pub to boot. Welcoming and friendly staff, even sorting us out with smoked paprika we'do forgotten to bring. Highly recommend if you want a quiet, quality site. Facilities are good and glamping looks excellent too. Weach will definitely return.
A peaceful place to stay
We visited this site early in May for the Bank Holiday weekend and had our first experience of staying in one of the three Bell Tents.  As hardened campers, it was quite a novelty not having to lug our gear to a site and then have to unpack, set up.....etc.  The Bell Tent was well equipped with proper bed, fold out beds, storage, cooking facilities, heating, etc.  The shower and toilet areas are heated and are of a good standard and were kept clean. Toilets were not separate but if the pub was open, it was ok with the owners to use their facilities.  There's no play facilities for children.  The site is a small area to the rear of the pub, which served good food.  The owners were really friendly, accommodating and very helpful.  The Lincolnshire Wolds is not a touristy area but it is well worth a visit.  There's pleasant cycling and walking to be done and if you fancy visiting the coast, that's ~40min drive away. If you want a peaceful rest, this remote site is the place for you. We will certainly return to this site with our tent, to continue exploring this lovely area.
Three Horseshoes
I spent three nights at the Three Horseshoes, near the end of April. I had a lovely restful time. The site is small and quiet, with views of open country. The individual shower, toilet, washbasin facilities are quite luxurious - hotel like. Ian, Denise and family make you very welcome, as do the locals. The pub is a typical cosy, country one, with good local beers. The tasty, interesting, man-sized portions of locally produced food, at reasonable prices, was also a welcome feature of the stay. The little shop in the pub was  very handy for those things you'd forgotten, or local delicacies you wanted to try.The peaceful village is spread out and its interesting to walk it's country lanes. There's also a good network of footpaths nearby. Horncastle and Louth are interesting places to visit, travelling along quiet, but wide country roads. The Three Horseshoes is a great camping spot for a restful break.