Book campsites near Mablethorpe (Ready Camp)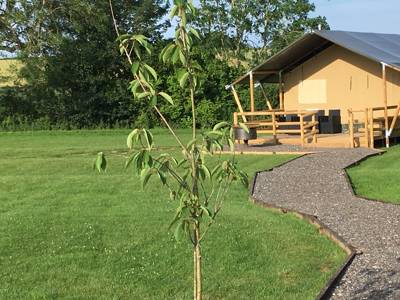 i
Campsites in Lincolnshire
Campsites in East Midlands
Campsites in England
Available:
2 Safari tents
Mablethorpe (Ready Camp)
Mablethorpe Camping and Caravanning Club Site, Church Lane, Mablethorpe, Lincolnshire LN12 2NU





Safari tent camping less than a mile from the beach and near to the excellent Theddlethorpe Dunes Nature Reserve
If you don't like crowds then come to Mablethorpe beach. It's not that the place is unpopular. Far from it. The town's traditional waterfront is awash with the sort of seaside escapades that attract summer visitors – amusement arcades, donkey rides, cafés and a fairground. But the space of the place is simply endless. As the local beach guide puts it, "it seems like the tide never fully comes in", and the sands stretch for miles up the coast and into the horizon. Behind them, the beach rises and falls into a landscape of marram covered dunes. There's even a national nature reserve just a mile and a half up the road.
It's just inland from Mablethorpe town that its campsite of the same name can be found. The established site has excellent facilities throughout, with modern washrooms, washing machines, Wi-Fi, a children's play area and more, and boasts three Ready Camp safari tents set in their own private area. Each comes complete with everything the lazy camper (or family glamper) needs: two bedrooms with proper beds and space to sleep four people or a family of six in comfort; a kitchenette with a hob, fridge and microwave and plenty of storage; and a comfy sofa and dining area that extends to a verandah outside – perfect for sipping a glass of wine and listening to the birds.
From the entrance to the campsite – where there is a well-stocked little shop in reception – it's around a mile down to the beach. Just before you arrive at the waterfront, you'll pass Queens Park, where it's worth extending your stroll. The family attraction has a boating lake, paddling pool and tennis courts, among other things and, if you've brought your racquets, it's a good place to work up a sweat before you dip in the sea. Or a good excuse to cool own with an ice-cream!
Reviews
Add Your Review
Be the first to leave a review!
Win a £100 Blacks Voucher!
If you've stayed at Mablethorpe (Ready Camp) campsite, please take a minute to tell us about your experience. Every month, one lucky reviewer will be picked at random to win a £100 voucher, courtesy of our recommended retailer Blacks. Each review counts as one entry, so get writing!