Book campsites near West End Farm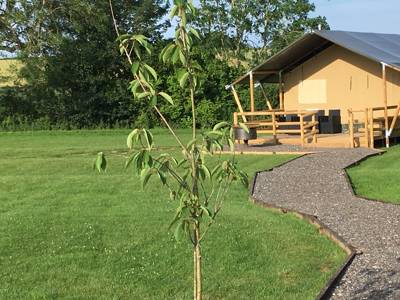 i
Campsites in Lincolnshire
Campsites in East Midlands
Campsites in England
Available:
2 Safari tents
West End Farm
West End Farm, Salters way, Great Carlton, Lincolnsire LN11 8BF









A charmingly simple campsite with grassy pitches, ample space and a secluded feel
Tucked inland from the Lincolnshire coast, West End Farm is the sort of place you discover on the off chance – a last-minute break to an area you've never visited or a friendly recommendation overhead along the beach. Yet once you've stayed at this secluded site you'll never want to leave. You see they don't go in for anything big here; you're not going to see it on a poster or hear about it on the news and the bigwig caravan parks on the sea front have stolen Google's top 'Lincolnshire' searches, but it's all a blessing in disguise. A little secrecy never hurt anyone and this enigma of a campsite deserves to be kept hush hush. So while we're going to spill the beans be prepared to keep your voices down, we wouldn't want the entire world to know now would we?
Poised in the flat, arable countryside where the Lincolnshire Wolds peter out into the patchwork of the eastern coast, West End Farm is a four-acre campsite with a spread of grassy pitches. The large meadow is scattered with trees, dividing the place up nicely, but it still has a delightfully open feel, especially when the sun is beaming down. Tents are pitched around the edges, so campers aren't rowed up with neighbours, and kids have plenty of space. As for the facilities, well, they're nothing out of the ordinary but everything is spotlessly kept and by the time you're swooning around the tiny information hut you'll find there's nothing else you could need. There's something suspiciously simple about it all, as though nothing so understated could be quite so utterly brilliant; a few swings, picnic benches and a warm and welcoming owner are all it seems to take. The site has you sold in an instant.
Beyond the tent flaps, West End Farm is a peaceful place to be. There's a decent network of footpath and bridleways in the local area – the nearest pub is a mile and a half away – and it's less than five miles to the Lincolnshire Wolds, perfect for longer walks and a full day out exploring the countryside. The old Market town of Louth is one of the best places to start from. Try a jaunt on dog-friendly Hubbard's Hill and watch your younger campers dabble around in the ankle-deep streams that amble quietly down the slope. It's a perfect spot for family picnics. From here you can slip back into the town centre for a bite to eat in a café or slope on back to the farm with a pack of Lincolnshire sausages in the bag and a barbie ready to rumble.
Reviews
Add Your Review
Lovely location
We stayed at this site on a bank holiday weekend and although we were told it was going to be quite busy we were pleasantly surprised when there was still plenty of space. It's a lovely location and feels away from it. A peaceful location where you can sit and relax or walk or cycle from. The showers are free and along with the toilets very clean. There is no shop on the site and the nearest one we found is around a 10 minute drive. There is a fridge and freezer on site where you can put your food and drinks. We had plenty of room even though we have a large tent. No gazebos are allowed. All in all a lovely stay and we would return. Peaceful, relaxing and lots of birdsong.