Ash the Woodland Bell Tent
(39 at Swattesfield Campsite)
A furnished bell tent offering comfort under canvas within the woodland of a Suffolk campsite.
A five-metre bell tent with a full-size double bed (extra fold-outs if needed)
Gas hob, picnic table, cooking equipment and fire pit provided
The most secluded glamping spot on a seven-acre glamping and camping site
The Owner Says
Made in the UK these tents are something special, having been built on their own wooden platform with no centre pole and internal canopy they come with all the creature comforts you'd need to have a thoroughly enjoyable stay. At five metres across they have a full-size comfy double bed as well as two or three fold out child beds (if required). There is astro turf throughout with torch lanterns, a gas hob, all your cooking equipment/cutlery/plates, your very own picnic table and a fancy fire pit. We also include at no extra cost a solar powered USB unit for charging small electrical items such as mobiles. Although there is a nearby drinking water point, this tent is located in a more secluded area of the woods rather than on the main camping field so is a little further to walk to the facilities block (about 3 minutes).
Gallery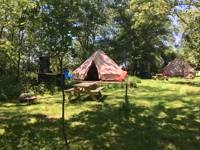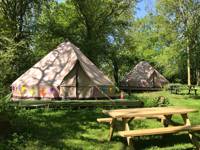 About Swattesfield Campsite
Suitable For
Tents, campervans, small caravans and motor homes, dogs, kids – yes. Noisy groups – no. The site is also available for whole-site hire so please enquire by email for information and pricing.
Nearby
Gislingham village shop (01379 788522) is a 15-minute walk away and there's also a play area on the green for little ones. 'Thornham Walks' is directly accessible from the site – 12 miles of waymarked footpaths (open daily 9am–6pm April–Oct; shorter hours outside this period). It's a mile and a half to Thornham Fishery (07810 653600), with 3 mature well-stocked lakes – don't forget your rod and rod licence if you want to give it a go! By car, the Museum of East Anglian Life (01449 612229) is 20 minutes away. Set over 70 acres, there is plenty for everyone, including steam engines, a farm zoo, gypsy caravans and events throughout the year.
Food & Drink
The Thornham Estate's Forge Tea Room (01379 788566) and Thornham Coach House Roscoe's Deli (01379 783373) are a 15–20-minute walk away and serve lunch and dinner. Or try the Four Horseshoes pub (01379 678777) at the other end of Thornham Magna, which serves breakfast, lunch and dinner and is about a 30-minute walk.
Family Friendly
Bring bikes or good walking shoes to wear the kids out or head to the playground on the local village green. Then enjoy the wildlife and the peace and quiet of this smallsville rural campsite run by a father and son team.
Site Reviews
Add Your Review
Rated ★★★★★ over 83 reviews
Wonderful place!
We have been here several times and stay in the pixie huts with our small son. Everything is fantastic here: quiet location, pubs with good food nearby, campfire, clean facilities, wonderful walks, so many stars on clear nights, great memories. We toasted marshmallows, sat round the fire, cozied up in the hut, went on some wonderful walks, and relaxed from the stresses of life. This is a wonderful retreat from everything but still within driving distance of lots of great activities such as Bewilderwood, Southwold, Rendlesham Forest, and lots of woodland walks. The owner Jess is so friendly and the atmosphere on the campsite is very friendly and relaxed. We are enjoying making so many memories here.
Lovely site...shame our pitch was re-allocated during our stay.
Lovely small site...high points - fires allowed, pitch where you like (at a distance from others), woodland walks straight from the site (Thornham Walks), friendly pub and cafe within walking distance, clean toilets, good base for local points of interest (we walked from East Bridge to Walberswick on the coast path, and went to Sutton Hoo). We did however have an awkward situation that could have been avoided with a phone call. We took our campervan to Walberswick to meet or son and girlfriend for a walk. On our return our pitch had been reallocated, and our wood had disappeared. We parked close to our original pitch as it had been raining so we needed to stay high in the field to avoid getting stuck the next day. I phoned Jessica the next morning to see what had happened, to be told 'we assumed you'd gone, lots of people just leave early without letting us know'. She had taken the wood but left our windmill marker. I said we were not happy that she had assumed we'd gone and asked what we were supposed to do. To her credit she did own the mistake and apologised and offered us some money. We did not want the money we asked her to show us where we could park without fear of getting stuck, as quite rightly she said she couldn't ask the new campers to move their tent (we didn't expect them to move). We were left feeling very uncomfortable in front of other campers for our last night on a lovely site, as it must have looked as if we were in the wrong ☹ In future a simple phone call would avoid any uncomfortable situations for future campers.
Attractive site with a friendly relaxed atmosphere
Loved the site, the friendly relaxed atmosphere and great walks directly from the site. Would be 5 star but at the moment there is nowhere to empty own toilet but this is being sorted for next year, and if you need to maintain communication with the outside world, phone signal is poor to non-existent but there is site wi-fi, unfortunately it wasn't working which, I guess, is why their card reader wasn't either. So, bring cash or pay off site at the moment. Would definitely come again.
Excellent Campsite With a Good Atmosphere
Really appreciated the choice in where to camp, with some great options in the woodland. Facilities were always clean and tidy. All round great campsite, no complaints 🙂
Lovely
My dog and I booked a grass pitch for two nights. It was lovely, quiet and well thought out. There are multiple taps dotted around the site, even in the more adventurous wooded area. The toilets and shower facilities are nice and clean. I appreciated all the separate recycling bins and the food waste bin that goes to the chickens on site. We loved the access to Thornham Walks from the site and also checked out the art businesses and the eco shop at Thornham. There are also plenty of ideas on the Swattesfield Campsite website, so check that out for food and adventure ideas :)
See all reviews at Swattesfield Campsite
Location
Swattesfield Campsite is located at Gislingham Rd, Thornham Magna, Eye, Suffolk IP23 8HH
Getting There
What3words - ///blushes.analogy.waggled
To find the campsite from the A140, follow the signs to the Thornham Walks and continue past the Walks entrance , continuing along Gislingham Road for about a mile and then turn right soon after seeing a 'school' sign and 'Slow' marked on the road – there is a Swattesfield Campsite sign on a tree to the left marking the entrance to the site on the right. And if you're travelling from the opposite direction through Gislingham: exit the village past the Church and towards Thornham Magna. About 1/2 mile out of the village and soon after travelling under a train tunnel you will see a 'school' sign and 'Slow' marked on the road – there is a Swattesfield Campsite sign marking the entrance which will be on the left. Continue up the farm track about 60 metres and turn into the campsite car park on the right hand site entrance.

The nearest station is Diss (6 miles away) which is on the direct mainline from London Liverpool Street and often stops at Manningtree, Colchester, Stowmarket, Diss and Norwich. It's only an hour and a half from London and there are usually cabs waiting at the station (although we would advise to book in advance) or you can put your bike on the train and cycle.