Spacious (and well spaced-out) tent pitches and pristine bell tent glamping set within a lush, four acre meadow, abuzz with Suffolk wildlife
A butterfly dances delicately over the lush grass swaying lazily in the soothing midsummer breeze. Buzzards and kestrels circle overhead, spying on hares that dot the meadow below. And, amidst this idyllic scene, you are reclining in the sun, the laughter of children embarking on an adventure in the background. Sounds like a certain popular cider brand's latest cheesy advert, right? Wrong. For this idyllic scene is what awaits those campers lucky enough to stumble upon Ling's Meadow.
Nestled within a particularly peaceful pocket of their 80-acre wheat and barley farm, close to the Suffolk border, Ling's Meadow is the Shearer family's camping dream come true. In a four-acre meadow, this seamless new glamping venture merges effortlessly into its surroundings. The beautiful blue living van has been built by a local carpenter, with exquisite beds carved from knobbly natural wood, while the gypsy wagon and shepherd's hut (booked together and sleeping four) were found, dilapidated on nearby farms and painstakingly restored to their gorgeous current standard. There are also twin five-metre bell tents, fully-furnished and bedecked. The roll-up sides simply beckoning you in to unwind.
For regular campers, spacious, circular tent pitches have been hued into the meadow grass with meandering, mown paths connecting them. It leaves a natural network to explore. In the height of summer when the grass is at its tallest, the pitches offer the perfect secluded hideaway.
So as not to compromise the tranquility of this bucolic bolthole, only 25 guests can be accommodated at any one time. The verdant meadow is also refreshingly vehicle-free, with trolleys provided for lugging your gear around. No man (or woman) is an island though, and for those looking to shoot the breeze with their fellow camping compadres, the communal kitchen and dining area is the perfect arena for socialising.
Offsite, East Anglia is yours to explore, from the Broads and the coast to charming rural villages and their medieval churches. In keeping with the site's green ethos (water is recycled, so it can be used on the farm garden), guests are encouraged to explore the region on two wheels, and helpfully National Cycle Network Route 13 and Regional Route 30 run just to the north of the site.
At its heart, Ling's Meadow is a campsite run by people who genuinely adore camping and who know exactly what campers want. As friendly matriarch Kath says, "We love camping in our own bell tent and are happy to admit that occasionally we enjoy a bit of luxury too. Because we enjoy it so much our aim is to provide an affordable glamping experience." Many campsites try to bridge that gap between rustic and luxury, with varying degrees of success. With their boundless hospitality, dished out from their gorgeous 17th century farmhouse, we think the Shearers have it pretty spot on.
Best Price Guarantee
Easy and Secure, with instant booking confirmation
Trusted for over 10 years
A chance to win a brand new Coleman tent!
Gallery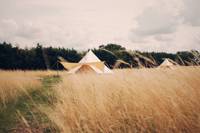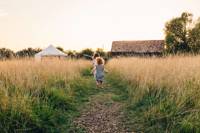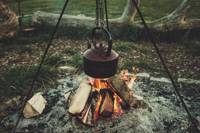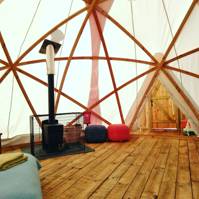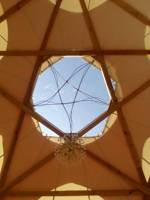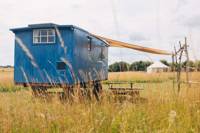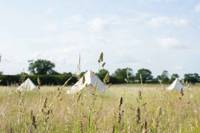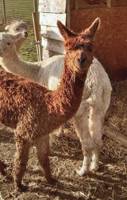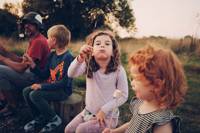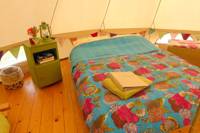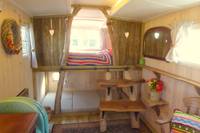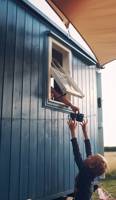 The Owner Says
Ling's Meadow is a small, rural hideaway on the Suffolk/Norfolk border. Six large tent pitches, a magical stardome, two furnished bell tents, a locally made living van and a restored shepherd's hut, are all hidden within a 4 acre meadow alive with butterflies, bees and birds. Luxury compost loos, wood heated shower, camp kitchen and all the kit you need for outdoor cooking, den building, bug hunting, alpaca trekking, bird spotting and relaxing.
The campsite is set on a small family farm which grows, wheat, barley and sugar beet and keeps alpacas, chickens and shetland sheep. The farm is part of the Countryside Stewardship scheme and has areas specifically set aside for wildlife.
Reader Reviews
Add Your Review
perfectly chilled
I arrived by bicycle and stayed in my tiny tent. It was a mainly wet weekend so having dry, spacious communal areas really made my stay comfortable and provided a focal point for meeting other campers. I was able to store my bike in the dry, the camp kitchen was really well equipped and all the communal areas were kept clean and well stocked throughout the day. The pitches are well spaced so you also have some peace and privacy and the facilities are not overused. Overall rather than simply being rented a pitch, I felt like I was being hosted by people who really care about what they are doing. I'm looking forward to another visit.
Can't wait to go back!
We hired Sloe bell tent for our first foray into camping with a baby, and it was a hugely positive experience thanks to the thought that Kath clearly puts into making sure guests are as comfortable as possible, all while being as eco-friendly as possible. That means you get to enjoy "doing your bit", and learn lots, with none of the hard work. The location is great, with walks to pubs, shops etc. following the comprehensive local information provided. I only wish we could have stayed longer!
Book it now! You are in for a treat😊
We had the most magical time at Lings Meadow this last weekend of their camping season. The site far exceeded any expectations and I loved every single thing about it...from the cosy accommodation to the generous camping supplies...the home-laid eggs...the semolina to dust the pizza shovel.....the fresh flowers and flannels in the loos.....The attention to detail is extraordinary and it seemed nothing would be too much trouble for the kind and welcoming hosts...we are only sorry we have to wait until 2019 to return...😜
Prairie-like hideaway with thoughtful details
We loved this place! So much of it was a delight to discover. The setting is wonderful, and what they have done with the meadow is stunning. There were so many thoughtful touches which made our stay extra enjoyable - communal tent with sheltered benches, crockery and cutlery to use, bikes to borrow, firewood and marshmallows to buy - what's not to like?!? Such friendly hosts and quirky extras like Alpacas to feed - our kids loved it, we loved it. We can't wait to return!
Just Fantastic!!
Wow, what a delight this wonderful, small and friendly campsite is. The kids loved the whole place and the little paths cut in the meadow that they could run and have fun in. We didn't need to go anywhere as it was so lovely and gave the kids such freedom to be there. The facilities are just brilliant and I cannot get over how much attention to detail there is. I loved the loo's and even took pictures to show to friends (that's how great they were!) We spent a magical 4 days here and will definitely be back. Neel and Kath were so warm and lovely. Thank you both, we will definitely be back! Karen and family
Tranquil, safe and wonderfully comfortable
Kath and Neel are fantastic hoasts to this most idyllic of settings. We stayed in the stardome with our 2 daughters, one of which is a little spirited and still learning her boundaries. However we felt safe on this site to allow her to be free and enjoy the beautiful, well equipped campsite. A purely joyful 4 days. Thank you!
Fairytale campsite
I have read all the five star reviews below and I can only say that these beautifully written stories tell the absolute truth about this amazing site! Kath and Neel are absolute whizards and have created a site from their hearts.
Awesome hosts, beautiful location.
We had the most awesome stay at Ling's Meadow. As newbie campers it far exceeded our expectations. We had a lovely greeting from Kath, the Bell tent was gorgeous and spacious, and the facilities were luxurious compared to our impression of camping ones. The set up is so well thought out from the kitchen area to the 'football pitch'. Thank you so much, we can't wait to come back!!
Totally tranquil
We had the best two nights at this campsite. Everythig about it is lovely! It made our first experience camping with our 16 month old so much easier. We will definitely be visiting again.
Magical and convenient
We arrived on bikes bringing only a tent, our small boy in a trailer, sleeping stuff and a few essentials and everything else we needed was there. The camp kitchen is fun and well equipped and the composting loos enlighttening in several ways. We walked to a local pub for dinner and ate a feast from one of the preordered breakfast packs. Kate and Neel were so welcoming and provided so much so our stay was really comfortable. We enjoyed feeding the alpacas and chickens and hearing all about them. The large, but small in number, pitches meant sitting around the borrowed fire pit surrounded by tall wavy grass and lots of wildlife. We loved the place so much that after cycling home we booked our next, longer, stay. Next time we plan to make use of the communal fire and den building kits.
Gorgeous week
We had the best time camping at Ling's Meadow. The space was amazing - we felt as though we had our own privacy even in such an open area, as everything and everyone was so thoughtfully placed. Even though we brought our own tent, we made our own "glamping" fun - our tent complete with air beds, duvets and fairy lights! And the provision of a fire pit just added to the magic. Toasted marshmallows and sleepy evenings warmed by the flames. Joy. We had a couple of blustery nights to begin with, so the kitchen marquee was perfect to hide out in at supper time! Fully fitted out with utensils, clean work surfaces, space to cook, lovely lights and picnic tables, and most importantly sheltered from the weather! We were also amazed by how beautifully kept everything was, especially the loos and shower, which I generally dread in shared living environments, but at Ling's these were immaculate, and smell free - honestly! I wouldn't have believed composting toilets could possibly be free of stink, but these ones were gorgeous - fresh flowers and everything! Shower was generally lovely and warm - more so on the sunnier days, as the water is partially solar heated and partially stove heated. Ling's and the surrounding area is lovely to explore, but there's also great transport links to get a bit further out - we managed Cambridge, Norwich, Holkham Beach, and more. Kath and Neel were just the loveliest hosts, and were there if we needed them, whilst giving us space. They also had a lovely selection of eggs freshly laid by their chickens, and access to various treats from the nearby farm shop. Very tasty. Overall a really welcome break and a beautiful place. We will definitely visit again! Thank you!
A wonderful campsite
Our daughter arranged to hire the whole site last weekend for her husband's birthday. As grandparents, we were assigned the Shepherd's Hut, known as The Ranny, rather than a tent (from what we saw we would have been equally comfortable in either). Well, it was such a lovely experience! The Ranny is very compact and cosy with everything we needed. Cath and Neil could not have been more friendly and helpful. All in all we spent a happy and restful few days, hanging out with family and recharging our batteries. The birthday party was good too!
A beautiful break
Spent a relaxing and peaceful few days at Ling's Meadow last week. It's a beautiful part of the country, surrounded by open space and countryside, just outside a small village. Kath was on hand to help point everything out, and all the facilities were great - well looked after, and with lots of helpful hints about how to get the best out of things ( including the composting toilets!). It was a fab location to head off rom and explore the local area on my bike - which I could then lock safely away in the bike shed at the end of the day - very useful. Being buried away on your own pitch "hidden" by the grass was like something out of a novel, and following the "path" mown in the grass to get to your tent takes you back to childhood...made me smile every time :-) No hesitation in recommending it to anyone who wants a beautiful, tranquil, peaceful and idyllic getaway.
Absolutely Lovely
Ling's Meadow is one of the most delightful campsites I have stayed at. Kath has done everything with great care and generosity: the communal kitchen and fire pit are great touches. We loved the mown paths through the beautiful meadow and the way our little tents almost disappeared in the long grass. My son particularly liked the loos, the frisbee-eating trees and the damsons (we took away a huge bag full and are looking forward to the delicious jam).
Best Price Guarantee
Easy and Secure, with instant booking confirmation
Trusted for over 10 years
A chance to win a brand new Coleman tent!
Book campsites near Ling's Meadow