Hay Paddock
(1 at Alby Wild Camping)
Farmland views, sunny, spacious pitches. The compost toilet and a drinking water tap are located in the Hay Paddock
The Owner Says
Pitches are suitable for most sized tents.  Grass is left to grow between each pitch.  
Gallery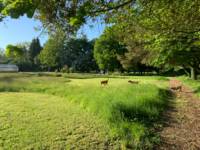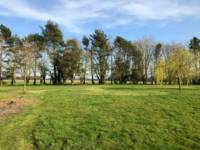 About Alby Wild Camping
Suitable For
Tents, dogs (maximum two per booking), families, couples – yes. Campervans, caravans, noisy folk and single-sex groups of more than six people – no.
Nearby
It's a five-minute walk to Alby Crafts (01263 761652), a local barn conversion complex that's home to a superb café, craft shops, a pottery studio and more, and five minutes by car into Aylsham, a pleasant market town with a good antiques shop, more cafés and a farmers market on the first Saturday of each month. Aylsham is also a good place to pick up the Weaver's Way if you like walking (it's an easy route following the path of an old railway line and suitable for cycling, too, in many places). There are two National Trust properties less than 10 minutes from the campsite. Blickling (01263 738030) is best if you want to visit the gardens (paid entry for the main garden and house) or find intrigue in the grounds, including woods, a tower, a mausoleum and a good lake to walk around with views of the back of the 17th-century hall. But choose Felbrigg (01263 837444) if you want big, classic estate grounds, grazed by sheep and with a more open setting – it too has a lake and there's a nice circular walk from the Jacobean hall, to the church, across to the lake and back via the woods, taking in the kitchen garden by the main car park to finish off with. Of course, you don't come to this part of Norfolk without spending a decent bit of time on the coast. It's a 10-minute drive to Cromer – walk the beach eastwards to Overstrand then return along the clifftop coastal path beside the golf course, finishing with fish and chips at the end – the town is home to a pier and a good number of shops and pubs. Sheringham Beach and Sheringham Park are also within a 15 minute drive, while more marshy stretches of the coastline, around Salthouse, Cley and Blackney are within half an hour and are particularly good for birdwatching, with some of the most interesting stretches of the Norfolk Coast Path.
Food & Drink
The nearest pub is the Alby Horse Shoes (01263 761378) near the entrance to Alby Crafts (01263 761652) where there's a good tearooms and café. But it's worth driving the five-or-so minutes to the Buck Arms (01263 732133) or the Black Boys (01263 732122) in Aylsham or, by day, visiting one of the two excellent butchers there, as well as the Bread Source bakery (01263 733733) and Charlie Hodson's cheese deli. For a real treat, the campsite practically backs on to the Gunton Estate, where the old gatehouse is now a superb, award-winning restaurant (01263 832010) that specialises in venison and cooks steaks and meats over a huge open fire in the middle of the dining room (where an enormous set of elk antlers adorn the wall). The owner is also an at dealer by trade, so expect striking art work on the walls and there's an excellent atmosphere, with tables outside for drinks, too, with views over the deer park. If you're on the coast, enjoy sea views with your fish and chips from Galton Blackiston's award-winning fish and chip restaurant, No. 1 (01263 515983), or head further up the coast to The Dun Cow (01263 740467) at Salthouse (a good place to combine a meal with watching the sunset on Salthouse's pebble beach).
Site Reviews
Add Your Review
Rated ★★★★★ over 27 reviews
Nice, friendly campsite!
Before we arrived I was worried about the lack of facilities. We hadn't done very basic camping for a whole week before and this campsite's website said it had only one shower and 3 loos for 20 pitches. The "wild" in the name nearly put me off and I was half expecting a badly maintained field next to a busy road. I am pleased to report that I was pleasantly surprised. The site is pretty and well thought out. There are 2 small fields. First the Orchard where you can pick where you pitch. There were a few larger groups who grouped their tents together and some who pitched smaller tents between the fruit trees. We were in the Hay Paddock which had designated pitches and was car free (you can drive in to pack and unpack only). The best thing about this site was how friendly it was. Everyone said hello and got chatting. Kids all joined in playing together. There are rope swings, a line of trees along one edge that they mucked about in, chickens and pigs and a grassy area to run around on (this is right next to the greenhouse though so watch out if they've got a ball!) It's about 15 mins drive to Cromer, West Runton or Mundesley beaches, which were all a bit different so you've got options for funfair/amusements/ice cream or quieter rock pooling and paddling. People at the campsite were taking the half hour drive to Horsey Gap to see the seals on the beach. There are 2 NT places within 10 mins drive. There's no shop on site but there is a signposted footpath to a nearby petrol station which has essentials and we noticed does the larger gas cannisters. There's also a caravan supplies shop 2 mins down the road which might do spare pegs etc although we didn't have to go there! We thought another shower, another washing up sink and maybe an outdoor sink with a standpipe where you could wash your hands would be nice, but the basic facilities would not stop us coming back!!
A great family campsite
Love wild parties? Entertainment, caravan parks and on demand food vans? Then sorry, this isn't the campsite for you! However, if you love a "back to nature", proper camping experience in a gorgeous location with respectful campers, you'll love Alby Wild Camping! It's a very small campsite but perfect for kids, with ropes and dens to play in, trees to climb and pigs to feed! There are chickens roaming freely everywhere (good luck finding an egg though!). Fire pits to rent out. Clean loos and hand sanitiser for Covid safety. The one shower is inadequate (and rarely hot!) but as we were expecting "wild" camping, this definitely wasn't a major for us! The kitchen facilities were actually a nice surprise as we're used to having to boil water to wash up! And incredibly clean as everyone was so respectful and wiped down everything for the next people. We stayed in the Hay Paddock, which had generous pitches and a relaxed, peaceful vibe. Unlike other campgrounds I've stayed at, it was lovely and quiet at night, perfect for young families. You do need a car to get to most places and the Cromer Road is insanely busy, but there is a footpath at the back of the Hay Paddock that leads to a petrol station if you just need milk or other basics (like much cheaper firewood!)… Opposite the site is a cafe, art gallery and gardens, which we didn't visit. But as a trail runner I was delighted to discover some gorgeous trails nearby (accessible from the campsite) which went past Alby Craft Centre to Thwaite Common and beyond. Further afield are the popular locations of Cromer, Holt, Sheringham, the Norfolk Broads and Norwich. We loved our stay at Alby. The weather was a bit rubbish but that's the great British summer for you! The rest was lovely.
Response from Alby Wild Camping
Thank you so much for your great review - we loved welcoming you and your family!  We're delighted you got to explore the area - it is lovely, especially when you find the quiet spots!  Sorry about the rain - we'll have to up our sun dances for next year;)
Wonderful camp site
This is perhaps the best campsite in the UK we've stayed at. They were helpful and prompt in booking and check-in, flexible on-site, there was plenty of space and great & cosy facilities. The orchard itself was beautiful and we loved the pigs. The covered kitchen & lounge area was a great hit. We hope you get permission to do this again next year - if so, we'll be back!!
Response from Alby Wild Camping
Aww, thank you so much for such a lovely review - we're blown away with how lovely our guests are!  We're delighted you enjoyed your stay and yes, we'll be here next year so hopefully look forward to welcoming you back :)
Really lovely
I'm so tempted to give it zero stars just to keep it to ourselves! ;) Lovely little pop-up in a great location for exploring north Norfolk. Generally pretty quiet. Space for the kids to run around, but not so big that you can lose them! (And closed off so they are safe.) There is a path to walk to the garage/shop next door for fresh milk and all of the other facilities you've already read about. Nice flat fields. Just book it, you won't regret it.
Response from Alby Wild Camping
Aah, thank you for your lovely review - we're very glad you and your family enjoyed your break with us (and didn't give us zero stars !). We hope to welcome you again next year!
Spacious and relaxed in the hay paddock
Nice location for access to the coast (busy road a bit tricky to cross for cycling) Recommend the hay paddock - quieter and calmer vibe. Could do with a 2nd shower to serve the whole site. Generally nice set up, clear instructions and free marshmallows 😊
Response from Alby Wild Camping
Thank you for taking the time to leave us a lovely review.  We glad you enjoyed your break with us and the marshmallows! :)
See all reviews at Alby Wild Camping
Location
Alby Wild Camping is located at Alby Hall, Alby, Norwich, Norfolk NR11 7HA
Getting There
Follow the A140 towards Cromer from Norwich and go past Aylsham. You will enter a 40mph zone at Alby With Thwaite and pass Alby Crafts on your left (there's a brown tourist sign there). The Downtide Centre (caravan sales) and a BP garage will be on your right. Alby Wild Camping is just after this on the right hand side – look out for the fencing and pull into the metal gates at the end of the fence. If you reach the end of the 40mph speed zone, you've gone too far.
From Cromer, follow the A140 towards Norwich. Go over the mini roundabouts at Roughton and continue for a further two miles. Shortly after you enter the 40mph zone at Alby With Thwaite, pull into the metal gates on your left hand side. If you reach the BP garage you've gone too far.
Regular buses run along the A140 that passes the site between Cromer, Aylsham and Norwich – the route you want is 44, 44A, X44 or X40. There is a stop just outside Alby Crafts and The Downtide Centre just down the road from Alby Wild Camping (ask for the Alby Crafts stop and the bus driver will know it).